More brand awareness, more sales, a larger customer base and more employees…. We can all agree, of course, that growth is the one thing that all small and medium-sized businesses (aka SMEs) are striving for. However, this growth also requires better organizational skills and streamlined processes in your business. That's where a CRM software becomes your best friend. In this article, we'll look at the 15 best (and top-rated) customer relationship management software for small businesses.
Before getting into the list, first let's see what are some of the advantages of using a customer relationship management software, stay tuned.
3 main advantages of using CRM software
Are you still not persuaded that your company needs CRM software? First of all, let's take a look at the advantages that using a CRM software can offer you.
1. Contact organization
The first priority in your business must be your contacts – which is where the name CRM (or customer relationship management) comes into play. With a growing customer base, you'll almost certainly want a system that allows you to organize this data to reflect your interests. This neat overview of your contacts will also help your sales processes run more smoothly.
2. Sales reporting
A CRM software will help you in keeping track of sales performance based on various metrics including calls made and orders booked. This is ideal for managing your business system. CRM software for small businesses enables you to track and visualize sales performance metrics through customer relationship profiles. Such profiles help you differentiate prospects at each stage of the funnel as you build a pipeline and grow your customer base with your business. Tracking reach and booking progress also helps your business better manage its revenue.
3. Customer segmentation
According to marketers and sales teams, customer segmentation is the thing these days. Not only is it useful for personalization, but it's also useful for dividing potential customers into different groups, like how big the inquiry is, where they're located, and more. This will give your sales team a little more focus.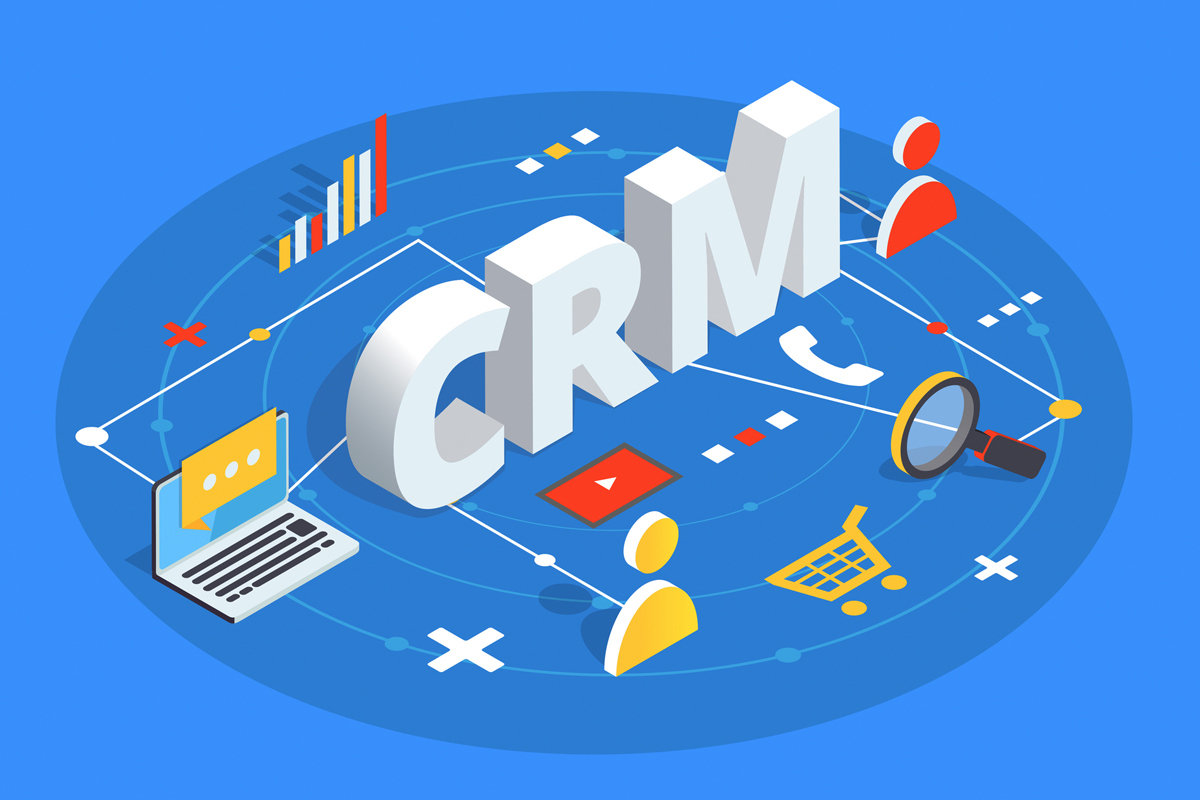 So what should your SME look for in a CRM software?
As a small business, there are a few things you should look for when choosing your first CRM software:
Low budget
Small businesses and startups are always looking for the cheapest option. Therefore, we have selected only budget-friendly tools (some of them are even free!).
Easy to understand
Learning curve is also an important factor for SMBs. The majority of smaller businesses don't have the time to master complex, large-corporate software. Using the tools listed below doesn't require an IT or CRM expert.
Customizable
Some tools analyze every little interaction, not only does this create an overwhelming amount of data, it can also keep you from achieving your goal. Be sure to try a tool that has a wide range of applications, but doesn't overdo it.
Integrates well with other tools
Having a software that can work hand-in-hand with all your other tools and combine data for optimal results is always a good thing.
Customer support
This is another very important issue. Since most small and medium-sized businesses have rather small teams, it is good to have a tool that offers great support so that you can get started quickly.
The best CRM software for small businesses
Alright, let's get down to business. These are the best 15 CRM software for small business…
1. Salesforce
Arguably, SalesForce is the largest and most widely used CRM software on the market. Luckily, SalesForce offers a basic version called Lightning Essentials for smaller businesses. This package provides users with an advanced contact manager that includes email integration and reminder features. It also offers many options for integration and customization
Price: Lightning Essentials package ($25/month/user), Lightning Professional ($75/month/user), and more.
2. Insightly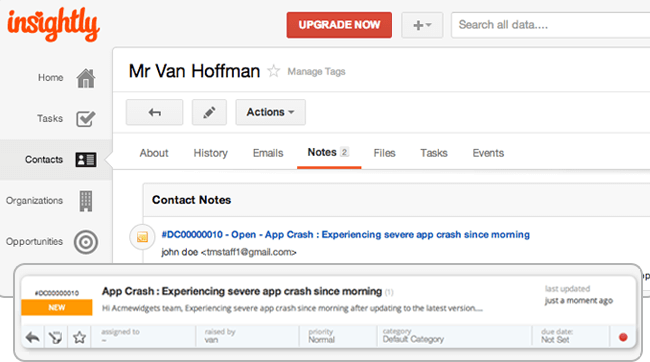 Insightly is a CRM and lead management software that is considered to be one of the best-rated solutions for small businesses. This is likely because the user interface is very easy to use and there are plenty of customization and integration options. In addition, Insightly includes several project management features like task management and tracking. Cons: It doesn't offer custom reports or dashboards and is really only for SMBs.
Price: Starts at $29/month.
3. Capsule CRM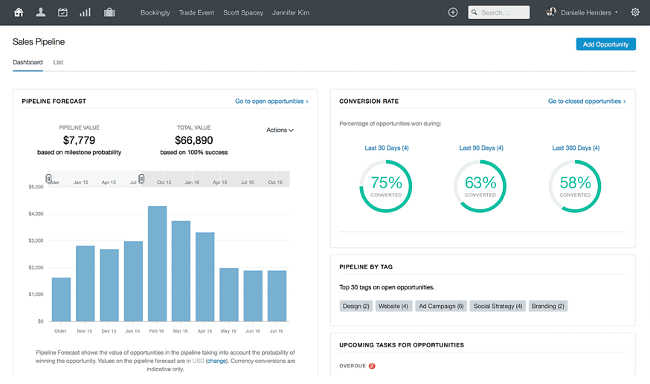 Capsule CRM is a software that has been around for a while. Having been in use since 2008, it has been gaining popularity over the past few years. It is very easy-to-use software that allows its users to track both relationships and sales channels. And without much fuss. In addition, it can be used on desktops and on mobile devices. Its user interface is divided into five sections: Dashboard, People and Organizations, Sales Channel, Calendar and Tasks, and finally Cases. Nevertheless, one drawback of the software is that it offers less functionality in terms of campaigns and reporting.
Price: there is both a free package (up to 2 users) and a professional package (£12/user/month).
4. Zoho
While the Zoho is also a good option for large companies, this software can be used by small businesses as well – thanks to the variety of versions offered. In comparison to Insightly, Zoho offers a bit more in terms of sales/marketing features. In fact, it offers its users website visitor tracking, lead scoring, sales signals (with pop-up notifications for leads), and more. Note: The majority of the advanced features are only included in the Professional and Enterprise versions.
Price: free version, Standard ($12/month), Professional ($20/month), Enterprise ($35/month) and more.
5. HubSpot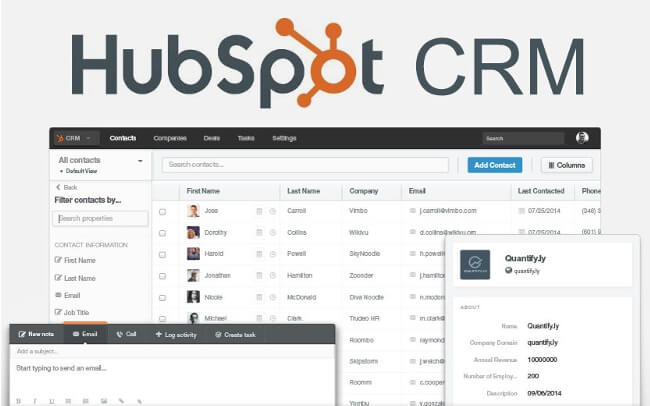 HubSpot offers a totally free version of its CRM software, which is particularly popular among small businesses. It includes all the basic features of CRM software, allowing you to monitor your company's activity at all times, including such things as contacts and company profiles, assigning and tracking orders, and managing all that data in a detailed dashboard (visible to all team members). If you"re already a HubSpot Sales user, you can use this CRM software to increase your inbound sales. Also, HubSpot offers multiple integration options with popular apps like SalesForce, Shopify, and Microsoft Dynamics.
6. Agile CRM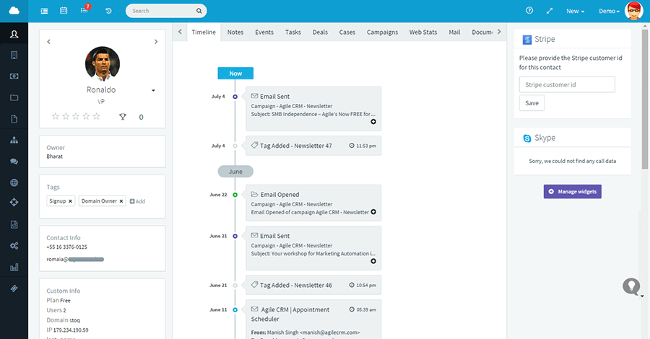 Agile CRM is a very interesting CRM software since it includes many of the features that are important for large companies, such as custom appointments, drag-and-drop marketing automation, and reports via email. Moreover, this software supports widgets, a wide range of plugins, API-based integrations, and much more. But the free version is very limited in terms of the features it offers.
Price: Free for up to 10 users, or choose the starter package ($14.99/user/month).
7. OnePage CRM
This customer relationship management (CRM) software is aimed more at users who are seeking a task-based CRM solution. It allows users to use their own personalized 'Actions History', which shows the status of all deals and which contacts are in the to-do list. They can manage all of these tasks from their inbox or by clicking on the task itself. What's more, this tool can also integrate with a wide range of third-party applications for lead generation, email marketing, accounting, support and more.
8. Base CRM
Base is a CRM software that is perfect for businesses that want to personalize their sales channels. Its users can utilize a sales tracking solution that allows them to customize sales stages. In the sales channels section, you can add things like management staff, employees, and records to all of your sales. Base also offers real-time visual reporting via templates, and integration with social networks and other third-party applications like Zapier, MailChimp, Yesware and more.
Price: Starting at $45/user/month.
9. SuiteCRM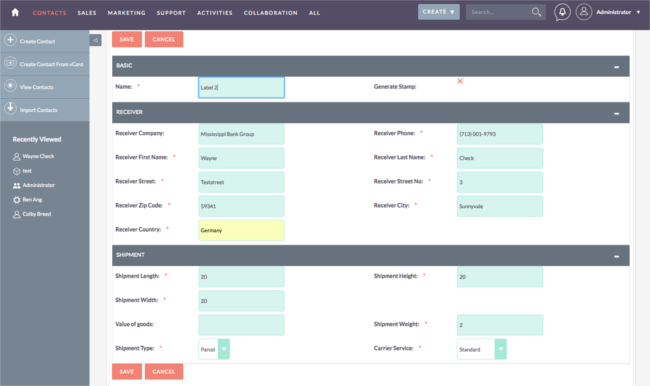 SuiteCRM is an open source CRM software that is amazingly well-equipped with its tools and functionalities, and is suitable in theory for enterprise-level companies. The tool is fully customizable, as users can create their own business process models, create predefined customer offers, model sales channels and set up automated actions. Note: Certain customization options are offered at an additional cost.
10. Streak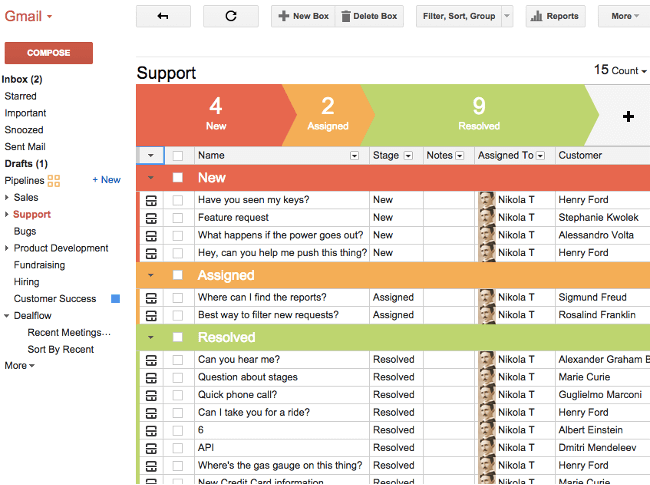 Streak is a great CRM software for Gmail enthusiasts. From a technical point of view, Streak is a browser plugin that is great for smaller teams because you can work directly from your Gmail inbox. Using this tool, it's very easy to capture calls, schedule emails and send bulk emails, and create separate email threads tailored to different teams (e.g. sales, HR, support, etc.).
Price: Starting at $49/user/month.
11. Teamgate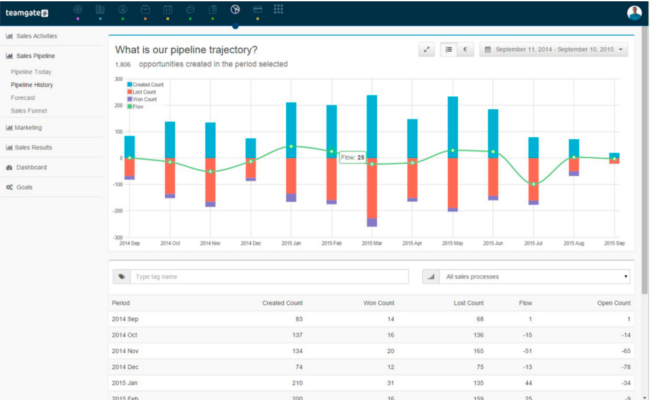 Teamgate is a full process sales CRM that satisfies the needs of small and medium-sized businesses with a focus on B2B, and provides all the functions and tools for lead and sales management. An additional extremely useful feature enables users to track their performance and create calculated and easy-to-understand forecasts through intuitive analytics. In collaboration with industry-leading integration solutions – Zendesk, MailChimp, Xero, Zapier and many others – Teamgate works as a full-stack sales solution that covers factors such as customer support, email marketing campaigns, accounts and finance, and highly mobile in-app communications. Teamgate offers ongoing customer support in English and online training that includes live sessions, tutorial videos and FAQs.
Price: There are three packages: Starter ($9/user/month), Professional ($22/user/month) and Enterprise ($65/user/month).
12. ConvergeHub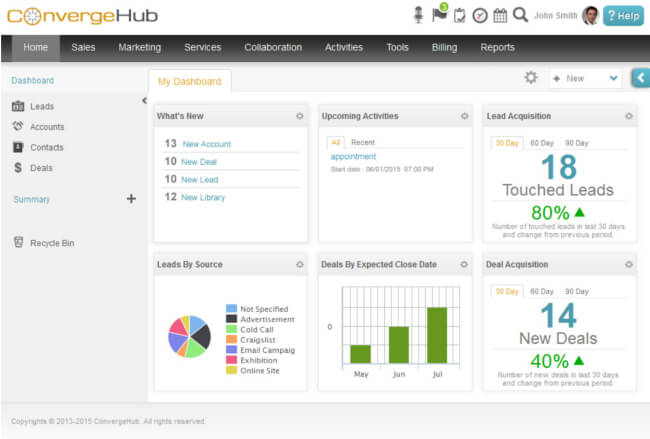 ConvergeHub is a cloud-based CRM software that is perfect for SMBs – especially because these companies can work with one single platform rather than multiple repositories. In addition, users can store contact lists and design campaigns, and manage all sales activities. ConvergeHub contains built-in SalesForce automation and marketing automation modules.
Price: from $9/user/month (starter package) to $59/user/month (premium package).
13. vTiger CRM
vTiger is yet another all-in-one CRM software for small businesses. What this tool offers is a good deal in terms of sales automation, email marketing, and project/inventory management. It also provides web-to-CRM forms that help users capture relevant contact information and prioritize it. Additionally, all features have been improved based on feedback from their customer base.
Price: Depends on the package you choose (Sales CRM, Help Desk, or All-In-One), but prices can range from free to $30/user/month.
14. Apptivo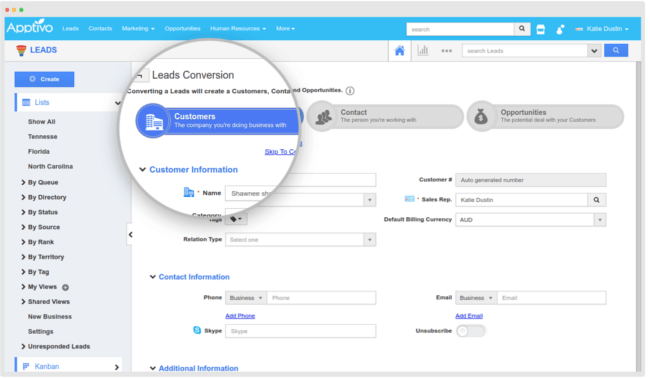 Apptivo is perhaps one of the best options if you are searching for a CRM software that provides you with customizable solutions. This web-based CRM app provides users with features like project tracking, financial management, and customer support. Apptivo is as well compatible with Google applications. It enables you to choose the features that your business really needs. In addition, its customer service is highly rated should you ever encounter any issues.
Price: ranges from free to $20/user/month. In addition, an enterprise package is offered (contact for pricing).
15. Nimble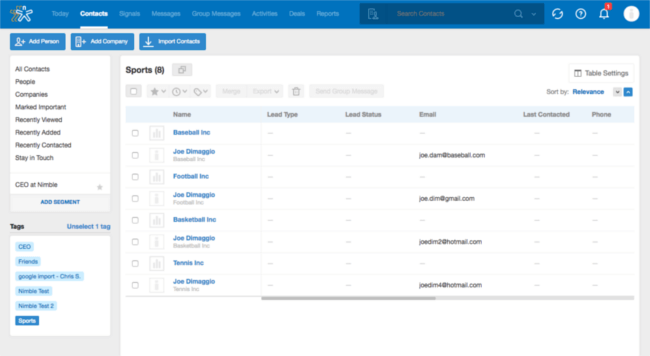 Nimble CRM is a great customer relationship management (CRM) software for those of you who want to be able to combine contacts, email, and social media interactions (works great with Twitter) all in one place. The user interface is also very easy to use, as it provides you with a to-do list, shows you top/key offers, and more. Also, there is the 'Rules Engine' which helps Nimble predict relevant contacts and activities based on your user behavior. Users can set up 'Stay in Touch' reminders for certain users and mark specific messages as important to stay up to date.
Price: ranges from $9/user/month to $19/user/month.
Conclusion
So now that you know more about the options you have in terms of CRM software for small businesses, it's time to start evaluating.
Some of the things you may want to think about before making your decision include implementation and technical support needed, minimum user base, ease of use, cost, and of course, with the new GDPR, security features.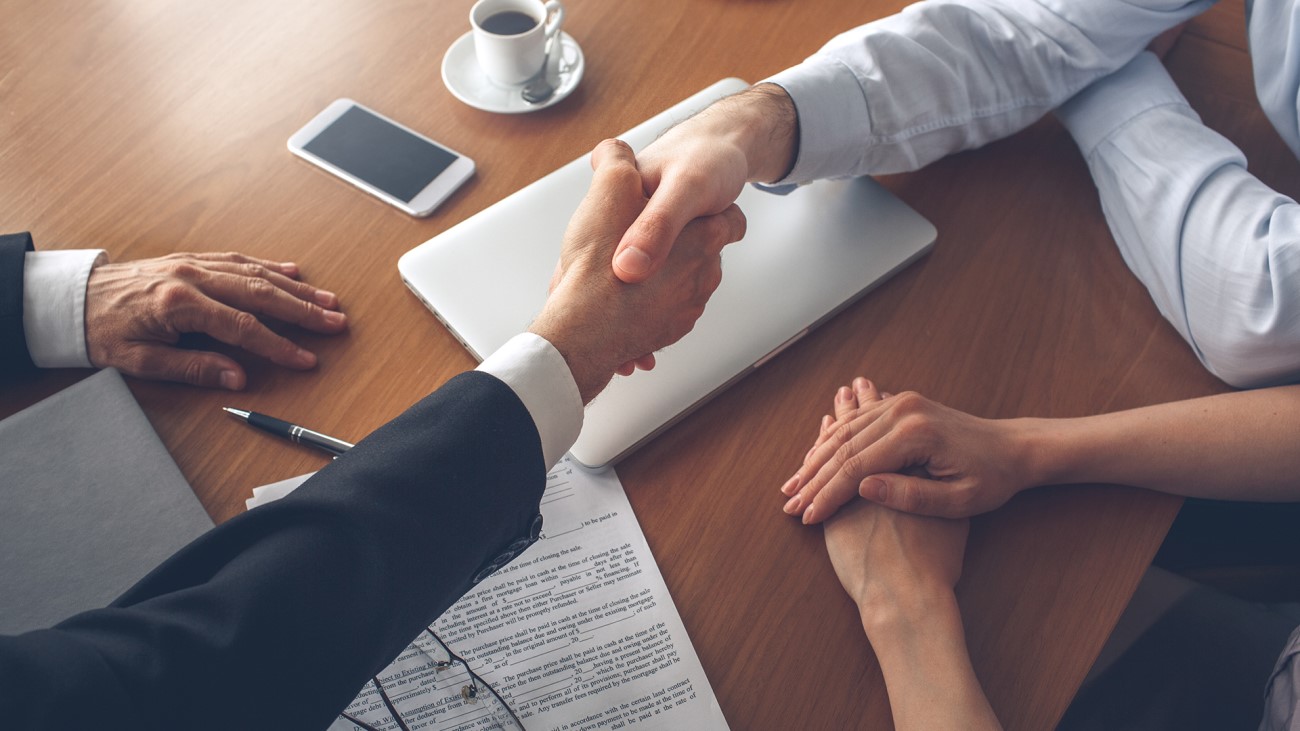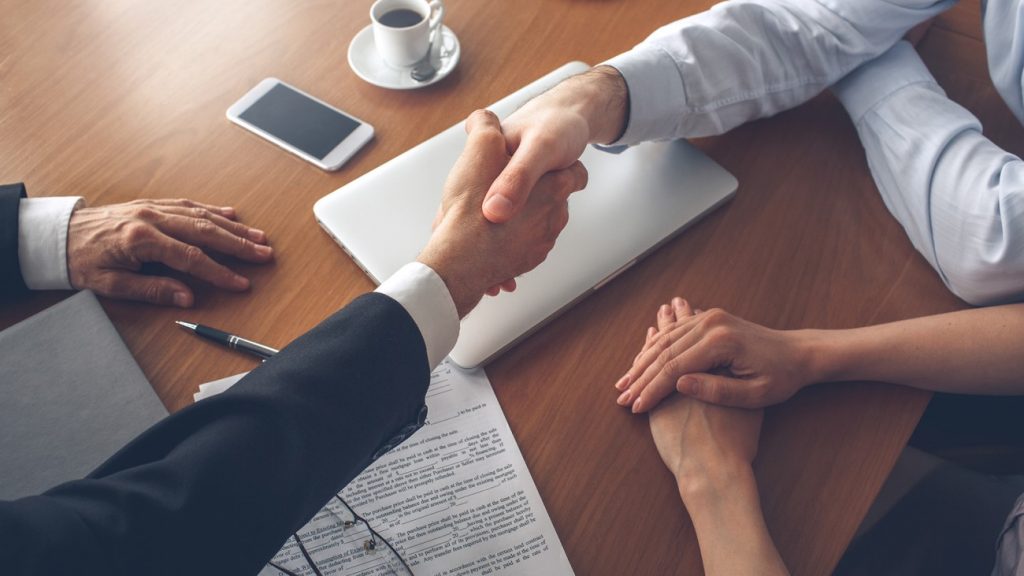 As we have already mentioned in this article, integration capabilities are a very important factor, because you can combine your CRM software with all the tools in your current toolkit, rather than having to import data manually – which can cost you a lot of time and energy.
Also Read: