The vegetarian lasagna is a colorful and lighter version of the classic lasagna, a main course loved by young and old, and unquestioned protagonist of Sunday lunches of many Italian families! Thanks to its tasty layers of vegetables and béchamel sauce, separated by thin layers of good homemade puff pastry, vegetarian lasagna will delight even the most difficult tastes!
We love to imagine this recipe as a "sketch", an inspiration to be enriched or varied according to taste or nature: a palette that in summer is colored with peppers and eggplant, in spring peeps out asparagus and green beans and in winter pumpkin, beets, cauliflower … no matter what the season or occasion, this fast vegetarian recipe will enrich your holiday menus with scents and colors, or will become a hearty and wholesome main course, to be enjoyed in generous portions.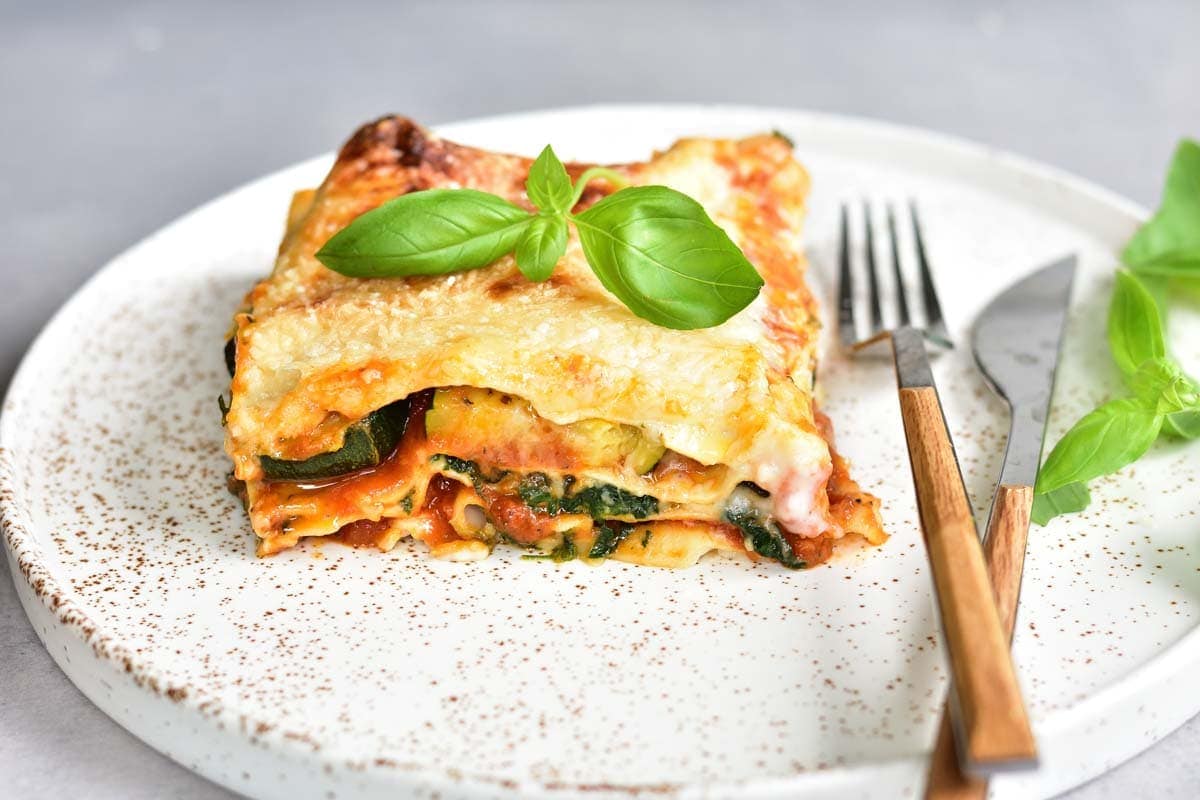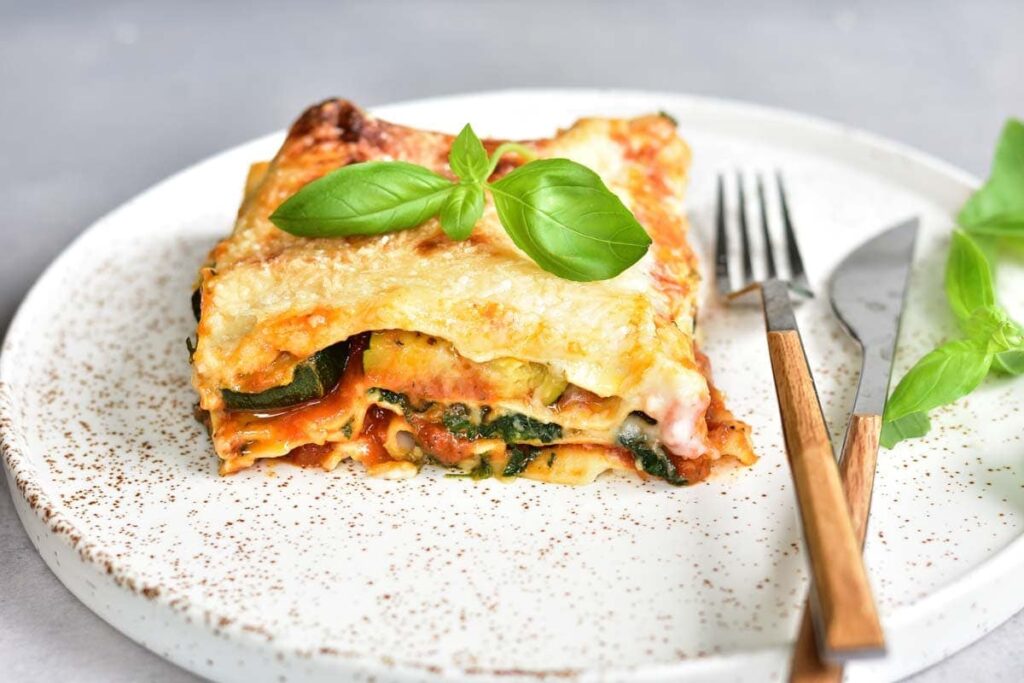 How to Cook Vegetarian Lasagna
Ingredients
Flour 200 g
Egg 2
Whole Milk 1 L
Butter 100 g
Grated Nutmeg 1 Pinch
Flour 100 g (For Bechamel)
Black Pepper 1 Pinch
Button Mushrooms 250 g
Carrots 200 g
Broccoli 250 g
Parmesan cheese DOP grated 200 g
Extra virgin Olive Oil 30 g
Zucchini 170 g
Red Onions 200 g
Cherry Tomatoes 200 g
Thyme to taste
Black Pepper to taste
Salt to taste
Instructions
Instructions
To make the vegetarian lasagna, first start by making the egg pasta. Pour the flour in a bowl 1, setting aside about 50 grams. In another bowl, mix the eggs, and then add them to the flour 2 and start mixing until all ingredients are mixed 3.
Now transfer the mixture on a pastry board and knead it 4, while adding the flour kept aside as needed, until you get a smooth, firm and elastic dough to which you will give a spherical shape 5. Roll it in plastic wrap 6 and let it rest for about 30-60 minutes out of the fridge in a cool and dry place.

Meanwhile, prepare the béchamel sauce. Add the butter to a saucepan, 7 leave to melt gently and then add the sifted flour, stirring quickly 8. When you have a hazelnut-colored roux, add the boiling milk 9 and stir again.

Season your béchamel with a pinch of pepper 10, salt, a grating of nutmeg 11 and keep cooking, stirring constantly, for 5-6 minutes, until it reaches the right density. Now transfer the béchamel to a bowl and cover with plastic wrap 12.
Wash all the vegetables and then begin cutting them. The carrots must be peeled and cut into julienne strips 13, the broccoletti need to be taken only from the tops 14 and the onion must be finely sliced 15.

Clean the mushrooms, slice them 17 and cut the cherry tomatoes in half 18.

When all vegetables are prepared pour oil in a pan and first add carrots 19, let them cook for a couple of minutes and then add broccoli. Splash with a little water 20, cover with a lid and cook for 3-4 minutes. At this point add the onions 21.

and then also zucchini 22 and mushrooms 23. Leave the vegetables to cook, stirring occasionally and only when they are cooked, season with salt and pepper, then turn off the stove and add cherry tomatoes and thyme 24.
Now your egg pasta will be rested, take the dough and divide it in half 25 and roll it out with the dough sheet machine 26. Roll it out again, reducing the thickness each time 27

until a thickness of about 2 mm is obtained. Make 8 rectangles measuring 15×20 cm 28. If you prefer, you can quickly pass the sheets of pasta in a bowl of cold water to stop the cooking process, and then lay the rectangles on a clean cloth, but the most important thing will be to place the various rectangles well spread out and without overlapping.

When the pasta is cooked, take a 30X20 cm baking dish, add 2 or 3 tablespoons of béchamel sauce 31 and spread it over the entire surface of the dish. Place 2 rectangles of pasta, side by side, cover with more bechamel sauce, sprinkle with grated cheese 32 and place 1/3 of the vegetables 33.

Top with two more sheets of pasta 34 and proceed in this way for two more layers, until all the ingredients have been used up. When you have finished the last layer of béchamel sauce 35 add more grated cheese, cover with the vegetables and bake in a static oven preheated to 180° for 20 minutes, then turn on the grill and bake for another 5 minutes. Take your vegetarian lasagna 36 out of the oven and serve while still hot.
Storage
You can store vegetarian lasagna in the refrigerator covered with plastic wrap for up to 1-2 days. You can freeze them raw or cooked.
Tip
The best thing about vegetables is that there are so many different types in each season! Take advantage of the seasonality to vary the ingredients of your vegetarian lasagna by adding brussels sprouts, diced squash, fresh peas, julienned turnips or whatever your garden and imagination suggests!
Note
If you are following a vegetarian diet that in addition to the meat and fish excludes cheeses made with animal rennet, you can replace the ingredient with a similar cheese made with vegetable rennet.