It is almost impossible to imagine the American diet – and especially the Sunday breakfast table – without eggs. Whereas the consumption of eggs in United States was 293 per capita in 2019, the per capita consumption in 2020 already rose to 298 eggs per year – which corresponds to more than 16 kg! In this article, we will talk about the nutrition value of egg, stay tuned!
Over the past few years, nutrition experts have had to face the dilemma of whether to limit egg consumption, given its high cholesterol content, or to recommend it, given its high content of high-quality protein and several vitamins and minerals. Nowadays, there is no limitation to egg consumption in healthy people. On the contrary, it is considered a health ally accessible to all and a must in the kitchen.
Most Americans are very attached to their eggs, and in 2020 a whopping 96.9 billion eggs were produced in the United States. Be it boiled in the shell on the breakfast table, fried or scrambled, in ice cream and desserts, as mayonnaise or egg liqueur – the egg can be used in a variety of ways and is eaten in some form almost every day.
But just how healthy is the egg really? Do eggs have a lot of calories? Exactly what is behind the white or brownish lime shell? Do eggs worsen blood lipid levels? And how many eggs per day are healthy? Stay tuned for more on nutrition value of egg and other useful stuff about eggs.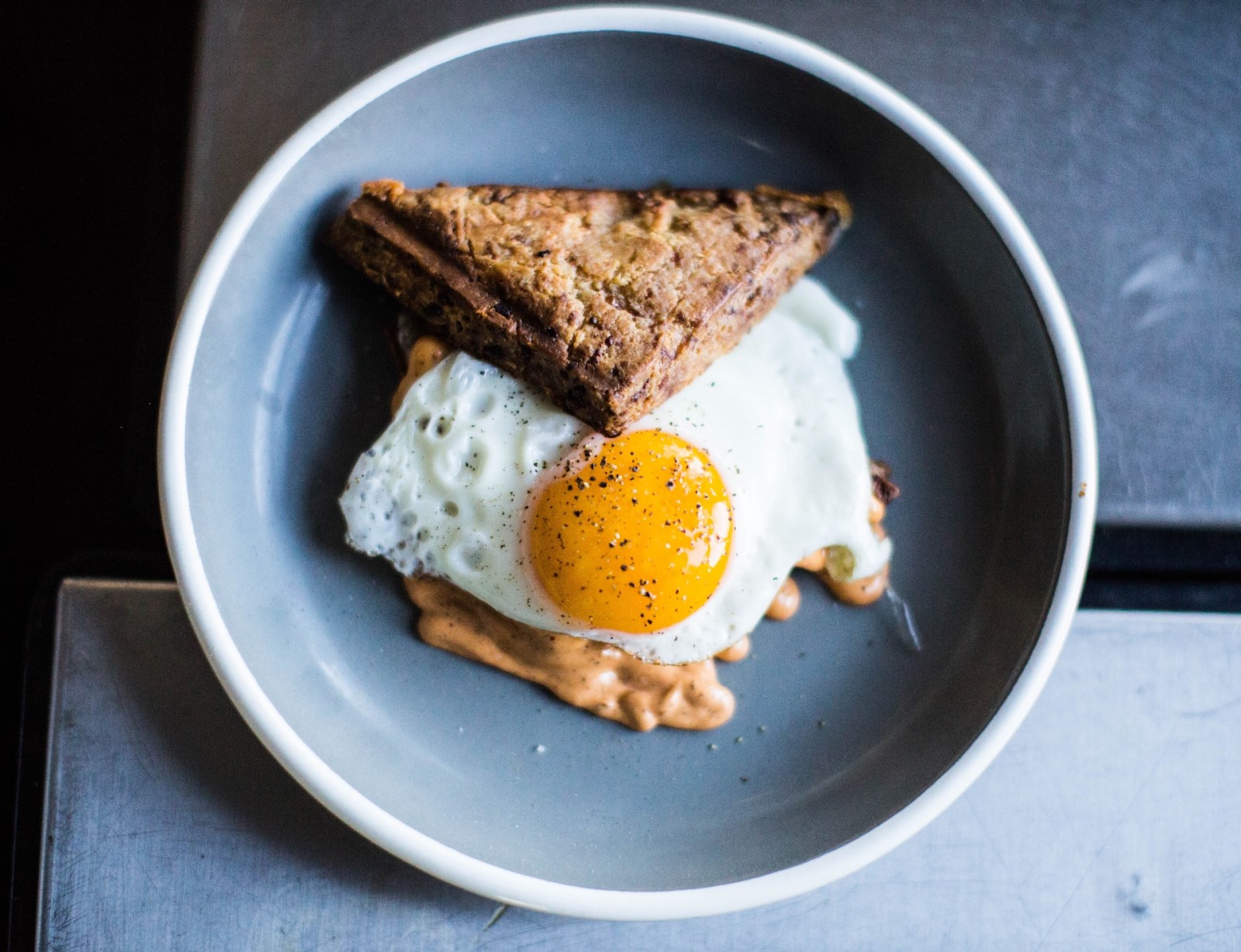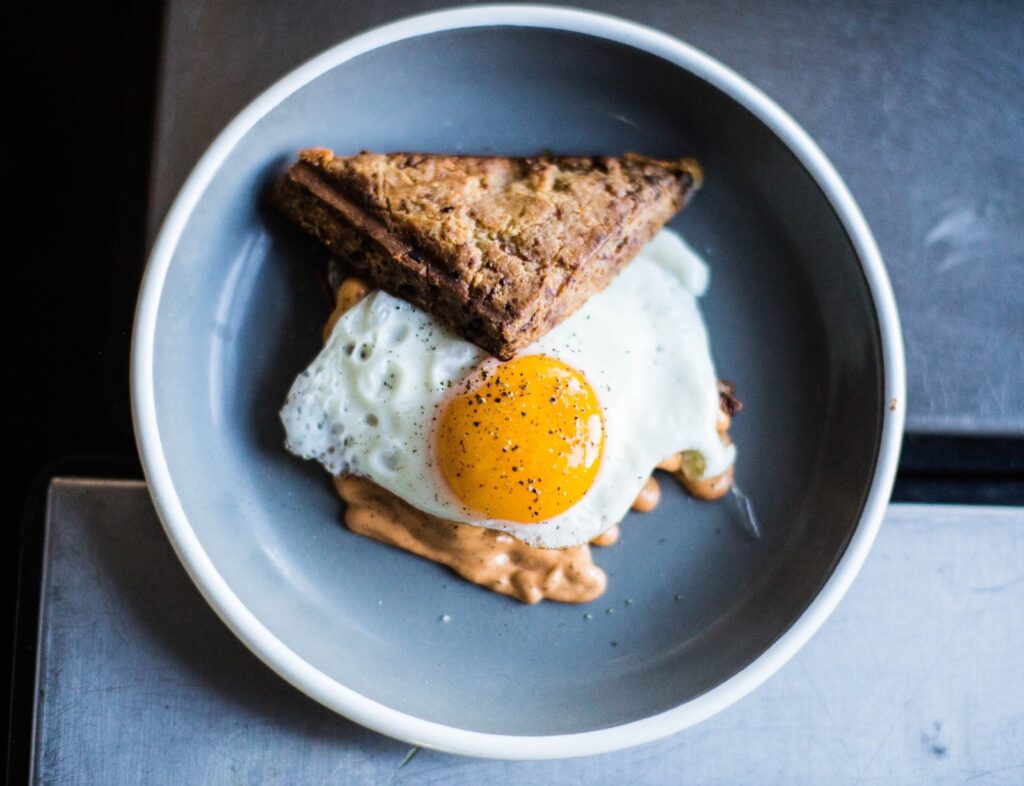 All these questions will be answered in our nutrition value of egg ultimate guide article about eggs.
How many calories does an egg have?
Not all eggs are the same. There can be differences of over 26 calories per egg, depending on the size. The inside of the egg also has a major impact on the calories. Whereas egg yolk is very rich in fat but also in nutrients, egg white is extremely low in calories and therefore also it is good for losing weight.
In the following table, you can see the calorie and nutrient value of egg per 100 g of edible portion.
NUTRITION VALUE OF EGG PER 100 GRAMS

Chicken egg

egg yolk

Egg white

Kilojoules

651 kJ

1476 kJ

199 kJ

Calories

156 kcal

353 kcal

47 kcal

Egg white (protein)

12.8 g

16.1 g

11.1 g

fat

11.3 g

31.9 g

0.03 g

carbohydrates

0.7 g

0.3 g

0.7 g

Minerals

1 g

1.7

0.7 g

water

74.4 g

50 g

87.3 g

cholesterol

396 mg

1,260 mg

0 mg

1,000 mg = 1 g
The calorie content of eggs is 156 kcal per 100 g of edible portion. However, this weight corresponds to about two medium-sized fresh eggs.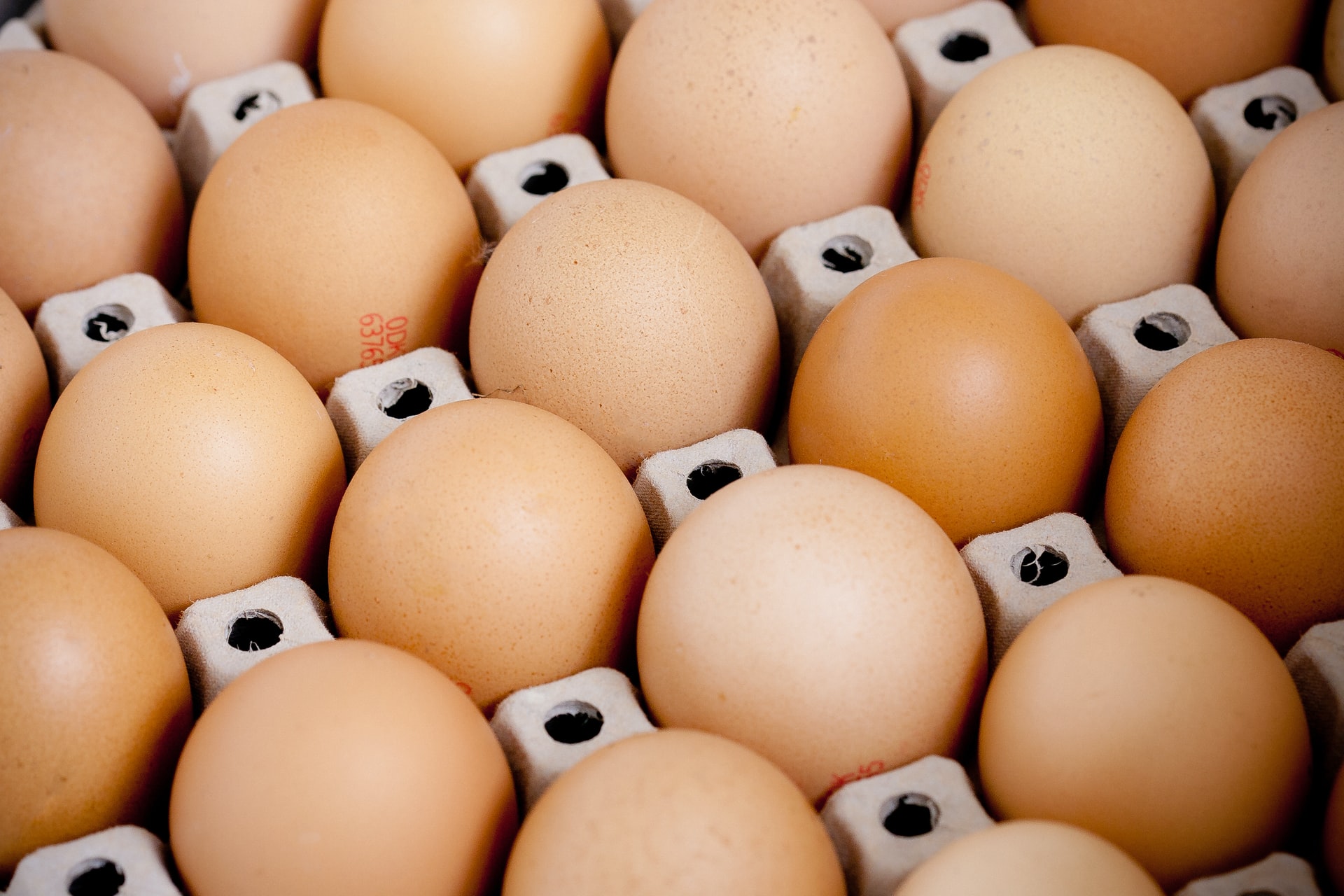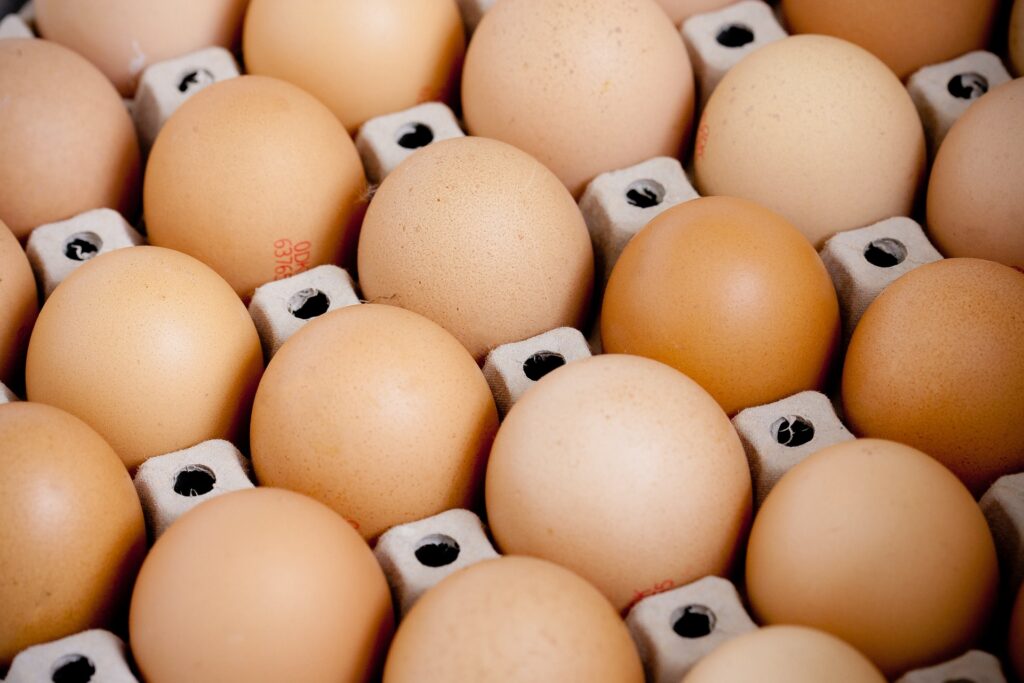 You can see at a glance that the chicken egg yolk, with 353 kcal per 100 g, is much richer in energy than the chicken egg white, with a mere 47 calories per 100 g. This is due to the fat content of the yolk. The egg white is almost fat-free, while the egg yolk consists of almost 32 percent fat.
For dried egg products, which have had much of the water removed, the difference is even more significant. For example, 100 g of chicken egg yolk contain 669 kcal and 59.3 g of fat. While dried chicken egg white contains 343 kcal per 100 g, it is very rich in animal protein (77.3 g) and contains only 0.1 g fat.
DRIED EGG PRODUCTS: NUTRITIONAL INFORMATION PER 100 GRAMS

Chicken egg (whole egg)

Chicken egg yolk

Chicken egg whites

Kilojoules

2,384 kJ

2,799 kJ

1434 kJ

Calories

570 kcal

669 kcal

343 kcal

protein

46 g

31.7 g

77.3 g

fat

41.8 g

59.3 g

0.1 g

carbohydrates

2.4 g

2.1 g

0.7 g

Minerals

2.1 g

1.8 g

2.8 g

water

6.1 g

3.4 g

9 g

cholesterol

1,440 mg

2,430 mg

0 mg
But how many calories an egg contains per piece? In order to answer this question, we must first take a closer look at the weight categories of eggs. Depending on their weight, chicken eggs are divided into four weight classes: S, M, L and XL.
According to the weight, the following calories and nutritional values are obtained for a whole chicken egg:
CHICKEN EGGS: NUTRITIONAL INFORMATION BY SIZE

Size S

Size M

Size L

Size XL

Weight

under 53 g

53 – 63 g

63 – 73 g

more than 73 g

Kilojoules

<345 kJ

345 – 410 kJ

410 – 475.2 kJ

> 475.2 kJ

Calories

<82.7 kcal

82.7-98.3 kcal

98.3-113.9 kcal

> 113.9 kcal

protein

<6.8 g

6.8-8.1 g

8.1-9.3 g

> 9.3 g

fat

<6 g

6 – 7.1 g

7.1-8.2 g

> 8.2 g

carbohydrates

<0.9 g

0.9-1.1 g

1.1-1.3 g

> 1.3 g

Minerals

<0.5 g

0.5-0.6 g

0.6-0.7 g

> 0.7 g

water

<39.4 g

39.4-46.9 g

39.4 – 54.3 g

> 54.3 g

cholesterol

<210 mg

210-250 mg

210-289 mg

> 289 mg
You will notice that there can be a calorie difference of over 26 calories between the smallest egg size S and the very large egg size XL. These differences are not too great due to the relatively small differences in weight per piece, but may add up if several eggs are eaten or used.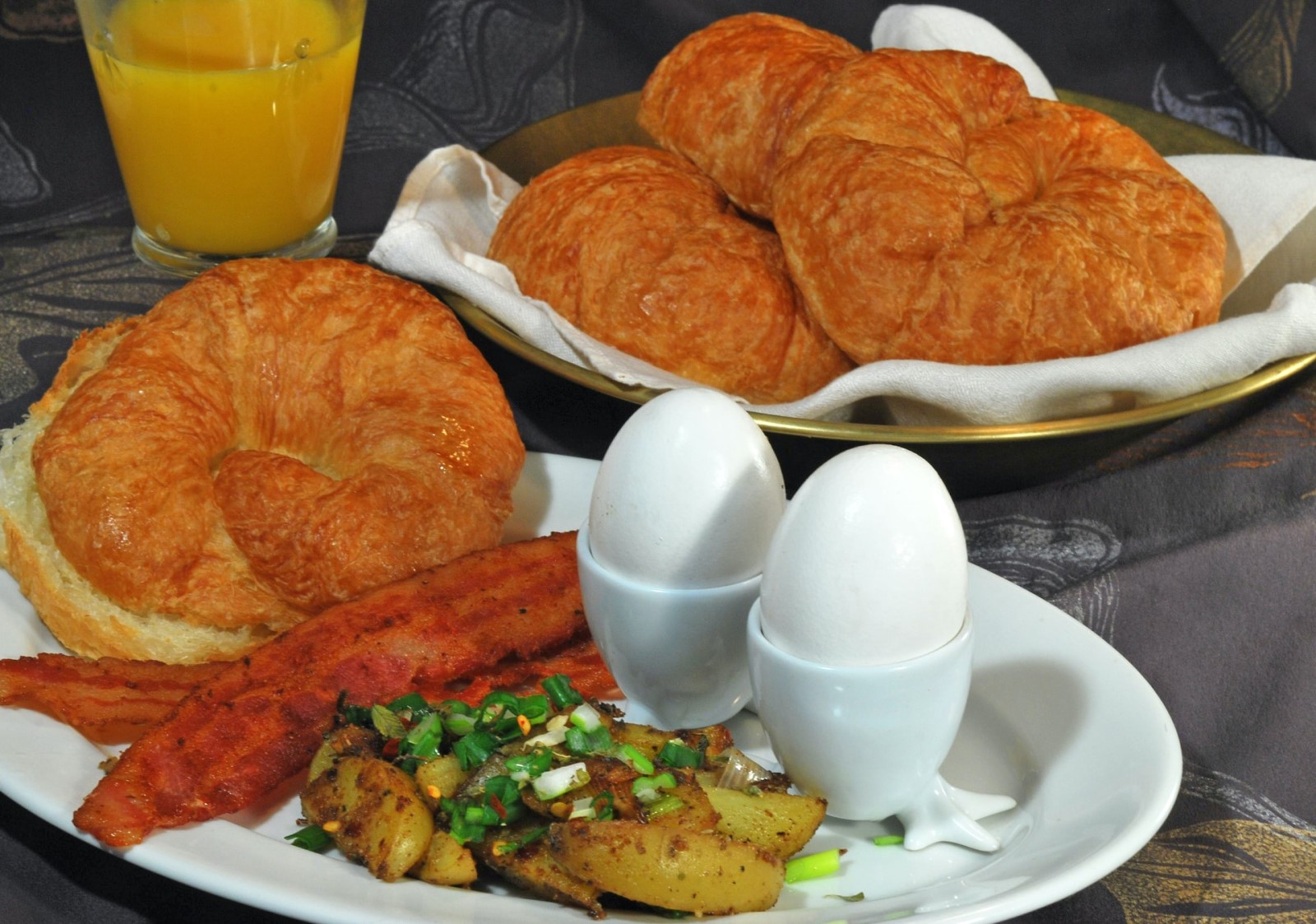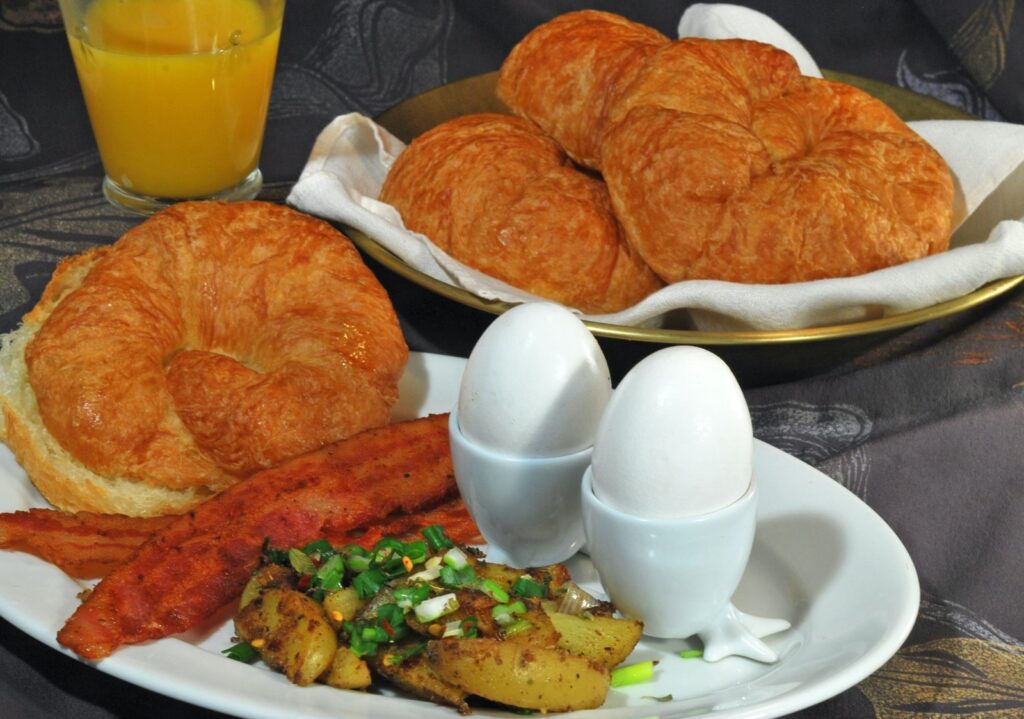 The egg yolk, which has more calories, accounts for the majority of the total calories. Based on the weight class, an egg yolk has the following calories and nutritional values:
CHICKEN EGG YOLK: NUTRITIONAL INFORMATION BY SIZE

Size S

Size M

Size L

Size XL

Weight of egg yolk

under 17g

17-21 g

21 – 24 g

more than 24 g

Kilojoules

<256 kJ

256 – 305 kJ

305 – 353 kJ

> 353 kJ

Calories

<61.3 kcal

61.3 – 72.9 kcal

72.9 – 84.4 kcal

> 84.4 kcal

protein

<2.8 g

2.8-3.3 g

3.3-3.9 g

> 3.9 g

fat

<5.5 g

5.5 – 6.6 g

6.6 – 7.6 g

> 7.6 g

carbohydrates

<0.1 g

0.1 g

0.1 g

> 0.1 g

Minerals

<0.3 g

0.3-0.4 g

0.4 g

> 0.4 g

water

<8.7 g

8.7-10.3 g

10.3-12 g

> 12 g

cholesterol

<219 mg

219-260 mg

260-301 mg

> 301 mg
In the case of the lower calorie egg white, the calorie and nutritional differences based on the size of the egg are as follows:
EGG WHITE: NUTRITIONAL INFORMATION BY SIZE

Size S

Size M

Size L

Size XL

Weight of egg white

under 30g

30 – 36 g

36 – 42 g

more than 42 g

Kilojoules

<60 kJ

60 – 71 kJ

71 – 83 kJ

> 83 kJ

Calories

<14.2 kcal

14.2 – 16.9 kcal

16.9-20 kcal

> 20 kcal

protein

<3.3 g

3.3-4 g

4 – 4.6 g

> 4.6 g

fat

0 g

0 g

0 g

0 g

carbohydrates

<0.2 g

0.2-0.3 g

0.3 g

> 0.3 g

Minerals

<0.2 g

0.2-0.3 g

0.3 g

> 0.3 g

water

<26.3 g

26.3 – 31.3 g

31.3-36.3 g

> 36.3 g

cholesterol

0 mg

0 mg

0 mg

0 mg
In addition to calories and fat, eggs also contain a lot of protein and cholesterol. While the former is good, the latter is still considered a bad thing by many. But just how healthy is the egg really? Is it better to do without the egg yolk? Or does the egg yolk even have a health-promoting aspect?
How healthy is the egg really?
Eggs are little powerhouses. They supply high-quality, easily digestible protein, unsaturated fatty acids, and plenty of vitamins and minerals – in other words, a whole host of health-promoting substances. So what exactly is behind the hard shell? And just how healthy is the egg, all things considered? Stay tuned for more on nutrition value of egg and other useful stuff about eggs.
High biological value thanks to amino acids
The amino acid composition of the dietary protein from eggs is so close to that of the body's own protein that it can be converted almost 1:1 into body protein. In this context, one speaks of a high biological value.  This tells us how efficiently the protein from food can be transformed into the body's own protein. With a biological value of 1, or 100 percent, the egg serves as a reference value.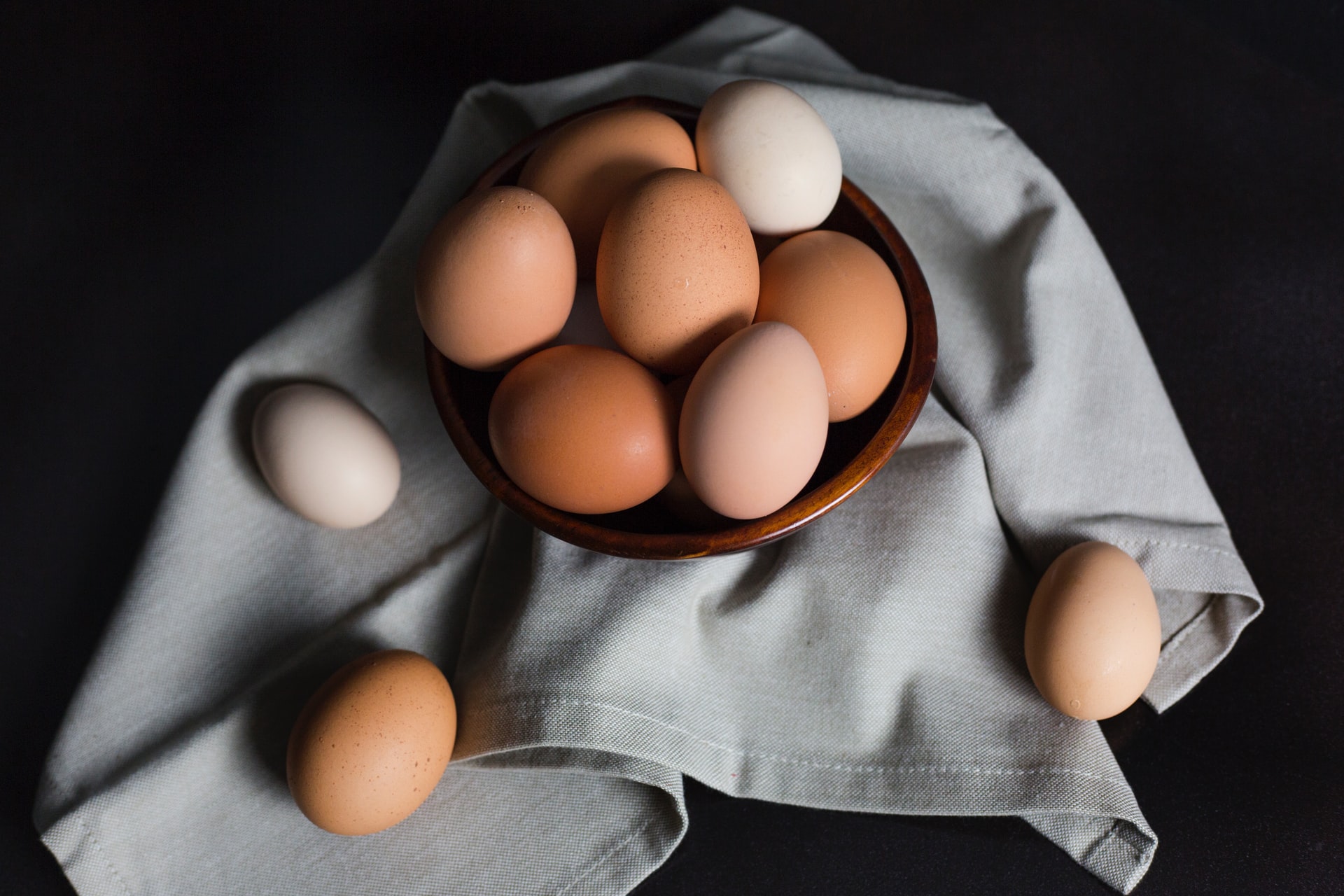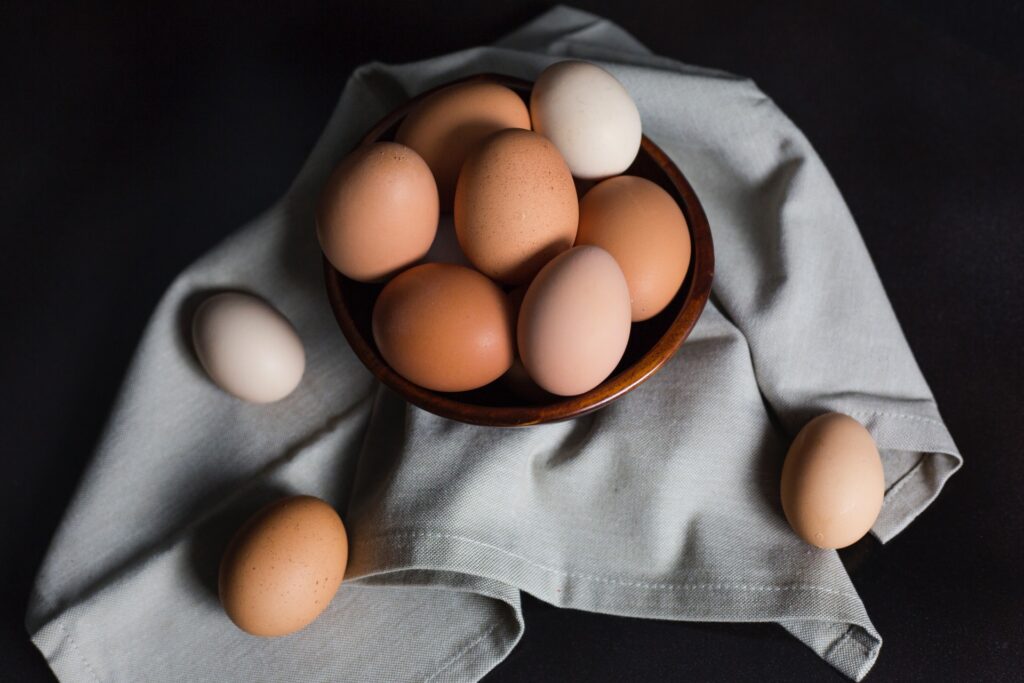 The essential amino acid content is of particular importance here. Eggs contain many essential amino acids, such as isoleucine, leucine, lysine, methionine, phenylalanine, threonine, tryptophan, tyrosine and valine, and also the semi-essential amino acids arginine and histidine.
AMINO ACID CONTENT OF CHICKEN EGGS

Chicken egg
100 g each

Chicken egg
per pc. 58 g
(weight class M)

Arginine 4


890 mg

516 mg

Histidine 4


330 mg

191 mg

Isoleucine


930 mg

539 mg

Leucine


1,260 mg

731 mg

Lysine


890 mg

516 mg

Methionine


450 mg

261 mg

Phenylalanine


800 mg

464 mg

Threonine


710 mg

412 mg

Tryptophan


230 mg

133 mg

Tyrosine


590 mg

342 mg

Valine


1,120 mg

650 mg
"Semi-essential" here means that these amino acids can become essential for the body under certain conditions such as age, illness or physical activity.
The amino acids valine, leucine and isoleucine are also used as dietary supplements in strength and endurance sports. Therefore, the egg makes quite a difference. Its high biological value proves the high quality of the amino acid ratios.
The biological value of an egg meal can be increased even further by cleverly combining the egg with other foods. How can this be done? By adding amino acid compositions to the respective proteins, they are enhanced. For instance, a meal composed of 35 percent whole egg and 65 potatoes has a biological value of 137 – which is similar to a protein shake.
Combining 60 percent hen's egg and 40 percent soy (e.g., tofu) still has a biological value of 122. Yet another combination to increase biological value is a meal made of 71 percent hen's egg and 29 percent milk. This combo would be possible, for example, with a scrambled egg. Or you can drink a glass of milk with the egg dish. This way, a biological value of 122 could also be achieved. A similar effect would be achieved by combining 68 percent hen's egg and 32 percent wheat (e.g. as bread, rolls, toast, etc.). One slice of wheat bread with two fried eggs thus brings it to a biological value of 118.
Due to its high-quality amino acid composition, the egg is ideal for muscle building and will keep you full for a long time thanks to its high protein content – a good choice for the weight-conscious! Stay tuned for more on nutrition value of egg and other useful stuff about eggs.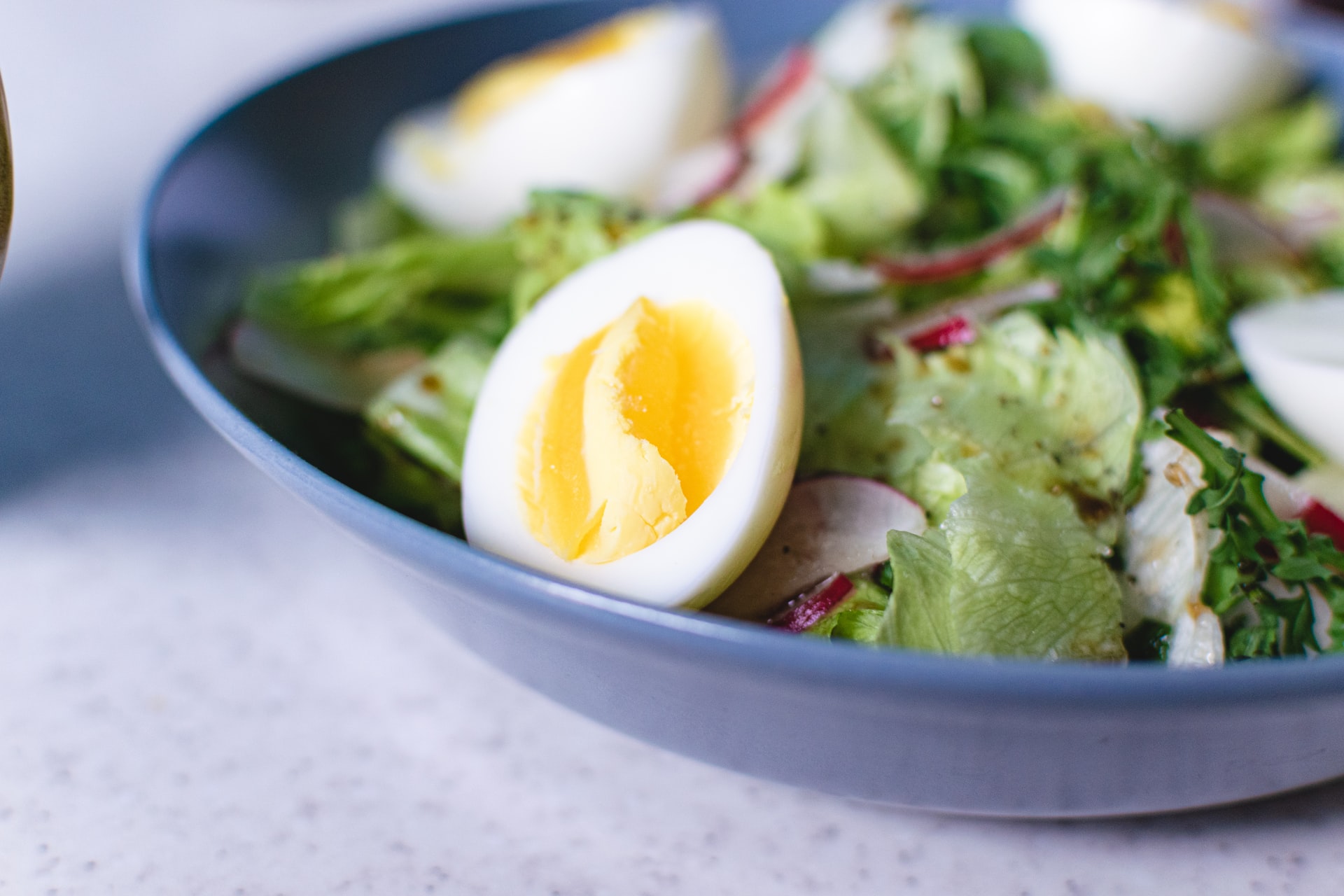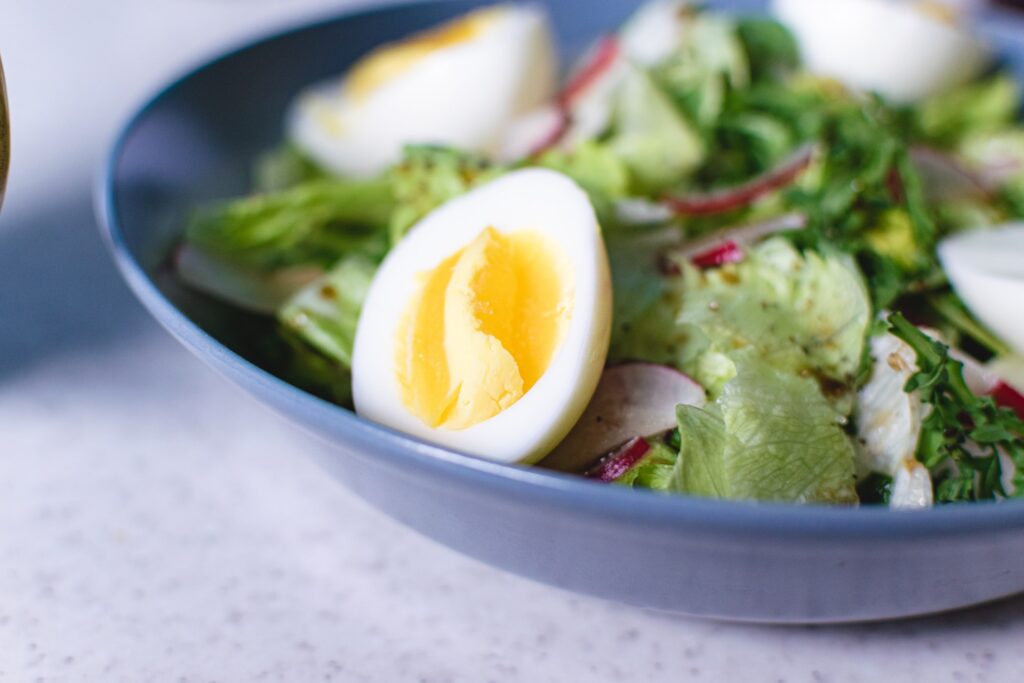 Rich in vitamins and minerals
There is one thing for sure: eggs are healthy. They contain all vitamins (except vitamin C) and also supply minerals such as folic acid, calcium, phosphorus, iron and potassium. This overall package of vitamins and nutrients provides a great food.
Vitamin D and vitamin B12 are particularly rich in hen's eggs. Vitamin D is important for the formation of bones and teeth and is produced by the body itself with the help of sunlight. However, especially in winter, or in months with less sunshine or little sun contact, a supplementary vitamin D supply via food is recommended. An average sized hen's egg can provide up to 35 percent of the daily vitamin D requirement.
Vitamin B12, on the other hand, is found nearly exclusively in animal foods. It plays a role in the proper functioning of the nerves and in a healthy metabolism, because it supports the formation of red blood cells and other body cells. An egg can already cover 38 percent of the daily requirement of vitamin B12.
In addition, eggs contain vitamin A, which is important in the formation of skin and mucous membranes, blood cell development, metabolism, and for our eyes. The vitamin K contained in hen's egg influences blood clotting, bone metabolism, regulates cell growth and protects against arteriosclerosis. Moreover, eggs provide vitamin B2, which plays a crucial role in metabolism.
Biotin, which is crucial for the regulation of gene function both in metabolism and in the cell nucleus, is also included in the category of vitamins contained in eggs. One egg supplies up to 44 percent of the daily iron requirement in biotin, most of which is contained in the egg yolk. To ensure optimal evaluation of the biotin, the egg should be heated before consumption.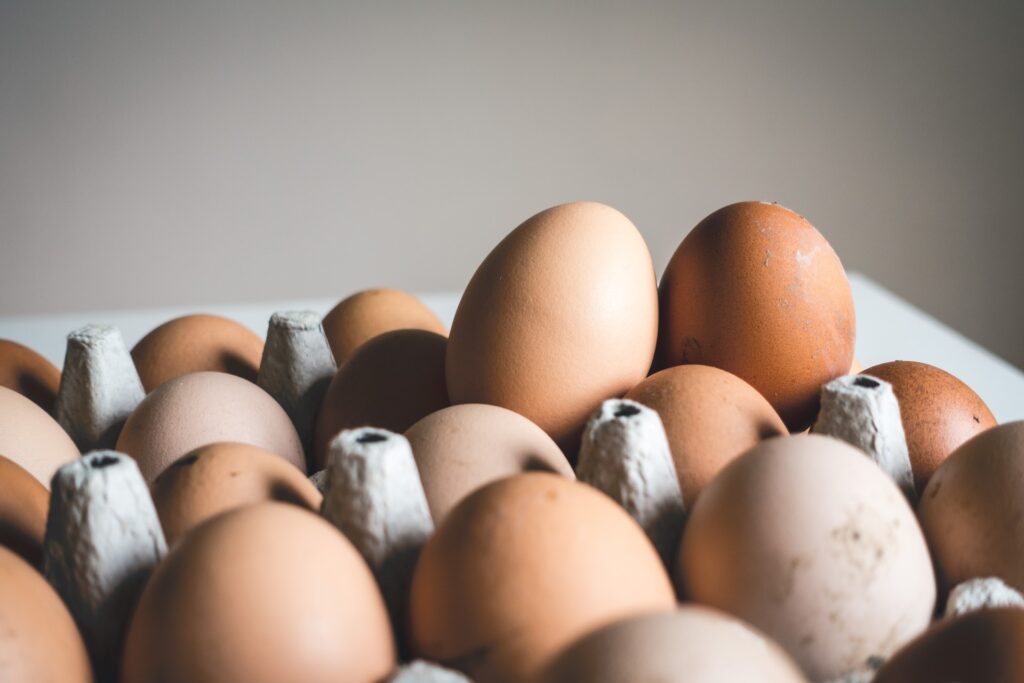 While biotin is also contained in raw egg protein, it is bound there to the protein avidin, preventing it from being broken down in the digestive tract. When the egg is heated, the biotin avidin breaks down and the body can fully use the biotin.
Vitamin C is the only vitamin that is only present in traces in the egg, as it is only formed during hatching. Other than that, the egg can also be called a true vitamin bomb.
In total, the egg contains the following vitamins:
VITAMIN CONTENT OF CHICKEN EGGS

Chicken egg
100 g each

Chicken egg
per pc. 58 g
(weight class M)

Vitamin A

272 µg

158 µg

Vitamin D

3 µg

2 µg

Vitamin E.

2,000 µg

1,160 µg

Vitamin K

9 µg

5 µg

Vitamin B2

410 µg

238 µg

Nicotinamide (vitamin B3)

85 µg

49 µg

Pantothenic acid (vitamin B5)


1,600 µg

928 µg

Vitamin B6


75 µg

44 µg

Biotin (vitamin B7)


25 µg

15 µg

Folic acid (vitamin B9)


65 µg

38 µg

Vitamin B12


2 µg

1 µg

vitamin C


0 µg

0 µg

1,000 µg = 1 mg
In addition to the rich vitamin complex, eggs are also rich in minerals and trace elements. One hundred grams of chicken egg provides about 1 g of minerals, the majority of which are found in the egg yolk. Chicken eggs are especially rich in iron and selenium.
In the human organism, iron is an essential trace element and serves to activate oxygen and carry it from the lungs to the organs and tissues. In addition, iron breaks down cellular toxins formed during metabolism. One egg provides about 12 percent of the daily iron requirement.
In addition, selenium is an important trace element that plays an important role in the protection of cell membranes from oxidative destruction as a so-called radical scavenger. As much as 21 percent of the recommended daily requirement of selenium is provided by eggs.
Besides iron and selenium, the following other minerals and trace elements are contained in eggs:
MINERALS & TRACE ELEMENTS IN CHICKEN EGGS

Chicken egg
100 g each

Chicken egg
per pc. 58 g
(weight class M)

sodium

1,452 mg

842 mg

potassium

145 mg

84 mg

magnesium

12 mg

7 mg

Calcium

55

32

manganese

703 µg

408 µg

iron

2,000 µg

1,160 µg

copper

65 µg

38 µg

zinc

1,300 µg

754 µg

phosphorus

215 µg

125 µg

selenium

10 µg

6 µg
In the meantime, we can summarize as follows: Eggs contain high-quality protein and are rich in vitamins, minerals and trace elements. This makes it an all-around healthy food – if it weren't for the fat.
But just how unhealthy is the fat in eggs really? Should we do without egg yolks for the sake of our health or weight? Stay tuned for more on nutrition value of egg and other useful stuff about eggs.
Egg yolk: good or bad?
To this day, eggs unfortunately have a bad reputation among many people. They are regarded as a fat and cholesterol bomb, that is contained in the egg yolk. Often this ends up in the garbage, where it does not belong at all.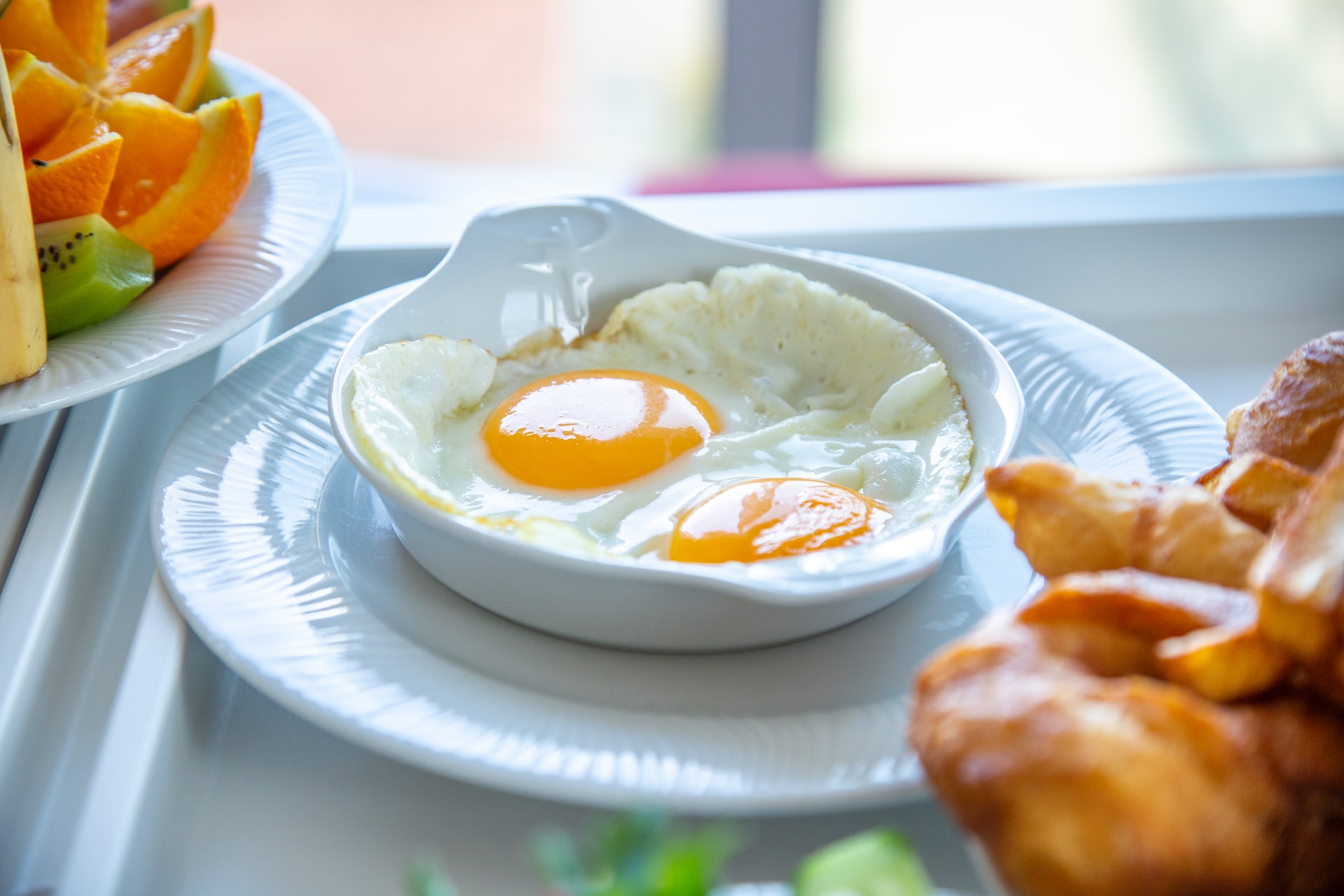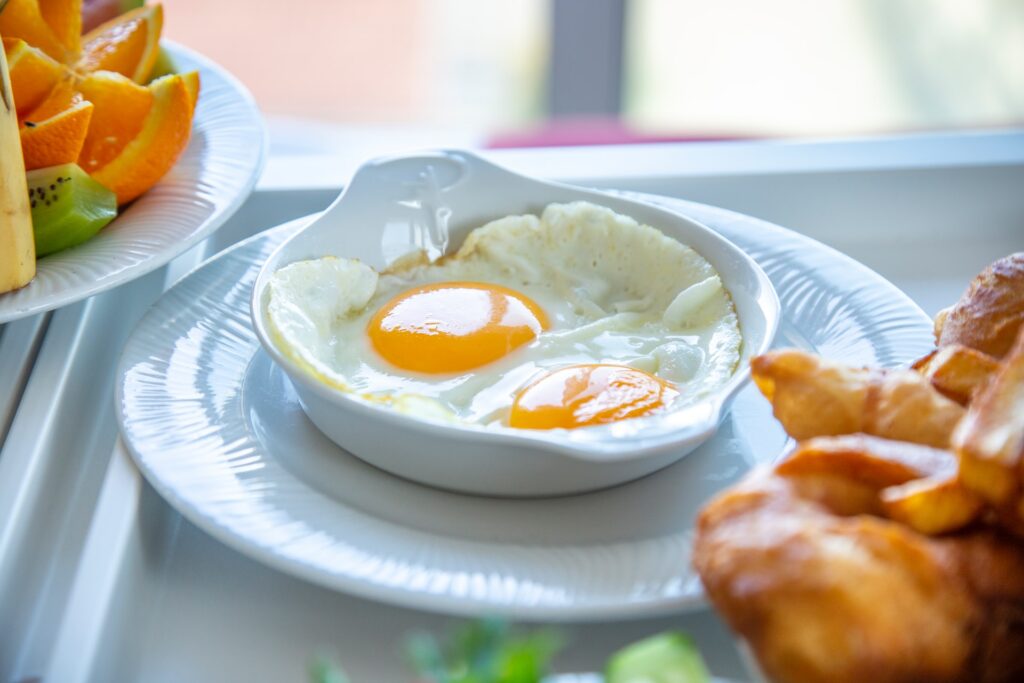 This is because if you look at the breakdown of the fat contained in the egg, you will find that one egg contains only about 1.8 g of saturated fatty acids.
FAT CONTENT OF CHICKEN EGGS

Chicken egg
100 g each

Chicken egg
per pc. 58 g
(weight class M)

Total fat

11.3 g

6.5 g

including:

saturated fat


3.1 g

1.8 g

monounsaturated fatty acids


3.6 g

2.1 g

Polyunsaturated fatty acids


1.8 g

1 g

unsaturated fatty acids:

Linoleic acid
(diunsaturated fatty acid)

1,148 mg

666 mg

α-linolenic acid
(triple unsaturated fatty acid / omega-3 fatty acid)

33 mg

19 mg

Eicosapentaenoic acid (EPA)
(polyunsaturated fatty acid / omega-3 fatty acid)

4 mg

2.32 mg

Docosahexaenoic acid DHA
(polyunsaturated fatty acid / omega-3 fatty acid)

37 mg

22 mg

Arachidonic acid
(four times unsaturated fatty acid)

142 mg

82 mg

cholesterol

425 mg

247 mg
According to many health experts, saturated fatty acids should make up less than 10 percent of daily energy intake, which is equivalent to about 20 – 26 g of saturated fatty acids per day. Having one or two eggs a day will certainly not be the trigger for exceeding this guideline value.
While eggs do contain fat, they also contain nearly 50 percent unsaturated fatty acids. This includes monounsaturated and polyunsaturated fatty acids, and high-quality omega-3 fatty acids, which can positively affect blood lipid levels. All the nutrients are found in both egg yolks and egg whites, but the greater percentage of vitamins, minerals and fats are found in egg yolks. Therefore, there is some truth in the saying "the yellow of the egg", because the yolk as a flavor and energy source is the more valuable component of the egg.
However, egg yolks also contain cholesterol – about 247 mg per egg. That is almost the maximum daily intake of 300 mg recommended by the experts. One thing is clear: Excessive cholesterol in the blood can have an adverse effect on blood lipid levels, cause hardening of the arteries and increase the risk of cardiovascular disease and stroke. Therefore, it is quite clear that many people discredit the egg because of its relatively high cholesterol content.
Stay tuned for more on nutrition value of egg and other useful stuff about eggs.
Cholesterol: How much egg is still healthy?
Does the cholesterol in the egg now give you a reason to give up eggs? In principle, no. This is because even the cholesterol in a chicken egg is not as harmful as believed. Only a small amount of the 247 mg of cholesterol per egg enters the bloodstream. That is because our body also forms the vital substance itself in the liver. If cholesterol is taken in with food, such as eggs, the body's own production is reduced. There is a balance, so that the cholesterol values in the blood remain practically constant.
So far, there is no clinically relevant evidence that increased consumption of eggs leads to an increase in blood lipid levels and endangers heart health. Thus, eggs unfairly have a bad reputation. After all, it has not yet been demonstrated whether eating eggs actually increases cholesterol levels.
Saturated fatty acids, such as those found in hydrogenated fats, are much more dangerous than the cholesterol contained in eggs. These lead to high cholesterol levels. Among other things, saturated fatty acids are found in meat, sausage, butter, cream, pastries or coconut fat.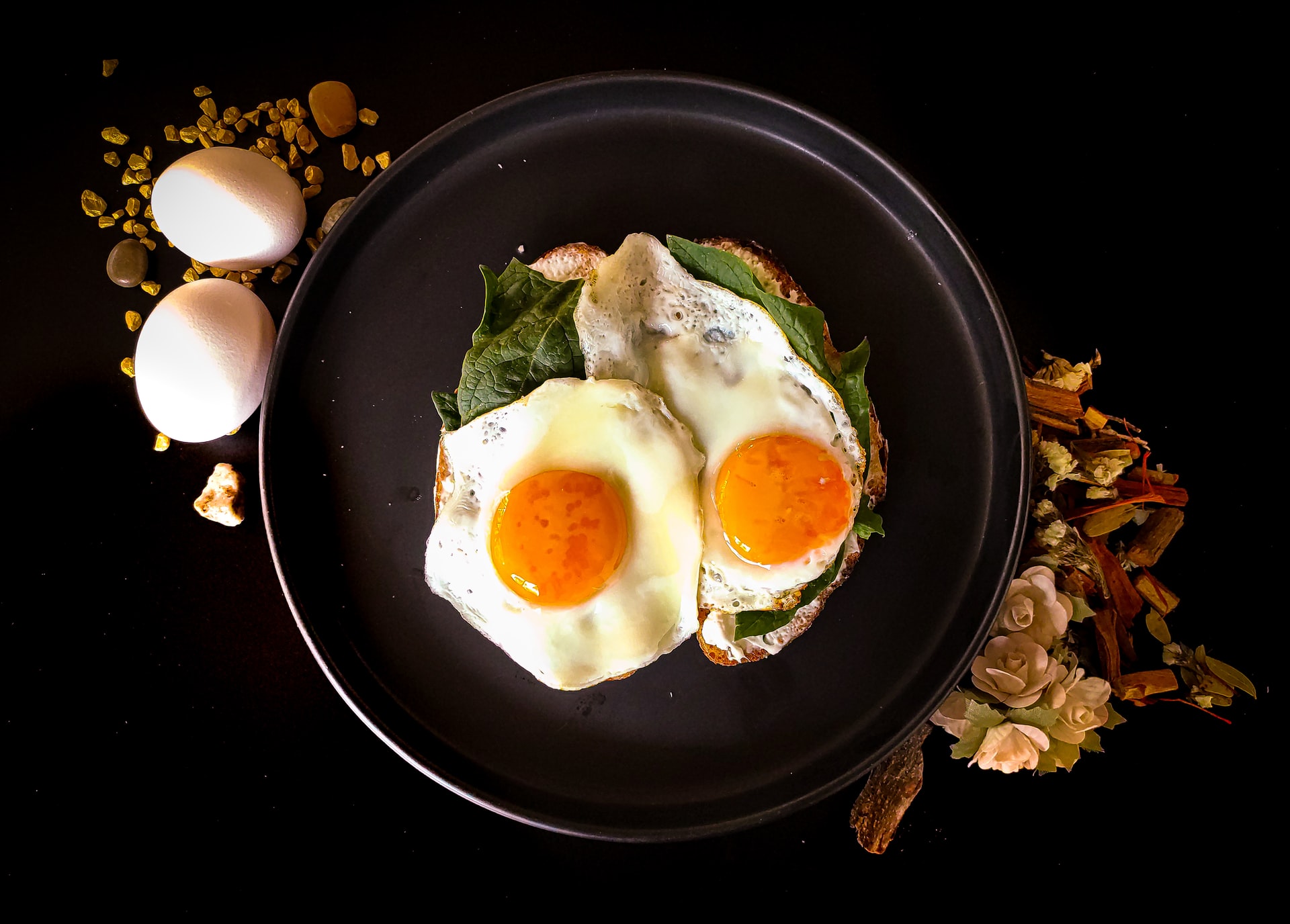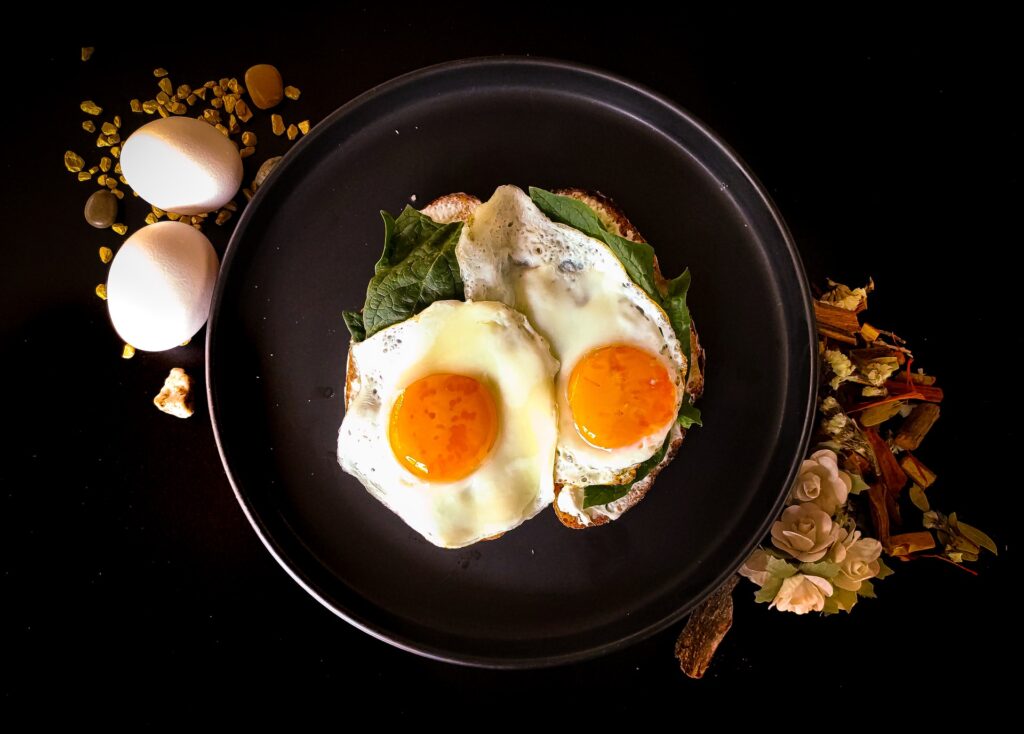 All in all, eggs are not to be missed in a healthy balanced diet due to their high content of micronutrients. In fact, even those who want to lose a few pounds can use the high degree of satiety of eggs to their advantage. People without a genetic background hardly have to worry about their cholesterol level and can thus eat eggs more often. In this case, there is nothing wrong with one or two eggs a day.
Individuals who already have risk factors for a heart attack, like obesity or high blood pressure, should focus on a cholesterol-conscious diet. In this case, too, eggs are generally permitted, but in moderation. A consumption of up to three eggs (incl. processed egg) per week is recommended by the experts.
Whoever has to watch his cholesterol level should limit the consumption of animal and especially cholesterol-containing foods, like offal, seafood, eel and smoked fish, skin in poultry, fast food, dressings, etc.. This will save a lot of cholesterol and fat!
In their place, plant-based foods such as whole-grain bread, brown rice, oatmeal, vegetables, salads, fruits, legumes and potatoes should be on the table more often. Not only are these low in fat, but they are also naturally cholesterol-free.
It is worth mentioning here that cholesterol is not generally bad. While the "bad" LDL cholesterol is mainly responsible for the development of vascular calcification, the "good" HDL cholesterol has a vasoprotective effect.
High LDL cholesterol levels are triggered by lipometabolic disorders, which can be caused by genetic factors, but frequently only become apparent as a result of an unhealthy lifestyle, including an unhealthy diet, lack of exercise, obesity, diabetes, high blood pressure and smoking.
In order to lower cholesterol, it is therefore not necessary to give up eggs, but preferably better to change your diet, do regular (endurance) sports and stop smoking. Stay tuned for more on nutrition value of egg and other useful stuff about eggs.
Tips for buying eggs
There are many good things in eggs, and cholesterol is not as bad as we think. Nevertheless, there are some tips to keep in mind when buying eggs. The nutrients in eggs are not affected by whether they are eaten raw or cooked – even though probably only a few of us will go for raw eggs.
Furthermore, the quality of the eggs is not dependent on the color of the shell, which, by the way, has absolutely nothing to do with the plumage of the chicken, rather with the breed. To be more precise, it depends on the ear lobes. So white eggs suggest white ear lobes and brown eggs indicate red ear lobes of the laying chicken.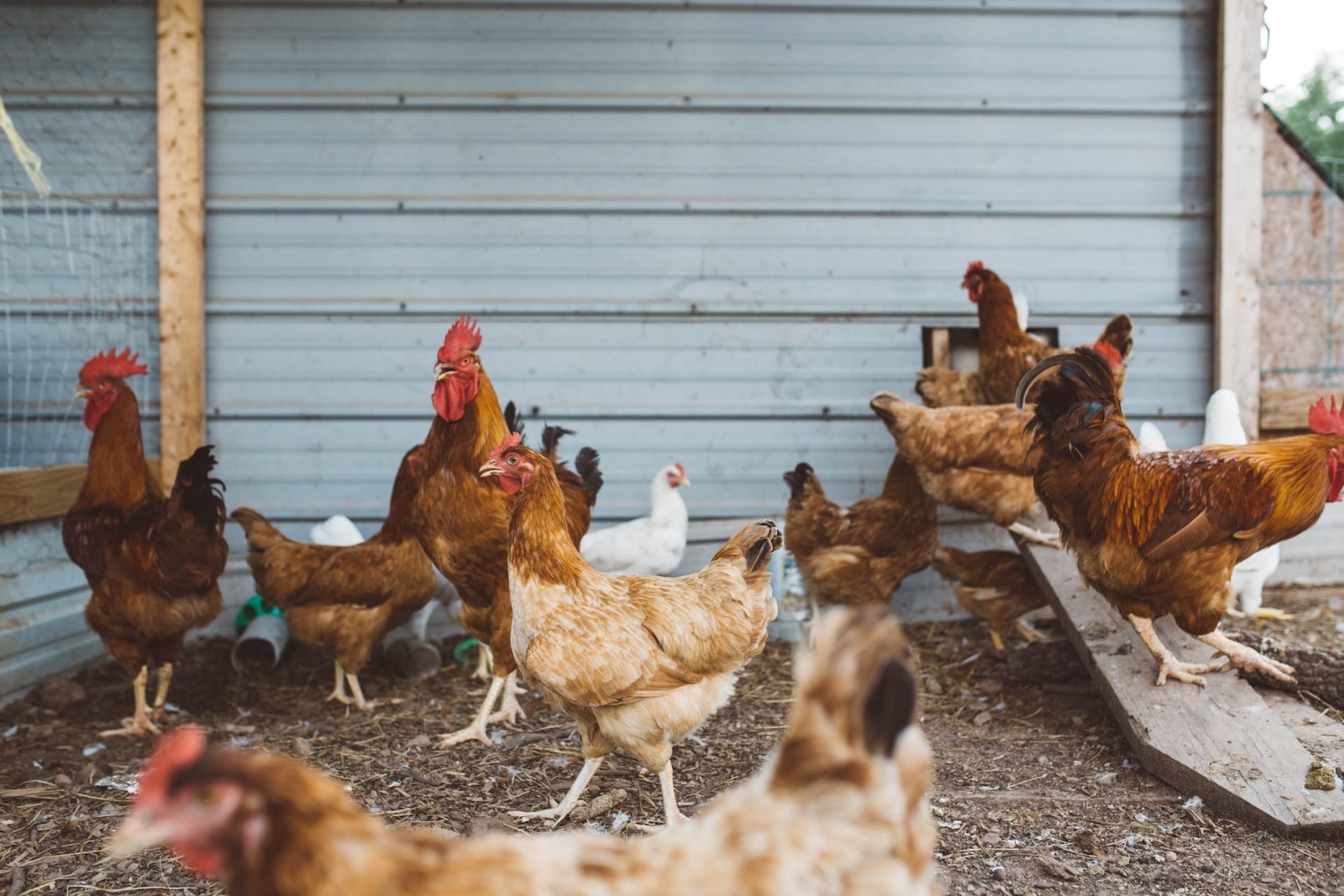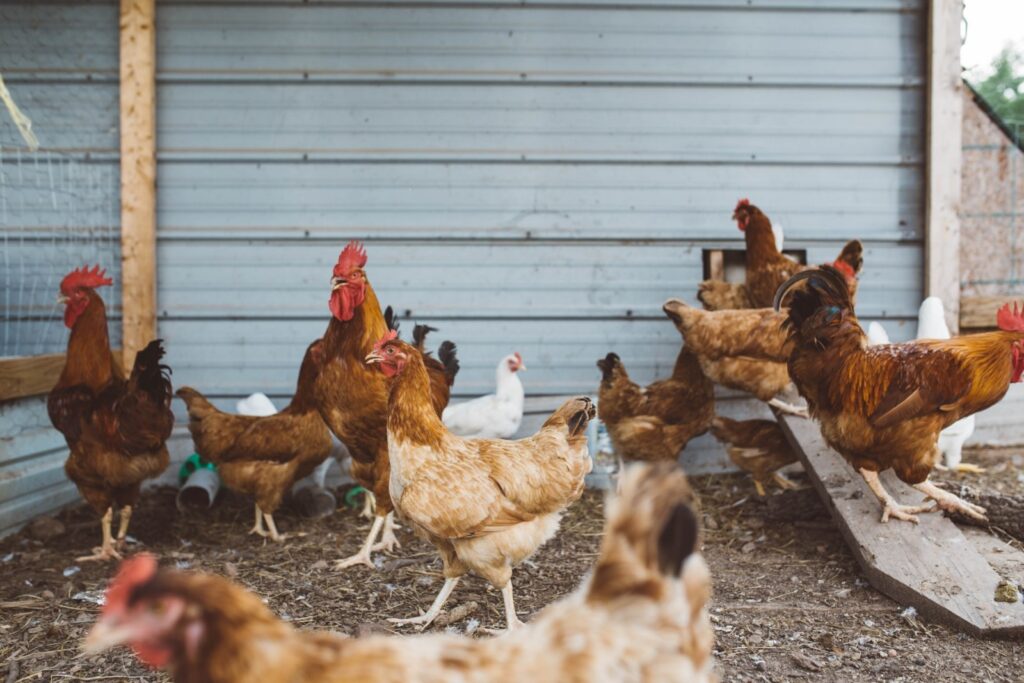 That being said, the diet of the chicken influences the nutritional value of the egg to a great extent. Chickens which have been fed fresh plants, worms, snails and insects, in addition to seeds and grains, have far higher nutritional value. They have more vitamins A, E and D, beta-carotene, and omega-3 fatty acids, and at the same time less saturated fat and cholesterol.
Since free-range chickens eat more plants that contain alpha-linolenic acid (a plant-based omega-3 fatty acid), there are usually more polyunsaturated fatty acids in the eggs they lay than in caged chickens, for example.
Even better: organic eggs from the region. Only organic cereals and organic legumes are used instead of genetically modified soy meal. The "small round" tastes all the better.
The type of farming can be easily identified by the producer code printed on each egg:
0 = Organic eggs: Free-range (With feed from organic farming).
1 = Free range
2 = Barn
3 = Cage rearing/small group rearing in battery cages
Cage rearing has been banned in several states since 2020 (fortunately) and has been replaced mostly by floor rearing, in some cases also by small group rearing. However, it makes little difference whether there are five chickens in one cage or 60 chickens crammed into a larger compartment. Stay tuned for more on nutrition value of egg and other useful stuff about eggs.
Also Read:
Nutrition Value of Egg – Bottom Line
While eggs are an all-around healthy food in the most literal sense of the word, they naturally also contain calories and fat. Like everything else, the right measure is also crucial when it comes to egg consumption. Who eats daily ten eggs with butter and bacon and also otherwise very calorie and fat-rich nourishes itself, might get problems with their health and body size.
Eggs can make you fat, but other foods can too. Those who eat one or two eggs a day as a healthy person have little to be concerned about because of the fat and cholesterol in the egg. When it comes to the amount you eat, you should in no way leave out the nutrient-rich egg yolk. Although the "yellow of the egg" provides about 83 percent of the calories, it has much more to offer in terms of vitamins and minerals.
The yolk, however, also contains the entire fat and cholesterol content. Therefore, excessive consumption of egg yolks is not advisable. The same does not apply to egg white, which is considerably lower in calories. While egg white only contributes to a small extent to the supply of micronutrients, it has virtually no carbohydrates and is also completely fat- and cholesterol-free.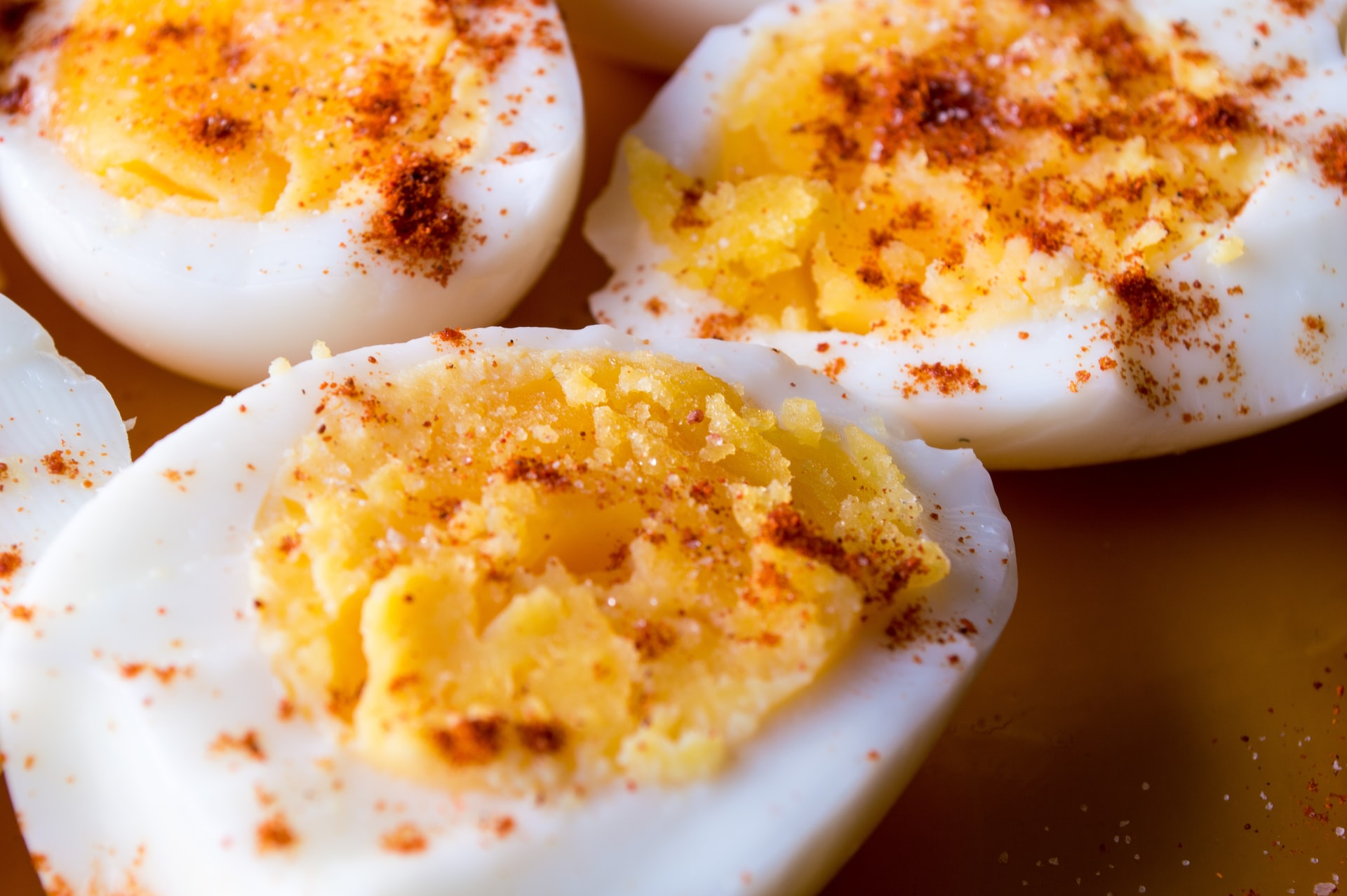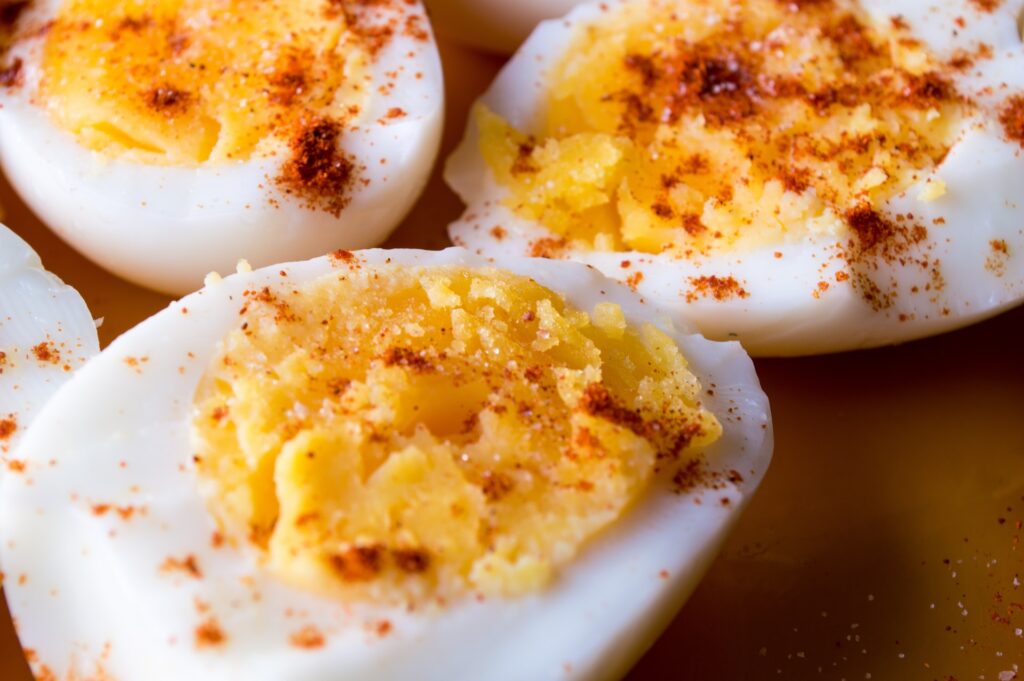 In terms of body shape, therefore, you really have nothing to worry about when eating egg whites. On the contrary, egg white can be a good choice to provide a high-quality part of the daily protein requirement.
An omelet made with pure egg whites or in a 2:6 ratio (two egg yolks and 6 egg whites) can help you save a lot of calories and fat. Add tomatoes, carrots, mushrooms or fresh herbs and you can create a healthy meal in no time. A hard-boiled egg (clear) is also an ideal snack for in between meals.
To avoid the unused egg yolk ending up in the garbage can, you can use egg whites in tetra packs (note the origin of the eggs) or freeze the yolk. You can do this either in a freezer can or in portions in larger ice cube containers. To avoid the formation of a skin on the thawed egg yolks, you should use about 2 g of salt per 100 g of egg yolk. Once frozen in this way, egg yolks can be kept in the freezer at -18 degrees for about 8 – 10 months.
Be it for cakes, desserts such as zabaglione, ice cream, a hollandaise sauce, mayonnaise or egg liqueur – you can find numerous uses for egg yolks. Most of them, however, are less body-conscious…
However, eggs themselves are delicious and healthy, they provide high-quality protein, unsaturated fatty acids, many vitamins and minerals and therefore belong on the table and not only on Sundays!
In case  you have any other questions about nutrition value of egg, please let us know in the comments section below.