The same thing over and over again: You are sitting there and try hard to perfectly polish your nails. Then after the nail manicure, you're just not paying attention and there are already ugly scratches in the polish. All it takes is slipping into your shoe or jacket and all that effort was for nothing. Until now you always thought that blowing helps? It's quite the opposite! The moisture in your breath makes sure that the drying process is slowed down. But the good news is that there are methods to make nail polish dry faster.
Five Ways You Can Speed Up Nail Polish Drying
Among other things, nail polish includes chemical substances such as acetates and other solvents that evaporate during the drying process. As a result, the polish becomes harder. In order to speed up this process, you must intervene in it. The most typical way to speed up the drying process is blowing, but there are more helpful tricks.
Trick 1: Cool Water Bath
After applying the polish, allow it to dry for about a minute and then hold your nails briefly in a bowl of cold water. This cold makes the nail polish dry faster. Preferably, you should prepare a bowl with ice water before applying the polish to avoid scratching the nails while preparing. But beware: some polishes are very sensitive to the cold shock and become loose.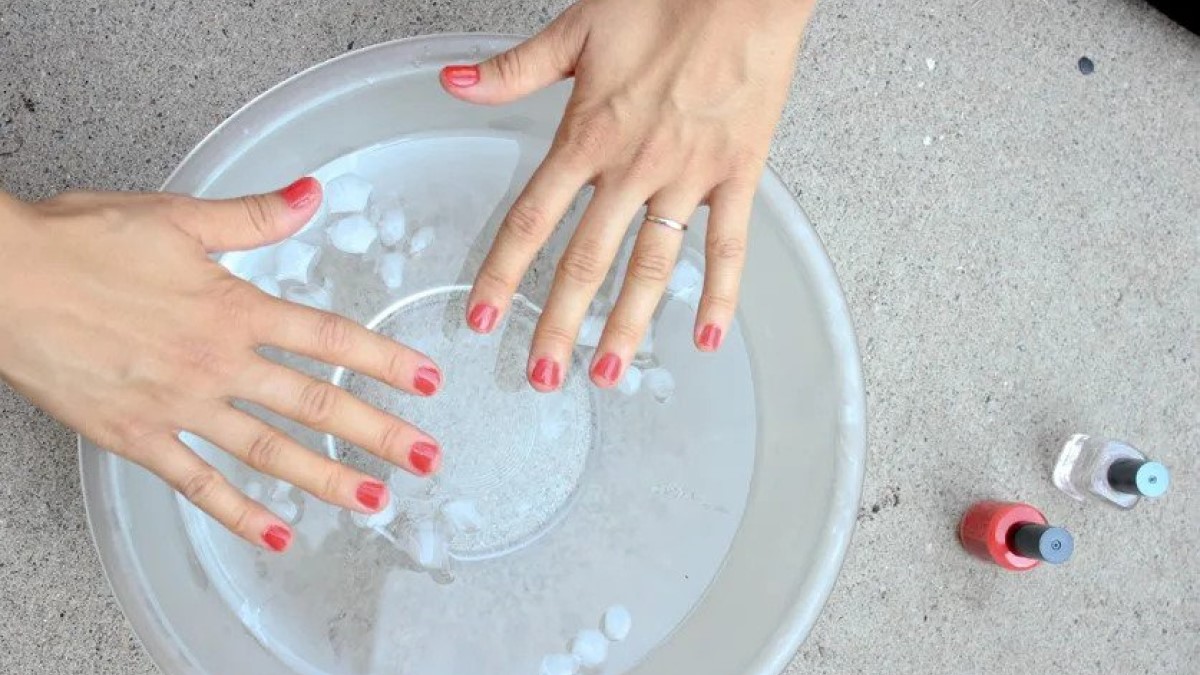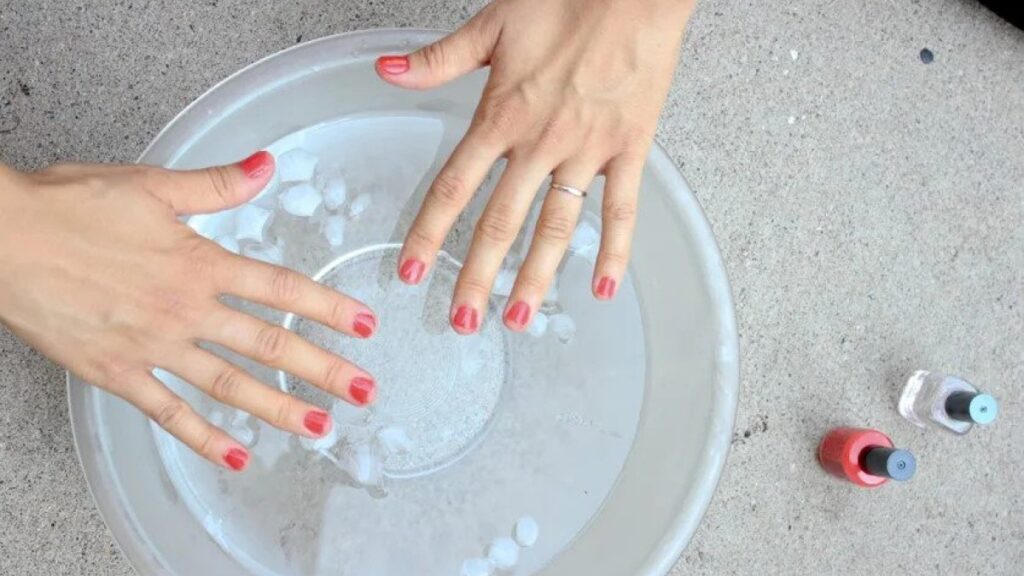 Those who do not want to go to the trouble of preparing a bowl of water can also put the nails under the tap. In this case, the jet must not be too strong, or else there is a risk of damage to the polish!
Trick 2: Into the Freezer
This trick to make nail polish dry faster might be strange, but it is equally effective, and not particularly energy-saving: Just put your nails in the freezer for a short time. Here, too, the cold makes the polish dry much faster.
Trick 3: Drying With a Hairdryer Instead of Blowing
Blowing on the nail polish is believed to be a home remedy to speed up the drying process. But moisture and heat from the air you breathe are more likely to slow down the drying process. Rather, let your hairdryer do the work. This should, however, be set to the cold air setting, because the paint cannot harden properly when it is warm. Just hold the blower on your fingers for a few minutes and your nails will be fine.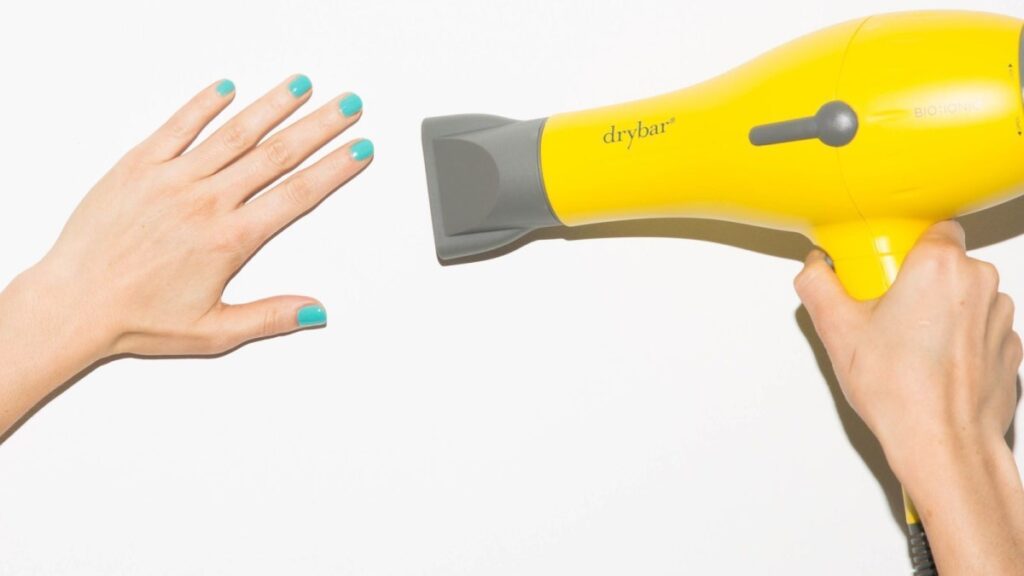 Trick 4: UV Lamps
Do you have special polishes that contain so-called polymers, then you can also dry your nails under a UV lamp. The majority of nail polishes that contain polymers are so-called gel nail polishes. Heat accelerates the process as in a professional manicure in the salon and ensures an even glamour look. Stay tuned for more trick on how to make nail polish dry faster!
Trick 5: Quick Dryer
A lot of companies produce so-called quick dryers. They are top coats that you simply apply over the desired color, allowing the nail polish to dry quickly. If you want it to go faster, use special quick-drying polishes, such as "Good to go" from "Essie". They make the nails shock-proof within ten seconds. Besides fast-drying polishes, there are also drops or sprays that ensure that the nail polish hardens faster.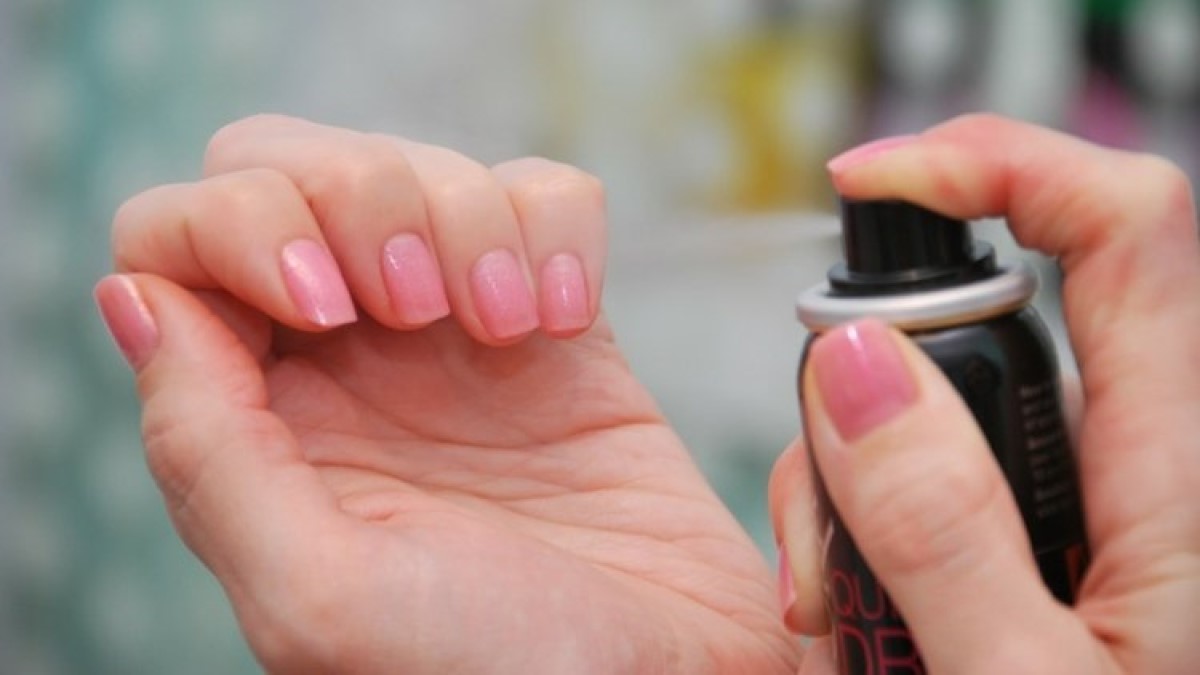 Trick 6: Use a Dry Spray
If you are in a hurry, a quick dry spray will of course be helpful. The dry spray optimally supports the quick drying of the polished nails. In addition, it gives the nails a radiant shine. Simply spray your nails from a distance of 20 cm. After about 2-3 minutes, the desired effect is achieved and the polish is fixed. After applying the top coat, you can spray your nails with the dry spray.
Also Read:
How Long Does Nail Polish Need to Cure?
There is no general rule about how long nail polish needs to dry, because a lot depends on the beauty product in question. With standard polishes, you have to let the first color layer dry for about five minutes before you can use your hands normally again. The second coat of paint will then already need about ten to fifteen minutes to dry out, and a third coat will only sit firmly on the nails after at least half an hour.
Therefore, if you wear your polish in several layers, you should follow our tips or rely on special quick-dry products, i.e. polishes that dry particularly quickly. In most cases, these are already completely dry after about 60 seconds.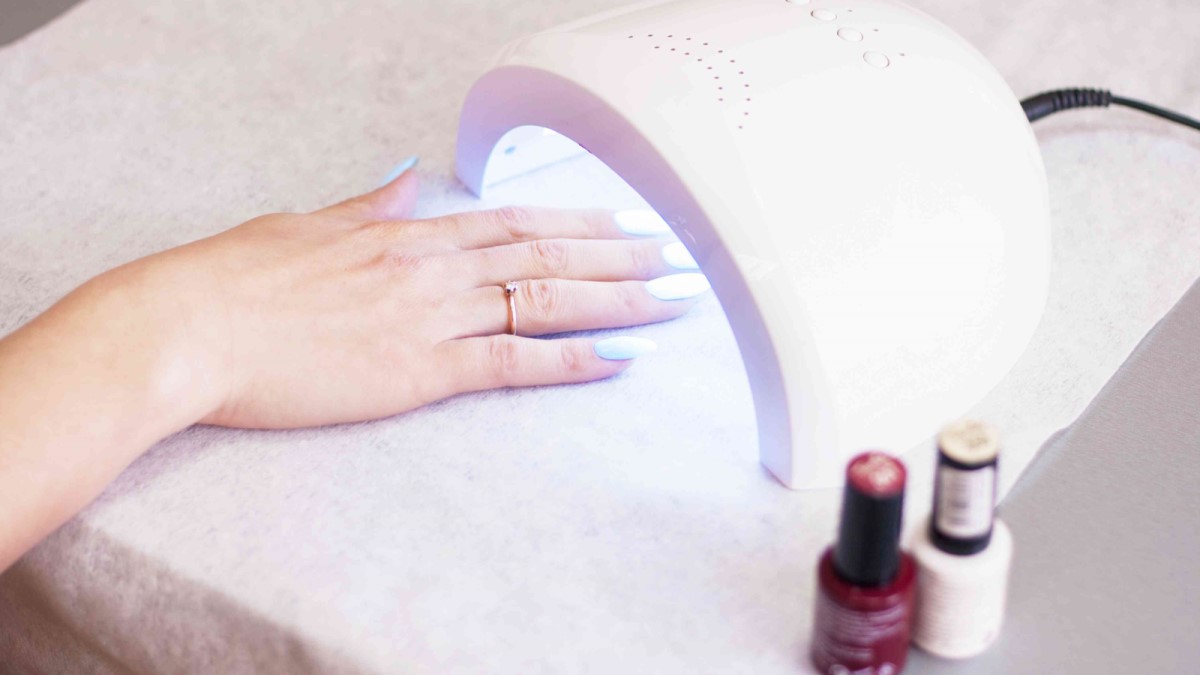 How to test whether nail polish is dry or not?
The most reliable of all tricks to find out whether nail polish is dry or not is the following: Carefully tap the nail of one finger against one of the other hand. If there is a very soft clacking sound, the polish is dry.
If instead you have the feeling that the nails stick together, you need to wait a little longer and keep your fingers still. Naturally, this test can be tried with any finger. Have fun trying it out!
Make Nail Polish Dry Faster – Bottom Line
Still looking for more tips and tricks on how to make nail polish dry faster? Well, here's another very important one for you: preparation is also very important to ensure that the polish dries faster. Before applying your favorite color to your nails, be sure that they are free of grease. If they aren't, the polish will take longer to dry.
To make sure, you must wash and dry your nails well after the manicure and before applying the polish. To ensure that the nails are completely free of grease, dab them with nail polish remover and allow it to soak in or evaporate. If you have any questions, don't hesitate to ask us in the comments section below.