It was almost one year ago that the current bull cycle on the crypto market started when Bitcoin managed to break free from the resistance at 10,000 dollars and was also able to overcome the all-time high from the 2016/2017 bull cycle at around 20,000 dollars not long after. In the meantime, Bitcoin is trading at more than $60,000 and has therefore risen by $50,000 or 500 percent within one year.
Those are impressive numbers that have made buying Bitcoin a great investment and to a large extent dwarf the returns on buying stocks, for instance. However, the 2020/2021 bull market has witnessed even far crazier price explosions in altcoins. This is a good time to take a look at which cryptocurrencies are truly the best investments (so far) in this bull cycle. Here's an overview of the top 10 and what else to expect from them in the future.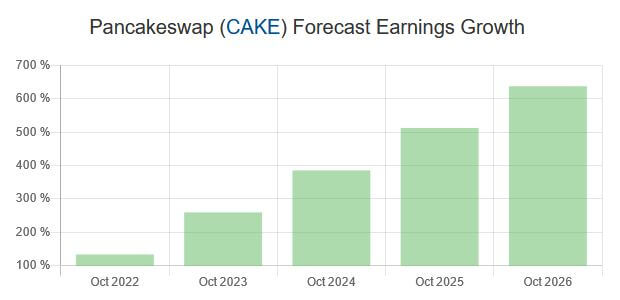 In terms of growth, Pancake Swap is reminiscent of projects like Uniswap or Sushi Swap. However, with regard to growth rates in this bull cycle, CAKE/USD clearly outperforms the aforementioned altcoins. Its price has shot up by around 4,150 percent within a year.
At present, however, CAKE is a good distance away from its all-time high. In April 2021, CAKE/USD reached an all-time high of more than 44 dollars per coin. By contrast, this cryptocurrency is currently trading at only around $17.33, a decline of more than 50 percent in the past six months.
Over the past few weeks, the altcoin price has been moving rather sideways, with no clear direction. But analysts at Wallet Investor still predict strong price increases of CAKE/USD. As a result, the altcoin price could already increase more than twofold by 2022. In the years 2023 to 2023, it is also expected with extreme rates of increase of CAKE. For example, the price could explode by almost 650 percent by 2026, hitting a level of more than $136 per token.