During autumn, when pumpkin is processed, a lot of pumpkin seeds are left over, many of which end up in the garbage can. But pumpkin seeds have so much to offer! After all, they not only taste delicious, but also contain a lot of healthy ingredients. In this article you will learn how to cook pumpkin seeds, roast, season and have healthy snacks.
Remove and clean pumpkin seeds
No matter if you prepare pumpkin pie, pumpkin bread, pumpkin puree, pumpkin spread or any other pumpkin recipe: These healthy pumpkin seeds are always left over when processing fresh pumpkin. In most cases, they are associated with fibrous pulp, which is removed first for drying or roasting the seeds.
In order to make it easier to remove the seeds from the fibers, proceed as follows:
Pick out the majority of the kernels from the mass. In a bowl or wash basin, knead the kernels together with the attached fibers in water until the remaining kernels separate from the fibers.
Pick out the cleaned seeds that float to the top and place them on one half of a spread-out dish towel.
With the other half of the cloth, rub the seeds to remove the last of the fibers.
You can now dry the cleaned pumpkin seeds, roast them, or eat them fresh.
Tip: When you have the space and time for it, you can also lay out the seeds together with the fibers in a warm and dry place overnight, because in the dry state, the seeds also easily detach from the threads.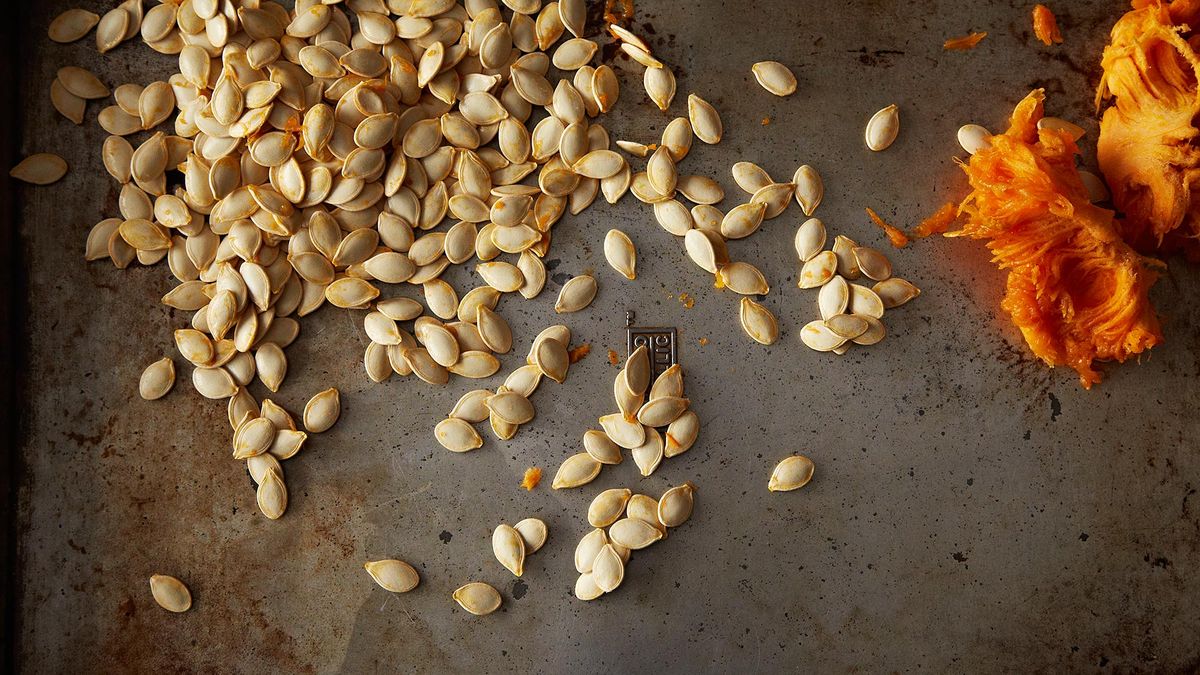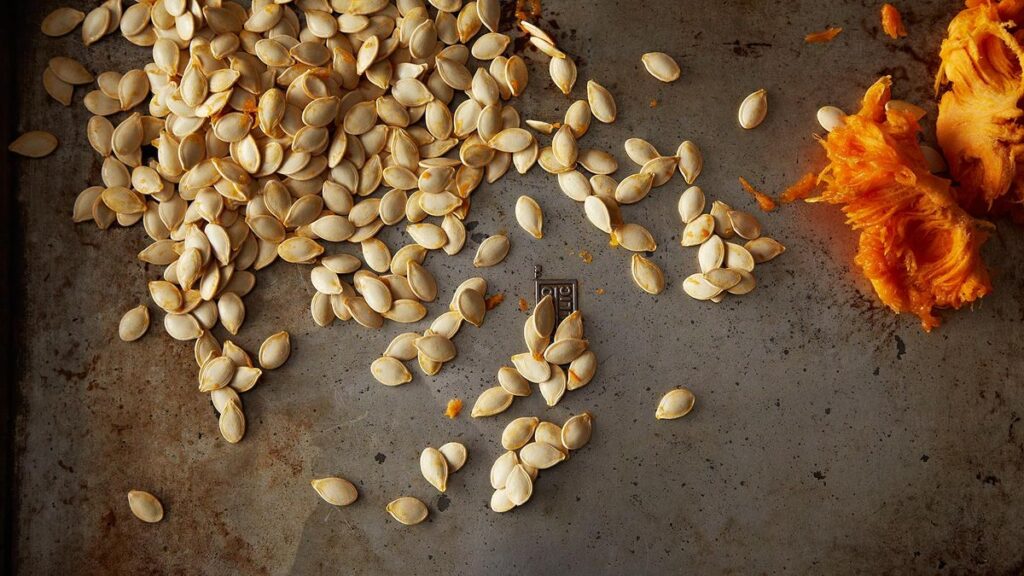 Drying pumpkin seeds
You can leave the seeds to dry in the air in a shallow bowl (for example, on a radiator) or remove the moisture from them with a dehydrator. You can also use the residual heat of the oven to dry the kernels by spreading them out on a baking tray. The temperature of the oven light is often sufficient. When doing this, it is best to put a spoon in the oven door so that the moisture can escape through the resulting gap.
How to cook pumpkin seeds: Recipe for a spicy roasted pumpkin seeds
Just like potato chips, roasted pumpkin seeds can be downright addictive! It is best to roast the fresh seeds as soon as possible, as they retain the most flavor.
For an entire baking sheet, you'll need:
about 150 g cleaned pumpkin seeds in the shell
2 tablespoons of cooking oil, for example sunflower oil
spices to taste, for example a mix of oregano, thyme, chili powder, paprika powder, garlic, salt and bell pepper
Here's how to cook pumpkin seeds and make this healthy snack:
Preheat oven to 180 degrees top/bottom heat.
Mix pumpkin seeds with oil and spices so that the seeds are evenly coated with it.
Place the prepared seeds on a baking sheet lined with baking paper or a baking paper alternative and roast in the oven for 20 to 25 minutes. After ten minutes, turn them over. When the cooking time is over, check occasionally to ensure that the seeds are already crispy enough so you don't miss the right time to remove them!
Finished are the delicious pumpkin seed nibbles, that you can store for a few weeks after cooling in an airtight screw-top jar.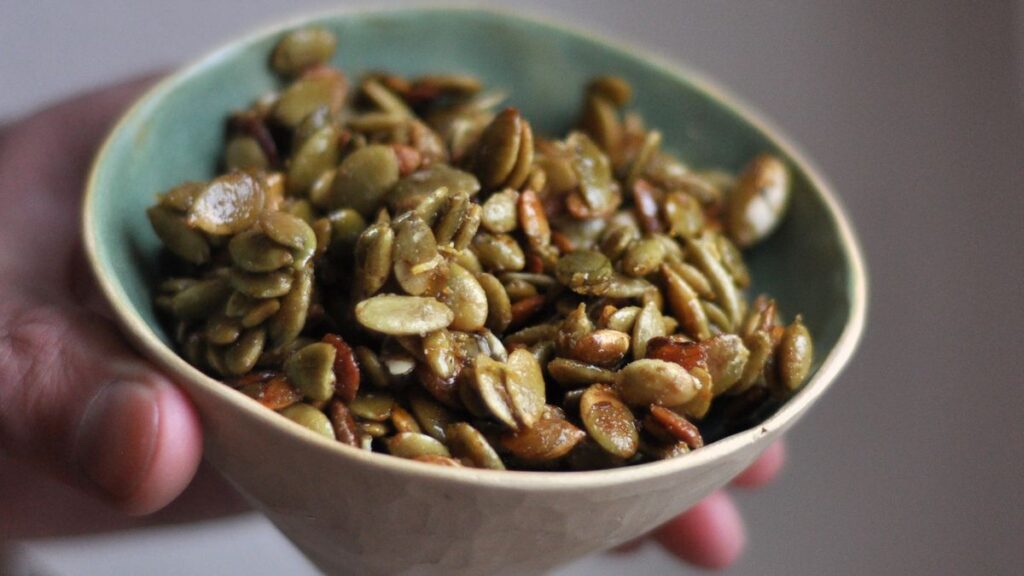 Tip: To make another savory version, mix about 150 grams of pumpkin seeds with two tablespoons of olive oil, half a clove of pressed garlic, two teaspoons of Worcestershire sauce and a little salt. Place the mixture in a shallow dish and bake in the oven at 140 °C, turning several times, for about an hour.
Caramelize pumpkin seeds with shell
As a sweet treat, one option is to caramelize the seeds that have been dried in advance. You need:
100 g dried pumpkin seeds (see above)
1 tablespoon cooking oil
2 tablespoons sugar
1 pinch of salt
How to make caramelized pumpkin seeds:
In a coated frying pan, heat one tablespoon of oil over medium heat.
Put the dried pumpkin seeds in the pan with two tablespoons of sugar and a pinch of salt and keep heating, stirring constantly, so that the sugar turns liquid and caramelizes.
Transfer the finished sweet nibble to a large plate to cool.
For an even more interesting flavor, roll the still-hot caramelized kernels in a spice mixture of three tablespoons of sugar and a pinch each of salt, cinnamon, ginger powder, cumin and cayenne pepper.
Tip: Rather than in a pan, sweet roasted pumpkin seeds can also be prepared in the oven.
Also Read:
Use these tricks to shell pumpkin seeds
Many pumpkin seeds have a tough shell, which makes it a good idea to peel them out before nibbling or cooking. You can do it with these tricks.
To make sweet and savory nibbles to enjoy, proceed as follows:
Place the kernel on edge between your incisors and bite gently, so that the shell bursts open.
Fish out the kernel with your tongue and discard the shell.
If you would like to peel the kernels for baked goods, salads, or other dishes, you will need a pan and scissors. This is how it's done:
Roast fresh kernels shortly without fat in a pan. This will dry the somewhat slippery surface, so that further processing is easier.
Slice the kernel at the thicker end with scissors. The cut is best to separate only one to two millimeters of the shell.
Use both thumb tacks to pry the peel apart at the cut and remove the kernel.
Tip: You can also dry fresh peeled kernels as described above. This makes them suitable as an ingredient for delicious vegan spreads.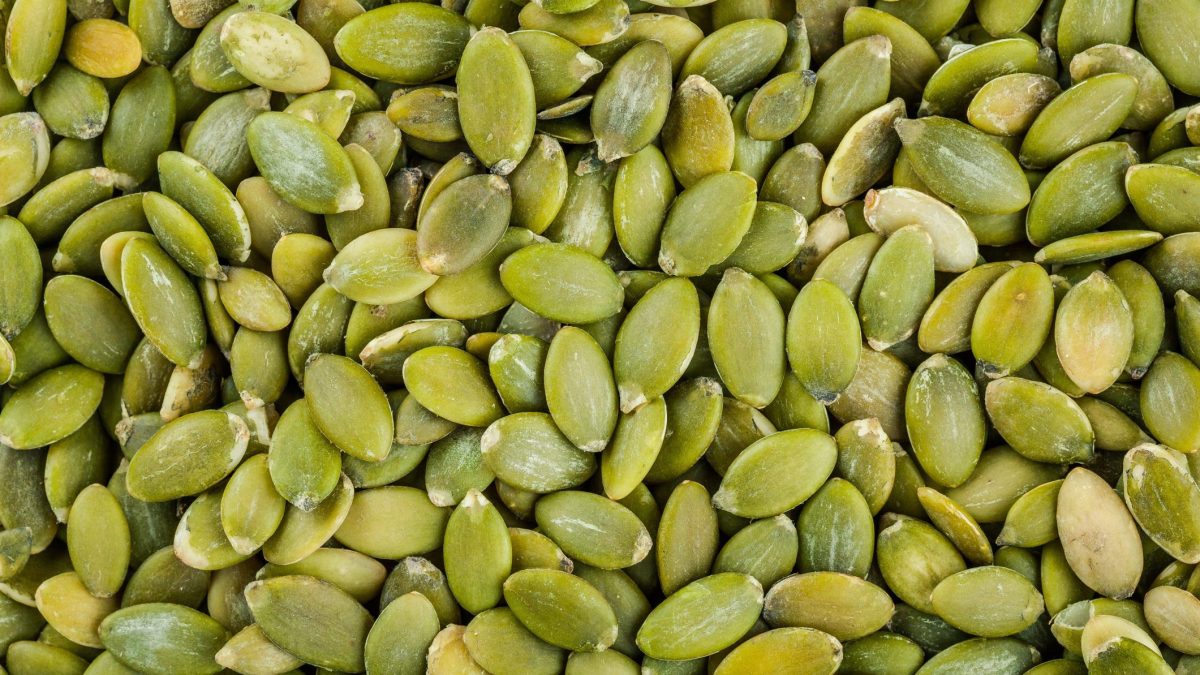 Pumpkin seeds are healthy!
There are many ingredients in pumpkin seeds that have a positive effect on the body and can even have a healing impact:
Tryptophan, the essential amino acid contained in the seeds, is transformed in the body into serotonin – a hormone that has a positive effect on mood and helps to overcome stress, which is why it is also known as the happiness hormone.
Pumpkin seeds contain tryptophan and all other essential amino acids, essential building blocks for proteins.
The level of diuretic and anti-inflammatory beta-sitosterol in pumpkin seeds helps ease the discomfort caused by benign prostate enlargement.
In addition, phenolic glycosides and phytosterols strengthen the bladder and prostate and help prevent bladder infections.
Omega-3 polyunsaturated fatty acids included have a protective effect on the cardiovascular system, lower blood pressure and promote blood circulation.
Also, the amino acid L-arginine stimulates blood circulation and is therefore also added to sexual enhancers.
The phytosterols have a positive effect on genetic hair loss.
In this article we tried to cover everything on how to cook pumpkin seeds and how roasting pumpkin seeds works. Do you prefer to eat pumpkin seeds with or without the shell and do you use other tricks to peel the seeds? We look forward to your experiences in the comments!