Bitcoin has dropped below $60,000 again and is in a struggle to recover. What awaits Bitcoin now? In this article, we will have a deeper looks into the current situation of bitcoin and answer your questions, so stay tuned!
Is Bitcoin about to crash further?
This crypto crash is repeating itself today: already yesterday Bitcoin lost some gains, now the number 1 cryptocurrency is facing another drop. Approximately 2.3% BTC has fallen back within the last 24 hours, with respect to the week it is even more than 10%.
Starting at $61,055, Bitcoin plummeted to new lows of up to $58,838. Although the coin managed to recover here – but only minimally. Consequently, Bitcoin is currently trading (at the time of this writing) at $60,638.85.
Also Ethereum faces losses, and had to lose almost 3%, currently trades at 4,302.07 dollars. Binance Coin (BNB), on the other hand, which ranks No. 3 by market capitalization, is down around 8% and is currently trading at $583.29.
Meanwhile, the total market capitalization has declined by more than 3% and now stands at $2.58 trillion (data from Coinmarketcap.com).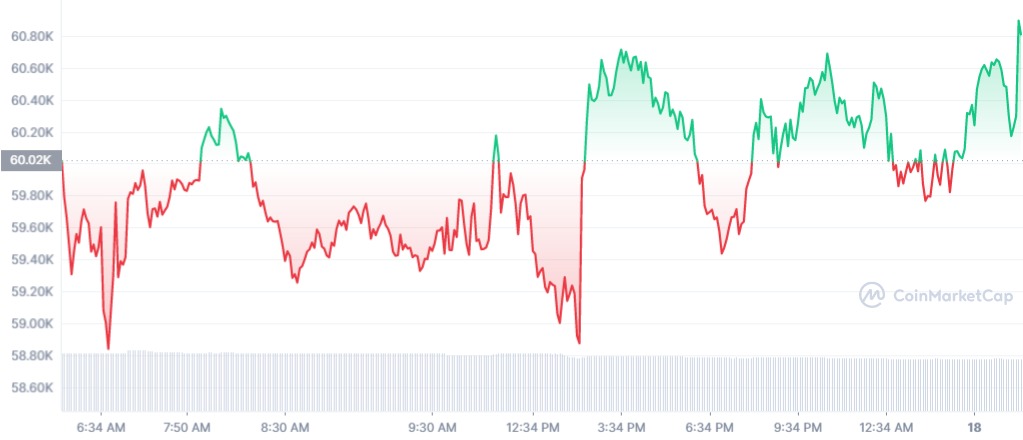 The decline below the important $60,000 mark, which is not just temporary, got many investors worried. Could Bitcoin's bull run be in jeopardy? Is Bitcoin going to be able to recover from here? Are there more losses on the horizon? Where does the crypto market go from here?
A number of analysts, including the much-cited PlanB, previously consistently put $98,000 as the November price target for Bitcoin. That might be close now. While not impossible, it's highly unlikely. So, is the bullish trend in danger? This is what the popular trader "Credible Crypto" (@CredibleCrypto on Twitter) has now commented on.
Will Bitcoin rise again?
The answer is yes, according to numerous experts, now there is no reason to believe that there will be a new bear market. For example, according to Credible Crypto's evaluation, Bitcoin is still in a bull market. The most recent crypto crash has not changed that.
As he explains, "Every bull run so far has lasted longer than the previous one. And that is not yet true of the current one. Credible Crypto:
If you believe that we have seen our bull market top, then you believe that for the first time in $BTC's 10+ yr history, we have seen our cycle top in less time than the prior one. History shows that each cycle has taken longer than the last, and I expect that to continue. pic.twitter.com/bV96HWhyuK

— Credible Crypto (@CredibleCrypto) November 17, 2021
Another top analyst, Justin Bennett, believes that Bitcoin will reach new highs in the coming weeks. Although not as quickly as previously thought. Writing to his more than 89,000 followers:
The real fun begins when $BTC breaks $70,000.

Just don't be surprised if it doesn't happen until January. #Bitcoin pic.twitter.com/yMHC6n3eNE

— Justin Bennett (@JustinBennettFX) November 16, 2021
The recent price setback could be a good opportunity for investors to buy Bitcoin at a good price. What do you think about this recent Bitcoin crash? Let us know your opinions in the comments section below.