Shiba Inu, the mysterious meme coin, garnered a lot of attention over the last days of October, rising by 45%. Shiba was established by Ryshoi Shiba, an anonymous Dogecoin all-rounder, which has slowly gained momentum since the beginning of the summer. However, since the start of November Shiba Inu Coin has been in a downward spiral for days. So has the meme coin hype train now reached the end of the line?
Could Shiba Inu be on the rise again?
Shiba Inu has been moving up massively lately. Last week, SHIB was able to hit an all-time high of $0.00008876 and surge into the top-10 to overtake Dogecoin. However, since then, the momentum of the controversial meme coin has significantly slowed, sparking a sell-off that touched bottom at $0.00004264 on Thursday – a 52% decline in seven days.
Considering the severity of the decline, critics are describing this as a tipping point that suggests worse is to come – particularly as it is happening at a time when large caps, including Bitcoin, are broadly stable. But are the critics right?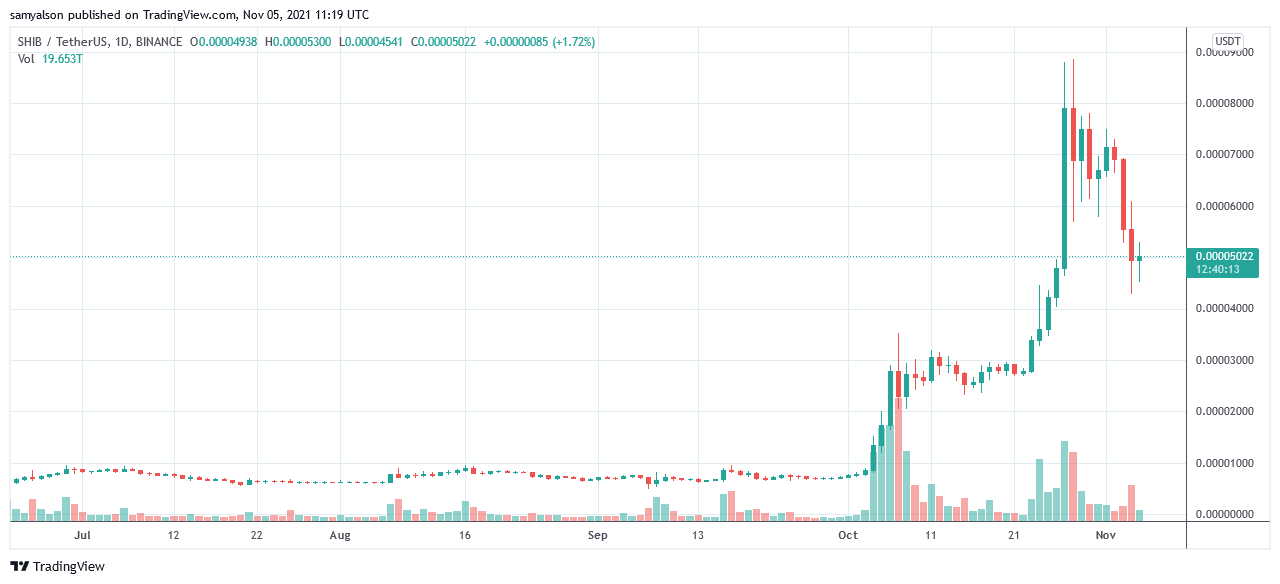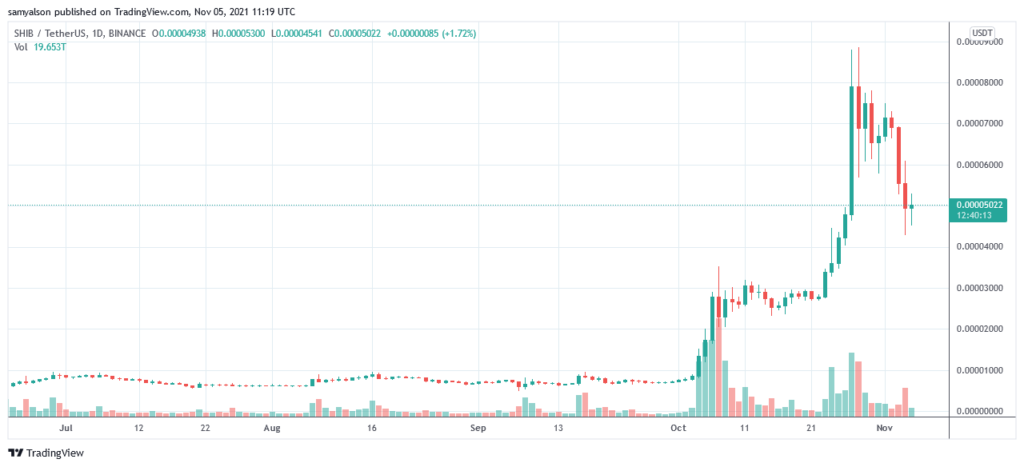 Shiba Inu crashes – from moon back to earth
The share price performance of Shiba Inu in October baffled the naysayers with a 730% rise at the end of the month. According to analysts, this was mainly due to whispers about the listing of the $SHIB token on Robinhood and Kraken. However, so far these rumors have not come to fruition.
This week, things took a turn for the worse when a Shiba Inu whale moved billions of $SHIB tokens. That brought fears of a large-scale exit. Furthermore, the event shed light on the problem of whale dominance in the Shiba-Inu ecosystem.
When October ended, it emerged: a trader had invested $8,000 in $SHIB last August. A sum that has since grown to a whopping $5.7 billion.
Tom Robinson, the co-founder of Elliptic, a crypto forensics blog, comments: That same investor is responsible for moving billions of dollars worth of tokens, which he estimates totaled $2.78 billion in four transactions.
"It seems like there were four transactions from this account yesterday, each of which sent $695 million SHIB to another account – for a total of $2.78 billion. Well, whoever it is bought the SHIB on Uniswap about a year ago, for not very much."
SHIB is being dominated by whales
The address analysis reveals that the top ten holders are currently controlling 67% of the Shiba Inu tokens. That is a slight drop from Oct. 30, when the number was 72%.
Analysts see this as further proof of poor fundamentals. In this case, in terms of the concentration of tokens in just a few hands.
Crypto investor Aaron Brown has commented that serious crypto projects have a solid use case and are not relying on hype or who owns how much of it to influence the price. Meanwhile, Brown raises concerns that the concentration of ownership of SHIB is an indication of manipulation.
"But for cryptocurrencies that have no fundamental economic basis – whose value is only determined by speculation – concentrated ownership is indicative of a rigged game."
Robinhood CEO Vladimir Tenev also rejects the possibility of SHIB being listed, citing regulatory oversight as the reason. Additionally, while Kraken previously wrote that they would list the token if they got 2,000 likes on a tweet, they have since backed away from the idea. Although the tweet in question did receive 80,000 likes.
Considering that meme tokens have had a rough go of it in recent days, the obvious question is whether the hype train is finally losing steam. What do you think about Shiba Inu? Let us know in the comments section below.