Between the actual engine block and the cylinder head sits your cylinder head gasket. As its name suggests, it ensures a tight connection between these two central engine components. Although the name suggests it, your cylinder head gasket is generally not a classic wearing part. Yet, leaks often show a whole range of different signs of a broken cylinder-head gasket. What these are exactly and how you can rule out other problems is what we want to explain to you in our "Ultimate Blown Head Gasket Guide" article.
What makes the head gasket so important?
The Head gasket separates the two parts of the engine block, sealing the coolant flow between each cylinder and allowing oil to flow through the oil line. This gasket is susceptible to enormous pressures of up to 200 bar and combustion gas temperatures of up to 2500ºC.
The main block and cylinder head are much cooler, so the gasket must withstand changing operating conditions. Quick temperature changes can even rise to several hundred degrees within a few seconds. That's because the block and head are made of materials with different thermal expansion.
How to take care of your car's head gasket?
Even if you can rule out design flaws in some engine brands, damages to all components, including head gaskets, can be avoided by responsible driving and careful care of the engine and cooling system. Damage to the head gasket can be prevented by using a good coolant. All signs of a damaged head gasket should be checked and troubleshot quickly.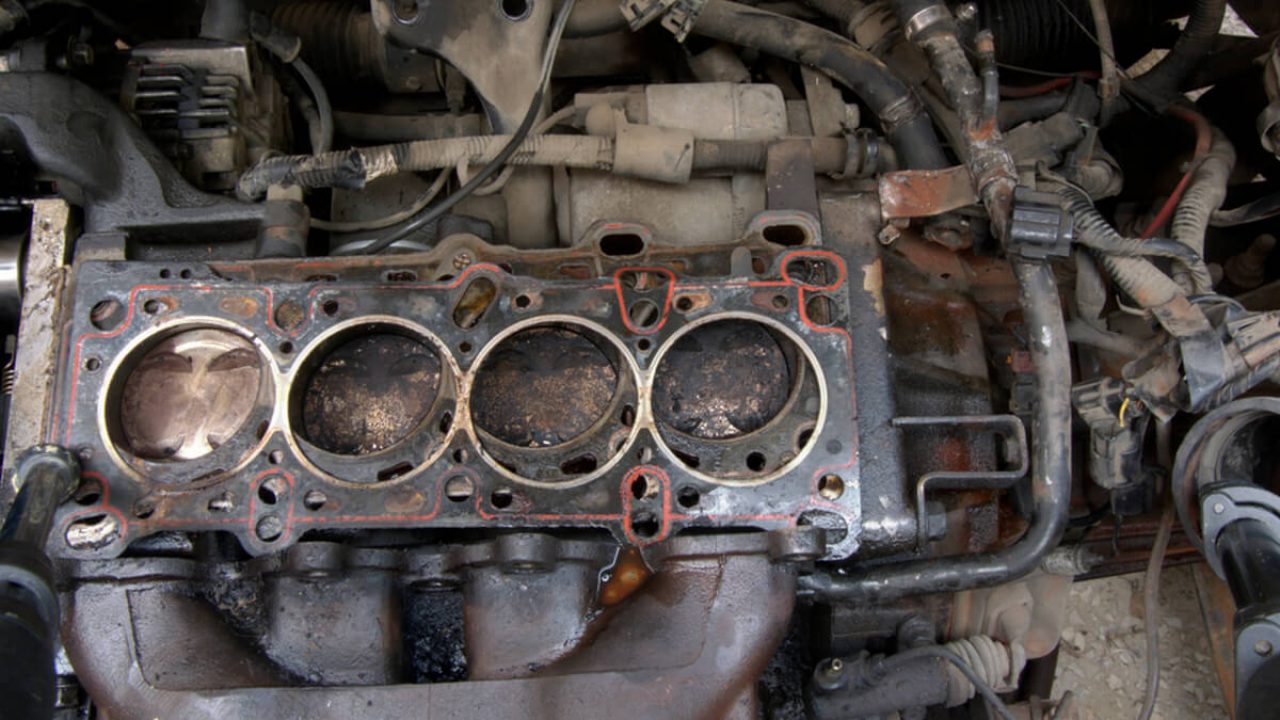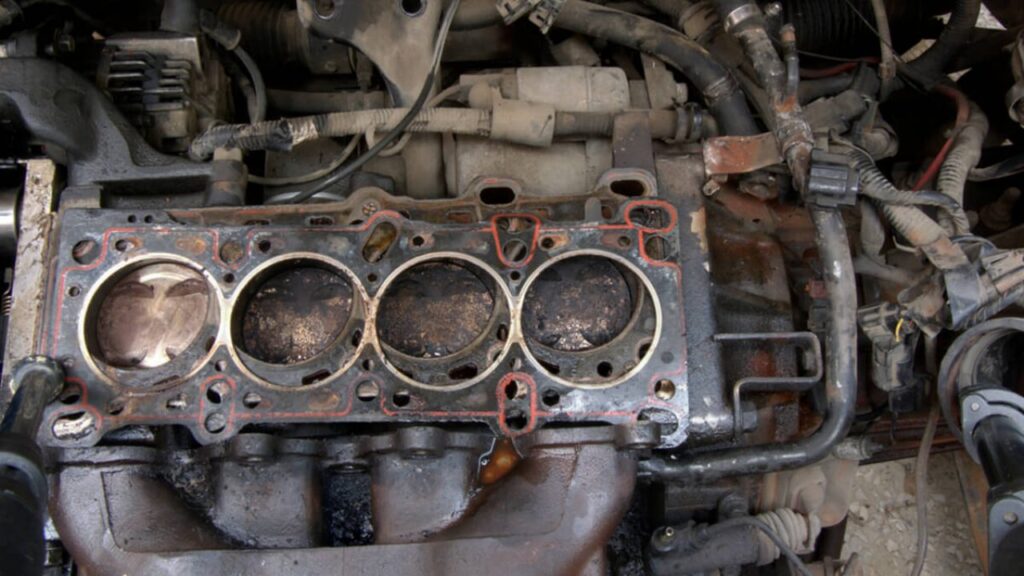 Signs of a blown head gasket
However, as you know, sooner or later, every failure of a small mechanism or even a small part will lead to expensive damage to the car. A cracked, blown or damaged head gasket may require a complete overhaul of the engine. We will share 7 signs of a blown head gasket in the following.
1- Contamination of the oil
It is one of the most common signs of head gasket failure, caused by the penetration of coolant into the oil and vice versa. You'll notice a milky sludge on the filler neck or oil dipstick. This is generally a good indicator and a sign that it is better to disassemble the engine to find the source of the contamination.
The bearing will be destroyed quickly if the oil is contaminated with antifreeze. Repairs and car maintenance involve at least flushing the engine oil, changing the oil filter, and frequently disassembling the whole lower part of the engine. This will ensure that the bearings are not damaged, and the contaminated oil is removed.
2- White smoke from the exhaust
Big clouds of white smoke can be produced when a cylinder head gasket is defective because the antifreeze enters the cylinders through the gasket and turns to steam as part of the combustion process. Smoke can also be blue if it is oil leaking into the cylinder.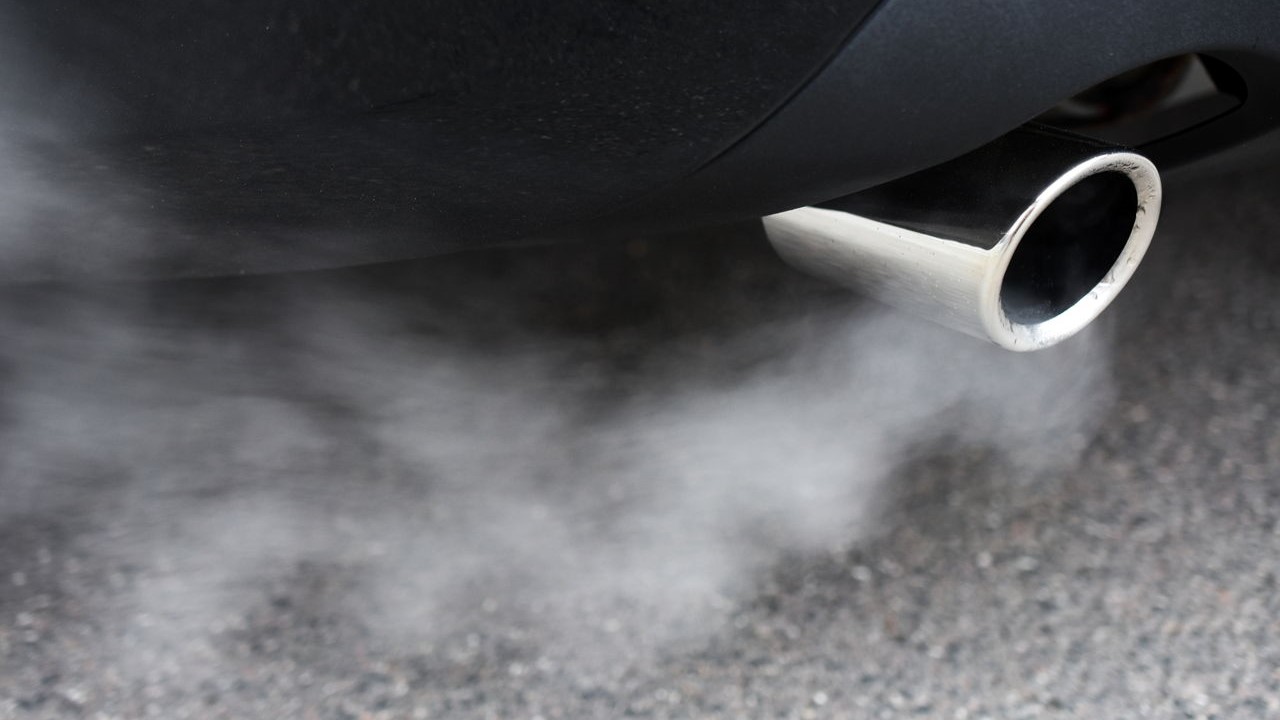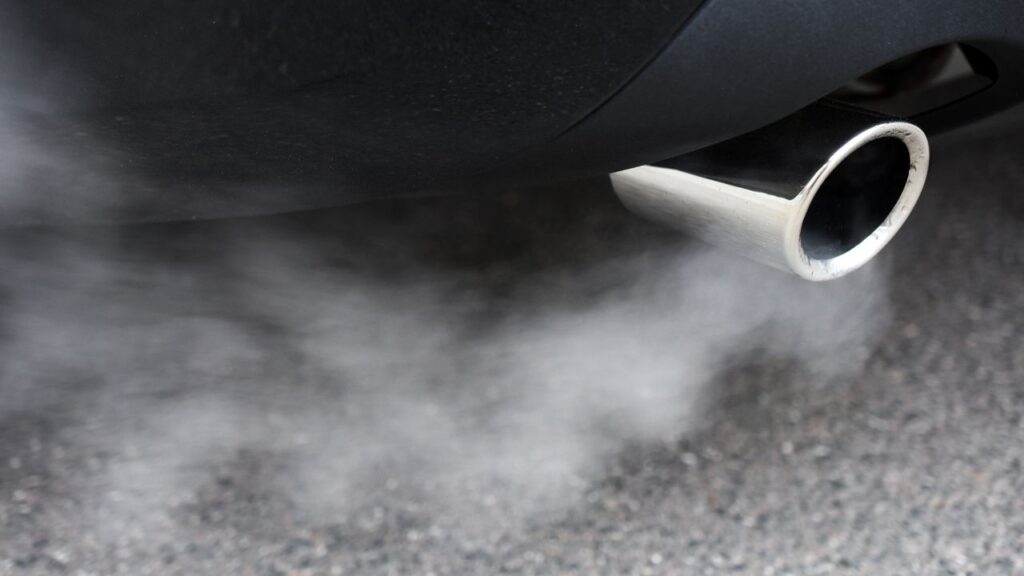 3- Oil on the filter is a bad symptom
If you see oil on the filter housing, you can ensure that the gasket is damaged and needs to be replaced as soon as possible. The pressure increase in the lubrication system displaces the oil, causing the engine to be dangerously coated on the outside and causing smoke.
4- Air in the expansion tank overheats the engine
If the head gasket is defective, air bubbles will appear in the coolant expansion tank. This overheats the engine by blowing exhaust gases into the cooling system and usually leaking coolant.
5- Overheating
It may be both a cause and a symptom. Engine overheating, such as from a clogged radiator, a coolant leak, or a defective fan, may cause the head gasket to fail. Parallel to this, a blown cylinder-head gasket can cause the engine to overheat.
This engine overheating poses a danger: Eventually, the cylinder head may deform, and the steam may damage the catalytic converter, significantly increasing repair costs.
6- Loss of power
Occasionally, the cylinder head gasket will not allow the compressed air or fuel to escape, resulting in reduced compression on the affected cylinder. This compression loss causes the engine to run erratically and decrease its power significantly. When this kind of fault occurs, noise is usually heard, such as an exhaust leak.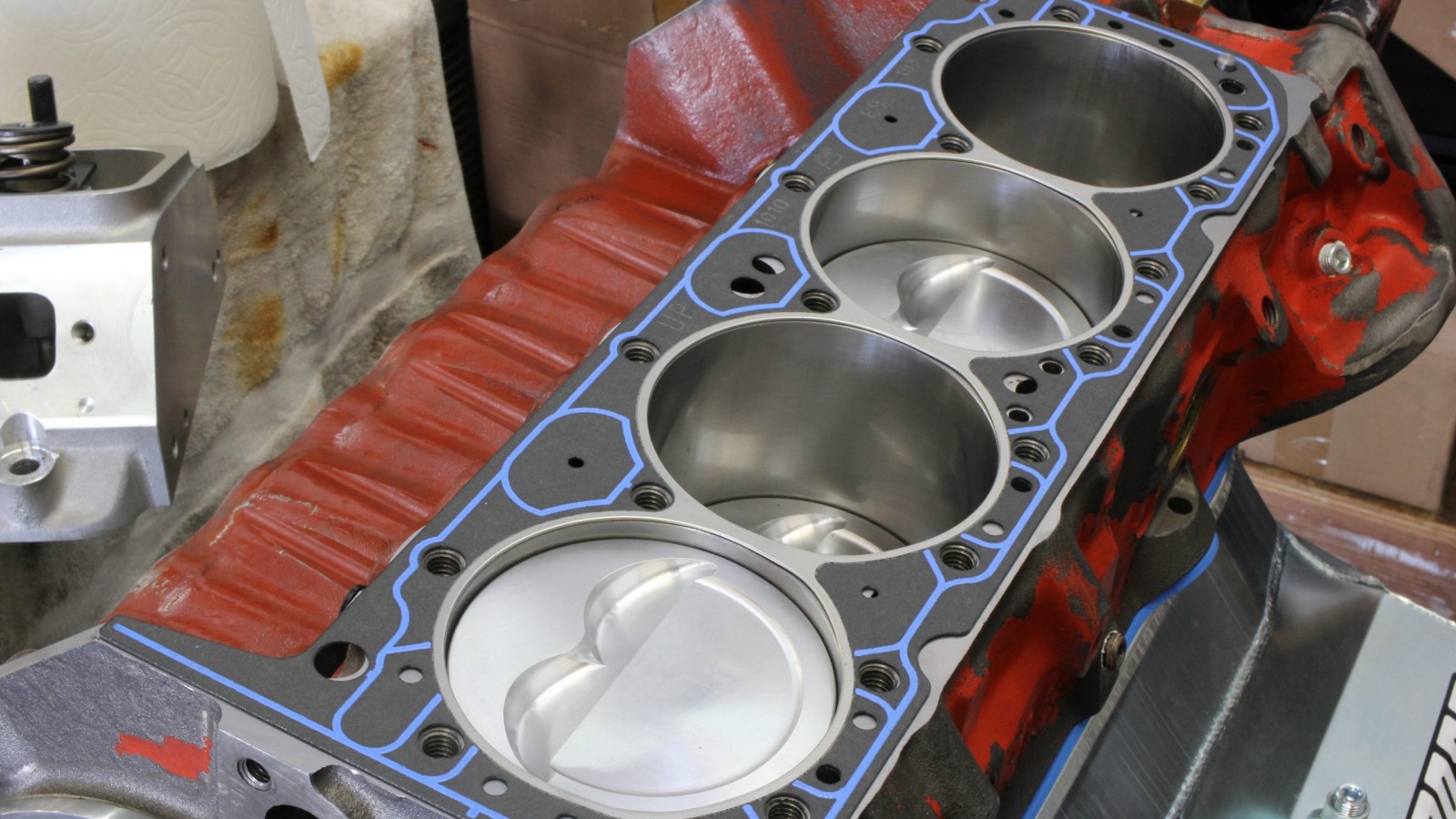 7- Exterior leaks
If the head gasket is defective, you may simply have a leak (coolant or oil) between the water or oil passage and the outside of the engine. This is still not as bad as a head gasket blowing, but still severe.
Over the long term, low coolant levels can lead to serious engine problems, let alone oil leaking into the hot exhaust and creating acrid smoke or even starting a fire.
Which factors contribute to head gasket failure?
Many factors are involved – one of which is dynamic propulsion, forcing a rapid rise in temperature and pressure above normal levels. A faulty cooling system also affects the condition of the gasket, as every time it overheats, the material loses its properties, making it unable to seal the block. An irresponsible adjustment of the device will lead to the need to replace the gasket much earlier.
The damage is not always accompanied by a burst of steam under the hood. Occasionally, there are localized damages that cannot be counteracted. This is manifested by white smoke clouds coming out of the exhaust pipe, so even if the engine has already warmed up. Inspect the coolant level; replace the head gasket if it is severely reduced.
Frequent inspections should be performed, particularly on vehicles with LPG systems. The mixture can be consumed by an incorrectly calibrated system in such cars. Engine temperature will rise and may even cause pistons to burn out.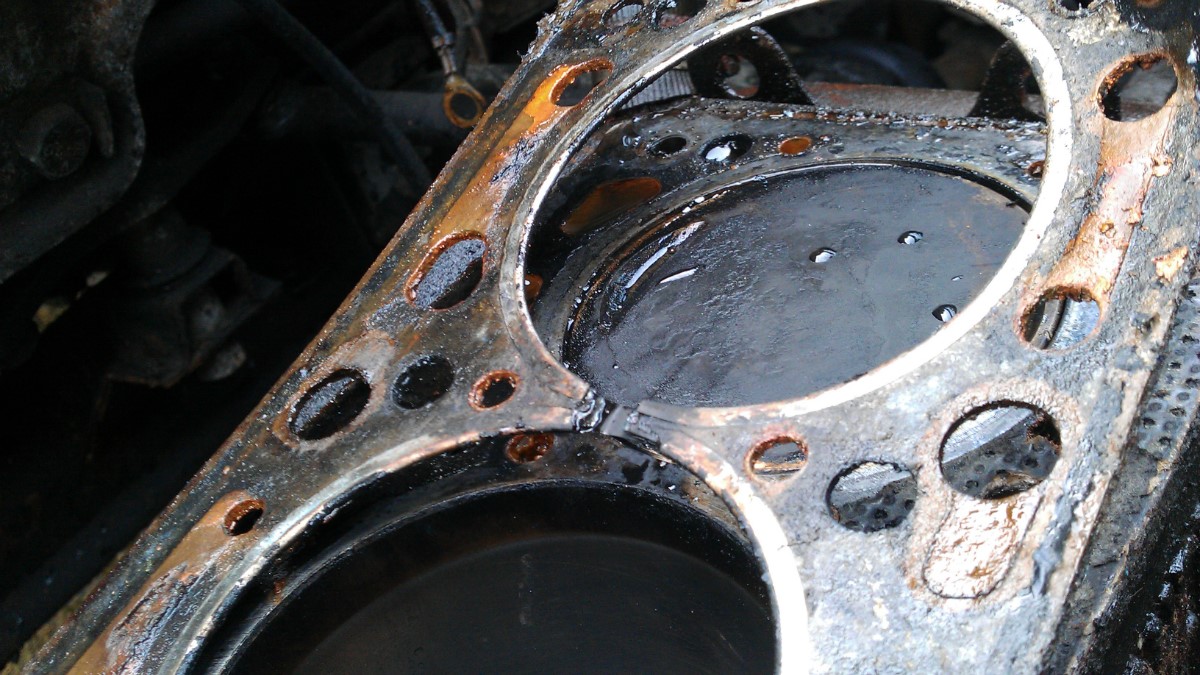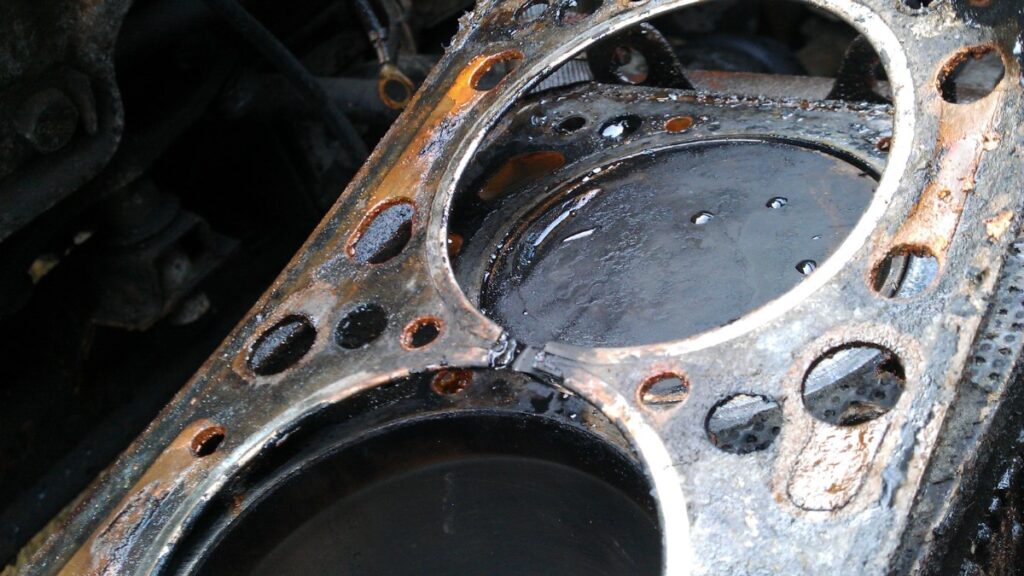 What to do if there are problems with the head gasket?
A head gasket blowout can cause irreversible damage and is one of the worst things that can happen to your engine. Ignoring this problem can have serious consequences: You'll need to repair the engine block or cylinder head or, worse, replace the entire engine. If you notice any symptoms that may indicate that the cylinder head gasket is cracked, do not wait; get your vehicle inspected.
There's a little alternative once you notice signs of a worn head gasket. If you don't have the part replaced in time, your engine may break down. Then, you might have to pay a lot more (several thousand euros) or even say goodbye to your car.
Why should you act immediately after a blown head gasket?
There are damages to your vehicle which you should always repair or have repaired immediately. Even a leak in your cylinder head gasket belongs on the appropriate list. This is because not only does it perform an essential task, but it can also very quickly lead to particularly expensive consequential damage if you don't take the symptoms of a defective cylinder head gasket seriously.
Problems with this component often cause the entire engine or cylinder head to overheat, which can, in turn, lead to deformation. This can lead to even more severe leaks, further aggravating the problem.
Ultimately, such deformities also make repairs more difficult. If, for instance, a mechanic does not measure the cylinder head and the engine block before installing a replacement gasket, imperfections are quickly overlooked, and leaks remain unintentional even after the gasket has been replaced. This is why very experienced specialists should only ever carry out such repairs.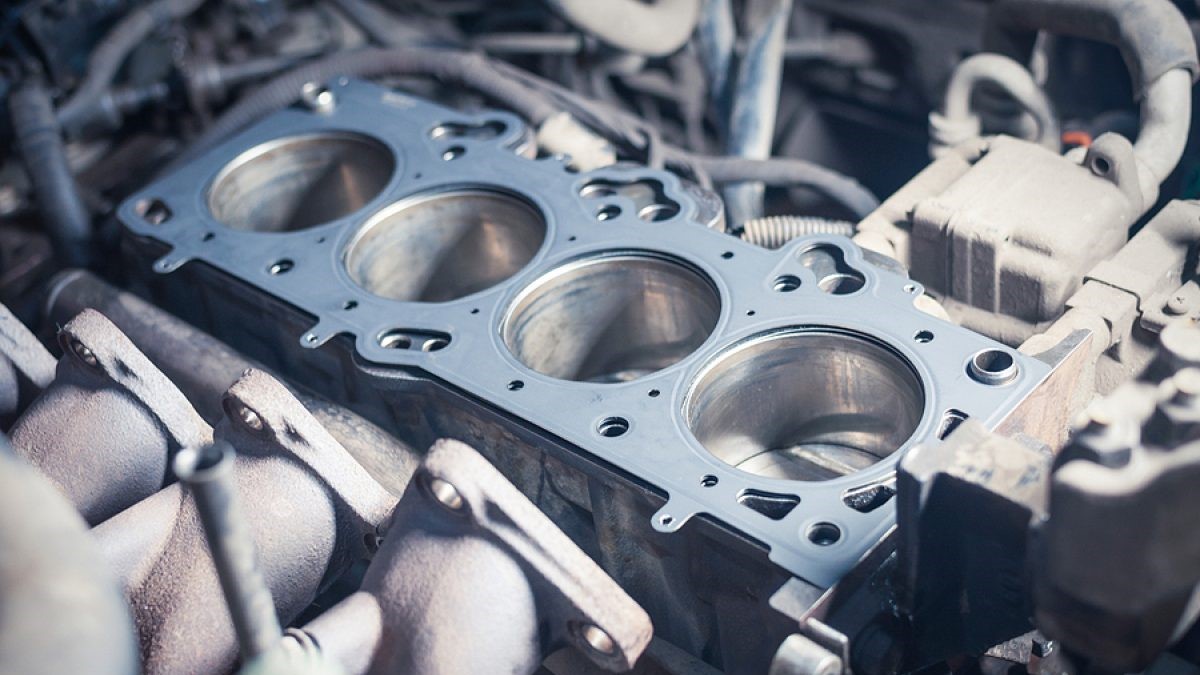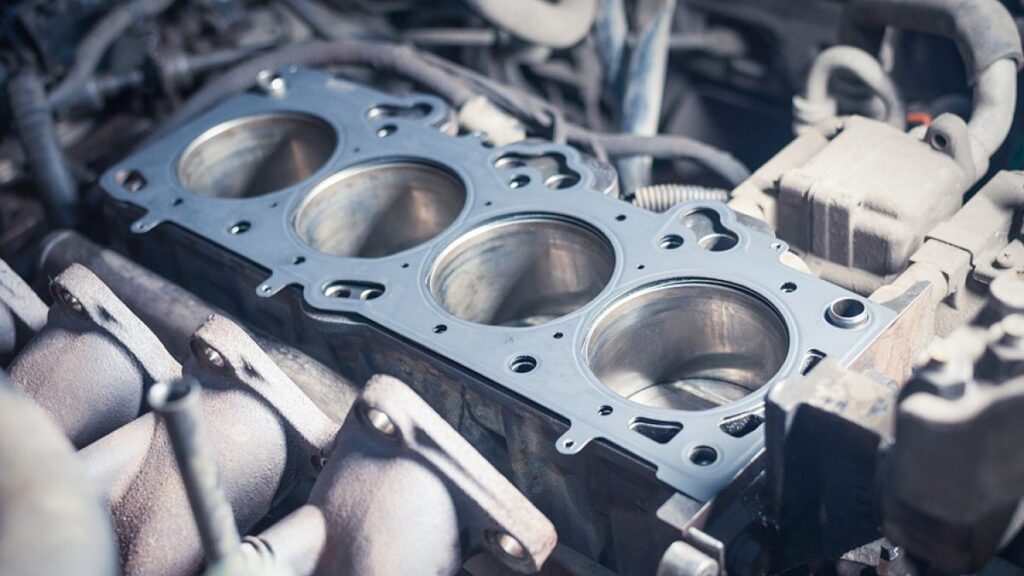 What are the causes for the failure of your cylinder head gasket?
Basically, this type of component can last the life of your engine. So, it also means that the cylinder head gasket is not a wearing part and does not need to be replaced regularly. However, the material of your cylinder-head gasket may still be damaged.
How? Generally speaking, high temperatures usually cause such damage. For instance, a thermostat defect or a water pump failure can quickly cause your engine block to severely overheat. Thus, if the coolant temperature rises extremely, stop and do not continue driving.
Thermal overloads of this kind can also be caused by a lack of cooling water, a fan failure, leaks in the cooling system, insufficient antifreeze, or else by unsuitable working fluids. Another cause of head gasket failure that ranks high on the list is long engine life. Therefore, to prevent this, make sure you move your car regularly.
Ways to prevent cylinder head gasket failures
Keeping the cooling system in proper working order and ensuring the engine is tuned correctly and functioning properly is the best way to prevent head gasket failure. So, when your car starts to overheat, stop, allow it to cool down for at least an hour, and fill the radiator before continuing.
Some routine checks will ensure that the cooling system is working properly:
Check that there are no leaks;
Check that the radiator is working efficiently;
Check that the thermostat is opening properly;
Check, above all, that the coolant level is correct;
Lastly, you should also check if the fan is working, that it has all its blades and that it is surrounded by a shroud to increase its efficiency.
The replacement of a defective part, like a thermostat or a coolant hose, will cost only a few dollars and prevent you from spending thousands of euros in the long run.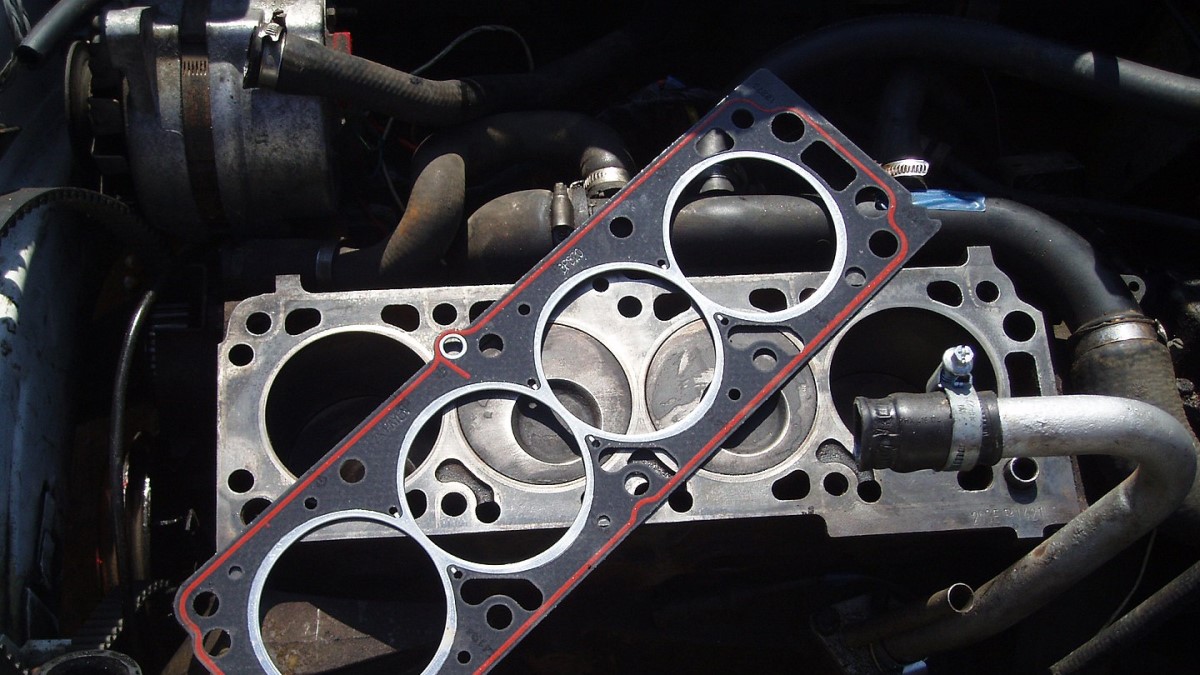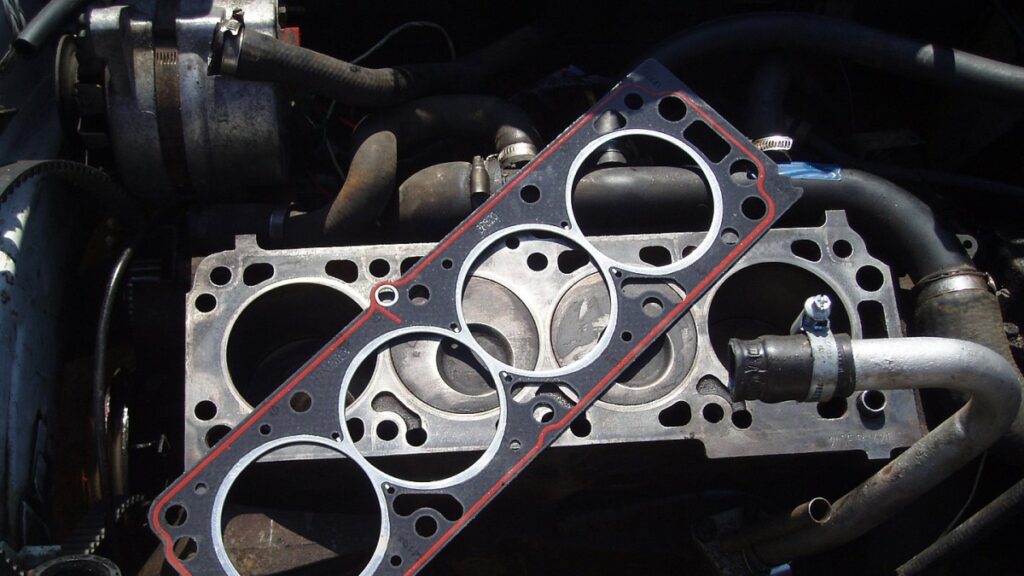 What will happen if you don't detect a blown head gasket in time?
Very advanced symptoms of a leaking head gasket include the emission of dark smoke should you start your engine and the poorer starting of your vehicle's engine. Also, the engine temperature often rises so quickly that the coolant temperature gauge reaches the red zone after just a few minutes on the road.
In such cases, do not drive any further under any circumstances! Only in this way can you still prevent expensive consequential damage due to deformations caused by engine overheating. Such damage often affects not only nearby units but also the cylinder head gasket and the engine block.
Irreparable damage can thus occur within a very short time. In such cases, the components mentioned above must be completely replaced in most cases. Often, this means a total economic loss for your vehicle.
Besides the symptoms of a broken head gasket described above, some more general signs can be associated with a failure of this component. These include, for instance, a reduced engine performance and an out-of-round engine running.
So how do you check the head gasket?
In order to avoid being cheated by dishonest mechanics, seek out a repair shop where specific tests are performed before work begins. Measurement of the pressure in the cooling system of a running vehicle or using a liquid that changes color when there is fuel in the coolant will answer the question of what our vehicle needs.
Also, you can do a chemical test yourself to detect exhaust gases in the coolant. The most simple but effective test can be purchased for about $50.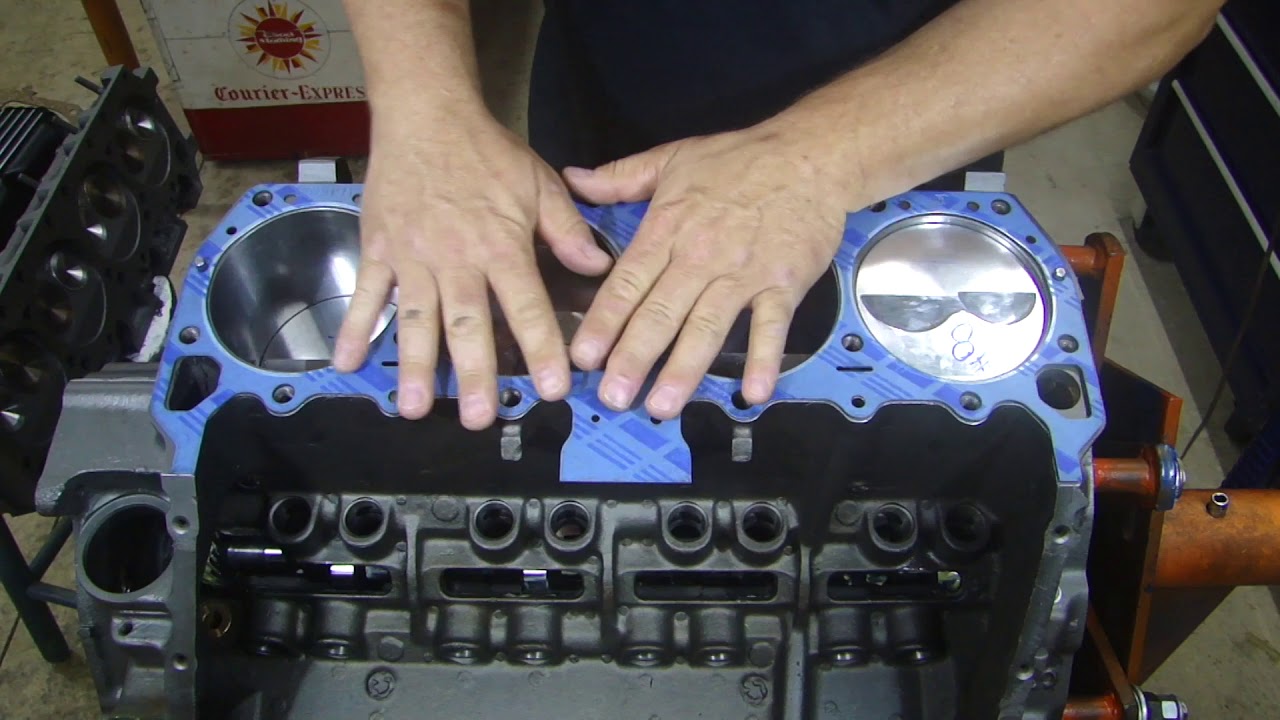 Once you have the test kit, unscrew the cap of the expansion tank and plug it with a rubber stopper and a plastic siphon into which you pour some of the test liquid. Suppose the liquid discolors after starting the engine and running it for a while until it reaches operating temperature. In that case, it is a sign of a defective seal.
How much should you expect to pay for a head gasket replacement?
In contrast to other minor work on your vehicle, it's difficult to put a blanket figure on the cost of replacing your cylinder-head gasket. This is because vehicle engines are becoming more and more complex and different from one another. However, you can expect a cost range of $1500 to $2000 as a national average.
This only applies when neither the engine block nor the cylinder head has been deformed. If that is the case, then the repair costs to be paid increase significantly. On top of the labor costs, which we've already roughly quantified, there are the actual material costs. Still, these are usually less for this type of work.
Should you have your cylinder head gasket replaced, it might be good to have other additional work done because many additional and worn parts have to be dismantled and reinstalled anyway. So all you have to pay for their renewal is the additional material costs. This concerns the timing belt, for instance. Furthermore, it can also be worthwhile to have an engine flush carried out to extend its service life.
Can I change the head gasket myself?
Internet forums tell us that any avid do-it-yourselfer can replace the head gasket themselves. Alas, know that this work is difficult and requires practice and time. It will not be done with the usual tools either. Here, precision, knowledge, and particularly experience, are also important.
When we find a good professional who does not know enough about a particular vehicle model, he can refuse to perform the service, particularly since you need to remember to change the coolant and even the engine oil, which can be diagnosed only by a professional.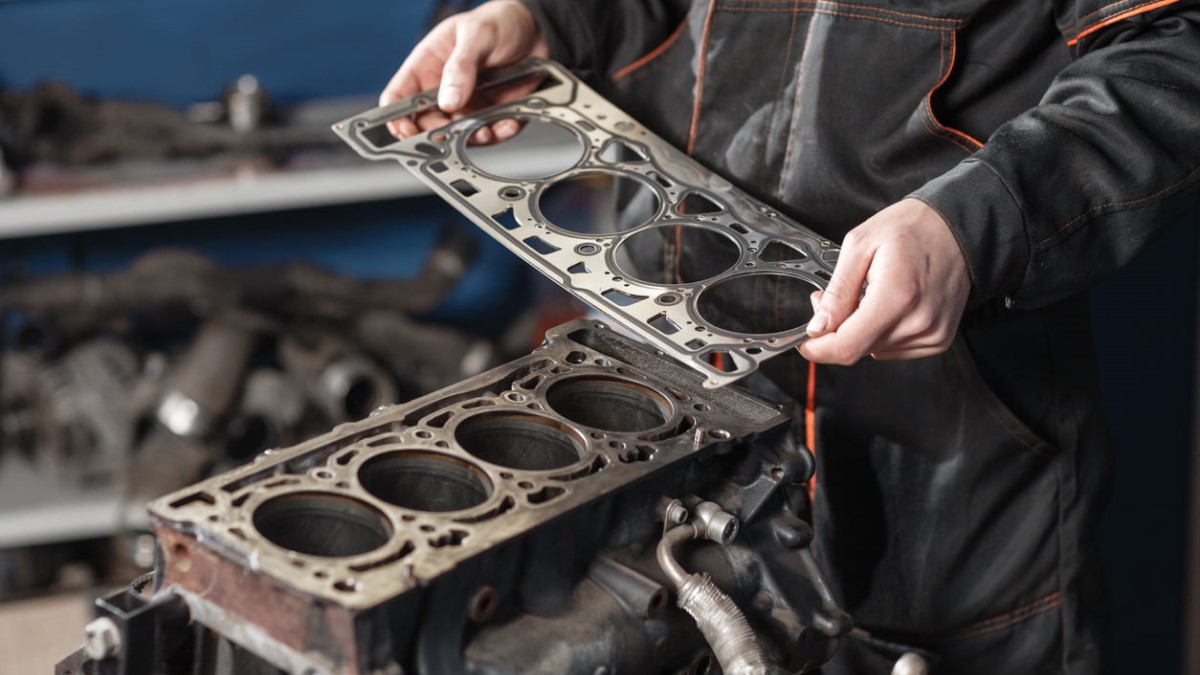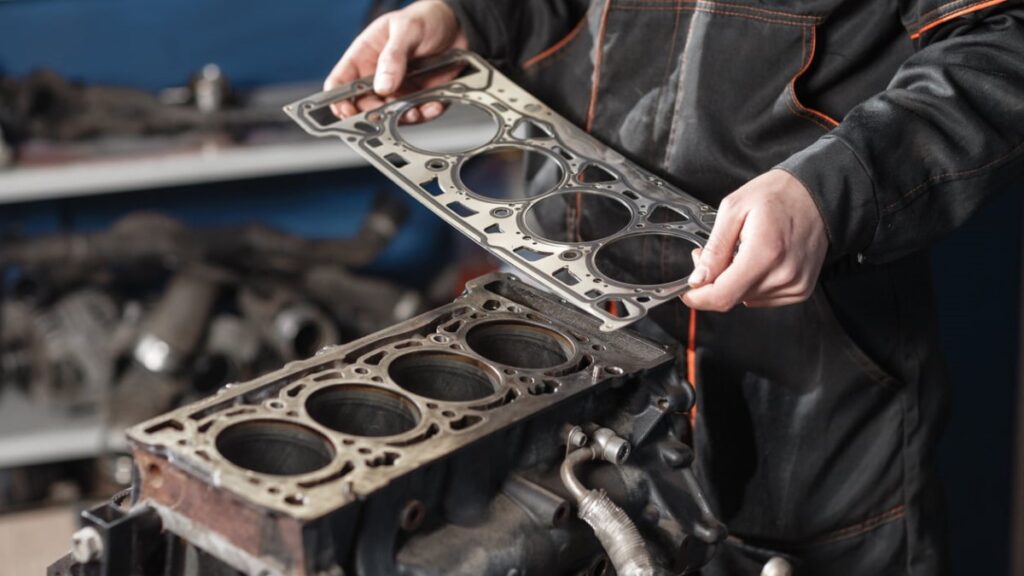 So, it's not worth relying on random mechanics or your own skills. The Head gasket has an important task and works in extreme conditions. Its replacement, thus, needs to be thorough and reliable.
Also Read:
Bottom line
Head gasket replacement on modern vehicles can be quite costly. This is especially due to its installation position. First, skilled mechanics have to dismantle many other assemblies to get to this component at all.
Subsequently, they must also ensure that no overheating has led to the deformation of the actual cylinder head. Should this be the case, then the cylinder head must be additionally planned to be able to restore a seal.
Cylinder head gasket sealants are an alternative, though car drivers have had varying experiences with them: Say, it may work, but there's no (especially lasting) guarantee of success. You should, therefore, always seek comprehensive advice from a trusted specialist workshop before commissioning an appropriate repair.
Under no circumstances should you ignore the symptoms of a defective cylinder-head gasket to avoid serious engine damage. Moreover, EVEN if a particular symptom is not specific to a leaking head gasket, other major vehicle systems may also be affected.
Thus, once you've checked your head gasket, it pays to check them. This article has taught you how to recognize a blow head gasket, which should be replaced immediately at a specialist workshop with the appropriate experience.