Attention all Rainbow Six Siege fans! Get ready for an action-packed year filled with new operators, tools, and exciting balance changes.
During Ubisoft's recent 2023 Rainbow Six Siege Invitational livestream, the company unveiled their ambitious plans for Year Eight, and it's safe to say that players are in for a treat.
One of the highlights of Year Eight's first season is the introduction of Brava, the upcoming operator who will make her debut on March 7th as part of Commanding Force.
Brava is a skilled attacker who has the unique ability to hack into enemy electronics, either disabling them or taking control of them. But that's not all – this season will also bring the launch of Siege's new anti-mouse and keyboard measures on console, known as Mousetrap.
But the excitement doesn't stop there! In the coming seasons, players can expect to meet new operators from Sweden, South Korea, and Portugal, as well as a brand new map at the end of the year.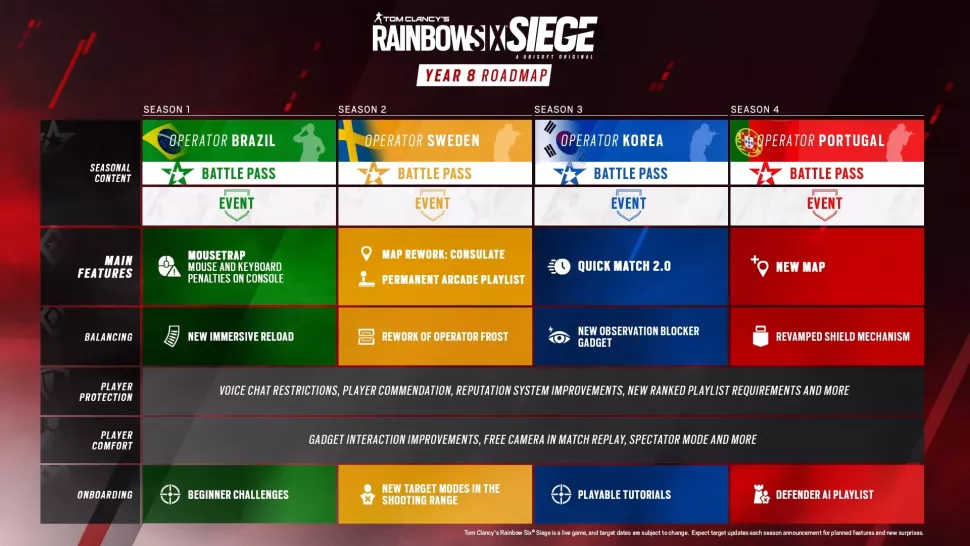 And let's not forget about the upcoming changes to Consulate map and the operator Frost, which will be reworked in Season Two, followed by a much-anticipated revamp of riot shields in Season Four.
To keep things interesting, Ubisoft is shaking up the gameplay by making significant changes to the way riot shields work. In the future, players will no longer be able to hip fire while holding up the shield, and instead, will have to switch between aiming their pistol and defending.
This change will encourage more strategic and aggressive gameplay, while also giving players the ability to look independently of where their shield is pointing.
It's clear that Ubisoft is committed to the long-term future of Rainbow Six Siege, and players can expect to see plenty of new content and updates in the years to come. The company has also announced plans for a fresh onboarding experience to welcome new players to the game.
Season One will feature beginner challenges to help players learn the game and unlock new operators, followed by comprehensive tutorials in Season Three and a new humans vs. bots playlist in Season Four, perfect for those who want to hone their skills in a low-stakes environment.
With all of these exciting changes on the horizon, it's safe to say that Year Eight is shaping up to be one of the best yet for Rainbow Six Siege. Get ready to gear up and take on the competition in this adrenaline-fueled tactical shooter!