Fast X: Part 2, the latest chapter in the thrilling saga of high-speed chases and nail-biting car stunts, is all set to accelerate back into our hearts on April 4, 2025. This exciting news was announced by none other than Vin Diesel, the man behind the wheel of iconic character Dom Toretto.
In an intimate Instagram post, Diesel revealed the release date and expressed heartfelt gratitude to the ever-growing and passionate fanbase of the Fast series.
The Countdown Begins
Vin Diesel, sporting his signature charismatic charm, shared a photograph of himself alongside Jason Momoa, the star who plays Dante in the franchise. "We're less than 22 months away from April 4, 2025," he wrote, as he began to unveil his thoughts on the approaching release.
In his post, Diesel highlighted the camaraderie and expressiveness among the actors in the Fast franchise, likening it to a global family.
Momoa, he stated, wanted to bring something unique and impactful to the Fast world and succeeded brilliantly in crafting a character that audiences won't soon forget. He took this moment to thank the fans, saying, "Your unwavering support makes the seven billion mark worthwhile, echoing the values of family and loyalty that we hold dear."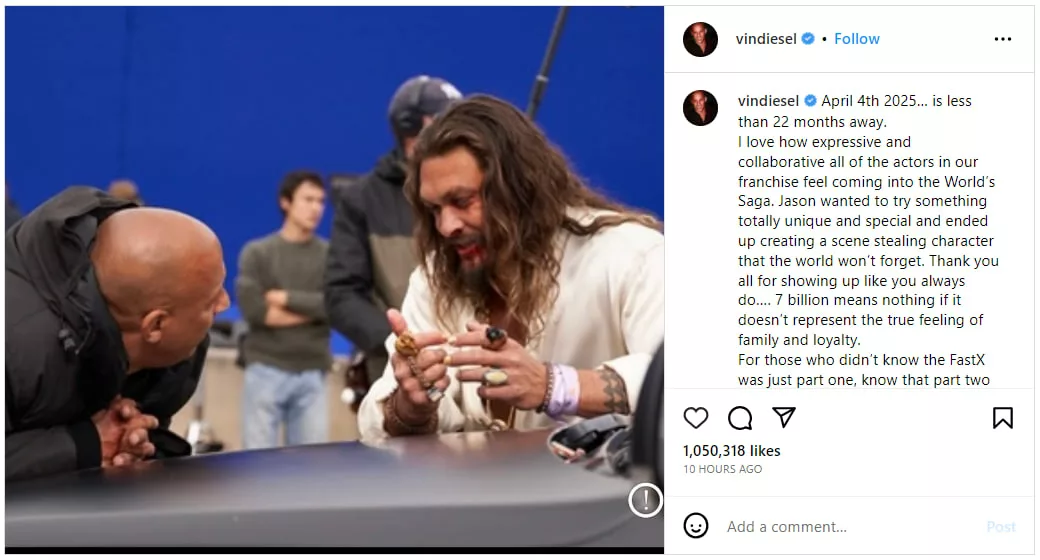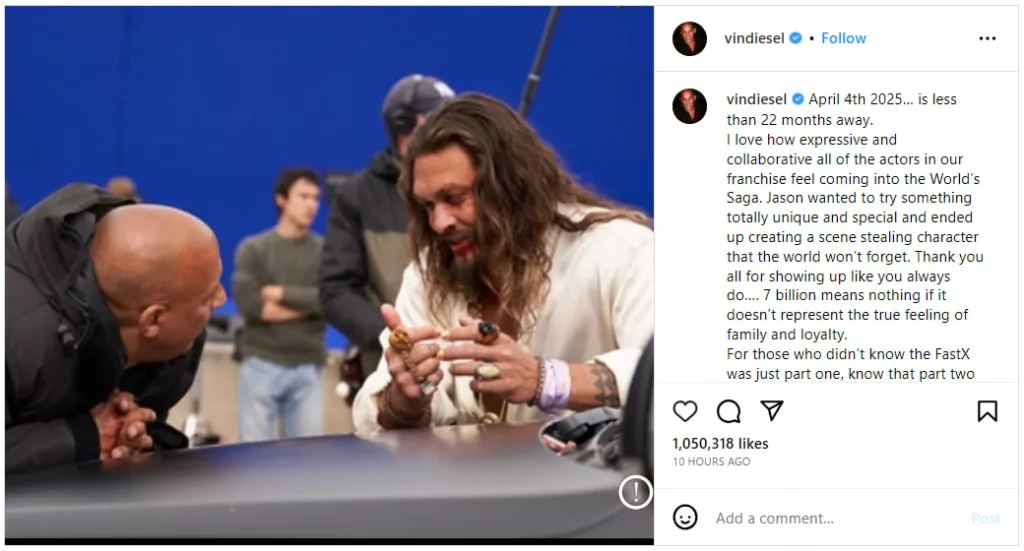 Brace Yourselves: Part Two is Coming
Vin Diesel didn't stop there. He broke the suspense about the Fast X being a two-part series and assured fans that the next installment would bring an unprecedented effort from the Fast family and studio. He signed off his message with a warm, "All love…"
The first part of Fast X landed earlier this year, introducing an enormous threat for the Fast family in the form of Dante Reyes, portrayed by Momoa. With a ruthless determination to bring chaos and pain to Toretto and his team, the first finale concluded on a high-intensity cliffhanger that put almost every character in jeopardy.
Of course, one cannot overlook the captivating post-credits scene and surprising cameos towards the end of the movie. These tidbits suggest that there's much to look forward to in the upcoming part, promising a greater dose of Momoa's spine-chilling portrayal of Dante.
Is There a Fast X Part 3?
Although Diesel's post remained mum about a potential Fast X part 3, rumors have been circulating. At the latest movie premiere in Rome, Diesel hinted at a possible third part in the making, but nothing has been officially confirmed by Universal. As of now, it appears we'll have to keep our engines idling in anticipation.
What we can confirm, though, is the return of Dwayne Johnson as Hobbs in a fresh spin-off of the series. It seems that the Fast franchise still has a lot of gas in the tank.