Excitement is building as Exoprimal, Capcom's highly anticipated co-op action title, is set to launch this Friday on PC, PlayStation, Xbox, and Xbox Game Pass. Ahead of its release, Capcom has provided a sneak peek into what players can expect in terms of post-launch content.
Season 1: Savage Gauntlet and Alpha Exosuits
Kicking off the roadmap is Season 1, starting on July 28th, with the introduction of the Savage Gauntlet as the first content package. This update promises thrilling challenges and new experiences for players.
Following shortly after, on August 16th, the first major title update will arrive, bringing with it ten new alpha exosuits and more exciting features. While Season 2 is also on the horizon, specific dates for its content release have yet to be announced.
Season 2: Ocean Platform, Rigs, Modules, and a Street Fighter 6 Crossover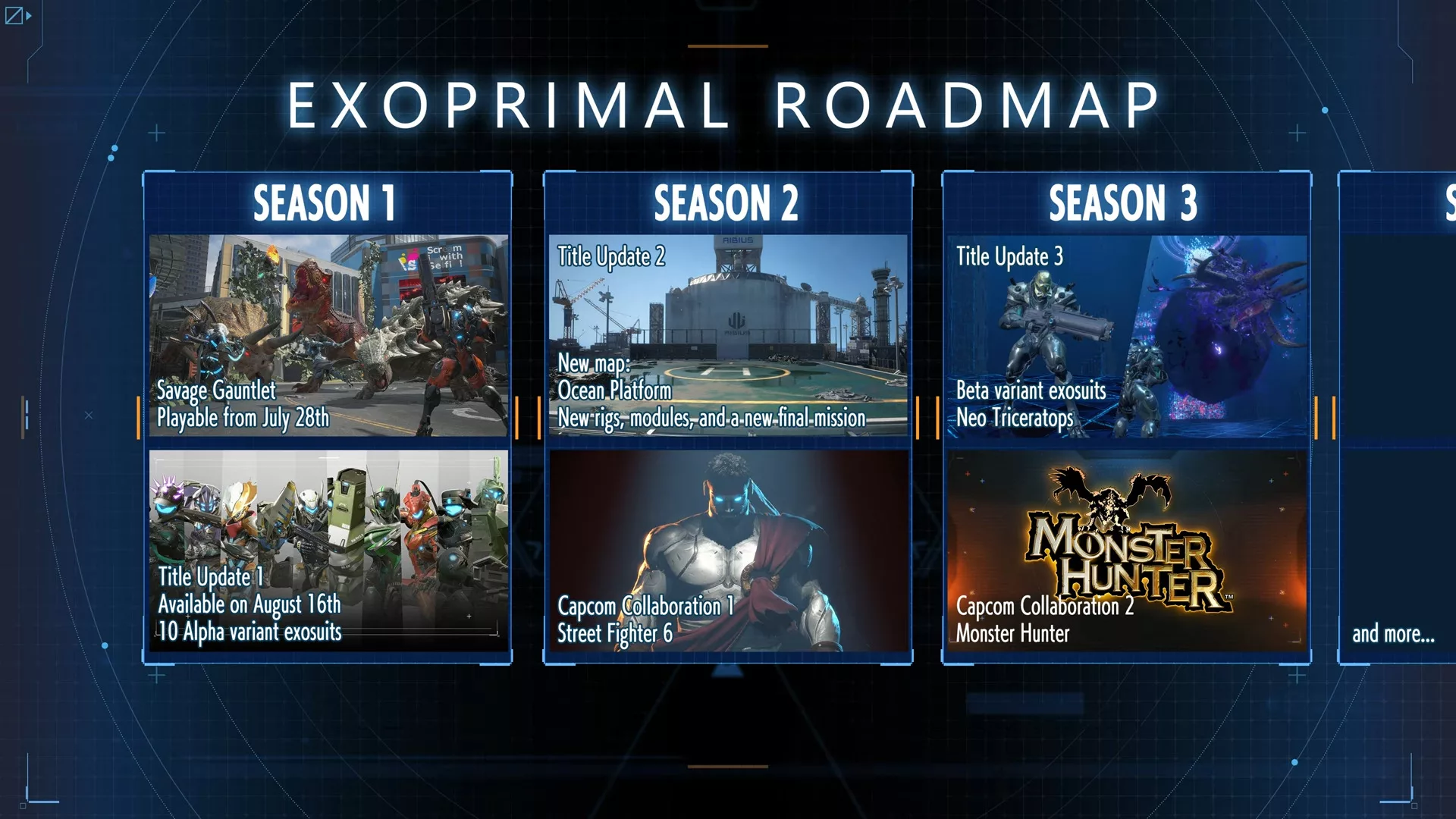 Season 2 will begin with Title Update 2, introducing a brand-new map called Ocean Platform, alongside new rigs, modules, and a thrilling "final mission" for players to conquer.
Additionally, Capcom has revealed an upcoming collaboration with Street Fighter 6, which is sure to captivate fans of both franchises. Stay tuned for further details on this exciting crossover.
Season 3: Beta Exosuits, Neo Triceratops, and a Monster Hunter Crossover
As Season 3 approaches, players can look forward to the introduction of Beta variants of the Exosuits. Alongside these enhanced suits, a formidable new creature, the Neo Triceratops, will make its debut as part of Title Update 3.
The third season will also feature another highly anticipated crossover, this time with the beloved Monster Hunter franchise. While specifics about the collaboration and the start of Season 3 are still under wraps, fans can anticipate a thrilling fusion of these two captivating worlds.
As the launch of Exoprimal draws near, anticipation is high for this unique PvPvE action game that pits players against dinosaurs while donning powerful exosuits. The combination of co-op gameplay and epic battles is sure to enthrall players seeking thrilling adventures. To whet your appetite before the release, be sure to check out the exhilarating new launch trailer.
Exoprimal is ready to make its mark on the gaming world, with its imminent release on various platforms. The unveiled roadmap promises a wealth of exciting content, including seasonal updates, a crossover with Street Fighter 6, and an intriguing collaboration with Monster Hunter.
Fans eagerly await the chance to embark on adrenaline-fueled battles against dinosaurs while experiencing the thrill of co-op gameplay. Brace yourself for an unforgettable adventure as Exoprimal arrives to captivate gamers worldwide.
Are you ready to embark on a wild rollercoaster ride with mutated dinosaurs, time travel, and evil AI? Our in-depth Exoprimal Review takes you deep into the heart of this captivating game, exploring its intricate storyline, dynamic gameplay mechanics, and vibrant visual aesthetics. Get the full picture and decide if Exoprimal is the multiplayer shooter that deserves a spot in your gaming library. Click here to dive into the Exoprimal Review and unleash prehistoric chaos!