It is called Demodex folliculorum, and it lives in many people's skin and hair follicles. This is a tiny mite, measuring less than a millimetre long, and dozens of mites can live in one hair follicle.
This is one of two common mites that live in and on human skin. So common is Demodex folliculorum that many people carry the mite on their faces throughout their lives. It is particularly in facial hair follicles that the Demodex mite thrives.
Many doctors always have patients who have hair follicle scabies – especially on their eyelashes. If there are a lot of mites, it is also visible on the facial hair, as little crusty lumps on the hair.
Studying mite genes
But the mite doesn't have to bother people even if it lives on their faces. Some people get rashes and inflammations, but most don't notice anything. Several scientists have investigated this mite's genes, as described in a research paper.
It is particularly adapted to live on human faces, and other mites exist that live on other animals. The researchers say that a mite is fully adapted for dogs, one for pigs, ruminants and many other animals. So what's unique about our own hair follicle mite?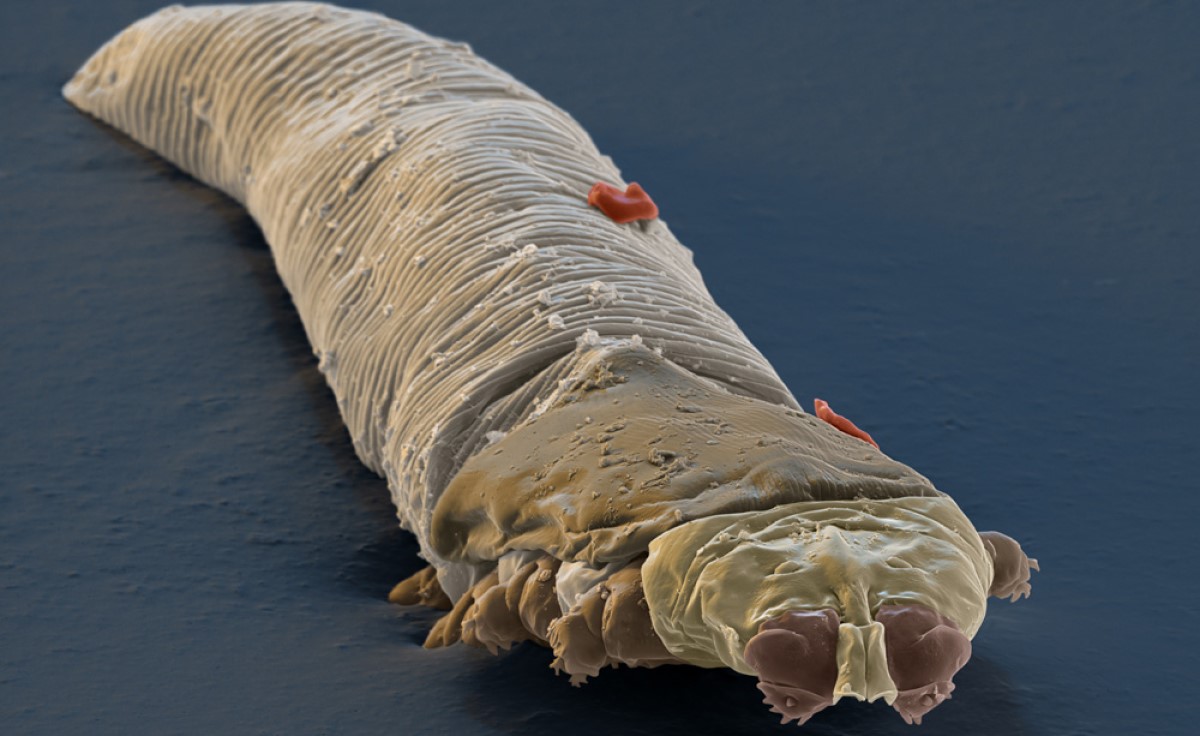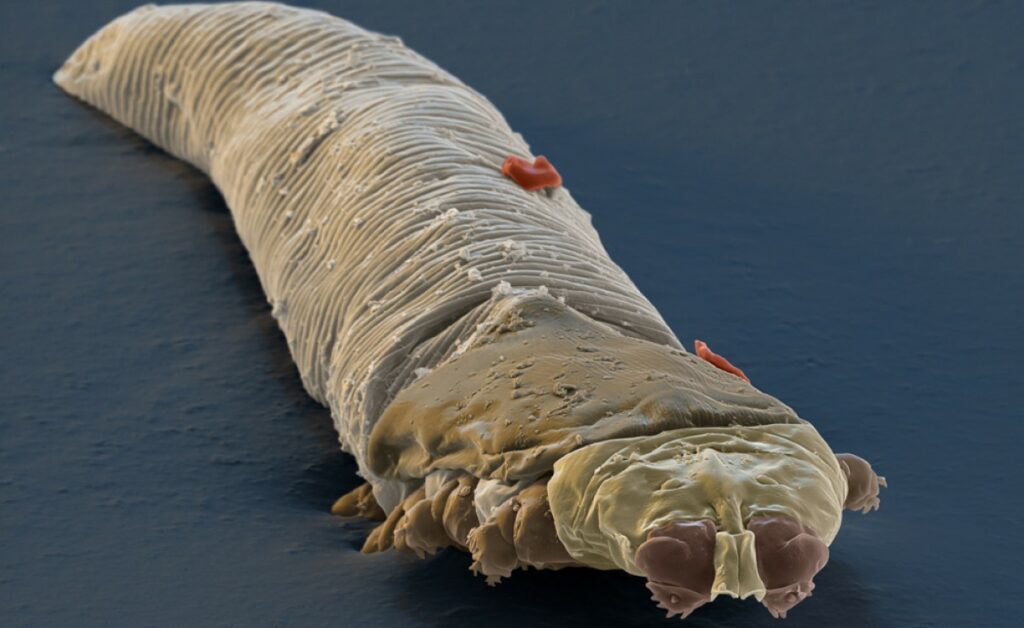 What is a mite?
Mites belong to the arthropod subclass of the arachnid class. Most house dust mites are 0.25-0.75 millimetres long.
Mites can live under rocks, grass and bark, dead animals and plants, animal dung, nests, and anthills. They can also be found as external or internal parasites in humans and animals.
Domestic dust mites feed on skin waste and can be numerous in beds and bedrooms, particularly in damp environments.
Adapted to us and our faces
The mite thus lives its entire life on the human face. It roosts, feeds on dead skin and breeds on our faces. Earlier studies show that very few children have any particular mites. But that changes as people get older.
Researchers looked at several hundred people aged between 18 and 80 and discovered mites in 373 out of 668 patients. This is more than half. They were more common in older patients, the study from 2018 found.
And the genetics of the mite show that it is very well adapted to life with humans. It has very few genes compared to other insects to which the mite is related.
For a long time, it has gotten rid of genes it doesn't need. On our faces, they live entirely isolated from other threats and animals.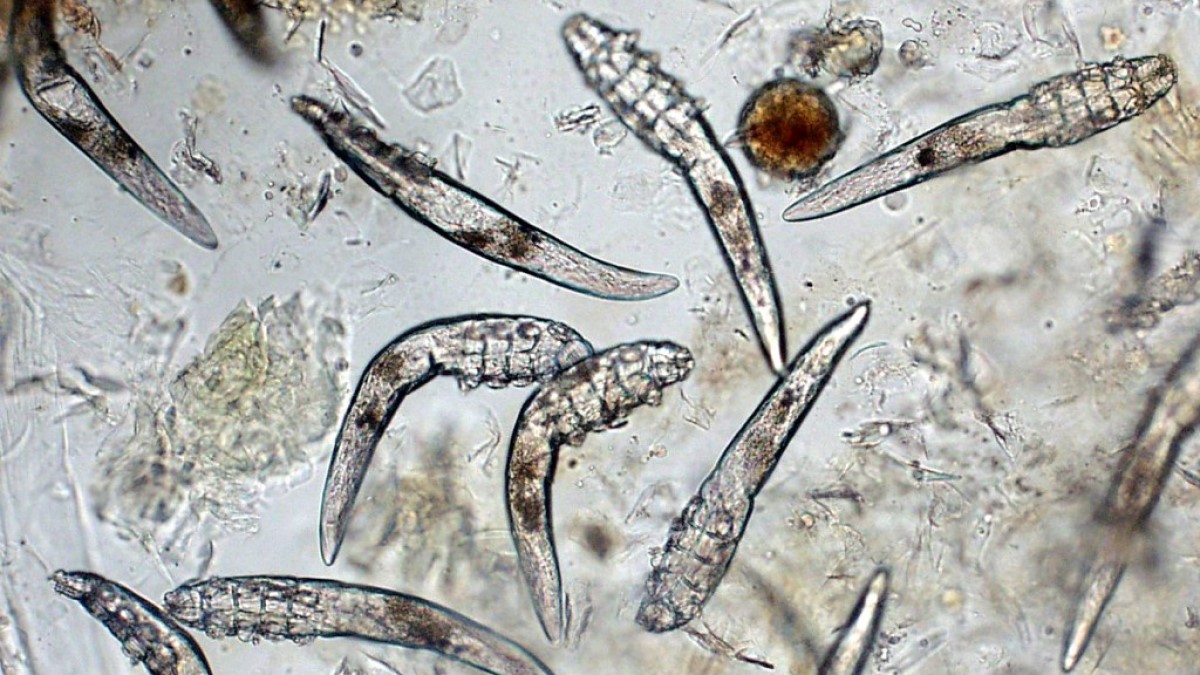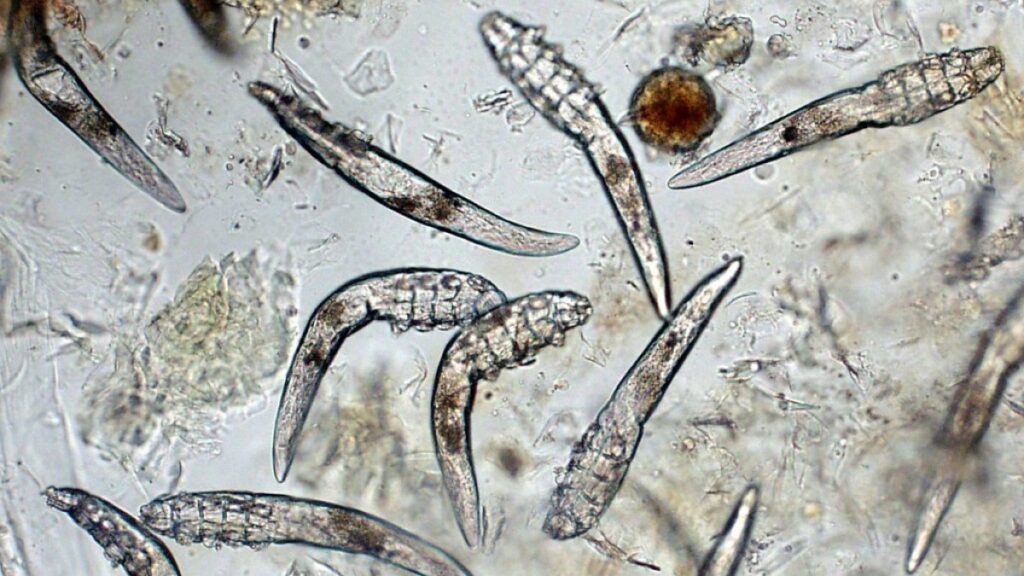 They have tiny, short legs
That isolation has meant, for instance, that it does not need to flee from other threats. Its six short legs give it just enough movement to crawl short distances. They can move at 12 millimetres an hour "over human skin", as scientists describe it. It does this while the person it lives on is asleep.
It must crawl almost exclusively out of the hair follicles to find other mites. They have to find other mites to reproduce and multiply.
The mites have also lost their own circadian rhythm, the researchers say. It's not woken by daylight but active at night. Scientists believe that the mite senses the difference between day and night by detecting the sleep hormone melatonin secreted by human skin in the evening.
These are only some of the unique features of this particular human mite. Researchers believe it is an example of an animal during an evolutionary transition.
They believe that Demodex folliculorum can now be considered a parasite. Still, it is evolving into an organism that is entirely dependent on humans for its survival – whilst not necessarily being noticed or causing any harm.