During a recent interview, Naoki Yoshida, the acclaimed producer known for his work on Final Fantasy XIV, discussed the upcoming installment in the beloved JRPG saga, Final Fantasy 16.
In an interview with the Japanese magazine ASCII, Yoshida described the highly anticipated game as a "playable Hollywood blockbuster." This revelation has ignited the imaginations of fans around the world, fueling excitement for what promises to be an epic gaming experience.
Spectacular Battles and Cinematic Scope
Yoshida revealed that Final Fantasy 16 will push the boundaries of spectacle, particularly through battles between summoned beasts. These awe-inspiring confrontations will expand the scope of the game, immersing players in the heart of action movie-like sequences.
The team has harnessed the power of the PlayStation 5's SSD, utilizing its capabilities to eliminate loading times and deliver seamless transitions between gameplay and cinematic moments. This technology ensures that battles against gigantic beasts will be an entirely immersive and unique experience, with each summoned beast offering distinct gameplay situations.
Overcoming Challenges: The Battle System
Creating the battle system for Final Fantasy 16 proved to be the most significant challenge for Yoshida and his team. They aimed to deliver an innovative and engaging system that would captivate players and keep them on the edge of their seats.
With meticulous attention to detail and a commitment to pushing the boundaries of what is possible in a JRPG, the team has crafted a battle system that will captivate and challenge players in equal measure. The result is a game that promises to deliver thrilling and unforgettable gameplay moments.
Coming Exclusively to PlayStation 5 on June 21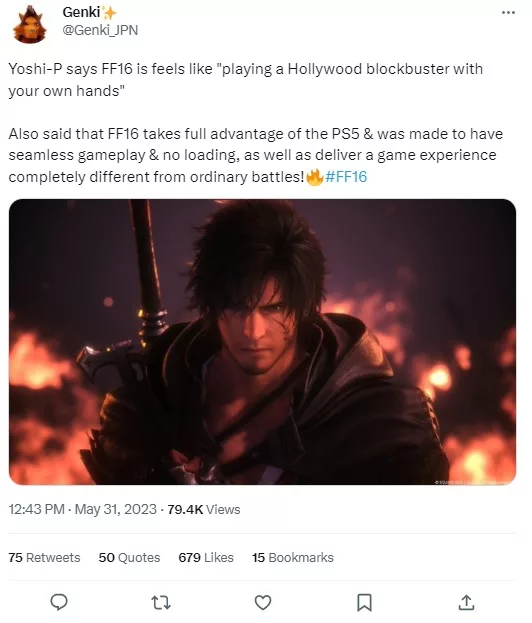 Fans eagerly anticipating the release of Final Fantasy 16 can mark their calendars for June 21, as the game will be launching exclusively on the PlayStation 5. With its stunning visuals, immersive battles, and cinematic storytelling, Final Fantasy 16 aims to redefine the gaming landscape and offer an unforgettable journey for players.
As the release date approaches, excitement continues to build, with fans eagerly anticipating the opportunity to embark on this epic adventure. Final Fantasy 16 promises to deliver the grandeur of a Hollywood blockbuster, combining breathtaking visuals, captivating storytelling, and thrilling gameplay that will transport players into a world like no other.
Get ready to experience the next chapter in the iconic Final Fantasy saga and immerse yourself in a truly cinematic gaming experience.