In a recent revelation via Xbox FTC leaks, Microsoft's Xbox division has laid out an extensive hardware roadmap that will shape the gaming landscape in the coming years. From a revamped Xbox Series X console to a highly anticipated "world's best controller" and hints of a possible handheld console, Xbox enthusiasts have much to look forward to.
Towards the base of Xbox's ambitious 2030 hardware roadmap, we find the "Funded" projects that are likely to become reality within the next seven years. Notable among them is the Xbox Series X Refresh console, a successor to the 2020 console. While it maintains similar specs, it promises a fresh design, increased storage capacity, an immersive controller upgrade, and more.
Adding to the excitement is the impending arrival of the 'Sebile' controller, touted as "the world's best controller." The roadmap also includes the Cloud console, widely known as Xbox Keystone, a new Wireless headset, and several other intriguing additions.
The Not Currently Funded/Resourced Ideas: Hints of Customization and Accessibility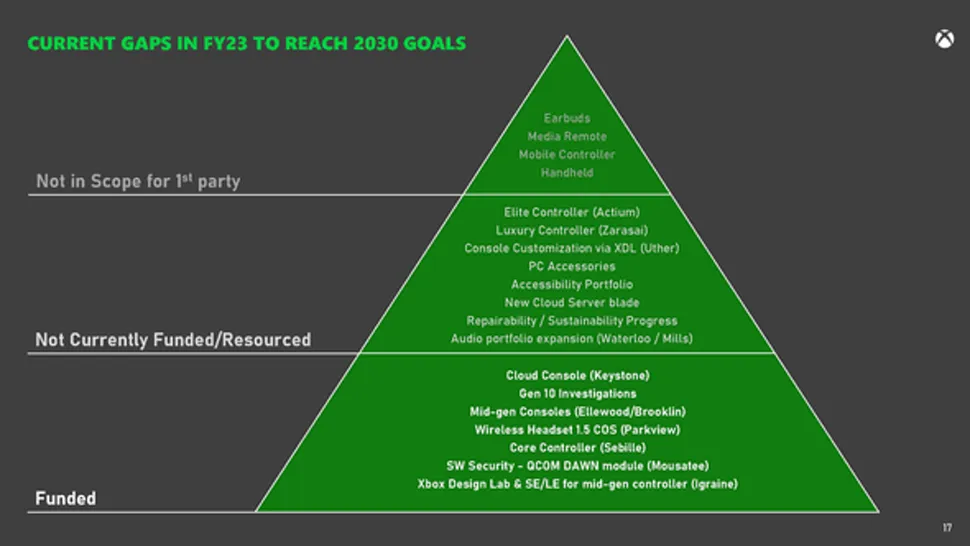 Moving up the pyramid, Xbox's hardware concepts become more speculative. In the "Not Currently Funded/Resourced" category, Xbox lists tantalizing possibilities such as expanding its accessibility and audio portfolios, the potential development of a "luxury controller," a new iteration of the Elite Controller, and an enigmatic "console customization" project. Details on these ideas remain scarce, leaving gamers curious about the extent of customization and accessibility enhancements Xbox plans to introduce.
At the apex of the hardware pyramid, we encounter Xbox's most audacious ventures. These "Not in Scope for 1st Party" projects represent Xbox's boldest aspirations. They include official earbuds, a media remote, a mobile controller, and the tantalizing prospect of a handheld gaming system.
While specifics are scarce, a separate slide from the leaked presentation hints at Microsoft's exploration of a handheld device as part of its 'Xbox Gaming Beyond' vision.
The Handheld Gaming Frontier: A Response to the Competition
Of particular interest is Xbox's exploration of handheld gaming, a move that echoes PlayStation's recent venture into the handheld gaming arena with Project Q, also known as the PlayStation Portal system. While the details surrounding Xbox's handheld ambitions remain shrouded in mystery, this foray into handheld gaming promises to introduce exciting competition in the market.
In conclusion, it's advisable not to set rigid expectations for the top-tier projects in Xbox's roadmap, given their ambitious nature. Nevertheless, it's fascinating to glimpse Xbox's forward-thinking strategies as it charts its course for the next decade. The gaming community eagerly anticipates the realization of these hardware innovations, eager to see how they will redefine the gaming experience.