The gaming world is abuzz with discussions as Counter-Strike 2 (CS2) faces both excitement and criticism, causing a notable shift in the reputation of the iconic multiplayer FPS franchise.
Since the full launch of CS2, the game has come under scrutiny from players who are drawing comparisons with its predecessor, Counter-Strike Global Offensive (CSGO). This has culminated in a wave of negative reviews on the Steam platform, although CS2 still manages to maintain a generally positive rating.
CS2 brings several significant changes to the beloved franchise, introducing new elements such as Counter-Strike 2 ranks and Counter-Strike 2 skins. However, this evolution has not been without its challenges, as a fluctuation in the game's Steam rating indicates. The Valve storefront has become a battleground for players and critics alike to voice their concerns regarding CS2 and its performance relative to CSGO.
On the day of CS2's release, Wednesday, September 27, the "recent reviews" section of the CSGO Steam page displayed a "very positive" rating for the game. This rating is achieved when between 80% and 94% of recent reviews express satisfaction with the game.
However, as of Monday, October 2, CS2, which has replaced CSGO on Steam and inherited its previous reviews since they share the same page, now holds a "mostly positive" rating. Steam defines this rating when between 70% and 79% of recent reviews are favorable. Over the last 30 days, 75% of reviews for what was previously CSGO, now CS2, have been positive.
One noticeable trend since the launch of CS2 is the surge in negative reviews. On Tuesday, September 26, when the Steam page was still dedicated to CSGO, and prior to the launch of CS2, there were 228 negative reviews.
However, on Wednesday, September 27, this number skyrocketed to 1,953 negative reviews, with an even more significant increase observed on Thursday, September 28, when 9,991 negative reviews were posted.
Some of the disgruntled players express their discontent in the reviews. "Don't get me wrong. I approve of CS2, but removing CSGO entirely just makes me mad," one recent review states. Another player laments, "I only played for Gun Game, and now that game mode is gone." A third reviewer questions Valve's approach, asking, "Why did they release an incomplete game while completely removing access to the old?"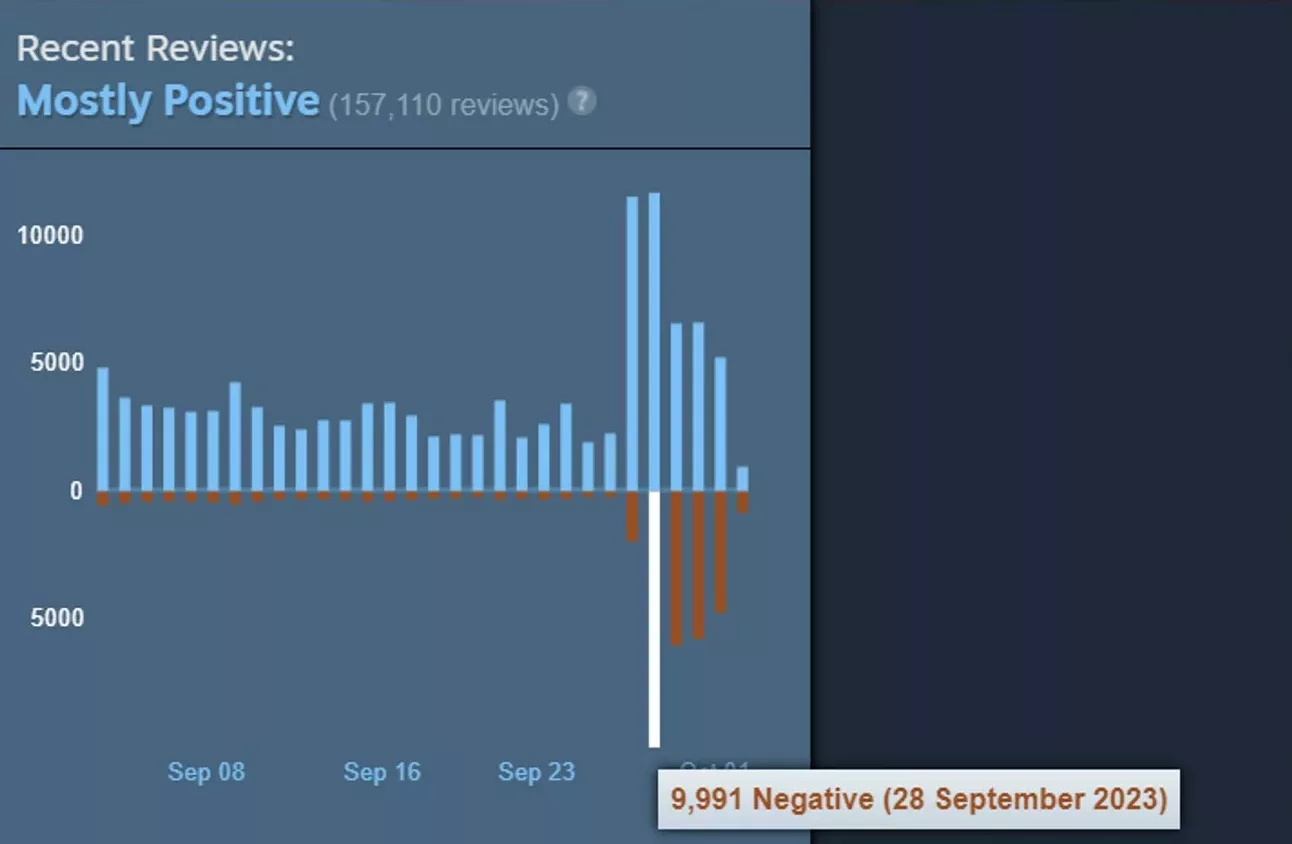 Despite CS2 attracting a substantial player base and hitting a peak of 1,471,730 concurrent users on Thursday, September 28, it has yet to surpass the record set by CSGO, which boasted a peak of 1,818,773 concurrent users.
As the gaming community continues to grapple with the changes brought by CS2, it remains to be seen whether this new iteration can live up to the legacy of its predecessor or if it will undergo further adjustments in response to player feedback.