League of Legends, a game that may not always align with everyone's gaming preferences, has consistently drawn players in with its diverse array of champions, intricate lore, captivating music, and visually appealing skins. Whether you're a fan of the game's competitive aspects or not, Riot Games has something to offer in terms of fashion and music.
The frequent release of new skin lines and collaborations with real-life music stars, such as the recent LoL Worlds song, demonstrates Riot's commitment to providing a well-rounded experience for its fan base. And among the standout skin lines in the game, the virtual K-pop group known as KDA has captured the hearts of many.
The allure of KDA extends beyond just League of Legends players, as their music appeals to K-pop enthusiasts as well. The vibrant and flashy KDA skins have only added to the group's popularity. Riot Games itself acknowledges the fervor these skins generate, hinting at the possibility of creating a boy band line to complement the existing female lineup.
While Seraphine's ultimate KDA skin is undeniably impressive, the community eagerly anticipates the transformation of other male champions into pop musicians. The teaser provided by Riot is succinct in its statement, merely saying, "We're working on it."
However, the accompanying image portrays a musical keyboard connected to a laptop, with a notebook in between. Inside the notebook, keen observers will spot sketches that appear to represent League of Legends champions.
Upon closer examination, characters resembling Aphelios, Ezreal, Kayn, K'Sante, Sett, and Yone become apparent. These champions are exceptionally popular, even among players who may not regularly choose them in the game.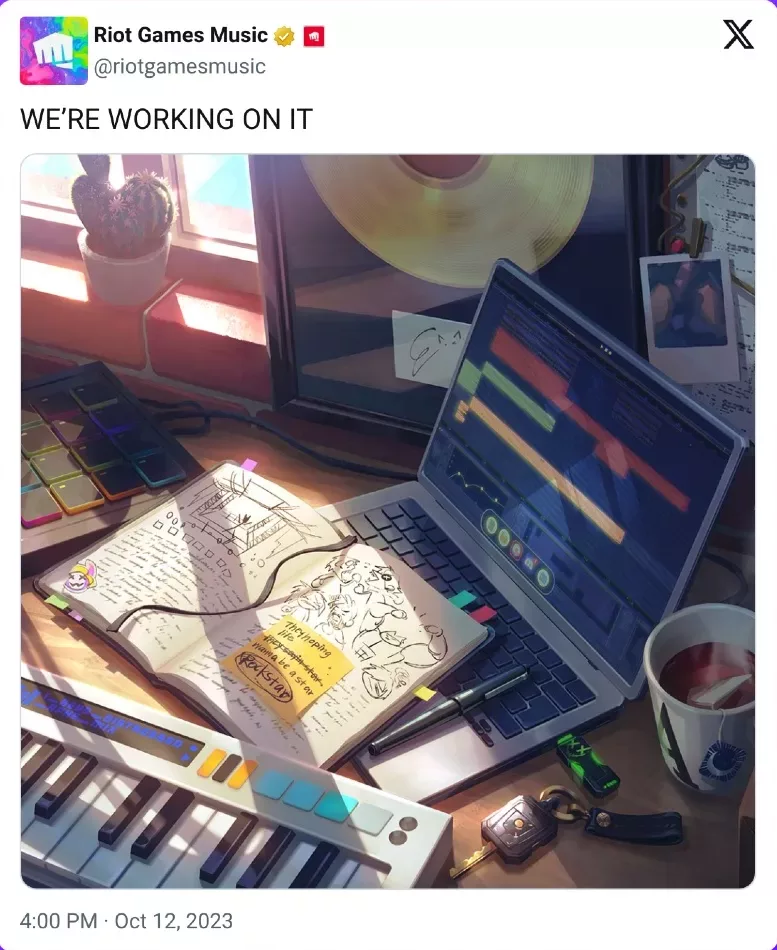 The notion that Sett's appearance may resemble the beloved character G'raha Tia from Final Fantasy is hard to ignore. It is essential to note that Riot has yet to confirm the identity of the characters depicted in the teaser or explicitly announce the forthcoming boy band skin line. However, rumors suggest that these skins may make their debut during this year's Worlds event with patch 13.22, set to release on Wednesday, November 8.
For players seeking to stay up-to-date with the most recent developments in the game, a review of League of Legends' patch 13.20 is advised, as it could significantly impact the jungling experience. Alternatively, for a deeper understanding of the most powerful champions according to Riot's tier list, peruse our comprehensive League of Legends tier list.