The article from Kotaku provides an extensive overview of the latest updates and upcoming features for Disney Dreamlight Valley, a popular cozy life simulation game. The game, which has been available in paid early access since September of the previous year, celebrated its first anniversary with a digital showcase, revealing exciting new content and features for players to look forward to.
One of the most significant announcements is the introduction of online multiplayer, set to launch on December 5 as part of the game's substantial winter update. This new feature, dubbed Valleyverse, will allow up to three players to visit and interact in each other's valleys, exchange items, and see the daily offerings in Scrooge McDuck's store.
The developers at Gameloft have expressed their commitment to continually updating and expanding the online multiplayer experience with new features and options in the future.
In addition to multiplayer, players can also anticipate the arrival of Jack Skellington from The Nightmare Before Christmas, who will be joining the game on December 5. Alongside Jack, a new winter-themed Star Path (akin to a battle pass) will be introduced, featuring snowy outfits inspired by beloved Disney characters.
The showcase also provided more details on Dreamlight Valley's first paid expansion, A Rift In Time, which is set to launch on the same day the game leaves Early Access. Priced at $30, the expansion introduces a new story centered around Jafar from Aladdin, with the narrative spread across three acts.
The first act will be available in December, introducing new characters such as EVE from Wall-E, Gaston from Beauty and the Beast, and Rapunzel from Tangled, with two additional characters slated for release in 2024.
The expansion takes place in Eternity Isle, a new world featuring three distinct biomes, new plants, animals, and cooking ingredients. Players can also look forward to automation features, such as Ancient Machines, which can perform tasks like watering plants and cooking meals.
Looking ahead to 2024, Gameloft has outlined a roadmap of free updates, including new characters like Sulley and Mike from Monsters Inc., a Monsters Inc.-themed realm, a "Vibrant Villager" speculated to be Daisy Duck, a realm potentially themed around Mulan, and Tiana from The Princess and the Frog, along with New Orleans-inspired recipes. These updates will also bring new Star Paths, additional features, and improvements.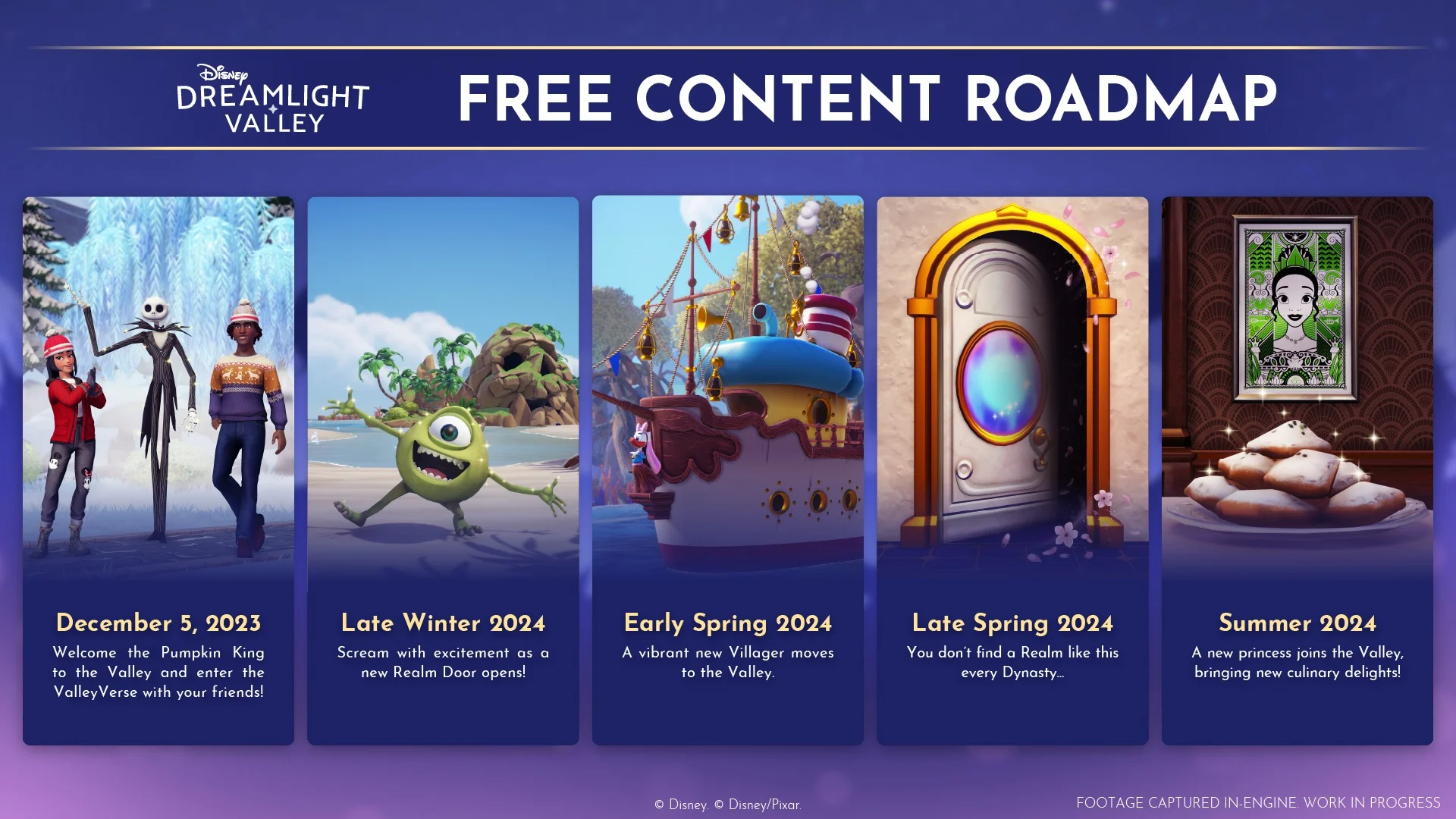 Lastly, the article mentions that Dreamlight Valley will be making its way to Apple Arcade on December 5, with crossplay support for Xbox, Switch, and PC versions, though it will not support cross-save. The Apple Arcade version will include all expansion content, as it does not allow for paid microtransactions or in-app purchases.
In summary, the future looks bright for Disney Dreamlight Valley, with a plethora of new content, features, and improvements on the horizon, ensuring that players will have plenty to enjoy in the months to come.