Santorini is the most popular Greek island; it regularly tops the lists of most beautiful Greek islands. Located in the southern Aegean Sea, Thera (the official name) is about 200 km southeast of the Greek mainland. Santorini is like a paradise on earth, a place you want to go and don't leave. There are many legends associated with this cozy Greek island and it can be rightly considered the Paris of the Mediterranean.
Suntorni's second name is Tira and it was formed by a volcanic eruption, which today influences the lifestyle of local residents, its beautiful beaches and marvelous climate. Its population of around 15 thousand people are mostly engaged in winemaking, as the fertile volcanic soil there is home to excellent vineyards.
There is a mystery about Santorini, and it is very different from the other islands that are part of the Cycladic archipelago. The fact is that scientists have found on these territories evidence of the existence of an ancient civilization. It remains for modern people to guess and make up romantic myths about the existence of the majestic Atlantis.
All About Santorini Travel Guide
Santorini in Greece has long been popular with tourists, surpassing Bali, Malta and the Philippine Islands in the rankings. The climate and weather on the island of Santorini is typical of the Mediterranean – it's hot summers and mild wet winters, during which the temperature will not go above 14 C.
Holidays in Santorini are all inclusive and will always remain in your heart as the most beautiful trip of your life!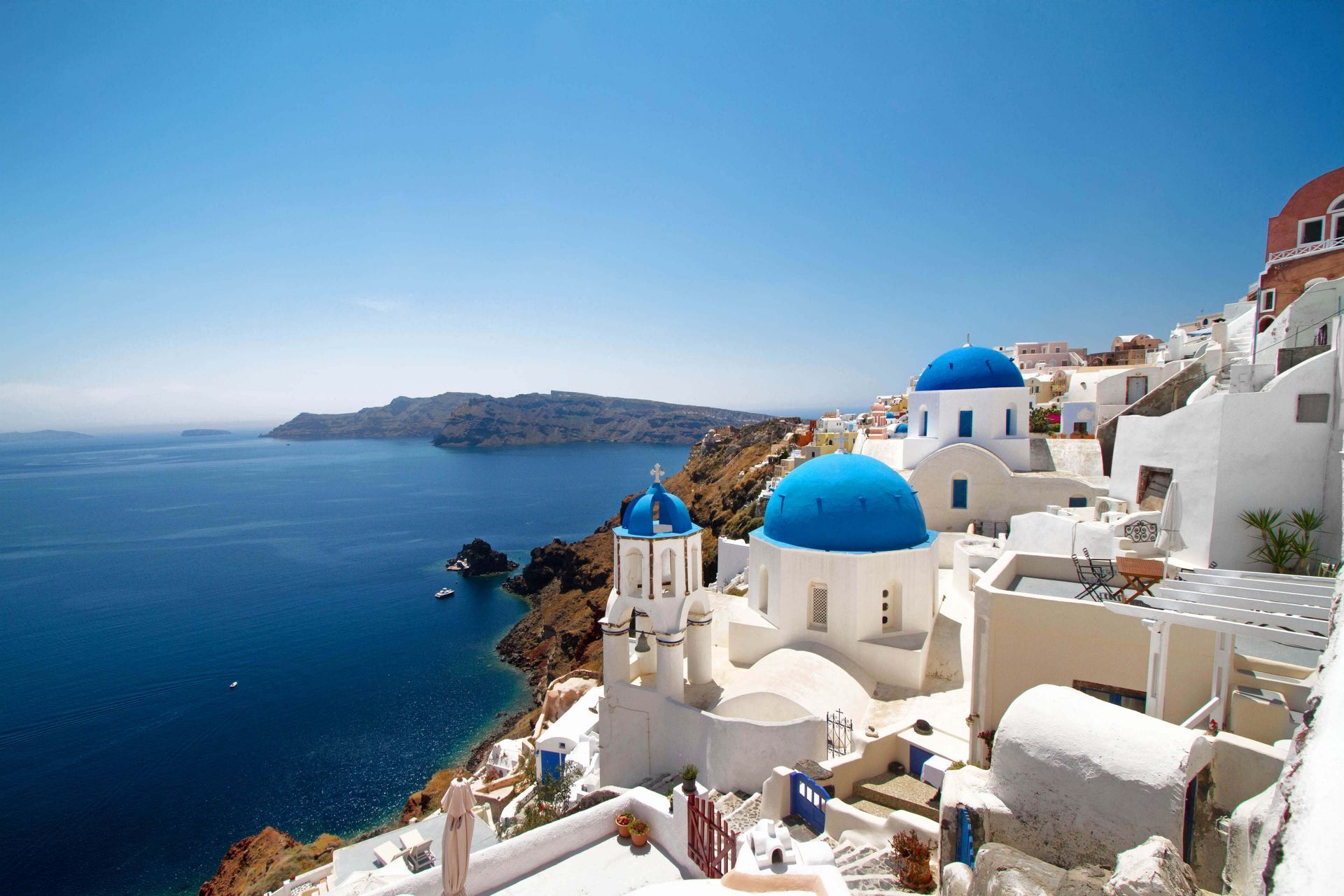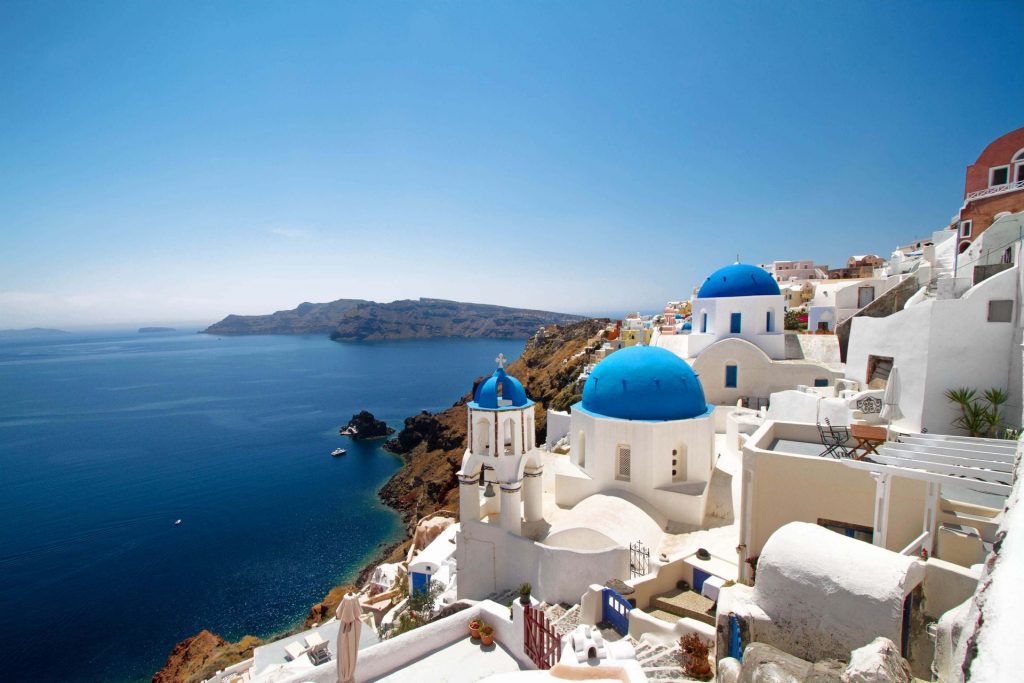 What You Need to Bring to Santorini
In order to best get ready for your stay in Santorini, the following is a list of essential things that you should put in your suitcase before your trip!
Shoes for the Sea: The fine sand is very rare on the beaches of Santorini, there are many gravel beaches and small pebbles. This is not always pleasant for the foot arch… Many local stores sell shoes but you can also get them before your departure.
Several Swimsuits: Bring several swimsuits to change your style from one day to the next and wash them alternately.
Sunglasses: This is an obvious one, but you might as well include it in this list for those of us who are a little bit more adventurous.
Sunscreen: With temperatures over 35°c in the summer, don't hesitate to spread sunscreen on your skin to avoid painful sunburns.
Goggles/Masks: It's always nice to swim without getting salt or chlorine in your eyes right? Add a snorkel and fins to your mask and you're ready for some snorkeling!
A Waterproof Case for Your Smartphone: For those who like underwater pictures, this is the essential accessory. Don't forget it if you go snorkeling to photograph the sea bed and the colorful Santorini fishes.
A 4G European Subscription: Very often already included in the new packages, this allows you to surf the net from your smartphone without additional cost. It is thus crucial to use your GPS to move around Santorini, to consult TripAdvisor to look for a restaurant or to simply post your photos on social networks.
A Mobile Holder for Your Car: Always useful to facilitate travel on the sometimes windy roads of the island.
A Selfie Stick: It is perfect to take your pictures from a height and to take your selfies with a beautiful background.
A Camera: A must have to capture your vacations but can be replaced by your smartphone if it has a good quality camera.
A Travel Guide: A must-have to have at hand at all times! You can always read Gazettely's Santorini travel guide.
A First Aid Kit: You never know what kind of problem might occur, so bring some basic medication (for headache, stomach ache…), disinfectant and bandages.
Travel Insurance: For more important accidents, don't forget to take out travel and repatriation insurance. You can never be too careful!
How to Get Around in Santorini
There are many ways to get around Santorini: by car, quad bike, scooter, bus, cab and many others, so you will have many choices to make!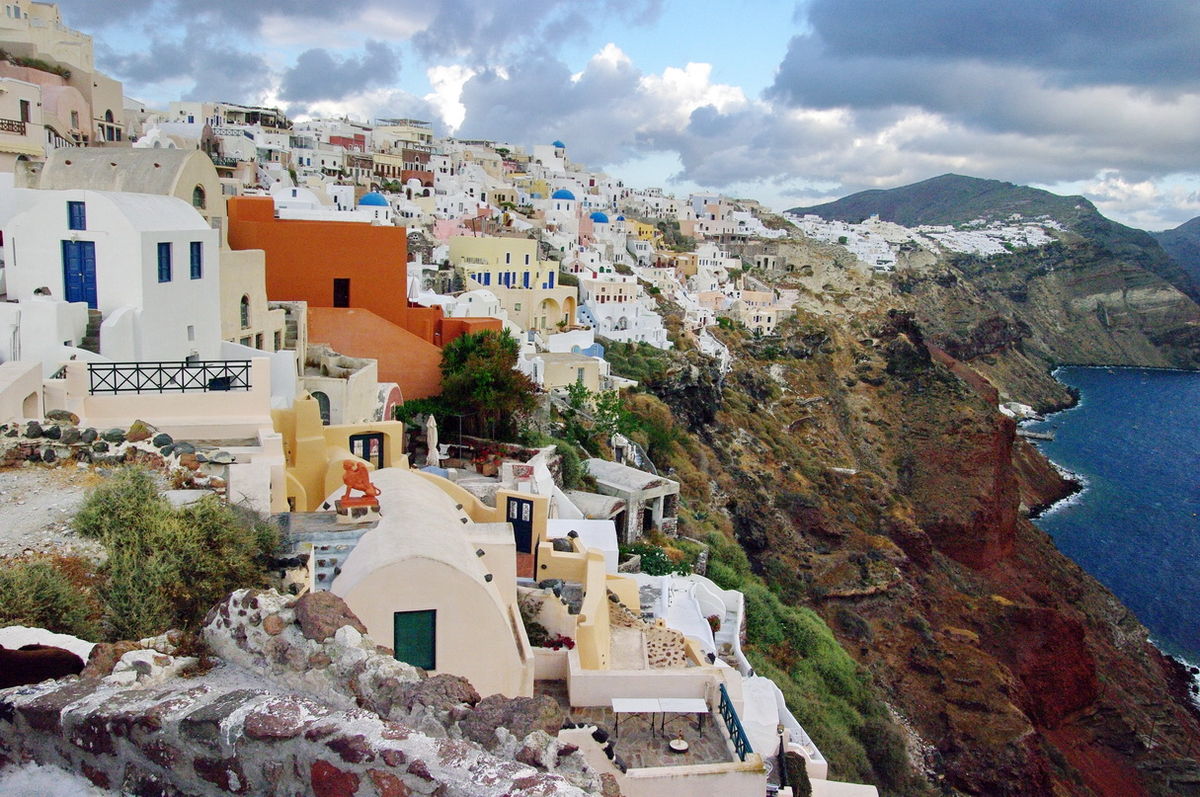 The Car
Renting a car in Santorini is the best way to visit the island at your own pace. Rental rates range from 30€ to 40€ per day for a small city car. If your stay lasts more than a week you can get a discount. In order to avoid paying the full price on the spot, book your vehicle in advance by internet. We recommend you the RentalCars website, or their application on your smartphone, which will find you the best prices. The earlier you book your car, the lower the price.
The car insurance is by default the third party insurance. Don't hesitate to take an all risk insurance to avoid possible problems and considering the way of driving of the Greeks, it will not be a luxury, you never know. You can choose the all risk insurance extension when you arrive for the rental of your car and most of the times you only have to add 25€ for 15 days, which is very cheap.
A little downside concerning the price of gasoline, it is very high in Santorini. So consider this in your vacation budget. Gas stations are not frequent on the island so don't hesitate to fill up when you see one.
Renting a car is generally a good idea. Some travel guides might suggest you that there are problems about renting cars in Santorini, that you will not find parking spaces or that the roads are not good and the way Greeks drive their cars are dangerous. When you rent a car it is much easier for you to get around on Santorini than say using the bus.
With a rental car you can always move from one place to another when you want it and more importantly, you will have air conditioning in the hot summers of Santorini. And don't worry about parking space, there is always a place to park your car and in bigger cities like Fira, the are private parking spaces with affordable prices. Also, having a car is essential to carry suitcases, beach stuff, water packs and other groceries.
Last but not least, bring an international GPS or a temporary 4G package for your smartphone to avoid getting lost on the island and to get easily from one point to another. Directional signs are usually all translated into English but not all of them, so if you don't know how to read Greek it can quickly become complicated.
The Quad and the Scooter
These are undoubtedly the most popular means of transport for tourists in Santorini. You can see them on all sides and you can rent them everywhere! Unlike the car, there is no need to rent your quad or scooter in advance from your home, you will find them very easily in your resort town.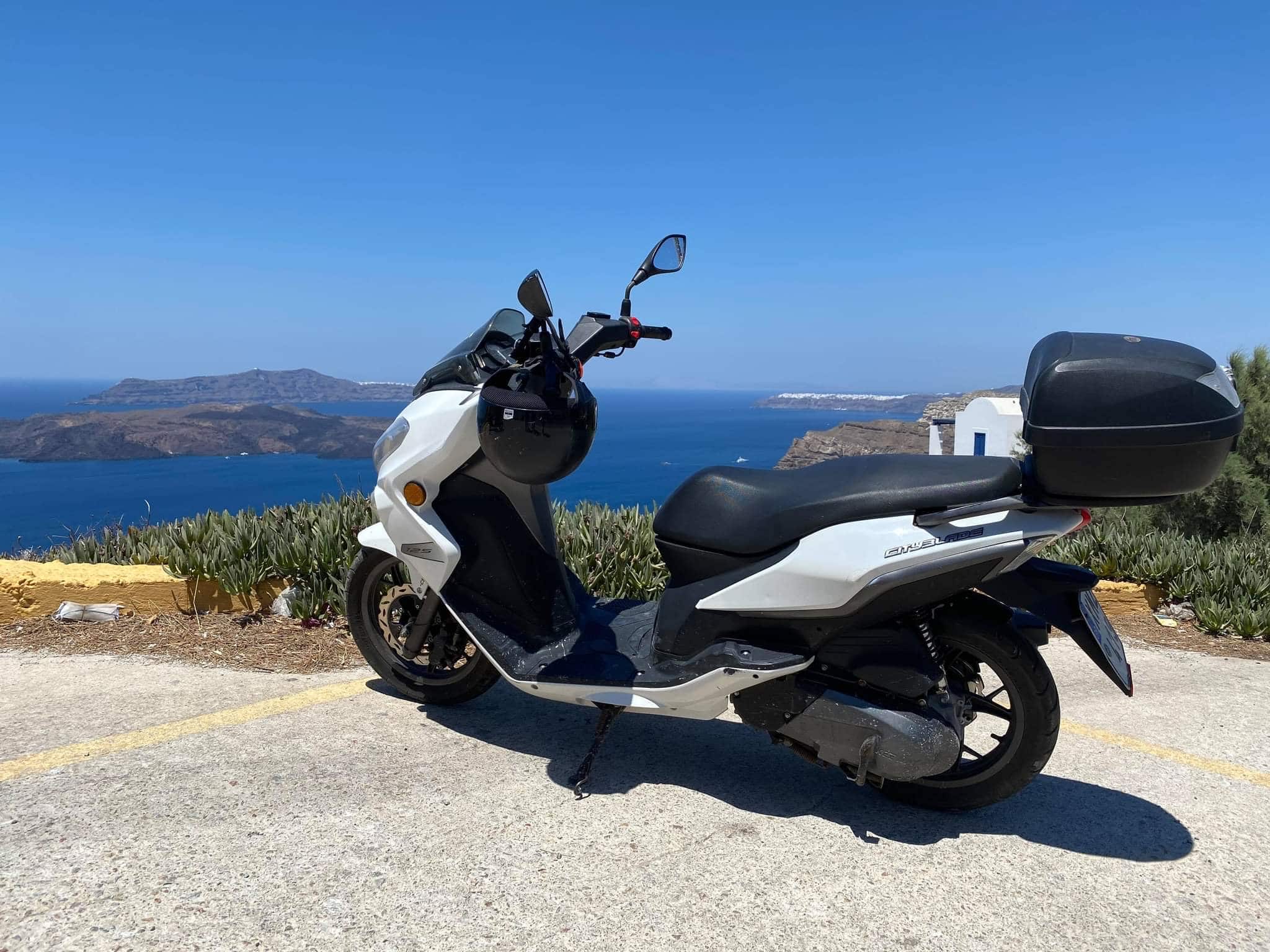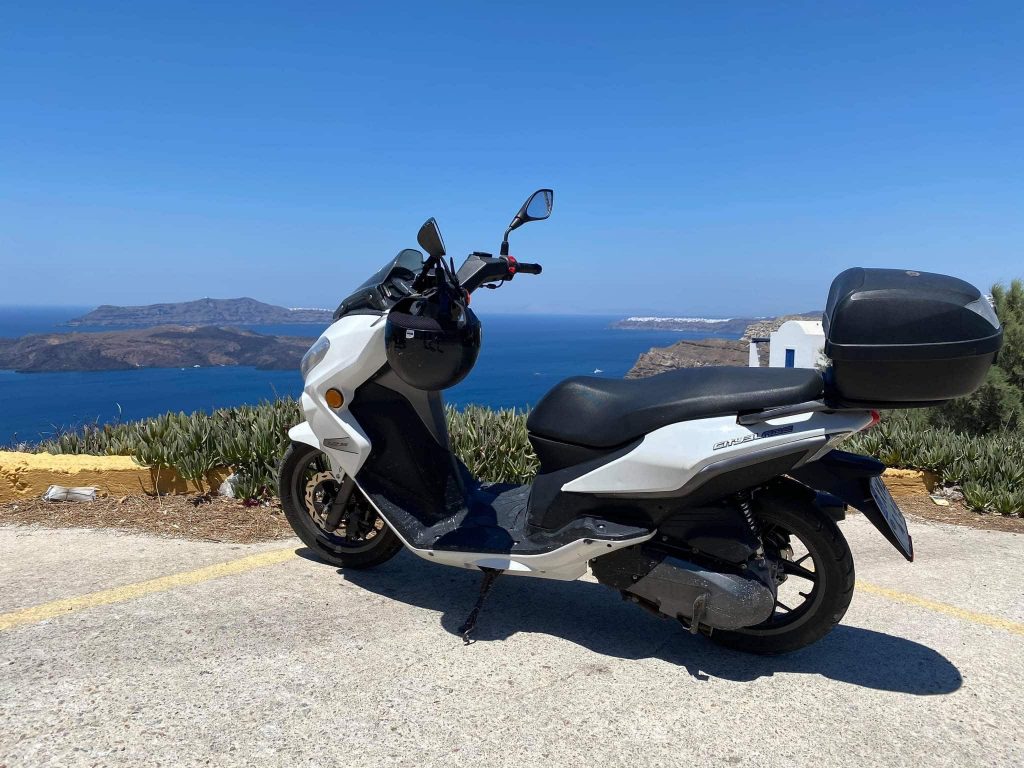 To rent a quad or a scooter you will just have to show your driving license and of course some cash (they are not too fond of credit card payments you will see). The rental price for a quad is about 15€ per day and for a scooter about 9€ per day. The rental company will provide you with helmets and an anti-theft device as well.
When you rent your quad or scooter, you are only insured for third party liability. In most cases the rental company will offer you a comprehensive insurance. I advise you to add a few euros to opt for a total coverage in case of accident, you never know better to be more careful!
The roads of the island are often poorly maintained and narrow, so it is not a very good idea to rent a quad or a scooter if you are not used to it. In addition to the wind which can be powerful, locals drive dangerously. The road accidents involve in 2 cases out of 3 a quad or a scooter.
Think carefully about what you are going to use it for? Because if you have big suitcases and bags, the quad or the scooter will not be appropriate. The same goes for helmets, remember that you will have to carry them with you as soon as you park your vehicle.
Nevertheless, the quad and the scooter remain practical and inexpensive vehicles to discover the island of Santorini. It's up to you to decide on your comfort level with this type of vehicle, your needs and your budget.
The Buses
Santorini has a public bus network but it is not similar to the ones you find in your country. Unfortunately, the bus lines do not serve all the cities of the island and the waiting time between two bus runs can sometimes be very long.
To tell you the truth, bus schedules in Santorini are not regular and the waiting time between two buses can take between 30 minutes and several hours. So plan your day's activities well in advance and check the bus schedule beforehand.
However, the prices are very affordable, on average 2€ per ticket. You will find here the list of bus ticket prices according to your route, your age and your situation (discount for children, students and disabled people). For more information, please visit the Santorini bus website.
Cabs
Cabs are quite common in Santorini, but most of them are located right next to the bus station in Fira. The drivers all speak a minimum of English to indicate your destination. The fare is fixed in advance depending on the destination, the number of people and the amount of luggage. Please note that there is a premium for night rides. So make sure you agree with your driver before getting into his cab.
For your information, a cab transfer from Santorini airport to your hotel can vary between 30€ and 50€ and a ride from Fira to the port of Athinios costs 20€ for a 20 minute ride.
Cab Boats
You will surely see that on some beaches, cab boats are available in Santorini. Either to take you for a little trip to the open sea, or to take you to another beach. This is the case of White Beach which is only accessible by boat (count 4€ for the trip from Red Beach to White Beach). The rates of these small cab boats are very affordable.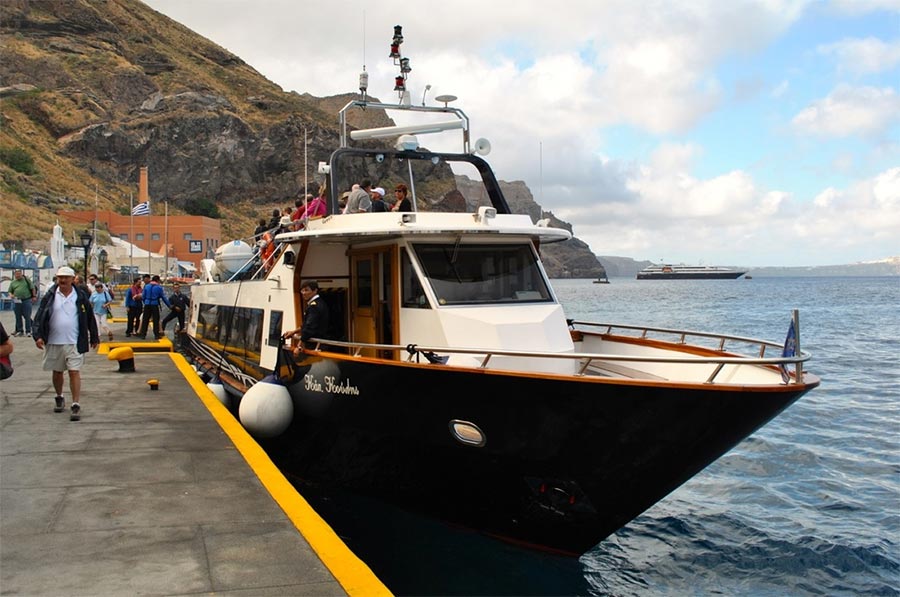 There are also many boat rental companies with a crew on board to take you around the island and its surroundings. Prices, duration and travel conditions depend on you, your wishes and your budget. In order to find the one that suits you best, you can search on the TripAdvisor application and read the comments of the "Boat Tours" of Santorini.
The Bike
During your stop in Santorini you will not see many bikes, other than kids playing with their bikes in villages. Bike rental is not at all widespread in Santorini because the island is really steep and the roads are dangerous and difficult to ride with a bike unless you are a professional biker.
Santorini Airport
First of all, do not expect a big international airport, on the contrary this one is very small! Despite the 250,000 tourists who land there each year, the infrastructure of the airport of Santorini remains very "basic" and a bit rustic.
Nevertheless, it perfectly fulfills its function of welcoming planes from all over the world. On the other hand, some tourists say that the airport employees are not welcoming or friendly. They are content to be present at their posts and prefer not to be bothered by tourists.
What Can be Found in the Santorini Airport?
Well, we don't find much actually! The bare necessities, that is to say offices of car rental, two small restaurants and a big terrace on the roof.
Don't count on duty free shopping, there are no stores. The same goes for all the "I'll buy my souvenirs and postcards at the airport before getting on the plane" fans, don't even think about it! So plan all these purchases during your stay.
In front of the airport you will find buses and some cabs to take you to your hotel if you don't have a rental car.
The Capital Fira
Fira is the capital and a true tourist magnet. The town owes its name to an alternative pronunciation of the ancient name of the island, Thira. This traditional settlement is one of the most charming places on Santorini. The compact town is characterized by whitewashed houses built on the edge of the caldera, some 400 meters high, on the western side of the semi-circular island.
The panoramic view of the caldera, facing Nea Kameni and the island of Therasia, is impressive to say the least. The harbor can be reached by a Z-shaped footpath – also passable with a donkey – or by the steep cable car.
The Medieval Emporio
Emporio is located somewhat inland on Santorini, 12 km from Fira and near the mountains of Profitis Ilias. It is cheaper and less touristy than the coastal towns and boasts a strong medieval character. Two beautiful Cycladic churches with blue domes and impressive bell towers adorn the skyline.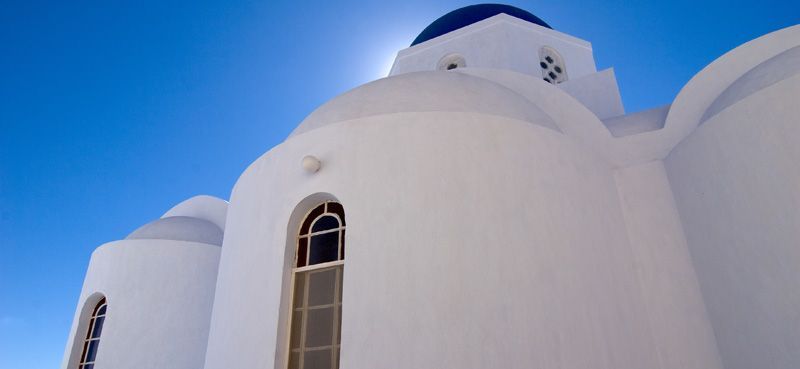 Emporio is also home to Kasteli, one of the 5 fortified castles on Santorini. Also take a look at the Tower of Nimborio, sometimes called the 'Goulas' – a square lookout tower and shelter.
10 Things You Should Do in Santorini
Santorini offers a plethora of activities to do and has magnificent places to visit. Below is a small selection of the 10 things to do during your stay on the beautiful island.
1 – Relax on the Beach
Santorini has several beaches to relax in the sun! From deserted beaches to touristic ones, there is something for everyone in there. Choose the one that suits you among the beautiful beaches of Santorini by clicking here.
2 – Visit the Volcanic Island of Nea Kameni
In the Caldera there is a volcanic island that looks like the soil of Mars. The view of Santorini and the bay is magnificent.
3 – Taste the Santorini Wine
Wine making is a centuries-old tradition on the island. Taste several of the wines produced in Santorini at the "Vassaltis Vineyards".
4 – Take a Boat Trip Around Santorini
The principle of an island is of course to be surrounded by water! So take advantage of it to make a small cruise in a catamaran or on a sailboat. Several types of excursions are available to you at Santorini.
5 – Enjoy a Sunset in Oia
One of the most beautiful spots in the world to admire the sunset is located in Oia, northwest of Santorini island. Do not miss it during your vacation in Santorini.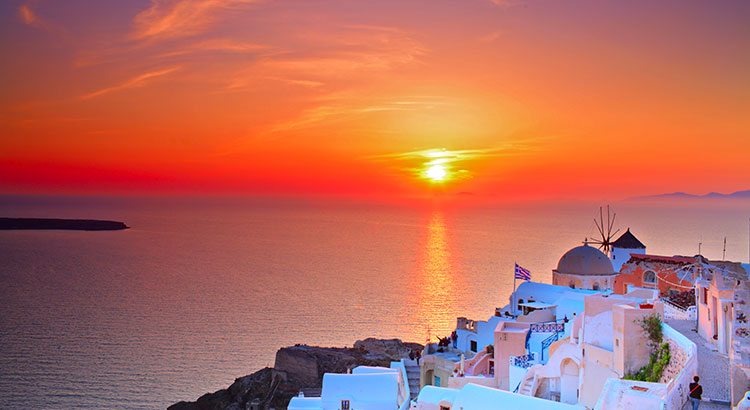 6 – Visit the Akrotiri Lighthouse
Discover the oldest lighthouse in Greece! The view from this site is also magnificent. It is best to go there at sunset. The reflections of the sun on the lighthouse offer sublime colors. Don't forget to bring your camera with you.
7 – Dinner at the Metaxi Mas Restaurant in Exo Gonia
Santorini's cuisine is one of the reasons why this island is so unique. One of the best addresses to eat is the Metaxi Mas restaurant in Exo Gonia.
8 – Outdoor Movie in Kamari
Do you want to go to an open-air cinema and watch a movie under the trees? Then go to the city of Kamari for a relaxing moment with your friends or family.
9 – Enjoy a Fresh Orange Juice at the top of Pyrgos
Pyrgos is a charming village clinging to the top of a hill with a panoramic view of the whole Santorini island. Go to the top at Café Franco to enjoy a freshly squeezed orange juice!
10 – Visit the Traditional Village of Emporio
The most beautiful village of the island, not to be missed without any excuse! Emporio is a very small village that is often missed by tourists. Lose yourself in its streets and admire the traditional architecture of Santorini.
The Most Beautiful Beaches of Santorini
Santorini is an island and who says island says beach! During your vacations you will have the choice between many beaches according to your desires: rest, picnics, practice of aquatic sports, walking … Do not worry there is something for all needs. The following is a selection of the most beautiful beaches of Santorini, Stay tuned.
Vlychada Beach
Located at the foot of long fascinating cliffs sculpted by time, this beach is the ideal place to swim and enjoy the sun. The price of two deckchairs and a parasol is 7€ per day. You will find a cabin to change but no shower. Bring your shoes for the sea, it's a beach of big stones (uncomfortable and noisy under the foot!). Note that the beach starts to fill up at 2 pm so go there in the morning.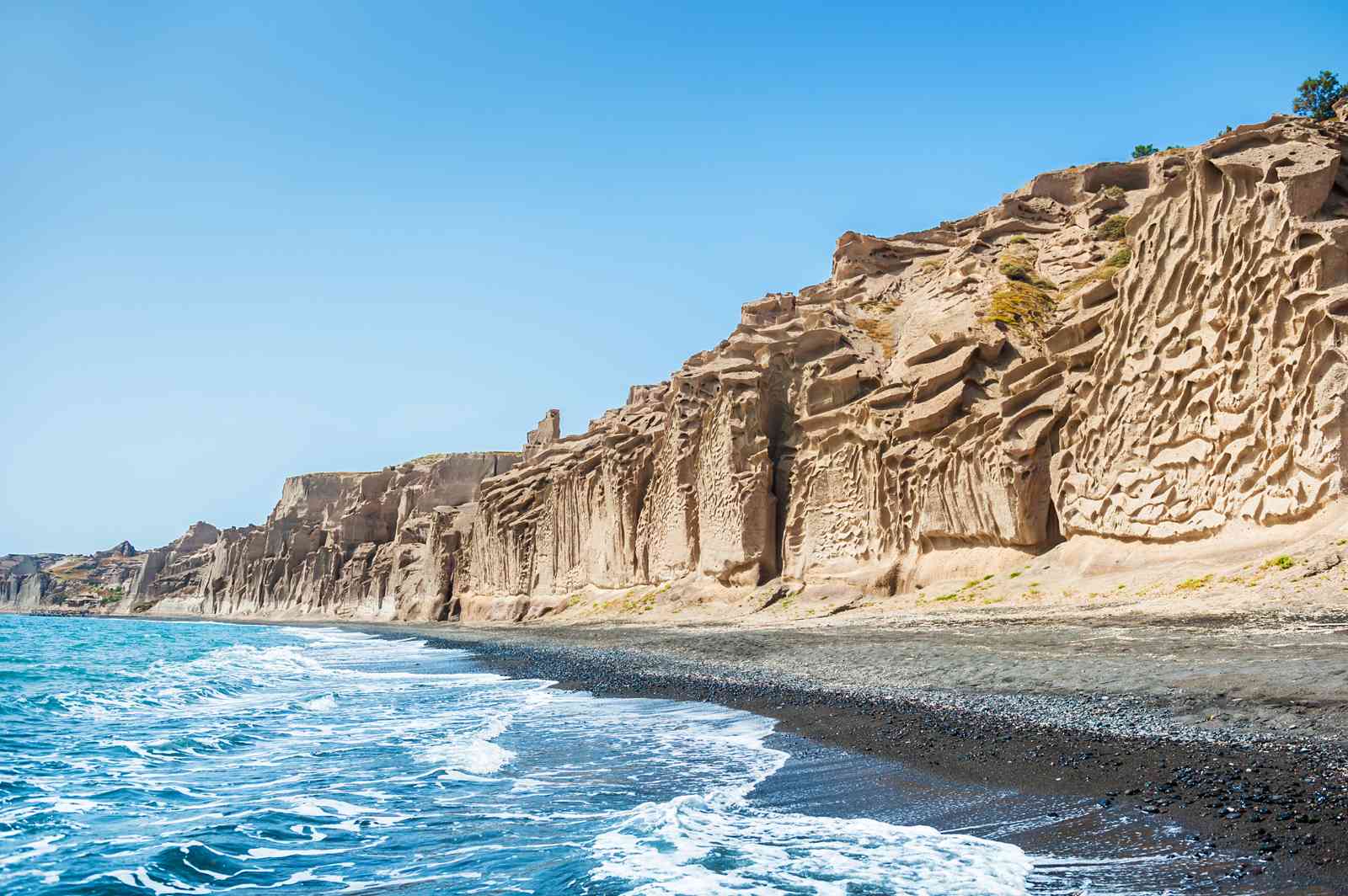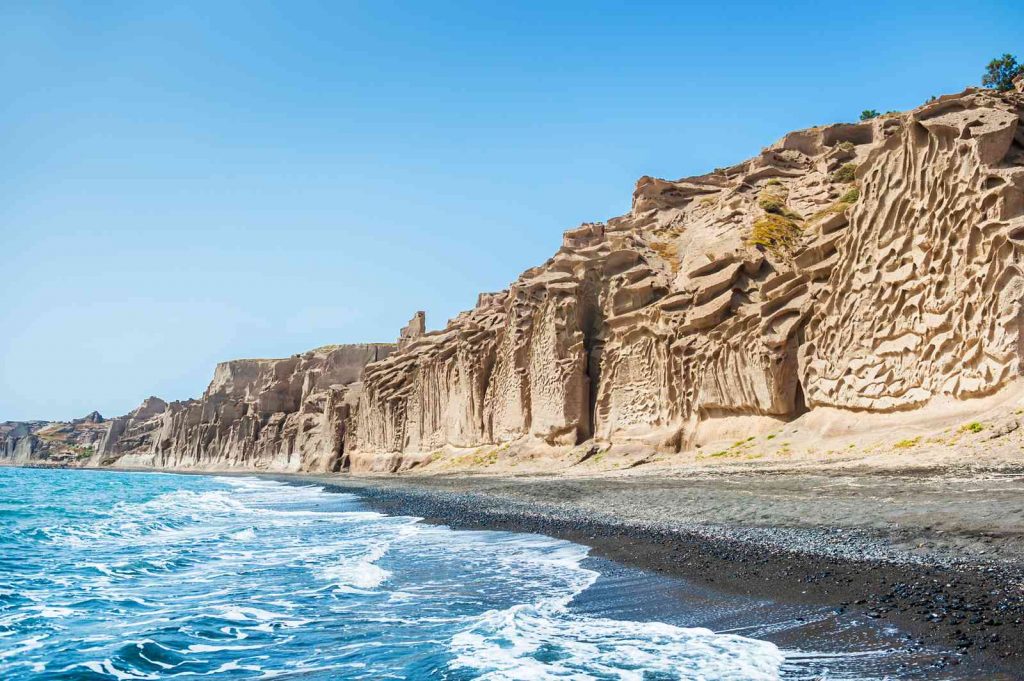 The Limaniki restaurant at the entrance of the beach is delicious and the small typical harbor at 50 meters is worth a visit. For the more curious, the museum of the industrial tomato is adjacent.
Red Beach
Here comes the very famous Red Beach of Santorini. The color of the cliffs is red, hence the name of this beach. This place is a must during your stay in Santorini, however it is not the ideal place to spend a quiet afternoon to rest. And yes, this is the other side of the coin of the notoriety of this beach, as it is always full of tourists.
The water is transparent and clear. It is an ideal spot for snorkeling. Be careful, there is no sand on this beach but rocks, so don't forget to wear sea shoes!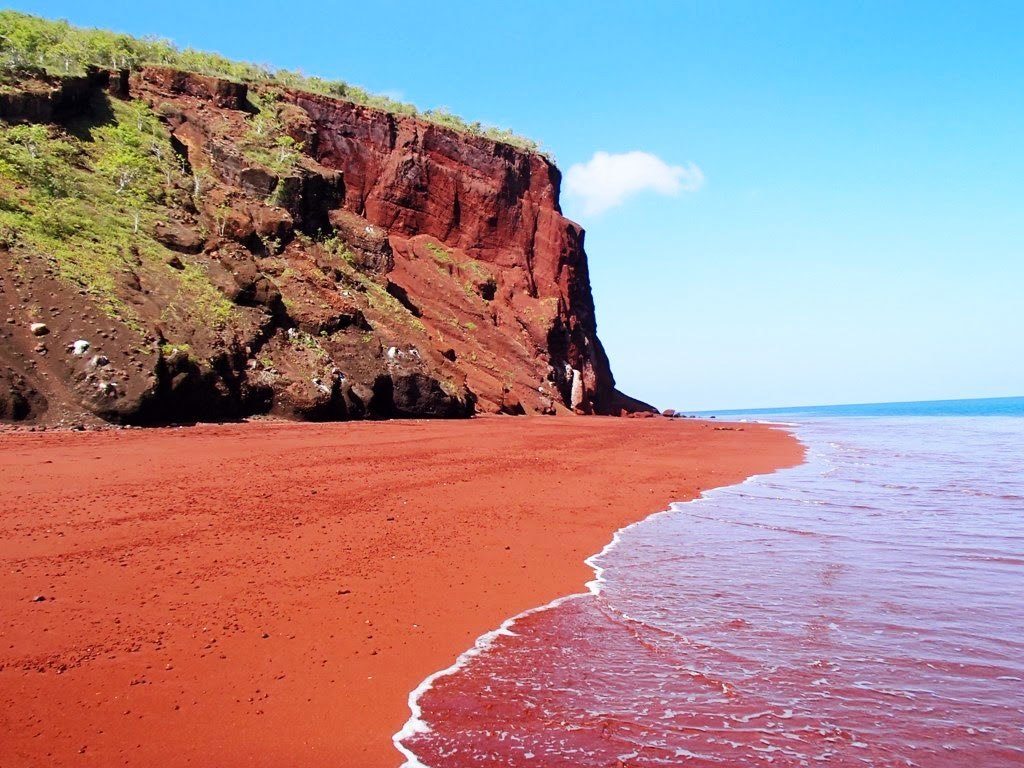 White Beach
This beach is literally at the foot of cliffs jagged by wind, sand, sea spray and time. It is located right next to Red Beach. The water is clear and turquoise.
According to all the guides and blogs it is the most beautiful beach on the island of Santorini. This is because it is only accessible from the sea. Actually, you have to take a cab boat to get there (departure from the Red Beach). It is therefore not "deformed" by the constructions of the Man.
Eros Beach
This quiet and isolated private beach is perfect for a lazy day! Everything is there to have a good time: restaurant, bar, high quality deckchairs, umbrella with power supply (solar energy)…
The price of two deckchairs and a parasol is 15€ per day. The prices of the bar and the restaurant are a little higher than the usual prices of Santorini but the quality and the originality are there. Moreover, the setting is very pleasant. This beach has of course fresh water showers and toilets.
If you don't want to spend money, it is possible to go there on public part of the beach but there is no infrastructure and it is not very well maintained. It should be noted that you need a vehicle to get to this beach. Indeed, it is located at 2 km from a main road. To get there, you will have to take a winding dirt road but the jagged cliffs on the way make it very pleasant.
Kambia Beach
This beach is totally isolated and far from everything in a small cove! You have to take a dirt road for 4 km to get there. There is no bus to the beach, you need a vehicle to arrive there. On the way there is a splendid view from Oia to Fira and all the islands around Santorini.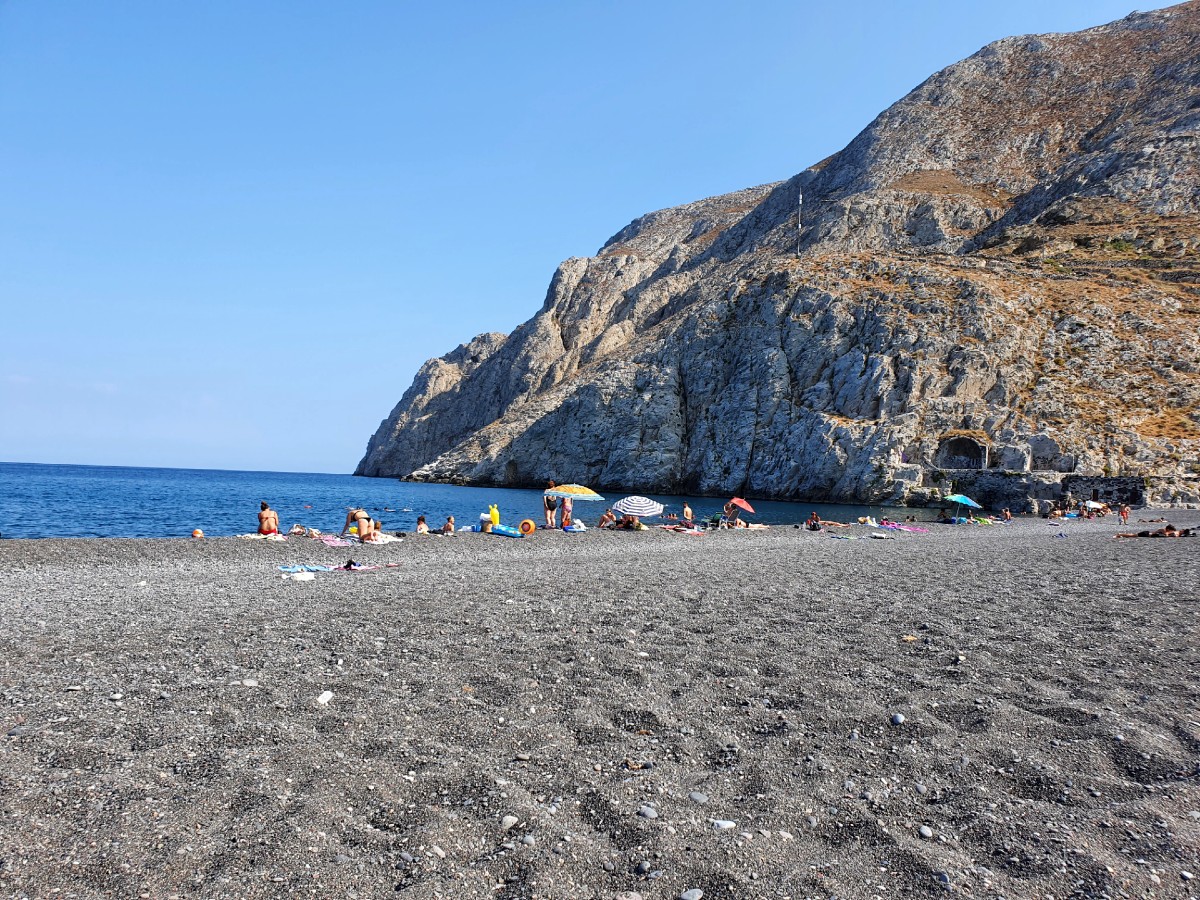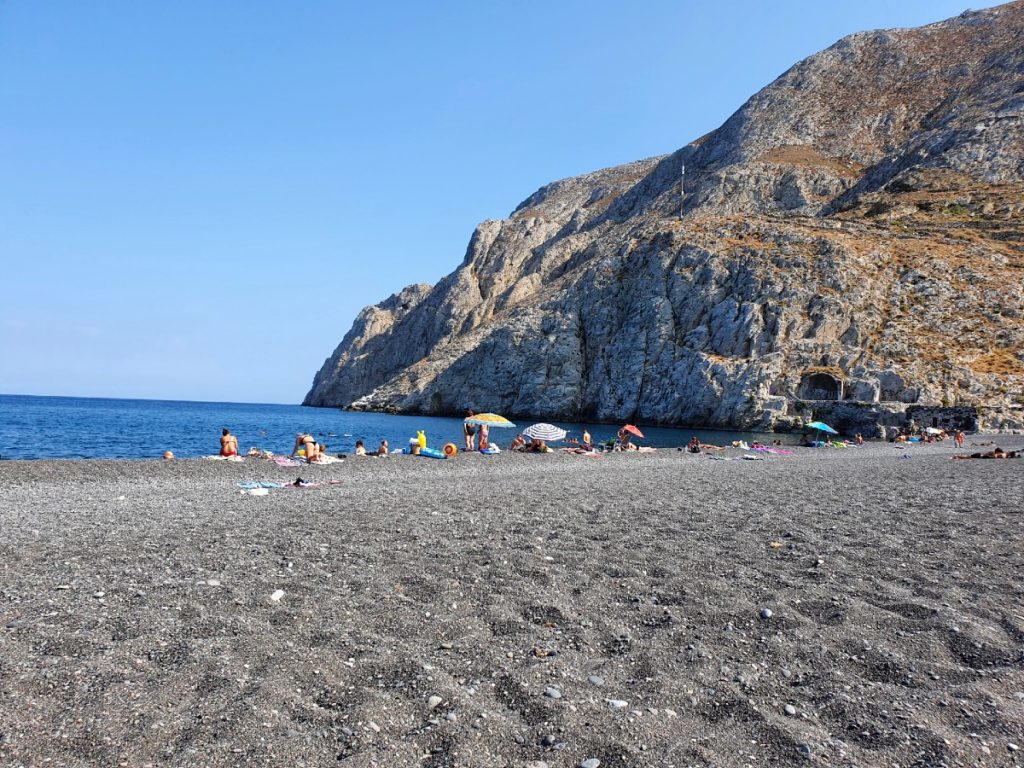 This beach is not very crowded, sunbeds and umbrellas are available. It is located in the recess of a small cliff and the water is completely transparent. Note that it is a pebble beach, so bring flip-flops and sea shoes.
Vouvourlos Beach
A small, secluded beach full of charm, it is perfect if you want to escape the hordes of tourists. Even if they are not numerous, it has deckchairs and free umbrellas. A small typical restaurant will allow you to eat at the edge of this beach. Toilets and showers are also available on the parking lot.
Kamari Beach
Kamari beach offers a superb view of the beautiful cliffs. Contrary to the other beaches, the sea is deep (you can't walk more than 2 meters from the shore). It is very popular and very touristy. It is possible to practice all kinds of water sports: paddle, Jet Ski, banana boat.
The price of two deckchairs and a parasol is 8€ per day. This beach has a fresh water shower and beach cabins for changing. The beach is located along a walkway where you will find all kinds of vendors and many restaurants and bars (perfect for a little snack or a little cocktail).
Monolithos Beach
Despite its location near the airport and next to old factories, this beach is worth a visit. The view is perfectly clear on the horizon and the walks on this long beach are pleasant. It is the ideal place for water sports (windsurfing, kite surfing…) because there is a lot of wind. Indeed, it is not surrounded by any cliff. It also has beach volleyball and basketball court.
The price for two sunbeds and a parasol is 7€ for the day. Fresh water showers and beach cabins are available. The sand on this beach is black and quite thick, so remember to bring sea shoes.