NASA will release the first full-color images from the James Webb telescope on July 12. However, just how do the images come about in the first place? The scientists are now providing an answer to that question – and in doing so, they're providing a shot that's otherwise not for public consumption.
Here's a preview that brings exciting content right out of the box
So how does the James Webb telescope find its targets? Roughly a week before the first color images are released, NASA sheds light on one of the components that made those images possible in the first place. Known as the Fine Guidance Sensor (FGS) – developed by the Canadian Space Agency – it is the viewfinder, so to speak, of the giant space camera.
Recently, as NASA explains, the instrument has been used to take images of stars and galaxies which give a good preview of what can be anticipated from the telescope's science instruments over the coming months.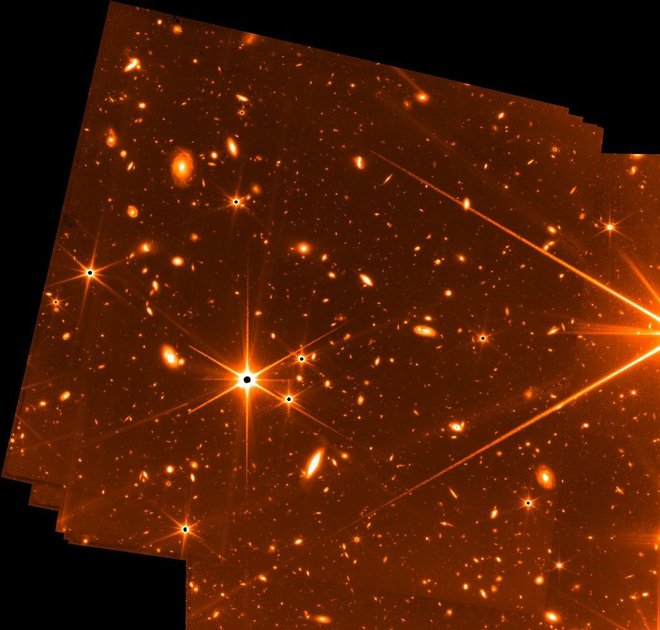 In fact, the FGS images are not meant for publication at all and are normally deleted after analysis. This is partly due to the limited bandwidth available to NASA for communications. In a week-long trial, however, the stability of this connection was put to the test, and there was enough space left in the data stream to transport the image now shown to Earth.
According to NASA, this is a "technical image with some rough edges." Rather than scientific observation, the intent of the image here was to check for precise alignment with a specific object. There are six long, sharp peaks of light around the stars shown here, which again can be attributed to Webb's six-sided mirror segments.
Just really impressive
While the result had no scientific background, it nonetheless knows how to impress researchers in this regard as well. For example, according to Webb's scientists, the mosaic of 72 exposures over 32 hours is one of the deepest images of the universe ever taken.