One didn't even have to wait 24 hours for somebody to release a secret document to confirm Sony's plans for the next few months.
"Horizon PS5 Remaster" and Horizon Online, for example, are on the list. These are just a few of the games on what is an interesting list, however.
We reported first thing this morning about Sony's plans to do a Horizon Zero Dawn remaster. Subsequently, editors at Gematsu confirmed that they have received a document to preview the Japanese corporation's plans for the next few months. And we didn't have to wait long as the document was published.
Sony games that will be coming to PS5 and PC
Horizon Forbidden West for PC
Horizon PS5 Remaster
Horizon Online for PS5 and PC
Hearbreak – survival horror from Firesprite for PS5 and PC
Carbon – a secret project from Sumo Digital studio (creators of Sackboy: The Great Adventure)
Sackboy: A big Adventure on PC
Redstar – a secret car racing game from Lucid (creators of Destruction All Stars)
Returnal for PC
Ocean – a secret project from Hideo Kojima for PS5
Bates – secret survival horror from Ballistic Moon studio on PS5 and PC
Camden – a secret project from Sony London studio for PS5 and PC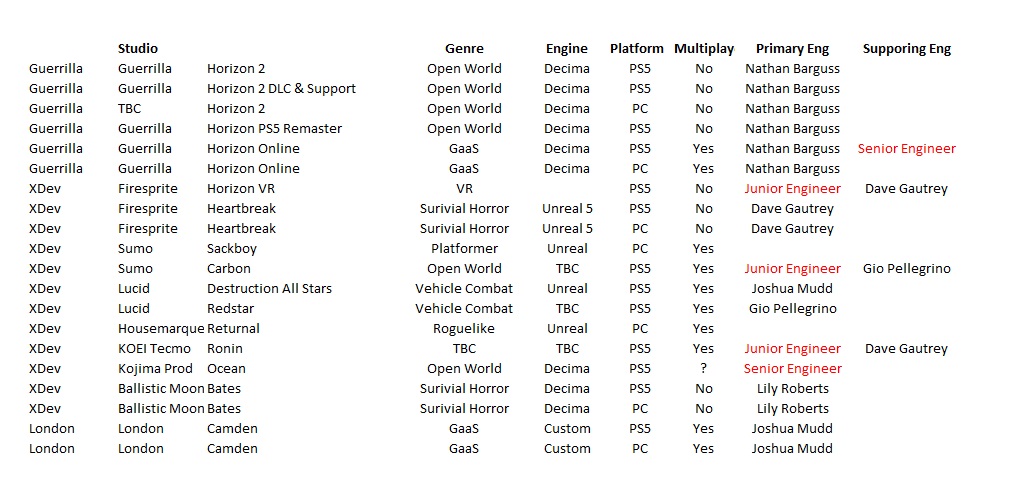 The majority of the games are scheduled to debut on PlayStation 5 and PC, as you can see, with the "Ocean" mentioned reportedly being Death Stranding 2.
Previously, there were already leaks that Firesprite is in the process of developing an AAA horror game for PlayStation 5 – and as you can see, the title is also expected to come to PC.
Lucid Games is rumored to have gotten its hands on Twisted Metal, which is a good fit for Redstar. In addition, we also mentioned Sony's recent collaboration with Ballistic Moon studio.
What do you think about these games? Which one are you eagerly waiting to play? Let us know in the comments below.