They say that a dog is man's best friend. Well, there's something to that! For a long time, dogs in games have been used as the main character's companions. They are the perfect support throwing themselves at every enemy, locating hidden crates and, moreover, loving their owner unconditionally. Things are slightly different with the second most popular domestic furry. Cats in games are not so common, and when they do, they are usually depicted as creatures who are independent of anyone. In this article we will introduce the most interesting games about cats and dogs.
In these games, pets will not always be playing the first fiddle, which, nevertheless, does not in any way diminish their important role! So get ready to get to know some of the best games that feature lovely cats and dogs in them.
10- Gato Roboto – Kiki
An adorable two-dimensional metroidvania with a unique retro art style, reminding us of productions from years ago. The storyline revolves around a man who crashes his spaceship, landing on an alien planet on which he has to perform an important task. The matter is not entirely lost, however. His mission is picked up by an accompanying kitten named Kiki, over which the player has control.
The pet soon comes into possession of an armed mecha, which significantly facilitates his travel through locations full of dangers. As the cats in the games are such duds, one dreads to ask what our cuddly cats do after hours! Gato Roboto is surely one of the most interesting games about cats.
9- Fable II – Dog
It is obvious that every hero should have a traveling companion. Certainly, anyone who played the second part of this fantasy RPG, probably knows how important a role was played there by a pet with the graceful name Dog (you can see that the screenwriters reached the heights of their creativity here). The four-legged character not only devotedly threw himself into battle, but also supported the hero in finding treasure chests and buried objects. And he handled it better than current GPS systems! Pity that cats in games are not so raring to help…
8- Cat Quest 2
Should you be in search of a 2-in-1 item (featuring both dogs and cats in games), you might want to reach for an action RPG with a hack'n'slash theme – Cat Quest 2. We warn you, however, don't expect anything from this title. It is a simple production, with addictive, albeit somewhat monotonous gameplay. Skipping the movement keys, to play we only have a few buttons that are responsible for attack, dodge, interaction and spells.
The majority of the time you are running around the locations and patting down enemies. Is that a bad thing? Absolutely not. It is best to sit down to play this game about cats on PC, playing a podcast or something interesting to listen to in the background. But beware, it's not a total self-player either, you will sometimes have to move your head, and also the story being told is not bad either! Many gamers consider this title to be amongst the best games about cats.
7- Spiritfarer – Daffodil
Daffodil, a blue-eyed Maine Coon cat with cream-colored fur, is actually one of Spiritfarer's two main characters. He follows the main character in singleplayer mode whenever he can, however, in co-op the other player can assume control of him. Although the animal has its limitations, which means that when playing it, we can neither talk to ghosts nor hand over a quest, but other than that we can do almost everything that the owner can.
The developers confirmed in one of the videos that the character Daffodil is actually inspired by the real cat of the main artist Thunder Lotus Games. This game is definitely one of the top games about cats that you can play right now.
6- Animal Crossing: New Horizons – K.K. Slider, Isabelle, Rover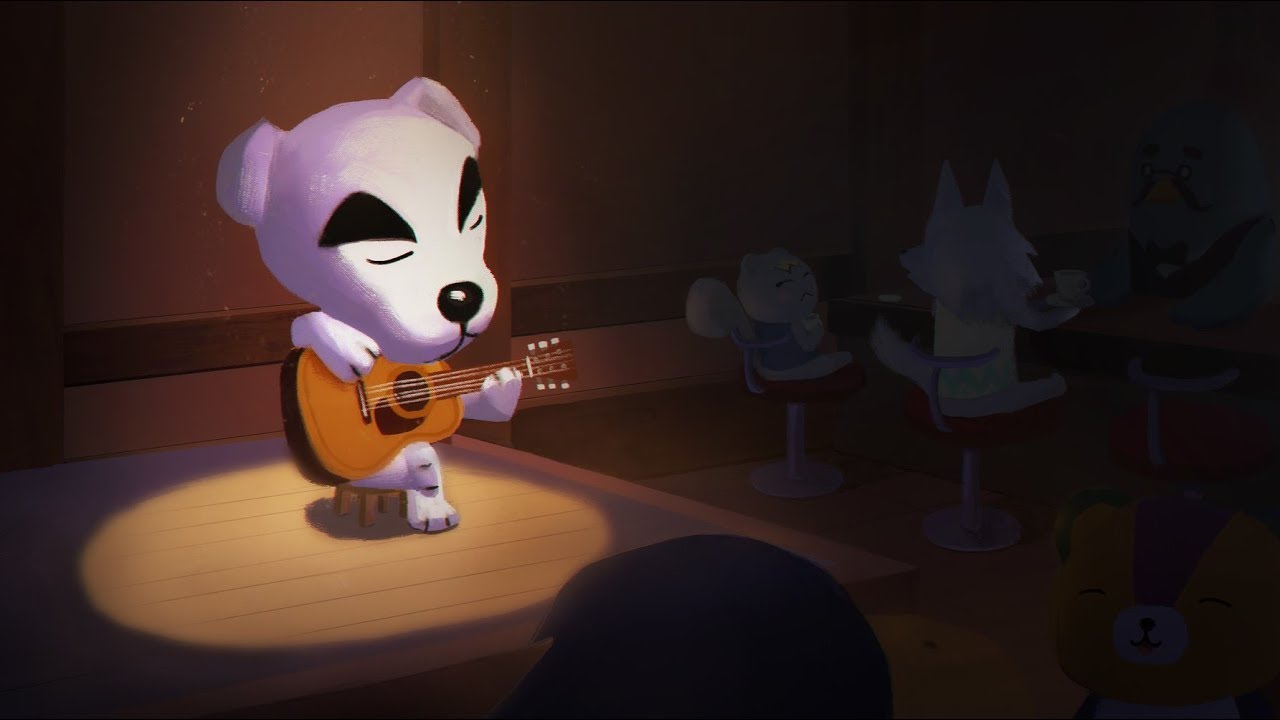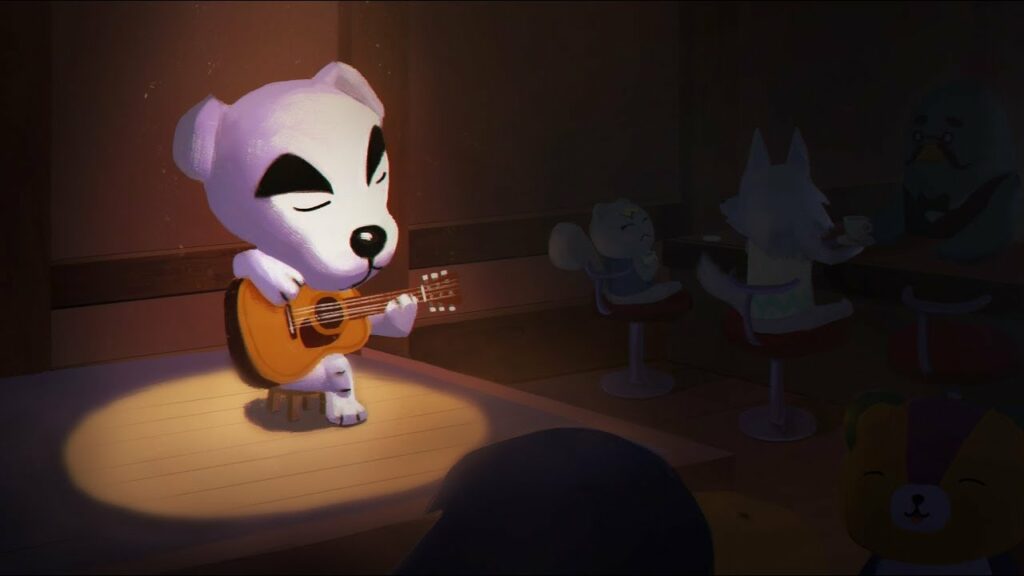 Like the title suggests, animals play a large role in Animal Crossing: New Horizons (as well as in previous installments of the series). Among others, we can name AC's star dog musician K.K. Slider, which gives regular concerts on our island, Isabelle, who is supporting us in the development of the spot, or Rover the cat, who presents rewards for completing the maze.
While Animal Crossing is perhaps not an example of a typical game about cats, as the pet is much, much more elaborate here, this nice production is most definitely worth mentioning. Animal Crossing: New Horizons surely is amongst the most interesting games about cats on the market today.
5- Fallout 4 – Dogmeat
A post-apocalyptic America doesn't appear so scary when there is a Bolden at our side. All other games about dogs ought to model themselves on how the animal hero character is depicted. Dogmeat is not just another assistant, but a true friend who loves Survivor unconditionally and is willing to throw himself into the fire to save him.
Dogmeat is not just a cluster of pixels, but an animal that actually existed in reality. The original model for our companion was a female German Shepherd named River. The appearance of the animal, as well as her behavior, has been almost fully transferred to the digital version. Sadly, River died of old age in 2021.
4- The Witcher 3 – Barylka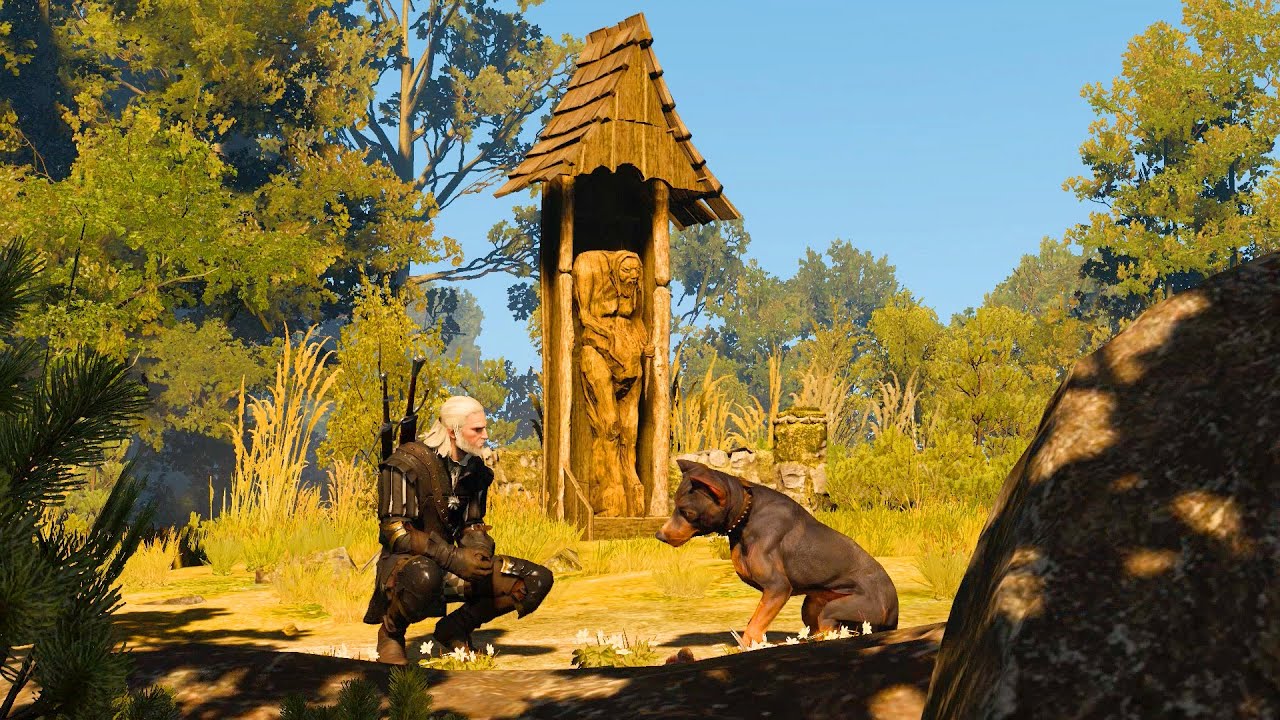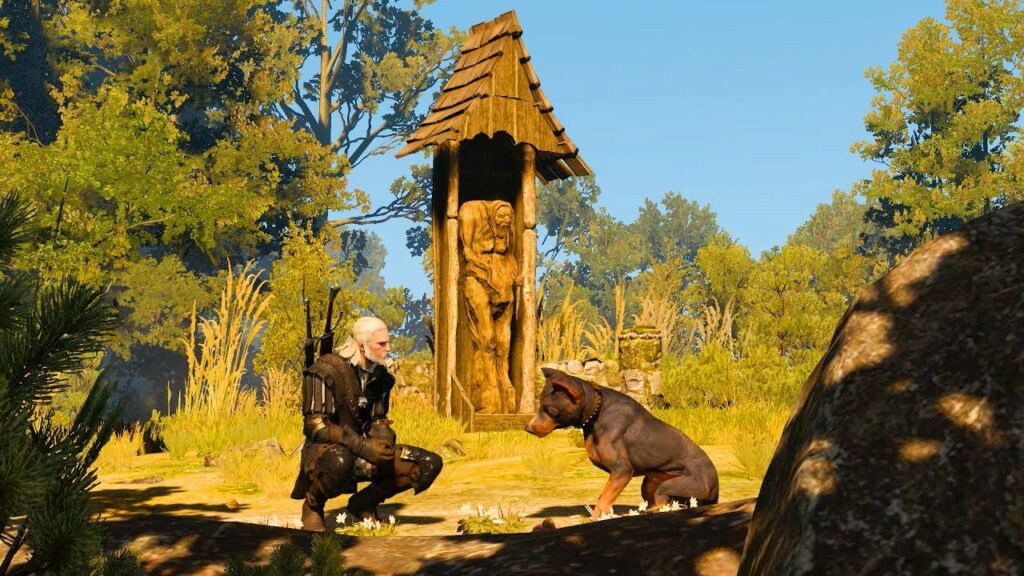 "A Dog's Life" is a side quest in The Witcher 3: Wild Hunt that can be found in the Novigrad area. In this quest, Geralt is tasked with investigating a series of murders that have been taking place in the city. The murders appear to be related to a stray dog named Barylka, who has been seen in the vicinity of each of the crime scenes. During the quest, Geralt will need to track down and speak with various NPCs who may have information about the murders and Barylka.
He will also have to gather evidence and clues to uncover the truth behind the murders. Ultimately, it is revealed that the murderer is a local butcher who killed the victims to feed his own dog and used Barylka as a scapegoat. As the quest progresses, Geralt can decide what to do with Barylka, either to save her from blame or let the dog be killed by the butcher. The result of this decision will affect the outcome of the quest.
3- Far Cry 6 – Chorizo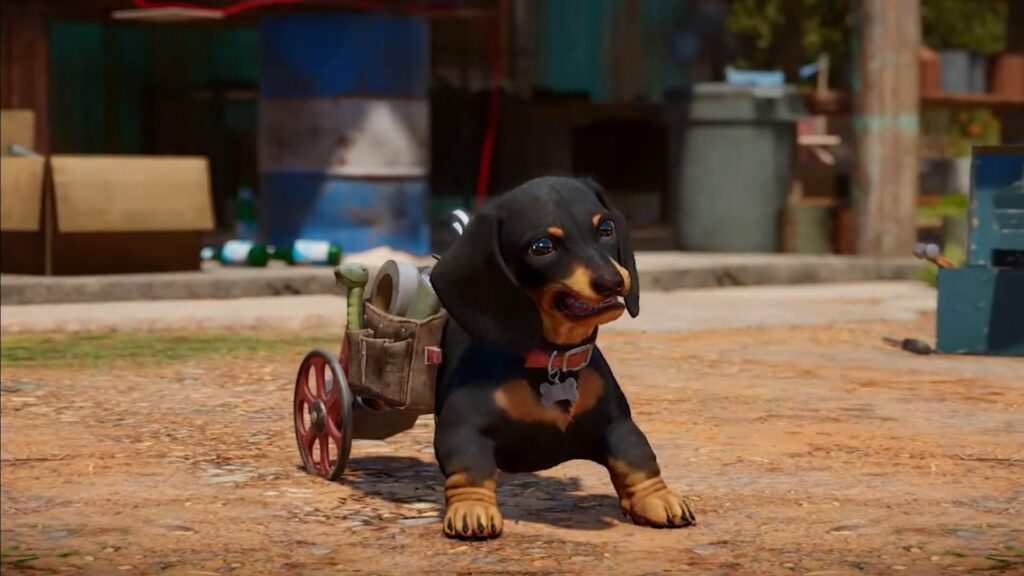 The award in the category of most adorable dog in games goes to… Chorizo! This is the inconspicuous, disabled dachshund that for many gamers is the real hero of Far Cry 6. As is standard by now, Ubisoft's title has already divided fans, but virtually everyone agrees that Chorizo is the best part of the production.
The four-legged character moves with the help of a special wheelchair (replacing his hind legs), but if need be, he will not shy away from attacking the enemy. This is not, however, his most important feature! Indeed, what could be better than being able to pet a cute pet?
2- Metal Gear Solid 5 – Diamond Dog
Diamond Dog from Metal Gear Solid 5 can be either a dog or a wolf. There are divided opinions. But since we've taken a gander at dogs in games, we should stick to the assumption that we're dealing with a very large domestic dog. Being a puppy, DD lost his right eye and presumably was an orphan. The puppy actually was found by Venom Snake himself while on one of his missions in 1984. The Diamond Dog is an extremely valuable companion in MGS V: The Phantom Pain.
The main use of D-Dog is to scout the battlefield and inspect places of interest, marking enemies, prisoners, or vehicles. Moreover, the dog can also be used to distract, stun or kill soldiers. Meanwhile, we award the puppy the second place in our ranking of "the most adorable dogs in games"!
1- Stray
By far one of the biggest positive surprises of 2022! You will hardly find a better game about cats on PS5 than Annapurna Interactive's proposal. In case you have always been eager to see the world from the perspective of a four-legged furry, right now you have the perfect opportunity to do so. The game sees us playing as a red-haired cat who has to wander through a cyberpunk metropolis to make his way home.
Gameplay focuses mostly on exploration and solving environmental puzzles, however, there is no shortage of action-packed sequences where our fluffy protagonist must escape from dangerous enemies. Appealing graphics add to the charm, and the neon-lit cityscape remains in the memory for a long time. That said, we are now begging for more equally good games about dogs on PlayStation 5! There is a reason as we have selected Stray in the first place in this list of best games about cats, meaning you should definitely give this title a go.
So, this is Gazettely's list of 10 best games about cats and dogs to play on PC, PlayStation, Xbox and Nintendo Switch. So which one of these games have you played before? What do you think about them? Are there any other titles which deserve to be on this list? Let us know in the comments section below.