Sony's subscription service, PlayStation Plus Essentials, is edging closer to unveiling the free games for June 2023. This exciting reveal promises to captivate the attention of all PS4 and PS5 subscribers on May 31, as they eagerly anticipate discovering the latest game additions.
In the meantime, the spotlight shifts to a newly added demo that has made its way to the PlayStation Plus Premium subscription service.
Step into the Manager's Shoes
Subscribers of PlayStation Plus Premium can now dive into the immersive world of football management with the 'Football Manager 2023' demo. The well-known football management simulator offers players an opportunity to experience its appeal firsthand on their PS4 or PS5 consoles.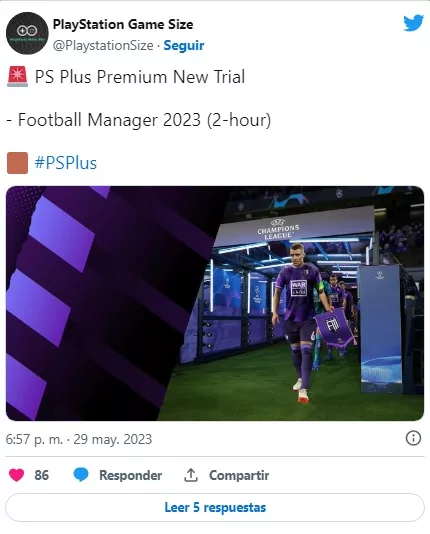 The demo lasts two hours, a time span ample enough to gauge whether the game warrants a full purchase. Given the game's recent release, it seems unlikely that it will be part of the Extra catalog in the upcoming months.
PlayStation Plus Premium's demo catalog continues to expand, month after month. This growth is a boon to subscribers, providing access to trials of the latest titles, enabling them to discover and delve into a variety of game genres.
June 2023: End of the Line for 16 Games
Apart from the new demo addition, another significant PlayStation Plus update for June involves the removal of 16 games from the Extra and Premium plans. Subscribers have until June 20 to make the most of the following titles, after which they will no longer be accessible on the service:
9 Monkeys of Shaolin
Agents of Mayhem
Ash of Gods: Redemption
Black Mirror
Defense Grid 2
Descend
Gods Will Fall
Joe Dever's Lone Wolf
John Wick Hex
KeyWe
No Straight Roads
Party Hard
Red Faction
Red Faction 2
Redeemer: Enhanced Edition
Wytchwood
So, if you've had your eye on any of these games, seize this chance to dive into them before the impending expiry date. PlayStation Plus continues to keep its audience engaged, excited, and immersed with its frequent additions and updates.
Eager to Rev Up Your Gaming Experience? Immerse yourself in the world of Formula 1 racing management with F1 Manager 2023! Discover the game's new features, improvements, and the excitement of the Las Vegas circuit. Read our in-depth review of F1 Manager 2023 and find out if it takes the pole position in motorsports management simulation.