Mineplex, one of Minecraft's most cherished servers, has abruptly announced its termination. Launched in 2013 for the popular building game developed by Mojang, Mineplex has catered to Minecraft enthusiasts with a varied selection of custom maps and unique mini-games.
However, as the Minecraft community gears up for the arrival of version 1.20, Mineplex's operators have released a shocking statement declaring the end of this prominent Minecraft server.
Earlier in May, Mineplex and its associated website experienced an unexpected shutdown. This sudden service disruption left both the server and the website inaccessible, leading many to initially believe it was a temporary glitch. As the gaming world inches closer to the release of Minecraft 1.20, it has been confirmed that Mineplex has, indeed, been permanently shut down.
A Heartfelt Announcement: Mineplex's Closure
"Regrettably, it has fallen upon me to share the news that our beloved servers and website will remain offline indefinitely," disclosed 'Dean,' an administrator on the Mineplex Discord server. "It's a burden I wish I didn't have to bear. But, ultimately, you all deserve to know the truth. It's over, and it appears I'm the one who has to break it to you."
Famed for its distinctive Minecraft mini-games, modded maps, and game modes, Mineplex has made its mark in the annals of Minecraft's history. It set a Guinness World Record in 2015 for attracting the most concurrent players on any Minecraft server, a staggering 34,434 players. However, following the release of Minecraft's Java Edition, the server's popularity took a hit, culminating in its permanent shutdown on May.
Dean's heartfelt message continued, "I wish I had more to say. I wish circumstances were different, and we all had the opportunity to bid a proper farewell. I regret how things unfolded. You all cared deeply for this server."
Dean went on to inform that the Mineplex Discord server would remain operational as a "memorial" to the once-thriving community. He also touched upon the reasons behind the sudden closure. "We didn't own the company, and we didn't make the decisions that brought us to this point," Dean expressed.
The Reason for the Shutdown and Community Reactions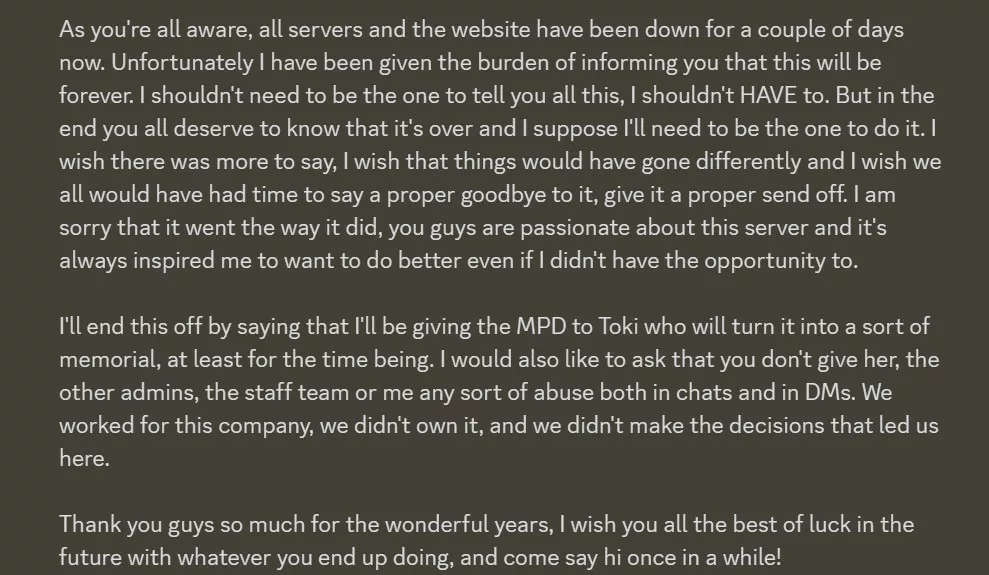 While the specific reasons behind the server's abrupt closure remain unconfirmed, fans have reluctantly accepted the reality of Mineplex's shutdown based on the current circumstances.
Some have speculated that the server might be undergoing restructuring or grappling with business-related issues like ownership disputes, but these remain mere conjectures until the developers provide an official statement.
The Mineplex team has arranged a question-and-answer session for players to address their concerns. They have also encouraged fans to share their fond memories from the server throughout the years.
The sudden departure of this once vibrant server has left a void in the Minecraft community. As fans eagerly await any updates, hopefully positive ones, regarding the future of Mineplex, the community remains shrouded in uncertainty.
🛡️ Elevate Your Minecraft Experience: Beyond just taming, discover advanced tips and tricks to shield and elevate your noble steed. Dive into our comprehensive guide on Minecraft horse taming and care and become a true equestrian expert in the blocky realm.