The inaugural trailer of the much-anticipated "Five Nights at Freddy's" has arrived, promising a spine-chilling exploration into a night shift that quickly spirals into terror.
The trailer, available for viewing above, begins with an induction video for the newly hired security guard at the renowned Freddy Fazbear's Pizzeria. The footage reveals the signature animatronic creatures of the pizzeria, followed by Josh Hutcherson navigating through the dimly lit restaurant premises with only a flashlight to guide him.
A Nightmare Unfolds in the Pizzeria
The seemingly mundane night shift rapidly descends into a living nightmare. Hutcherson finds himself strapped to a chair, with gleaming sharp blades ominously approaching him.
Adding to the eerie atmosphere, children begin exhibiting bizarre behavior, and a desperate child tries to hide in the ball pit. Despite her efforts, the menacing glow of red eyes discover her hiding place…
The movie, a collaborative endeavor from Blumhouse and Universal Pictures, is a cinematic adaptation of the popular video game bearing the same title. The ensemble cast includes notable actors such as Matthew Lillard, Elizabeth Lail, Jess Weiss, Mary Stuart Masterson, Kevin Foster, and Grant Feely, best known for his role in "Obi-Wan Kenobi". The film is directed by Emma Tammi.
In addition to the trailer, new promotional posters for the film have been released. These posters emanate an intimidating vibe, highlighting the animatronics bathed in a foreboding neon glow. Scroll down to view these captivating images.
'Neon' on Netflix – A Musical Journey: Ready for a musical adventure? Read our comprehensive review of Netflix's Latest Hit 'Neon', a series that combines the allure of Miami's party scene with the heartfelt journey of aspiring musicians.
A Movie Honoring the Video Game's Legacy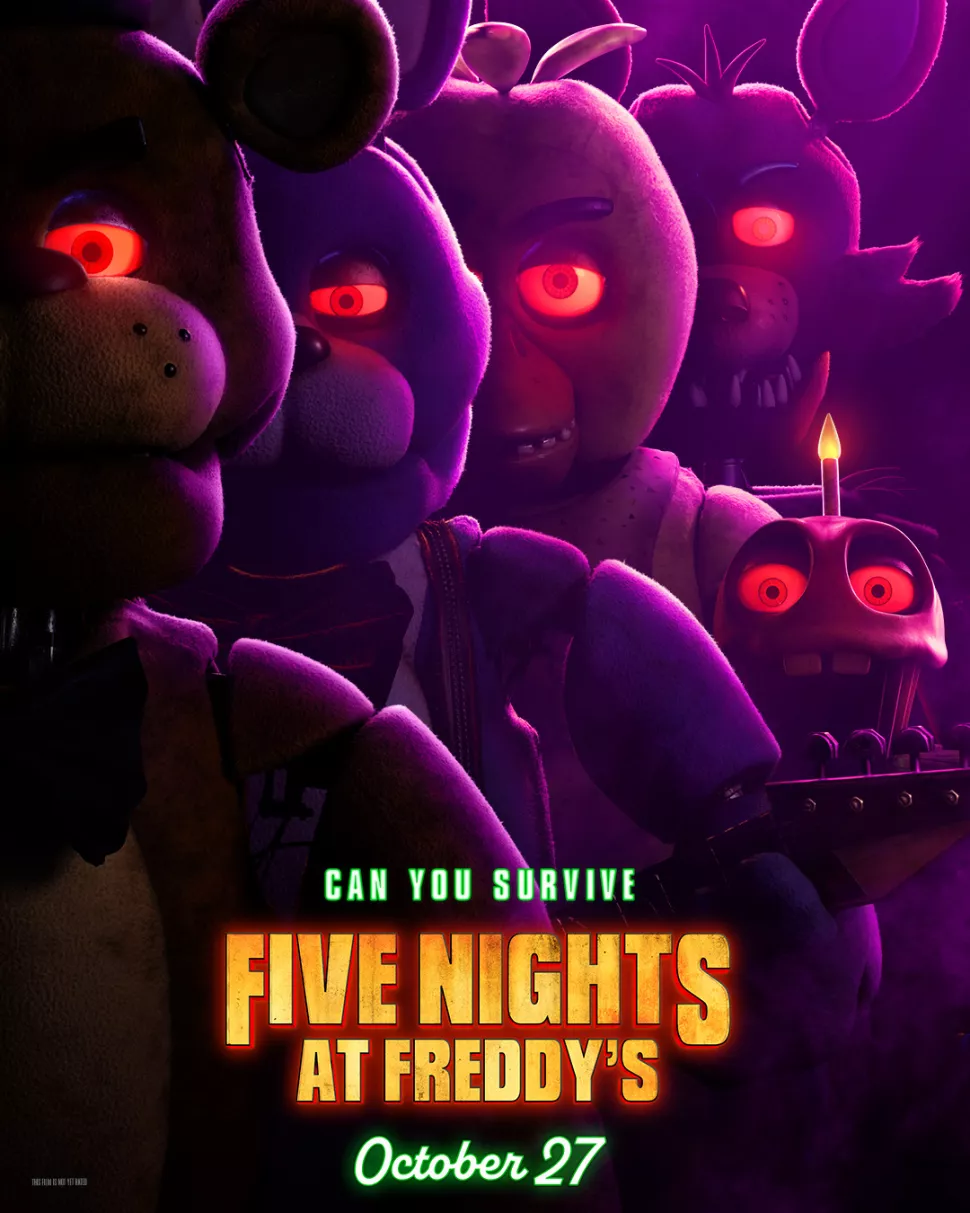 The original "Five Nights at Freddy's" video game is celebrated for its jump-scare expertise, engaging players in a relentless monitoring of security cameras and manipulation of lights and doors to fend off the animatronics and endure the infamous five nights at Freddy's.
Judging from the trailer, the film appears to stay true to its source material, preparing us for a pulse-racing Halloween classic upon its release.
"Five Nights at Freddy's" is scheduled for a simultaneous release in cinemas and on the streaming platform Peacock, coming this October 27. Be prepared for a horror-filled experience that will keep you on the edge of your seat.
Embark on a journey through the dark and atmospheric world of Hellboy with our comprehensive Hellboy: Web of Wyrd game review. Discover how Upstream Arcade has brought Mike Mignola's iconic art style to life in this unique roguelite beat-em-up game. Click here to read the full review and find out if this is the Hellboy game fans have been waiting for!