Drugs are not an issue in The Sims 4. This is hardly surprising, since the game is targeted at an international and, of course, a very young audience. However, there are mods for the adults and Basemental is absurdly popular, especially with it Sims 4 drug mod.
The Sims 4 is a very well-behaved game in and of itself, since the target group also includes very young people. While the developers are quite honest about many topics, as far as that is possible, there are also some things that are clearly on the black list. One of them is drug use. Thus, anyone who wants to create a hippie community or the like in The Sims 4 will be left out in the cold.
Nevertheless, there are some best Sims 4 mods and the Sims 4 drug mod allows to do exactly that, which Electronic Arts will never release as DLC. The modder Filip actually intended to create a new kitchen for his house in the game. In the end, a drug swamp came out, if you want to put it drastically. And a pretty good one, too, if you look at it soberly.
The Sims 4 drug mod, in which Sims can grow, smoke and sell weed, among other things, delivers a whole branch of industry at once. Therefore, if you want to play Breaking Bad in the basement, you're in the right place. You can choose from a wide range of substances, from amphetamines to ecstasy and coke. The mod doesn't leave out any detail.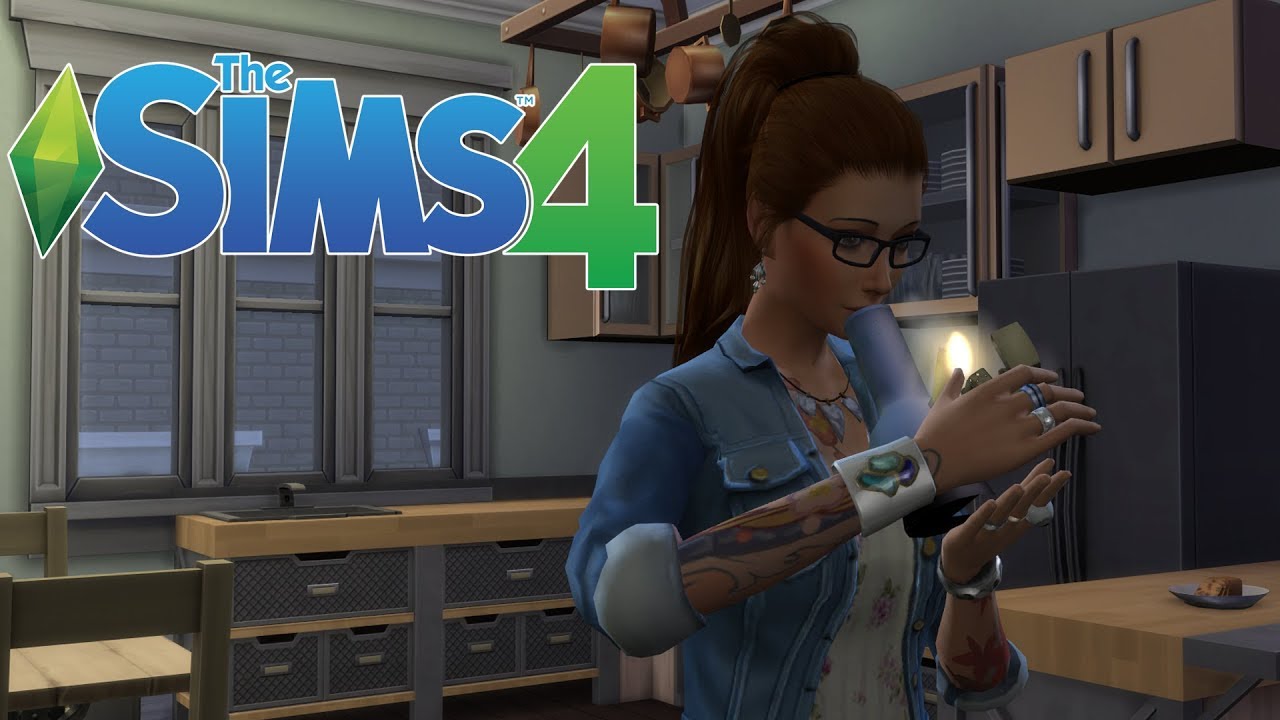 Anyone caught dealing will be in big trouble. And whoever doses too carelessly will soon be visited by the Grim Reaper. The Sims 4 drug mod even simulates the side effects of drugs, depending on the product used. It will even intervene in the social life of the Sims.
6000$ a month thanks to virtual drugs
Drug-addicted Sims tend to be rather short of cash. However, the Basemental developer can give himself a pat on the back: thanks to virtual drugs, he earns over $6000 a month now, and it's completely legal. Actually, when it was suggested to him to start his own Patreon campaign, the modder wanted to collect only 500 dollars.
Currently, as mentioned, he is earning over 6000 US dollars per month. Filip remains motivated and wants to add a lot of additional features. The only downside is that the Basemental mod is only available for the PC.
The Sims 4 Drug Mod – What can this mod do?
As mentioned above, Sims 4 drug mod introduces the drugs into the Sims life. There are various drugs (as in real life), each drug comes with its own effects, animation, advantages as well as disadvantages, highs and lows, hangovers, addiction, rehabilitation and much more. This mod in no way promotes, encourages or glorifies the use of drugs in real life!
9 Different Drugs in Sims 4 Drug Mod
In this part of our Sims 4 drug mod article, we will talk about different types of drugs in the game and how you can order or even make them yourself, stay tuned.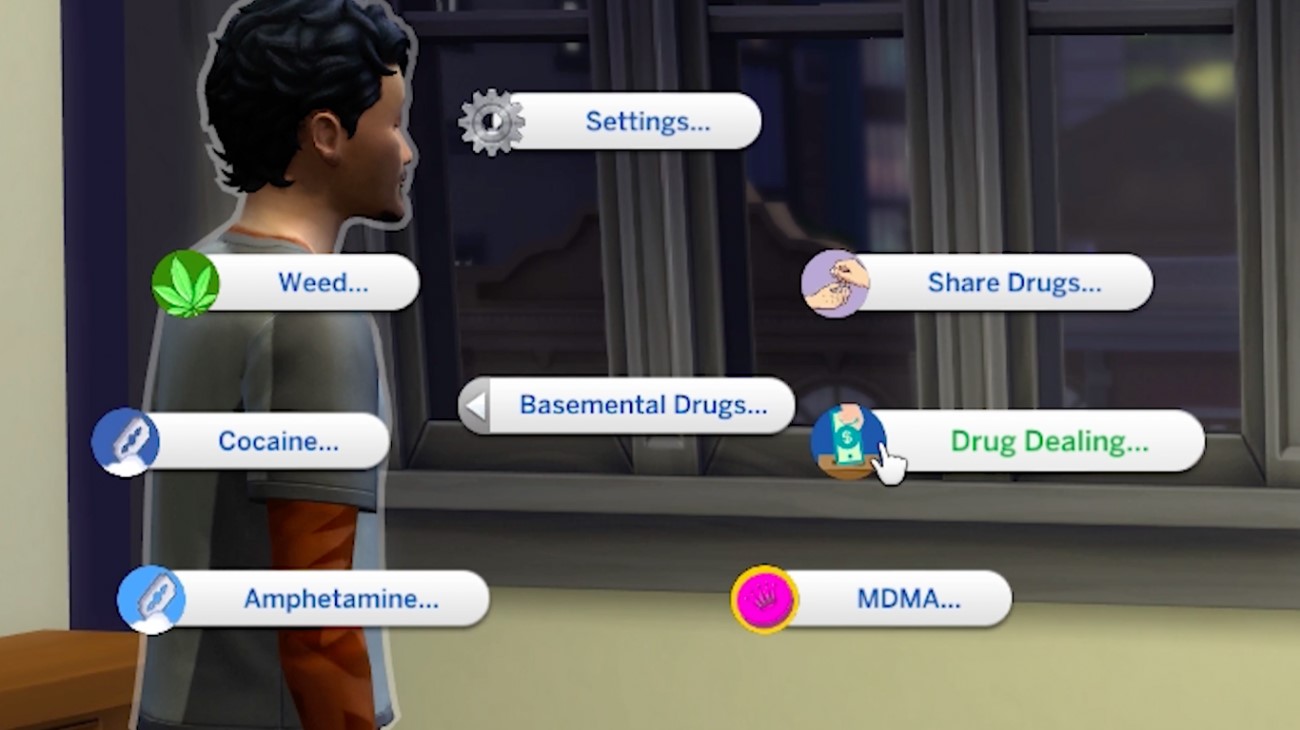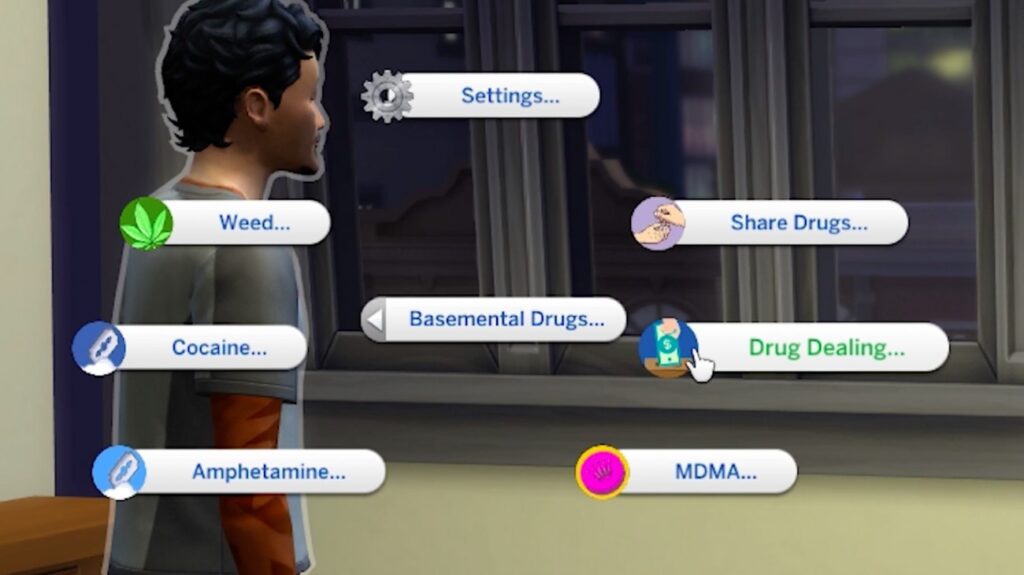 Cannabis
There are several ways to get cannabis. You can either create a dealer (an NPC with the trait: Dealer) and order the dealer for your sim. Alternatively, you can get it from your Sim's computer in the "Dark Web" (for this, your Sim must be level 3 in the Dealing skill).
You can also grow your own plants, put a plant bed / flower box in the home garden / greenhouse or directly in the house (maybe the basement) to keep the plants warm and dry (your Sim still has to water them).
Click on the plant bed / flower box and select "Buy Seeds" / select the cannabis seed package.
Open the package and plant the seeds (buds).
After that your sim has to water the plants (like any other plant) and grow them up with love and care.
Eventually, your sim will get a lot of buds from the plants. Now it's time to harvest the buds.
Also Read:
Graft / Splice Plants
These last two strains of weed (you won't get these from the cannabis seed packet) are cross hybrids that will take a bit of work. Your first step is to research the plant.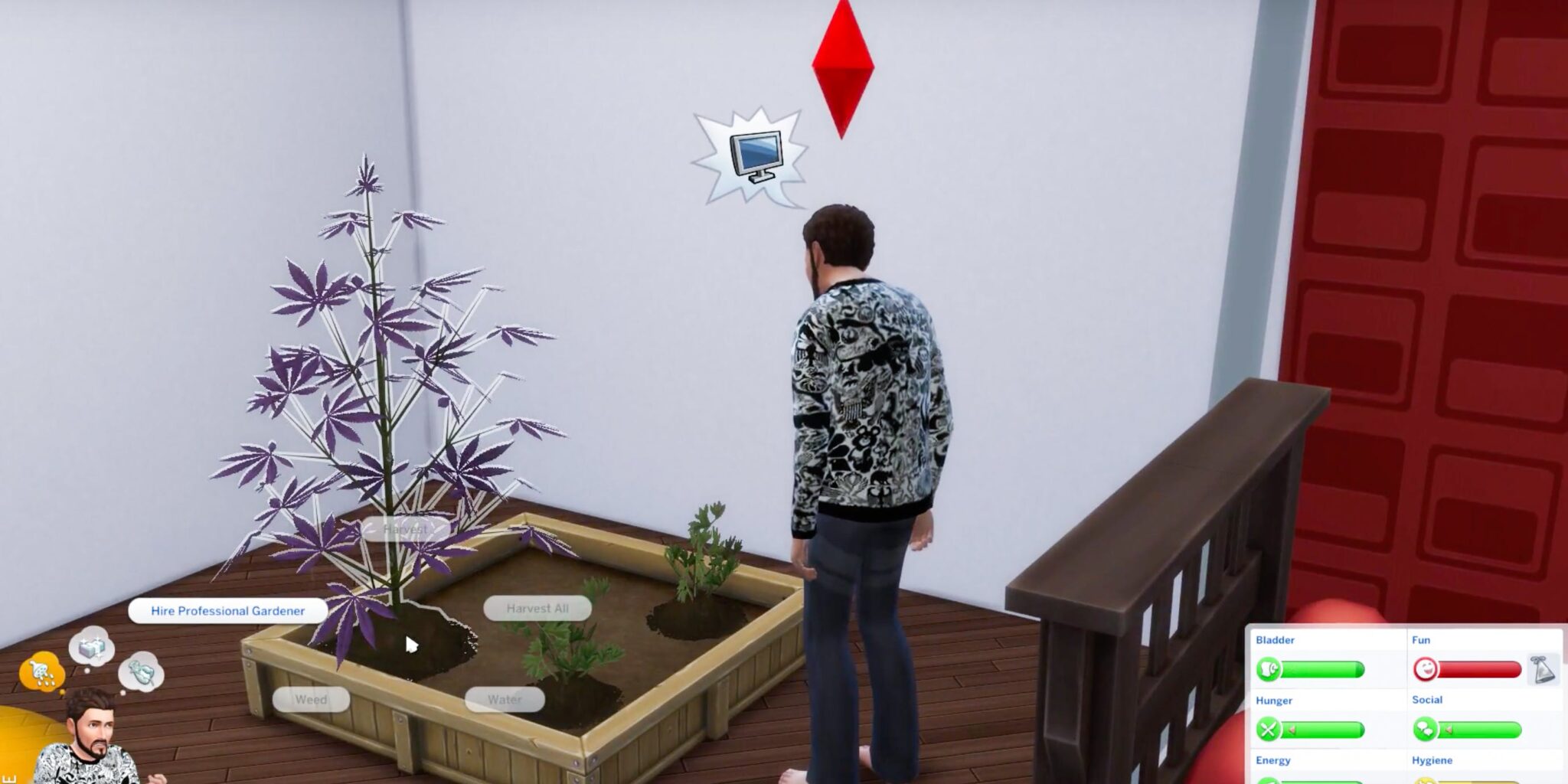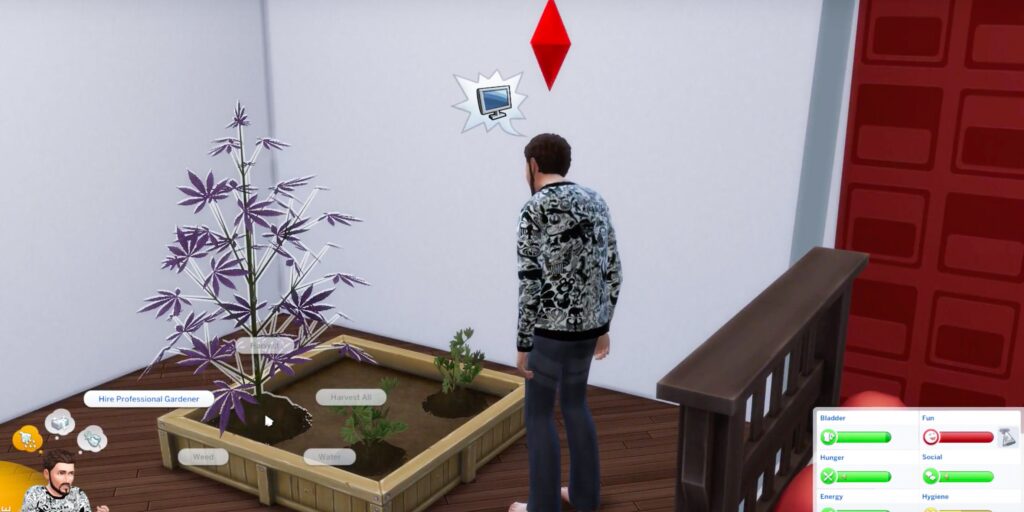 What plants you can cross with each other will be shown as info in the sim notebook on your phone. When your gardening skill is high enough, your sim can take samples from other plants and add them to other plants.
Take a sample from plant A and put it to plant B.
Plant B will now be called Plant B (Splice Plant).
When it's harvest time, plant B will also be with a seed / bud and from this the new variety will be made.
Plant the plant C in the bed.
Drying flowers
You can either search for "Empty Weed Jar" in the buy mode, purchase it and then place it, or go to the head store with your sim from computer or tablet and buy it there. Once your sim has 15 buds of the same type of plant in inventory, you can click on the Empty Weed Jar and select "Cure Weed".
You will find the jar where the buds will dry and thrive in your Sim's inventory.
You can also put the jar in the house (maybe your Sim likes it as decoration)
48 hours later your jar will show a message (if you move the mouse over the jar) that the buds are ready.
Click on the jar, then on Open and you will have the jar empty and in your sim's inventory you will find a small bag of weed.
There are different ways to use up the weed. You Sim either buys a bong, rolls a joint, a blunt, uses a vaporizer, a hookah or bakes some treats with it!
Cocaine
Your sim may order cocaine via tablet or PC by buying it in the head store or directly from his dealer. If you want to buy it easily, you can also search for it in the buy mode and buy it that way.
Your sim can also share the cocaine (coke)… to do this click on the package and then on "open", then you get small bags, in which you click again on "open" you get the lines, which you can place on the table for example and they can also be pulled there by your sim.
Once placed, click on the line you want your sim to share with someone and select "Share with" – then your sim will share the line with another sim. Your sim will get a confidence boost which won't really last long, if your sim draws more lines the effect will be increased.
But BEWARE: When your sim pulls too much cocaine, he can pass out and even die from an overdose. Besides, your sim can get addicted to it (as with any drug, actually). Your Sim will also if you have Lines lying around somewhere, by itself some pull out because he/she is then drug addicted.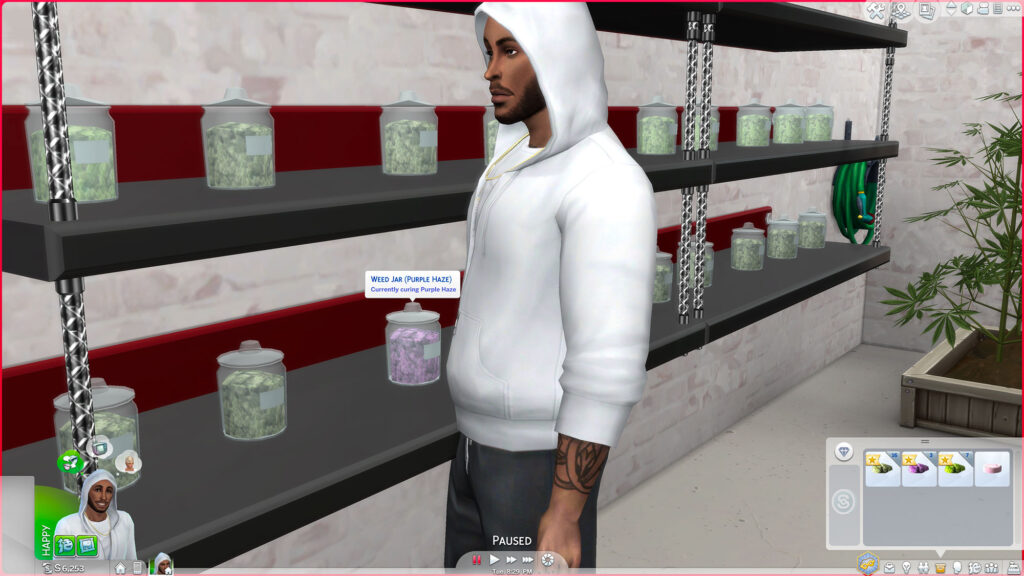 Speed / Amphetamines
You can buy this drug in buy mode (search for: speed), your sim can ask his dealer or he buys it in the headshop. Your sim can share the speed (like the coke) by putting a line on the table or other surface and then going to "Share with".
However, your sim doesn't have to share the speed… he can also use it on his own. Your sim gets an energetic mood that doesn't last long… The more he has the longer the effect. You have to be careful because your sim will get addicted to speed and he can die from an overdose.
Shrooms / Mushrooms
In Sims 4 drug mod there are of course mushrooms that your sim can take. Your Sim can buy them at the dealer around the corner, and grow their own!
How to Grow your own Mushrooms in Sims 4 Drug mod
Buy a plant bed / flower box in buy mode.
Place it on your Sim's property, plant the mushrooms (drag from inventory to the bed / flower box and click "Plant").
Your Sim will then plant them.
Let your Sim water the mushrooms (as with flowers).
After a while, your Sim will have his own mushrooms.
Your Sim can eat the mushrooms and get hallucinations. Also your sim can share the mushrooms… place the mushrooms on the table and then click on "Share with…".
MDMA
Like usual you can buy the pills in buy mode (search for: MDMA), or your sim buys them from the dealer or in the headshop on the PC or tablet.
There are 5 different pills in the jar that have different effects. Click on the jar to open it, then there are pills in your sim's inventory. You can place them and then go to "Share Pill" to share them.
In general, these pills will give your Sim the mood of dazed and coquettish and the walking style will be changed.
Again, as always, your sim will become addicted to the pills. And yes, here too your sim can die from an overdose!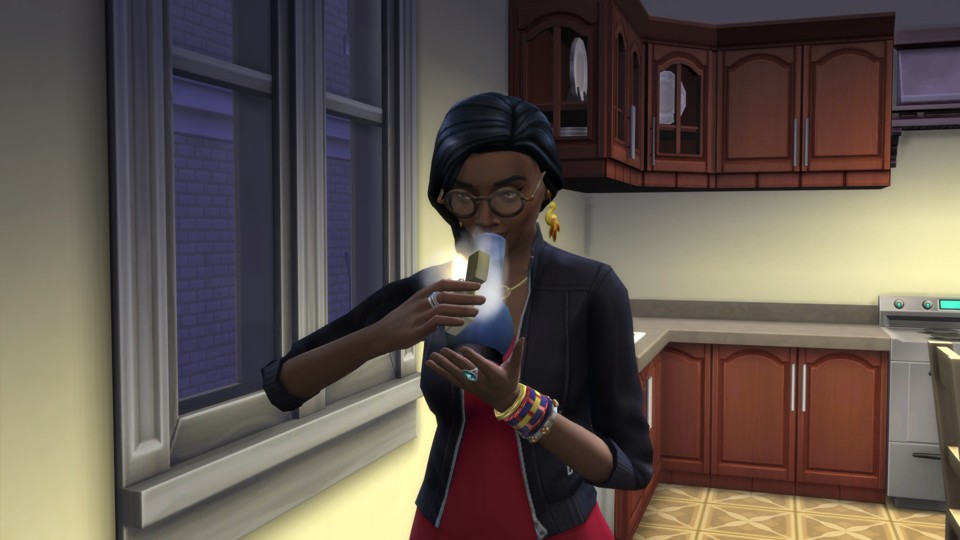 Ayahuasca
For your Sim to drink this potion, they have to order the shaman to come to them. To do this, click on "Invite Shaman over" in the "Dealing Menu".
When the shaman is there, your sim will be given a "coffee mug". But don't be fooled… there is no coffee inside.
Then click on "Drink Ayahuasca." The shaman will then watch over your sim… kind of like a "trip sitter". There are different levels of the effect of the "drink"…
Level 1 will probably make your sim throw up. Stage 2 will make your sim admire art or stare holes in the air rather than watch TV, eat something and so on. In addition, your Sim's walking style will change here as well.
You also have the possibility that your sim can enter another spiritual world… what exactly happens you will see then. To enter the "other world" (in your mind)… click in the "Drug Menu / Mobile" on "Drift away…". Good luck with that.
Xanax
You can get Xanax at the dealer around the corner, in the headshop on the PC / tablet and in the dealing menu on the cell phone when visiting the doctor.
Your sim will get a bottle with 20 pills in it and then the mood of your sim will be happy and the stress, unhappiness, anger etc. will go away faster.
When your sim takes more pills, the effect will be strengthened… but if he takes too many pills, he will get dizzy rather than happy.
When your sim is sad, angry, stressed and so on, they will take these pills by themselves. Your sim can also get addicted to these pills and die from overdose!
Lean
In order to make Lean your Sim need some things:
Styrofoam cups
Jolly Ranchers Hard Candy
Smite Soda
Promethasim with Codeine
Where to get the stuff
Search the buy menu for Jolly Rancher and Smite to find the Jolly Ranchers Hard Candy and the Smite Soda. Press "Order" on the PC and then "Order Items": There you will find the "Empty Styrofoam Cups" as well as the other items.
You can buy the "Promethasim with Codeine" at the dealer. In the Headshop / Dark Web your Sim can also buy the drink. But for this you need to have a level 3 in the dealer skill.
In order to make the drink (with the items) place the cup on a table and then select "Pour Lean" (by clicking on the cup).
Let your sim drink it and get dizzy from the drink. You sim might vomit from it and of course get addicted to it. As with other drugs, he can die from it if he overdoses.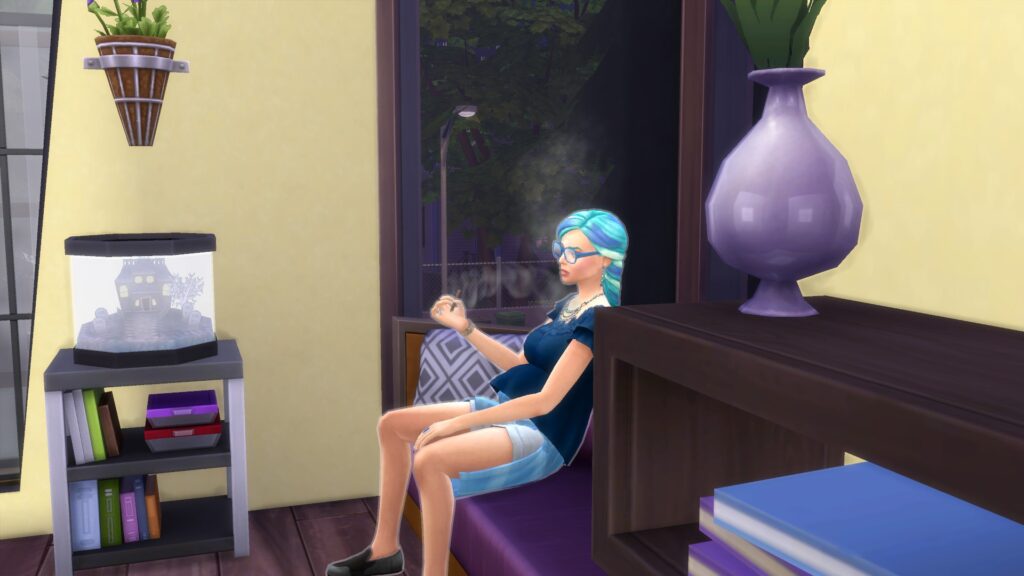 Selling drugs
Your Sim can also sell drugs. To do this, you need to have a good friendship with the dealer NPC. Click on the dealer and on "Inquire About Selling Drug" to ask the dealer if your sim can sell drugs.
Select what you want your Sim to sell and start talking to other Sims "potential customers" about drugs. Depending on the friendship and how often you have done this with the Sims, the interaction comes that you can then sell something.
Police
Be careful with the police, because they have an eye on the drug world! For example, your Sim can be arrested. But you can turn this off in the drug menu.
Where can I find the Sims 4 drug mod?
You can find the Sims 4 drug mod on the official site of Basemental. If you wish to download this mod, just click in this link and it will take you to the official website.
How do I install this mod?
It's easy. Just download the mod, unzip it with Winrar or 7zip and then go here: Documents/Electronic Arts/The Sims 4/Mods.
Place the mod in the "Mods" folder and you have the mod 'Basemental Drugs' installed. Alternatively, you can create a folder where you put Basemental Drugs in order to always know where to find the mod.
How to smoke weed in Sims 4?
Ah, the joys of cannabis consumption in the virtual world! The Sims 4 offers a plethora of options for your sims to indulge in the green goodness. From the classic joint or blunt, to the more refined vaporizer, there's something for every sim's taste. But why settle for the mundane when you can elevate your experience with a bong hit or two?
Or even better, blow some bubbles with the very cool bubble blower! And if you're feeling adventurous, why not try some weed-infused edibles? Your sims will be soaring to new heights in no time! With so many ways to consume, the possibilities are endless. So light up, sit back, and let the good times roll!
How can one get weed in Sims 4?
The sweet nectar of the cannabis plant, that mystical herb that has captivated the hearts of many. And in the world of The Sims 4, acquiring this precious flower is a journey in itself. You can choose to go down the nefarious route, and purchase uncured buds from those shady local drug dealers or even braving the dark web.
But, where's the fun in that? Why not try your hand at curing the buds yourself, in the comfort of your own home using the buy mode? And after a mere 48 hours of waiting, you'll have your very own bags of cannabis ready to be opened from your inventory with a simple click.
But why stop there? The Sims 4 offers an even more exciting way to consume weed, through the creation of edibles. With the help of cured buds and a bit of culinary skill, your sims can bake a variety of delectable treats such as weed brownies, chocolate chip cookies, and even sushi! So, grab your aprons and get ready to "Wake and Bake" with your sims. The possibilities are endless and the taste, out of this world.
This is how you smoke weed in Sims 4
For those looking to indulge in the delightful herb, there are a variety of ways to smoke weed. One option is to order a sleek and stylish vaporizer from a trusted head shop, which will arrive at your doorstep, ready for use. But for those who prefer a more traditional smoking experience, bongs, blunts, and joints can all be found in the virtual world by searching through the build mode.
Once you've selected your desired smoking device, it's time to choose the strain of your dreams from your inventory. Whether you're in the mood for a relaxing indica or a energetic sativa, the options are endless.
For those who prefer a more hands-on approach, one can roll their own joint or blunt using papers and whatever strain of weed they have on hand. This can be done alone or shared with friends, as the age-old saying goes, "a friend with weed is a friend indeed."
For a more unique smoking experience, one can also use a bubble blower or hookah, by simply clicking on it and selecting the desired strain of weed. So whether you prefer the convenience of a vaporizer or the classic feel of a bong, the options for smoking weed are endless.
What do you think about the Sims 4 drug mod? Let us know in the comments section below. By the way, if you are looking for tips and tricks on creating realistic and diverse families in Sims 4, you should definitely check our article.