Renowned game developer RGG Studio is gearing up for its much-anticipated RGG Summit livestream event, slated for next month. With a reputation forged in the gaming industry through popular franchises such as the Yakuza/Like a Dragon series and its spin-off Judgment games, RGG Studio's upcoming event promises an exciting glimpse into the future of these beloved narratives.
With their mastery of narrative-based gaming, it's no surprise that fans are eager to see what RGG Studio has up its sleeve for the next installment of the Like a Dragon series. There's a strong possibility that the event will showcase glimpses of 'Like a Dragon Gaiden: The Man Who Erased His Name' and 'Like a Dragon 8'.
'Gaiden'—a more intimate venture compared to its Yakuza predecessors—chronicles the journey of Kiryu post the events of Yakuza 6 and right up to his entry into 'Like a Dragon 8'. The latter will continue with the turn-based party combat style popularized in 'Yakuza: Like a Dragon', with Kiryu and Ichiban starring as dual protagonists.
Speculations and Wishlists
Both 'Gaiden' and 'Like a Dragon 8' were officially announced in September. 'Gaiden' is expected to hit the market this year, while 'Like a Dragon 8' is slated for a 2024 release. Hopefully, this event will unveil more details about these games and perhaps even solidify a release date.
Additional DLC for Ishin, in the form of Trooper Cards, may also be in the cards, even though it may not be at the top of every fan's wish list. Fans who have been with the Yakuza series since the beginning might be holding out hope for a remaster or remake of past spin-offs, such as Kenzan or Dead Souls.
During a previous interview with producer Hiroyuki Sakamoto, he had ruled out immediate plans for spin-off re-releases. However, hope springs eternal in the world of gaming, and fans may yet hold on to a bit of wishful thinking.
Another exciting possibility is the reveal of a new installment in the Judgment series, which, after resolving a dispute between Sega and actor Takuya Kimura's management agency, Johnny & Associates, finally debuted on PC last year.
Potential Surprises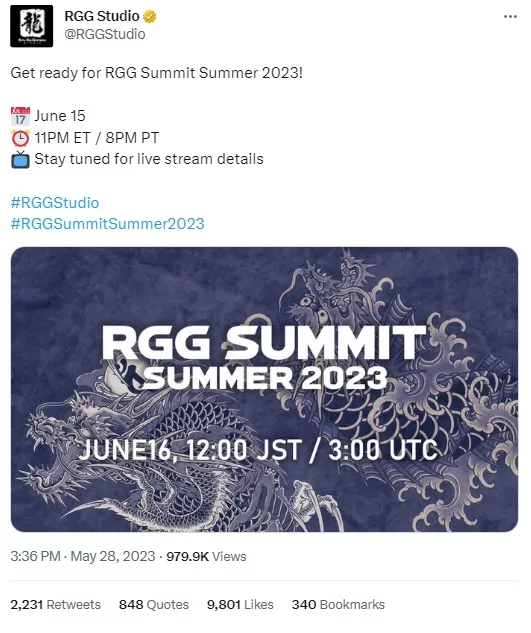 RGG Studio's recent foray into the development of the Super Monkey Ball series may also yield some thrilling news. Fans of Binary Domain, too, are holding onto the hope for a sequel or remake announcement. All in all, the RGG Summit promises to be a rollercoaster for gaming enthusiasts.
The summer 2023 RGG Summit will be broadcast on YouTube and NicoNico on 16th June at 12pm in Japan, or 4am BST / 15th June 8pm PT. What are you most excited to see at the RGG Summit? Tune in to find out.