With NetherRealm set to release its Mortal Kombat 1 Stress Test soon, fans have the exciting opportunity to gain a headstart in this high-octane combat game. However, there's a catch: this opportunity is not accessible to everyone right off the bat, nor can you download it directly.
Accessing the Mortal Kombat 1 Stress Test: The Process Unveiled
Intriguingly, the path to the Mortal Kombat 1 Stress Test doesn't lie through your PlayStation or Xbox consoles. The way to this stress test requires a detour – specifically, through WB Games' website on your personal computer.
To kickstart the process, sign in to your existing WB Games Account. If you haven't one, you'll have to roll up your sleeves and create a new account. Once you're successfully logged in, you'll find yourself with a choice to pick either an Xbox Series X/S or a PS5 code. Should you be one of the chosen, an email carrying the coveted code will find its way to your inbox.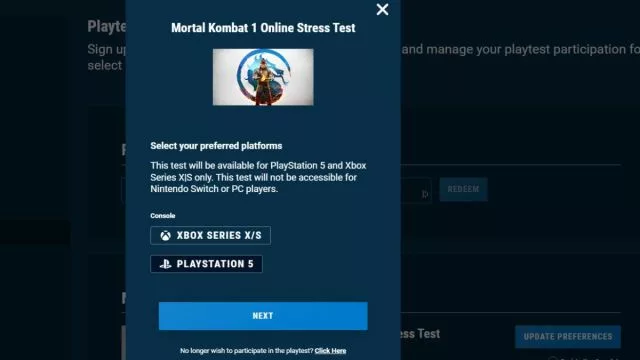 Unfortunately for PC and Nintendo Switch gamers, the beta will not be within reach. This decision isn't arbitrary but stems from the fact that these versions are under the aegis of separate studios – QLOC, Shiver Entertainment, and Saber Interactive. On the bright side, the absence of a PlayStation Plus or Xbox Live Gold subscription won't stand between you and the stress test.
A Stress Test or a Beta? Clearing the Confusion
In a move to dispel any ambiguity, publisher WB Games has clarified that the Mortal Kombat 1 Stress Test should not be misconstrued as a beta.
According to WB Games, the primary objective is to deliberately exert pressure on the online infrastructure and pinpoint potential hitches prior to the official game launch. It's important to note that this stress test and the Mortal Kombat 1 Pre-Order Beta, set for August 2023, are distinct entities.
For those of you who prefer to take it slow and savour Mortal Kombat 1 only in its final form, you'll need to exercise a little patience until September 19. Come this date, you'll have the chance to showcase your prowess on PS5, Xbox Series X/S, Nintendo Switch, and PC (through Steam and Epic Games Store).
It's worth mentioning that as of now, a PS4 and Xbox One release is not on the cards. But for those itching to get back to Mortal Kombat before its latest version arrives, the previous entry is up for grabs on Xbox Game Pass.
Searching for the best video games for stress relief? Check out our expert-curated "List of 15 Stress-Relieving Video Games Across Various Platforms" to unwind and boost your mood.