Insomniac Games has confirmed that they have no intentions of releasing a free demo for Marvel's Spider-Man 2 ahead of its scheduled store launch on October 20, 2023, exclusively for PlayStation 5.
The studio's response came in the form of a tweet, in which they addressed a user's query regarding the availability of a trial version prior to the game's release. While not ruling out the possibility of a demo entirely, the official Insomniac Games Twitter account simply stated that "there are no plans for a demo."
Limited Resources for an Open-World Sequel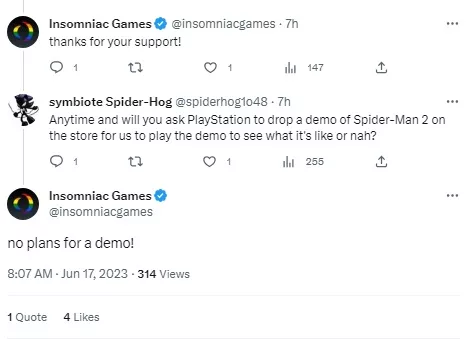 Anticipation for Marvel's Spider-Man 2 is high, with many eager to experience the new powers of the Symbiote, the seamless switching between Peter and Miles with the press of a button, and other innovative features introduced in the game.
Consequently, a trial version would have been well-received by fans wanting to get a taste of what's to come. However, Insomniac Games' decision is not entirely surprising, as free demos are a rarity for PlayStation Studios games.
Additionally, as Marvel's Spider-Man 2 is a sequel set in an open-world environment, creating a demo that encapsulates the key innovations within a limited portion of the game's map would have required significant time and resources from the development team.
As the release date approaches, fans eagerly await the opportunity to swing back into action as their favorite web-slinger in Marvel's Spider-Man 2, even without a pre-launch demo to whet their appetite.