In a thrilling update for fans of Dead by Daylight, the immensely talented actor Nicolas Cage has officially become a playable character in the game. This exciting addition introduces a whole new level of excitement as players can now embody the iconic actor and utilize his unique acting-related powers within the terrifying realm known as the Fog.
Cage's Backstory and Introduction to the Game
As part of the game's public test build on Steam, players can now select Nicolas Cage's character, with the full launch of the DLC scheduled for late July. The DLC showcases Cage playing himself, Nicolas Cage, and delves into a captivating narrative where his exceptional acting skills inadvertently summon Dead by Daylight's malevolent being of incomprehensible power, The Entity.
Transported into the Fog, Cage finds himself in a battle for survival against notorious Killers, including Ghostface from "Scream," Sadako from "The Ring," Albert Wesker from the "Resident Evil" games, and many more.
Nicolas Cage's Unique Character Perks
Nicolas Cage brings his own set of extraordinary character perks to Dead by Daylight, allowing players to harness his massive talents and adapt them to their struggle for survival. Let's take a closer look at the intriguing powers Cage possesses:
1. Dramaturgy
Dramaturgy activates when Cage is in a healthy state. By pressing the Active Ability Button 2 while running, players can witness Cage's signature move: running with elevated knees for 0.5 seconds, granting a 25% Haste boost for 2 seconds. However, the power of Dramaturgy also presents unpredictable outcomes, including:
Exposed status for 12 seconds
Gain 25% Haste for 2 seconds
Emitting a scream without any consequences
Receiving a random rare item with random add-ons, replacing the currently held item
It's worth noting that the same effect cannot occur consecutively, and using Dramaturgy causes a state of exhaustion for a limited time.
2. Scene Partner
Scene Partner comes into play when Cage finds himself within the Killer's Terror Radius. As players look directly at the Killer, Cage lets out a powerful scream, granting them the ability to see the Killer's aura for 3/4/5 seconds. There is also a chance that Cage will scream again, extending the duration of aura reading by an additional 2 seconds. Following this, the Scene Partner ability enters a cooldown phase of 60 seconds.
3. Plot Twist
Plot Twist, an intriguing perk, activates when Cage is injured. By pressing the Active Ability Button 2 while crouched and motionless, players can make Cage silently enter the dying state. This unique skill allows Cage to leave no blood pools or make any noise, providing an advantage in precarious situations.
Furthermore, when Cage recovers from the dying state using Plot Twist, he instantly becomes fully healed and gains a 50% Haste boost for 2/3/4 seconds. However, it's important to note that the perk deactivates if Cage recovers by any other means, only reactivating once the exit gates are powered.
Availability and Platforms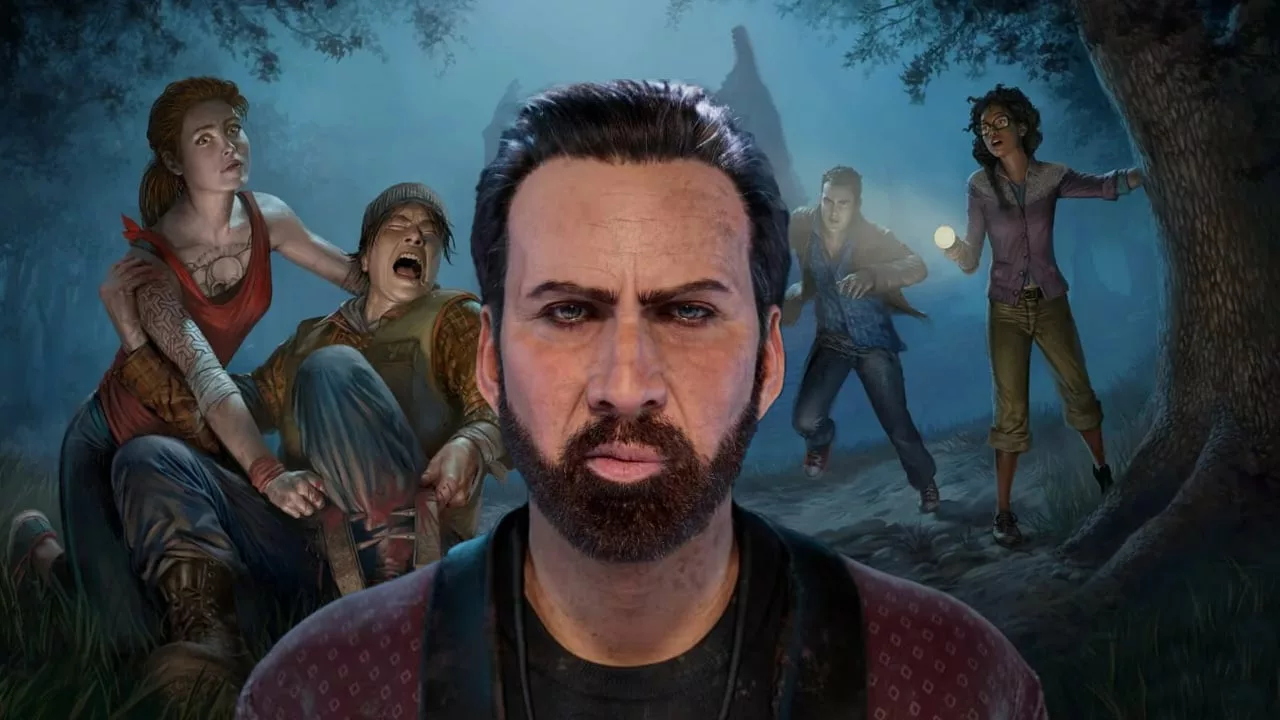 The Dead by Daylight Nicolas Cage chapter, along with the Nicolas Cage chapter pack, will beavailable for purchase on July 25th. Players can enjoy the thrilling addition of Nicolas Cage as a Survivor on various platforms, including Nintendo Switch, PlayStation 4, PlayStation 5, Windows PC, Xbox One, and Xbox Series X versions of the game.
With the introduction of Nicolas Cage as a playable Survivor in Dead by Daylight, players can now experience the adrenaline-pumping gameplay while embodying the iconic actor himself.
Cage's acting-related powers, such as Dramaturgy, Scene Partner, and Plot Twist, add a unique and immersive element to the game, offering players exciting new strategies and abilities in their quest for survival. Get ready to face the Fog with Nicolas Cage's extraordinary skills and unravel the mysteries that await in Dead by Daylight's thrilling gameplay experience.