Are you on the hunt for a new captivating TV series to dive into? Amidst the massive expanse of television content available today, there exist numerous hidden masterpieces that have, unfortunately, been eclipsed by more mainstream juggernauts. A host of shows, despite boasting brilliant narratives, outstanding performances, and uniquely compelling premises, have simply not garnered the recognition they rightly merit.
But worry not, we're here to illuminate these overlooked champions of the TV realm. From comedies that tug at your heartstrings to dramas that stimulate deep thought, we've handpicked an eclectic mix of under-recognized TV shows that undoubtedly merit your consideration. So, prepare your favorite snack and gear up to uncover these uncelebrated marvels that might just ascend to the top of your binge-watch list. Embark on this exciting voyage with us!
We Are Who We Are – Discovering Ourselves
Presented by Luca Guadagnino, the critically acclaimed director of masterpieces like "Call Me By Your Name" and "Bones and All," comes a touching and impactful drama series, "We Are Who We Are." This engrossing narrative paints a vibrant coming-of-age tale about two adolescents navigating their way through the complexities of adolescence on an American Army base nestled in the serene town of Chioggia, Italy. The series, initially conceived as an extended saga, was eventually fashioned into eight captivating, one-hour-long episodes, each providing a window into the protagonists' struggles and triumphs.
Regrettably, the U.S. Department of Defense, originally having proposed to provide a genuine U.S Army base in Italy as a filming location, rescinded their offer. The department cited the show's portrayal of contentious societal issues and implicit criticism of military corruption as their primary reasons. Despite these hurdles, Guadagnino's creative prowess shone through, earning the series an abundance of favorable reviews. Notably, it boasts an impressive 90% fresh score on the popular review aggregation site, Rotten Tomatoes.
Naomi – A Fresh Take on the Superhero Tale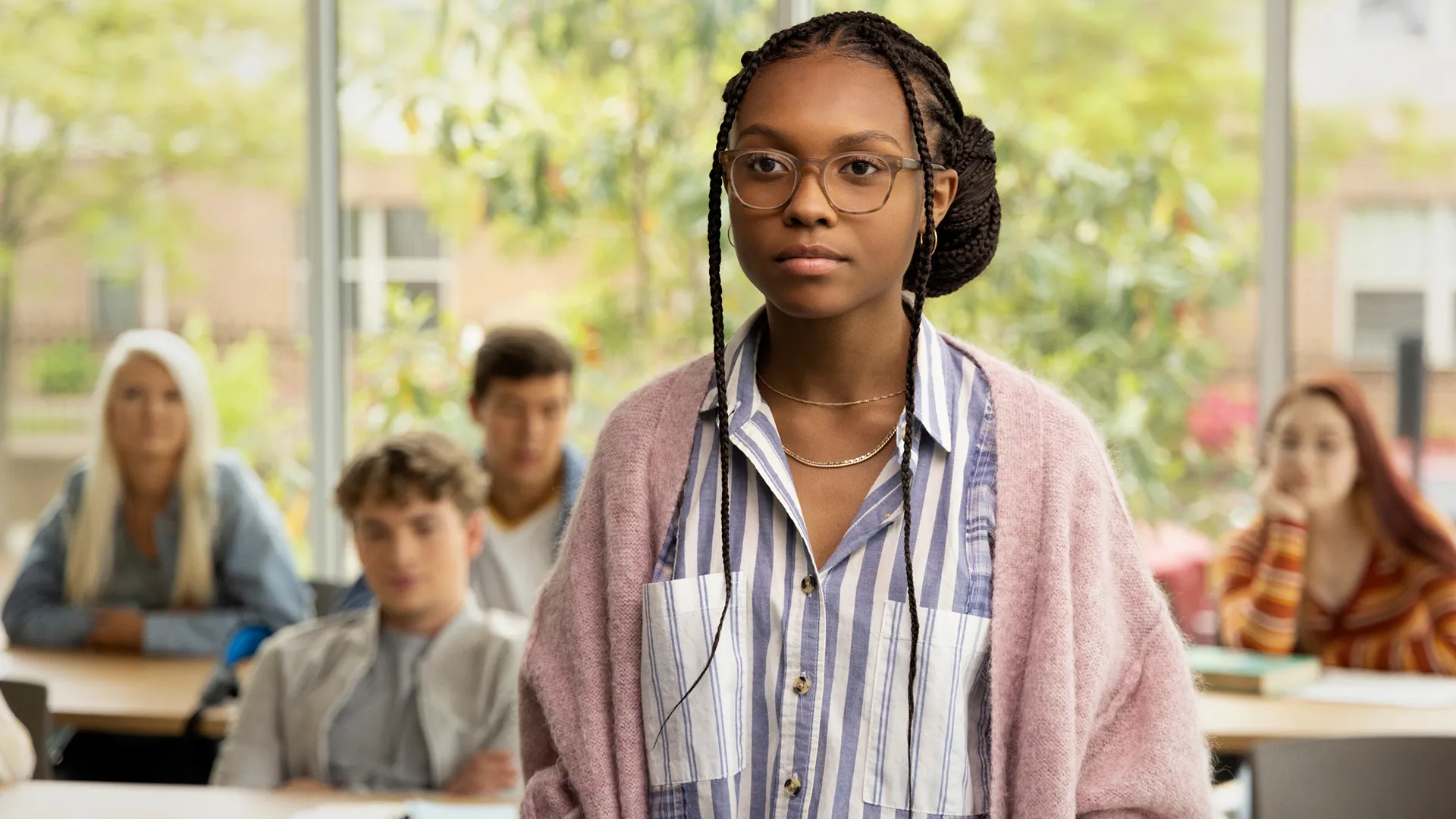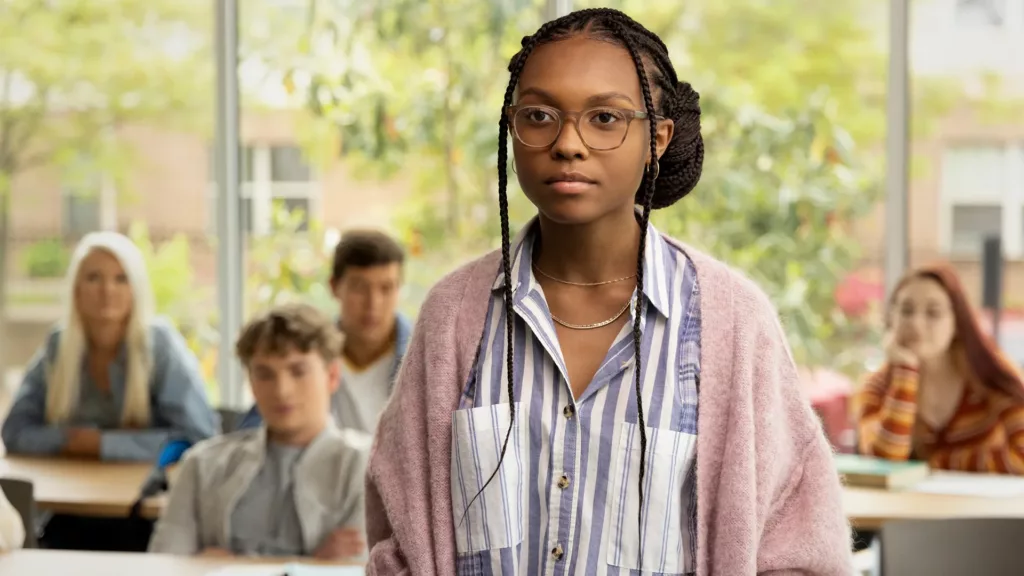 Setting itself apart from the ubiquitous superhero and comic book television landscape, "Naomi" emerged as a breath of fresh air. The brilliant and innovative Ava DuVernay developed this series, deriving inspiration from the 2019 comic series crafted by Brian Michael Bendis, David F. Walker, and Jamal Campbell. This radiant show stars the talented Kaci Walfall as the eponymous Naomi, a teenager who, in addition to managing her Superman fandom website, gradually discovers an uncanny resemblance between herself and her favorite superhero.
Bridging the gap between high school melodrama and the fascinating world of comic books, "Naomi" offers a unique narrative. Despite presenting yet another origin story, the series succeeds in pioneering a novel representation of a superhero, illuminating a myriad of potentialities. Naomi, the central figure, breaks the mold of traditional comic book heroes, thereby presenting a refreshing on-screen representation in a genre often criticized for its lack of diversity and inclusivity.
Regrettably, despite the compelling storytelling and its fresh approach, "Naomi" fell victim to a ruthless wave of network cancellations, leaving it and six other series in the dust. The abrupt discontinuation left the series on a cliffhanger at the end of its debut season. Nevertheless, for those seeking a unique twist on the superhero genre and championing representation in media, "Naomi" is undeniably worth delving into.
A Very English Scandal – Truth Beyond Fiction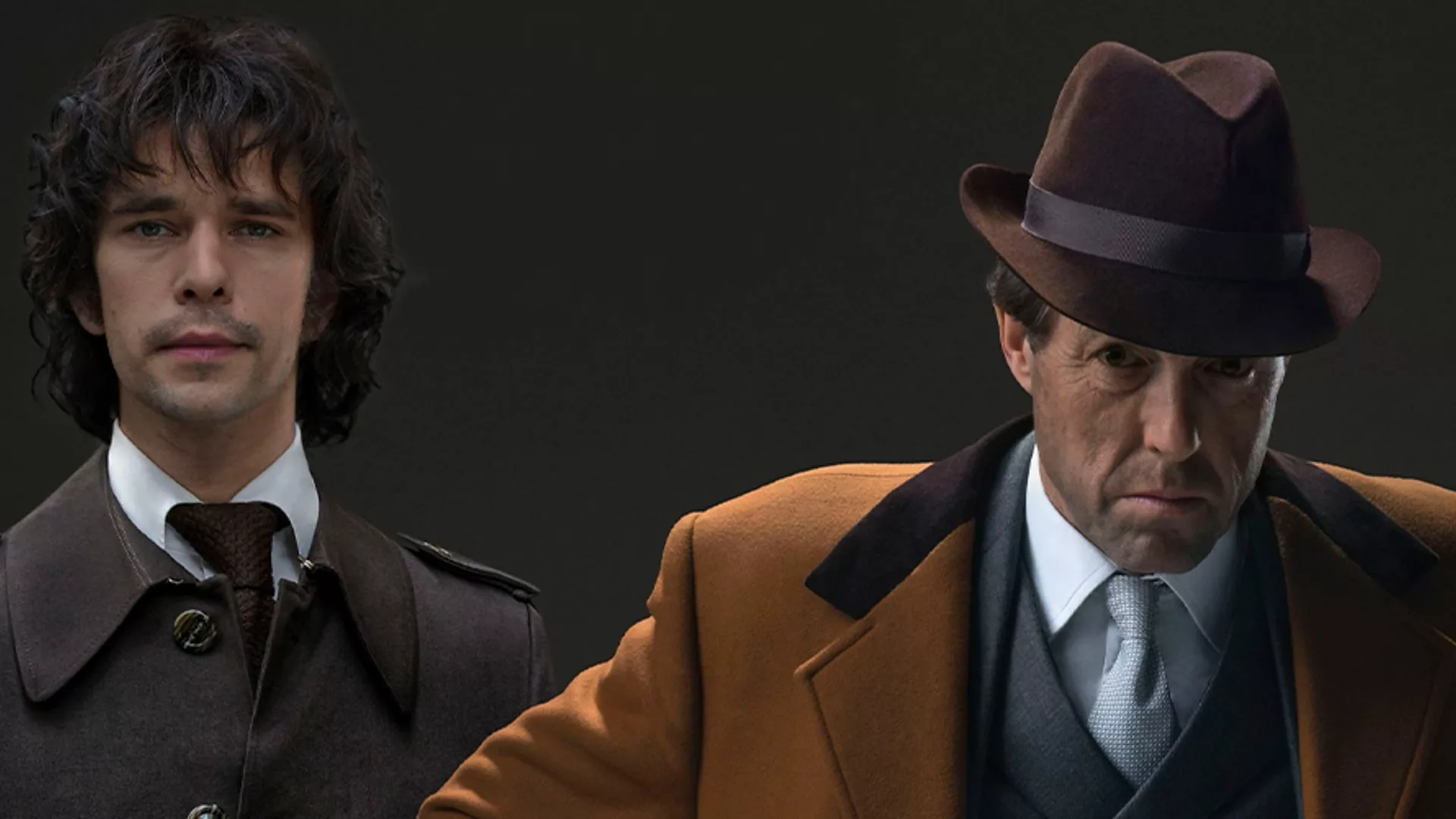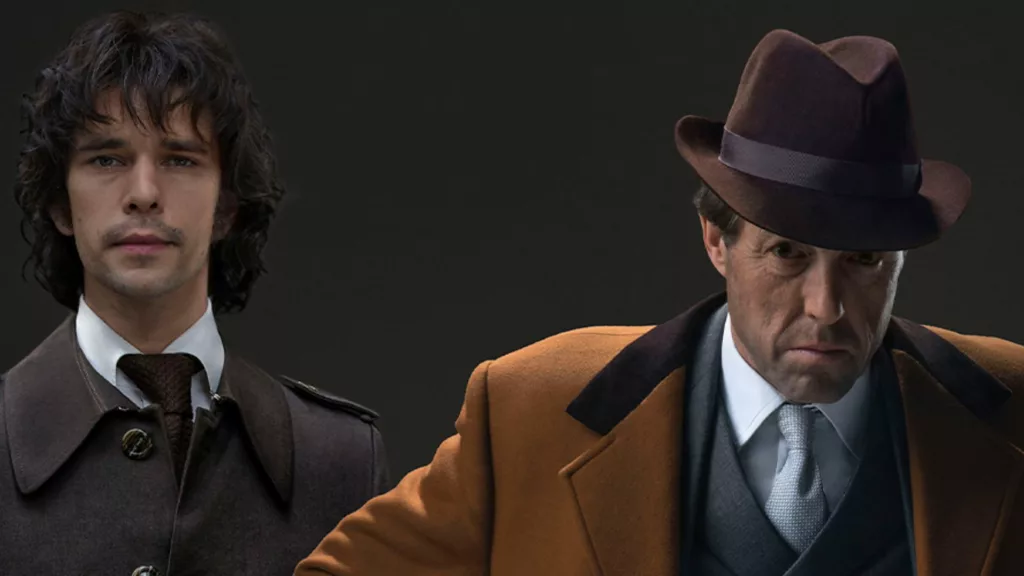 Embarking on a journey through the tumultuous world of politics and scandalous personal affairs, "A Very English Scandal" delves into the true story of a prominent British politician, Jeremy Thorpe. Thorpe finds himself embroiled in a dangerous game of deceit and manipulation, as he plots to silence his former lover, Norman Josiffe, who later gained notoriety as Norman Scott. The narrative uncovers their clandestine relationship, which existed before Thorpe's meteoric rise in the political arena, with Scott threatening to bring the secret affair into the light of day, under the guise of obtaining a new National Insurance Card.
Fueled by desperation, Thorpe resorts to a drastic solution and orchestrates an assassination attempt on Scott. However, the plan spirals out of control, imploding in a spectacular fashion that culminates in the infamous Thorpe Affair. The series boasts a stellar cast, featuring Hugh Grant as the troubled Thorpe and Ben Whishaw portraying Scott with finesse. Through its intense narrative and exceptional performances, "A Very English Scandal" offers viewers an intriguing look into a scandal that sent shockwaves through British society.
Will Trent – A Journey of Complex Characters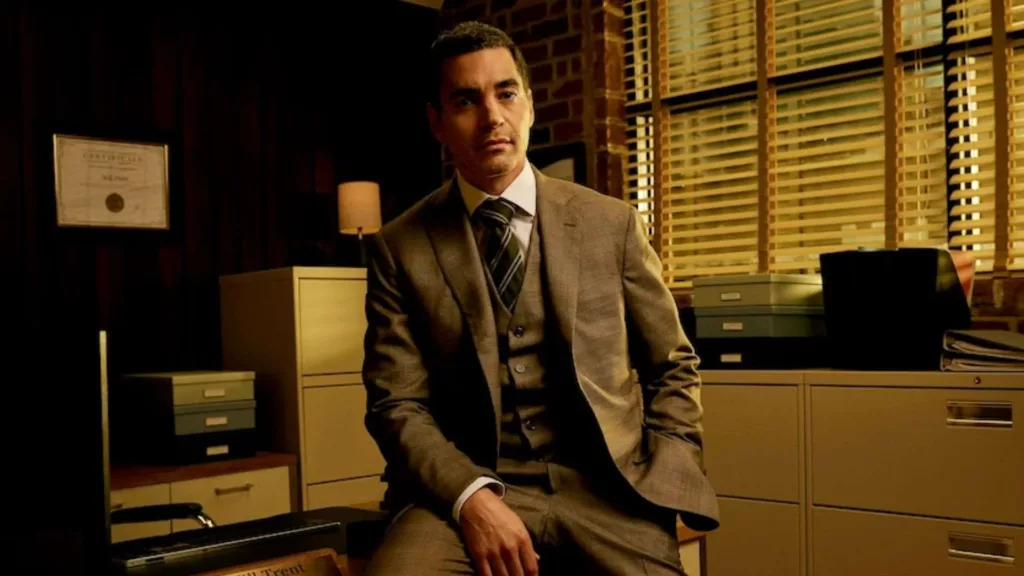 In the landscape of procedural dramas, "Will Trent" sets itself apart by placing an uncompromising focus on its characters, weaving a captivating story that is well worth your investment. The show is inspired by the thrilling novels penned by Karin Slaughter, tracking the trials and tribulations of Georgia Bureau of Investigation (GBI) Special Agent Will Trent, played by Ramón Rodríguez. As Trent embarks on his quest to unravel intricate cases, he simultaneously grapples with the emotional aftermath of his experiences growing up in the foster care system.
Rodríguez instills Trent with a sense of humility and intensity that breathes life into his portrayal of the unconventional detective, often perceived as an outsider by those around him. The stellar ensemble cast includes Sonja Sohn as Amanda Wagner, Trent's mentor and a maternal figure in his life, Iantha Richardson in the role of Faith Mitchell, Trent's steadfast partner, and Erika Christensen delivering a standout performance as Angie Polaski, Trent's romantic interest. "Will Trent" is not just a procedural drama; it's a story about its characters and their intertwining lives, and that's precisely why it commands your attention.
Nathan For You – A Comic Extravaganza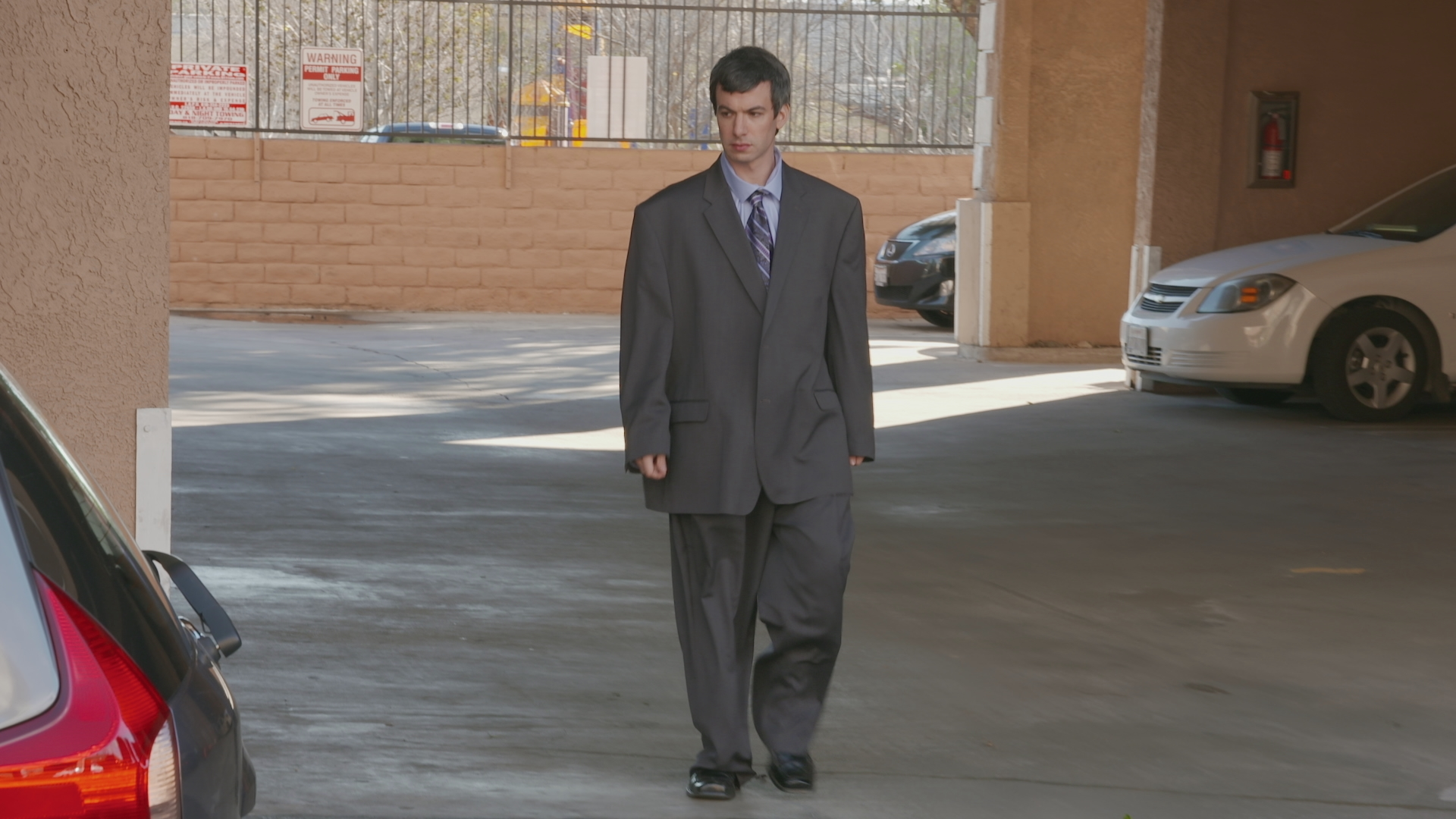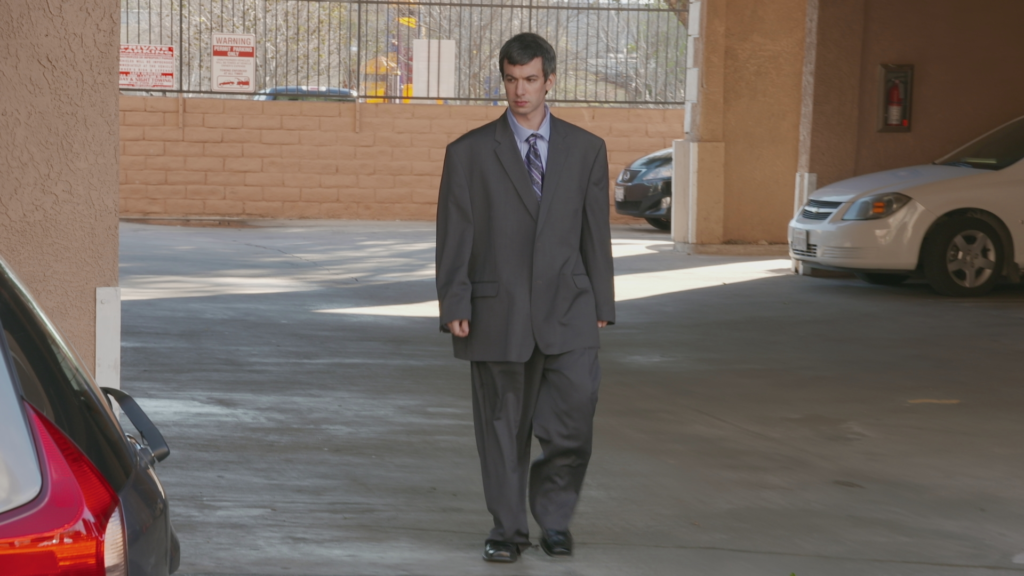 Among the original programs aired on Comedy Central, "Nathan For You" stands out, potentially earning the title of the funniest show produced by the network. The series features Nathan Fielder, playing an exaggerated version of himself, providing some of the most bewildering, and frequently flawed, business advice to small companies seeking a competitive edge. Each episode is a treasure trove of laughter, laden with intricate plots and outrageous outcomes.
For instance, in the opening episode of the third season, titled "Electronics Store," Nathan devises a master plan to aid a local electronics store in its battle against the corporate behemoth, Best Buy. His stratagem involves exploiting Best Buy's price match guarantee by marking down the prices at the smaller store to a mere dollar. In turn, he expects to leverage this policy to buy up Best Buy's entire television stock at the same low price. However, as one might predict, this audacious demand is not honored.
Unfazed, Nathan further fortifies the plan to ensure that the local store doesn't end up selling their televisions for one dollar. He establishes an elaborate setup wherein customers, adhering to a strict dress code, must navigate a small passageway leading to a room that's guarded by a live alligator. As if this spectacle wasn't absurd enough, Nathan convinces the owner to be officially diagnosed as legally insane to avoid potential lawsuits. Each episode takes you on a rollercoaster ride of hilariously preposterous situations, crafted by Fielder's uniquely comedic mind.
Primo – A Familial Rollercoaster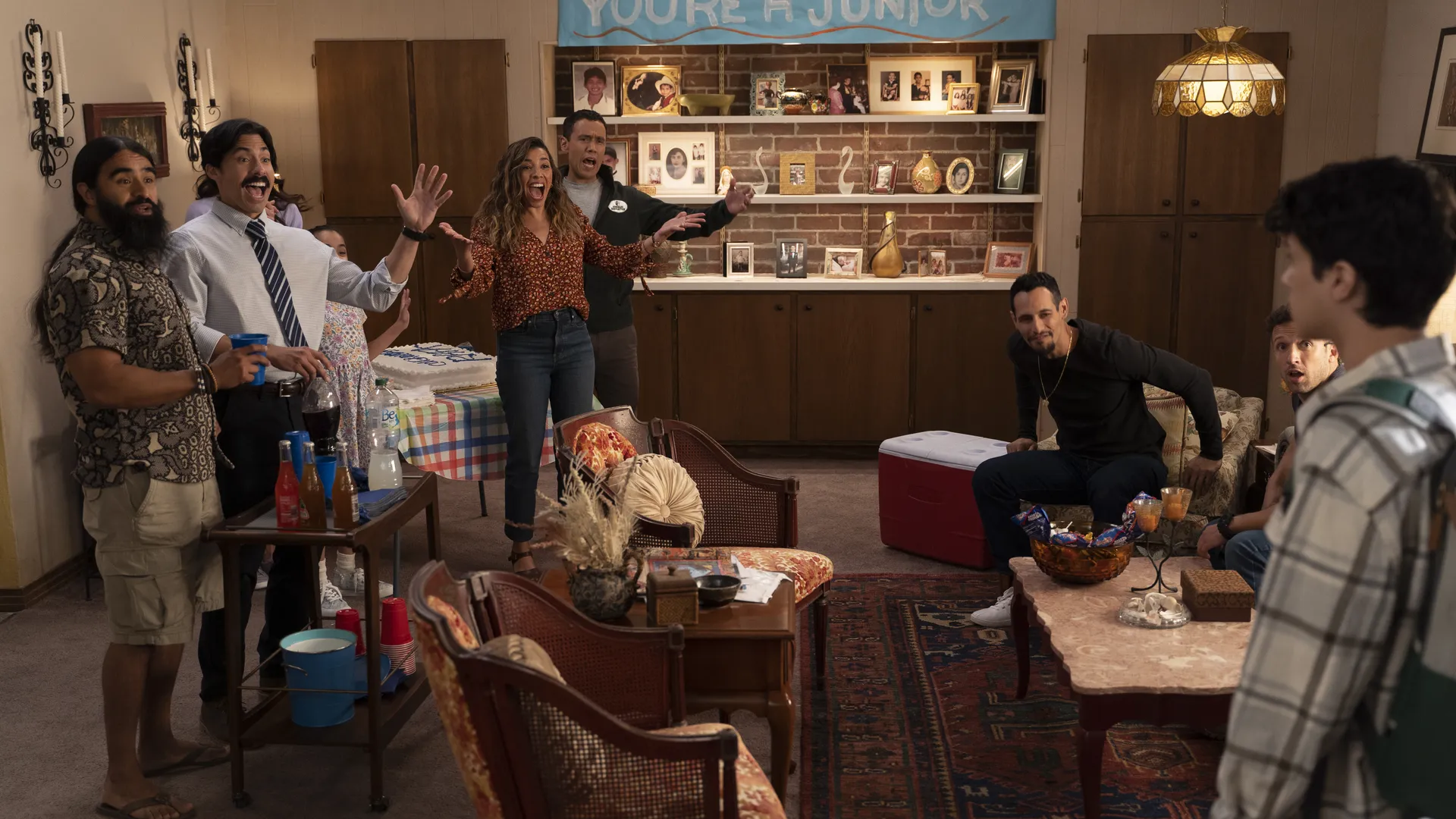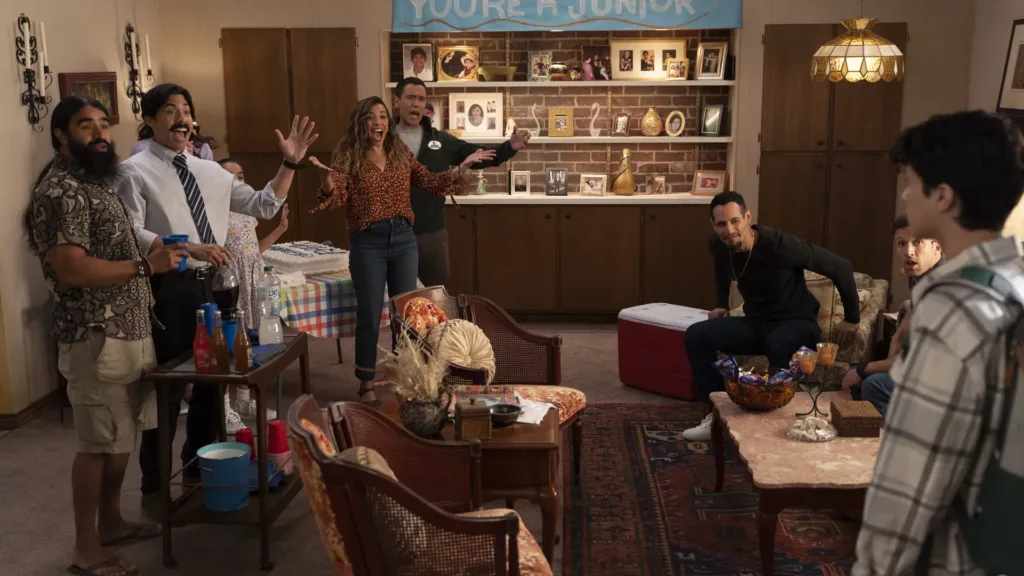 Brought to life by the creative collaboration of executive producer Mike Schur and creator Shea Serrano, "Primo" offers viewers an amusing and heartwarming coming-of-age comedy. Inspired by Serrano's real-life experiences in San Antonio, the series follows the life of Rafa, a high school junior played by Ignacio Diaz-Silverio.
Rafa's life is not just supervised by his mother, Drea, portrayed by Christina Vidal, who persistently ensures he is on the right path. It's also governed by Drea's five brothers – the "tios" who are keenly invested in Rafa's happiness and future success. As is the case with any family, this close-knit unit experiences their fair share of sibling rivalry – often escalating during their board game sessions. Moreover, their unforgettable family barbecues, filled with ups and downs, contribute to the vivid tapestry of their shared experiences.
"Primo" offers a humorous exploration of family dynamics, growing pains, and the eternal bond that exists within a family – a bond that, at times, can be as challenging as it is rewarding.
The Other Two – The Struggle for Identity Amid Stardom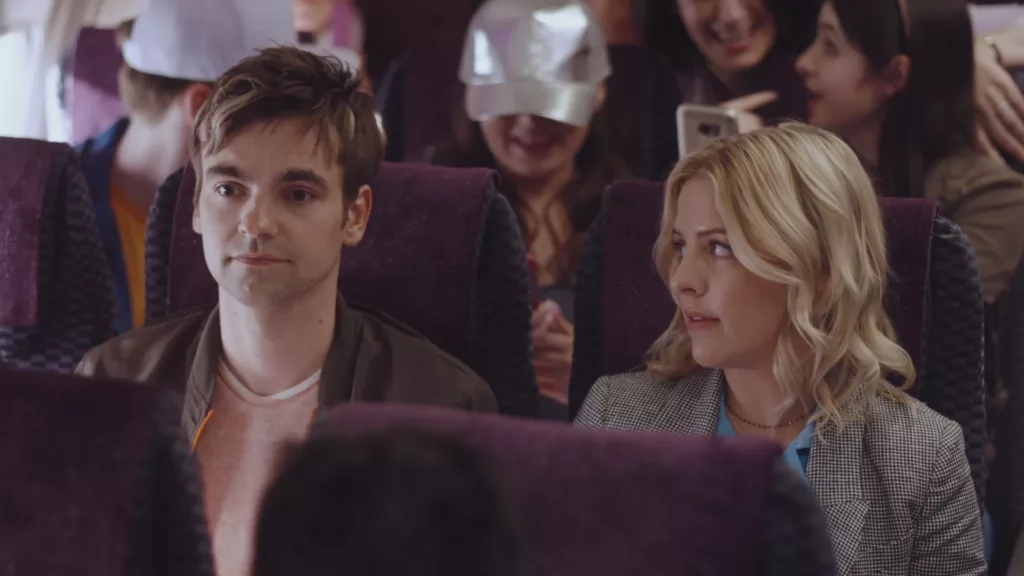 Diving into the satirical realm of showbiz, "The Other Two" emerges as a smart and hilariously crafted comedy that might be eluding your radar. The creative genius behind the show is the duo of former "Saturday Night Live" head writers, Chris Kelly and Sarah Schneider. Initially broadcasted on Comedy Central, then shifting to HBO Max, and finally transitioning to Max, the series delves into the lives of two siblings, Brooke and Cary Dubek, portrayed by Heléne Yorke and Drew Tarver respectively.
The story revolves around their constant struggle to escape the overwhelming shadow cast by their wildly famous, pop star younger brother, ChaseDreams (Case Walker), and their equally celebrated talk show host mother, Pat (Molly Shannon). The siblings' desperation for personal success reaches its peak in the first two seasons, where they attempt and ultimately succeed in carving out their own paths. However, their triumphs only escalate their sense of desperation in the third season. It becomes evident that, regardless of how far they advance in their individual careers, they will perpetually perceive themselves as the sidelined 'other two' in their star-studded family.
The End of the F***ing World – An Offbeat Journey into Adolescence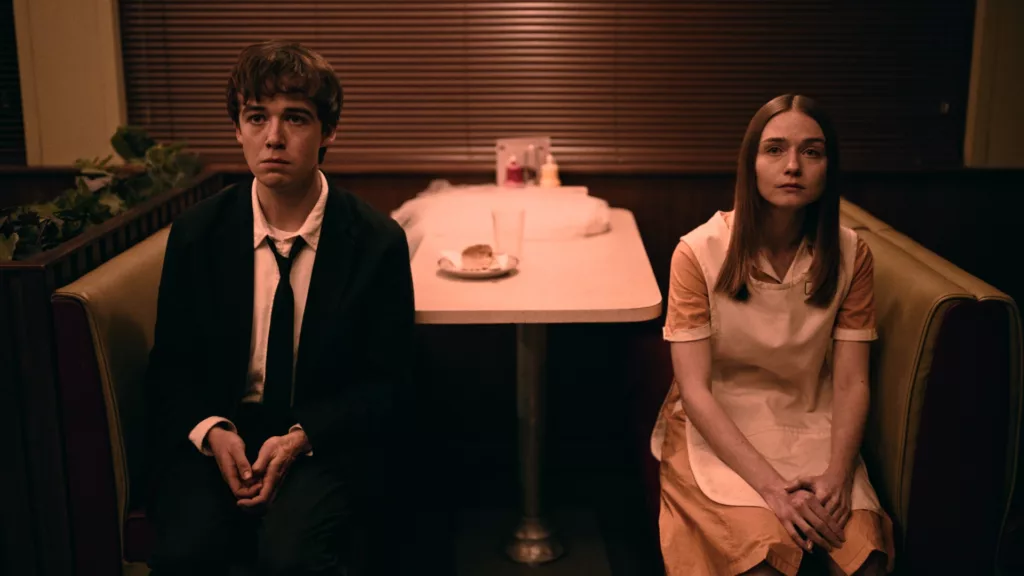 Featuring a lead cast of Alex Lawther and Jessica Barden, "The End of the F***ing World" takes viewers on a captivating, off-kilter journey of dark comedy that spans two meticulously crafted seasons. The series stands out as a rarity in the television landscape, with a deliberate plan to run for only two seasons, reflecting the showrunners' focus on delivering a concise and compelling narrative.
The plot introduces us to James and Alyssa, two peculiar teenagers trying to navigate the tumultuous sea of adolescence. James, who suspects he might be a psychopath, grows weary of his routine of harming animals and decides to attempt his first human kill, selecting Alyssa as his potential victim. However, an encounter with a shady character sets off a chain of dramatic events that derail his original plan and prompt him to reevaluate his self-perception.
Although it began as a Channel 4 original in the UK, the show gained moderate success stateside following its release on Netflix. Despite generating buzz on social media and receiving critical acclaim, "The End of the F***ing World" remains a relatively under-appreciated gem in the TV universe, given its singular blend of quirky humor and sobering narrative.
Adam Ruins Everything – Unmasking the Myths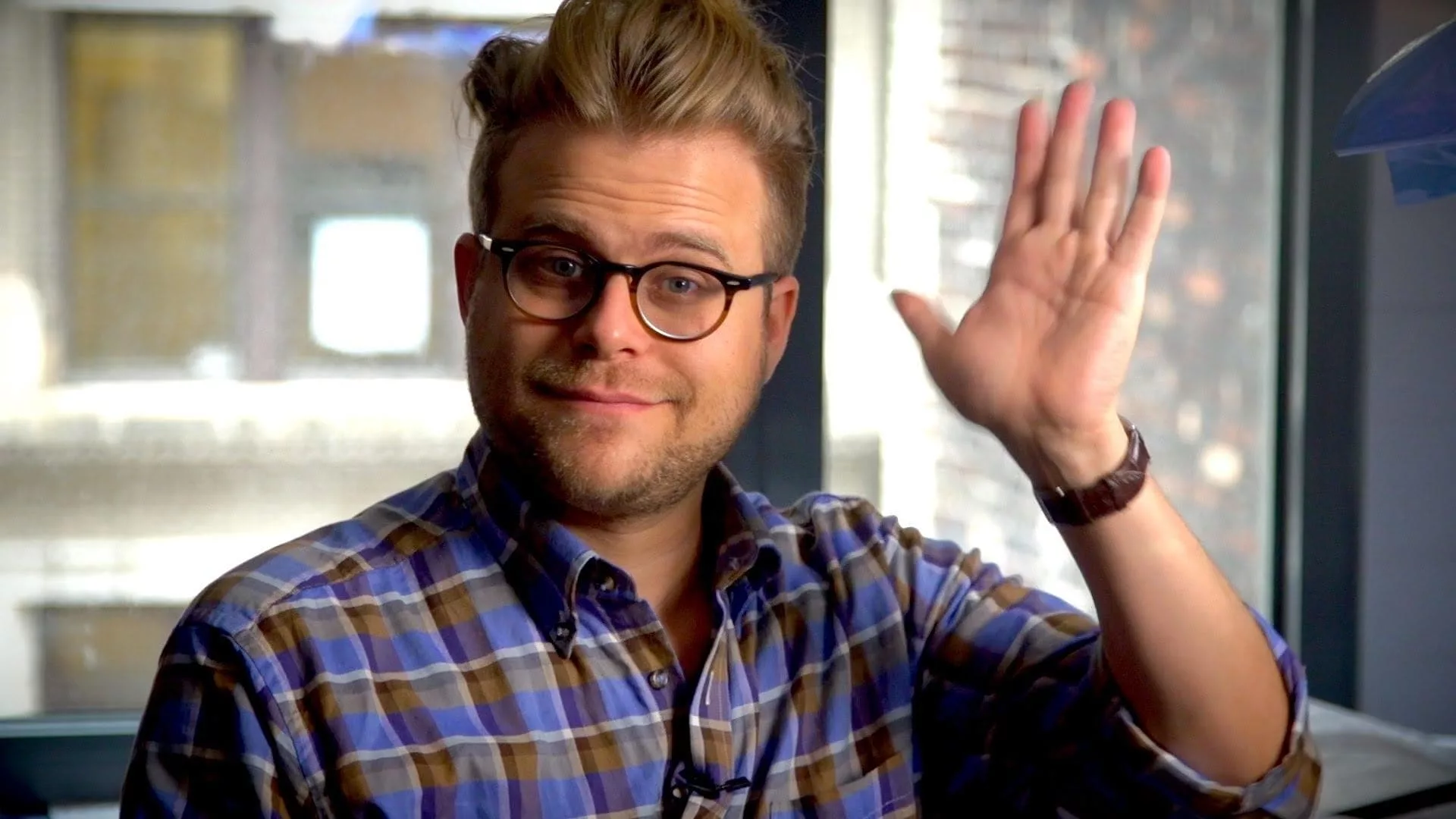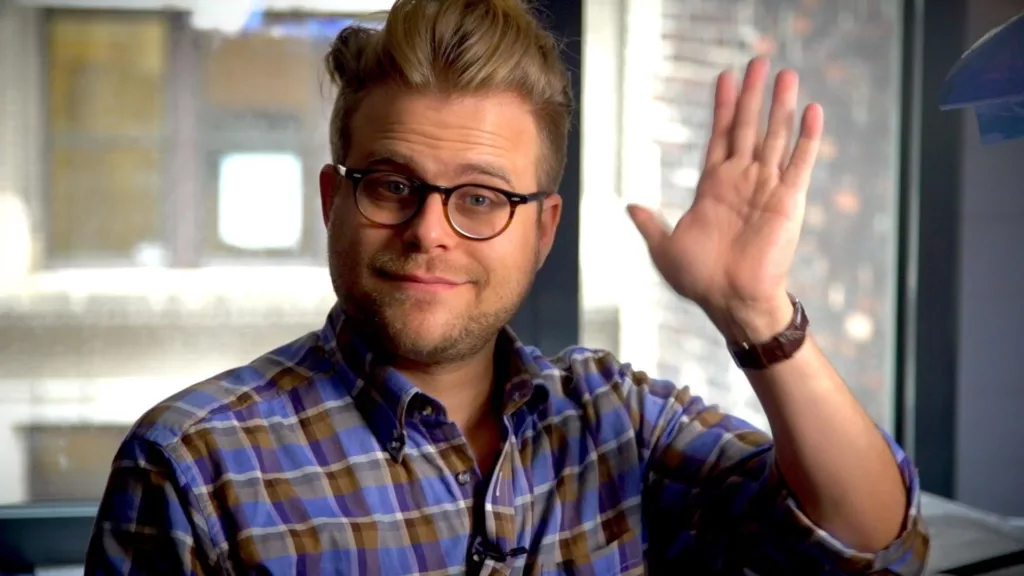 As suggested by its title, "Adam Ruins Everything" is a series that sets out on a mission to expose the myths that have embedded themselves into our everyday lives. Adam Conover, playing himself, drives this educational journey, which has an almost YouTube-like vibe, combining elements of sketch comedy and visually engaging graphics within concise, half-hour episodes that explore a plethora of topics.
A peek at the titles of most episodes reveals the format "Adam Ruins ____". Some examples include "Adam Ruins Doing Good", "Adam Ruins Christmas", and "Adam Ruins Having a Baby". These episodes respectively shed light on the ways large corporations and organizations manipulate charitable causes, the conversion of a pagan celebration into our modern Christmas, and the dismantling of widely accepted myths surrounding pregnancy and childbirth.
While Conover's analyses are largely supported by hard evidence, the show has not been immune to criticism. A prominent example is the backlash following the episode "Adam Ruins Going Green", in which Conover questions the environmental benefits of electric vehicles. The show, however, showcases its commitment to unbiased and fair perspectives with the follow-up episode, "Emily Ruins Adam Ruins Everything". In this episode, regular cast member Emily Axford revisits and rectifies any inaccurate data from earlier episodes.
Corporate – A Darkly Comic Depiction of Office Life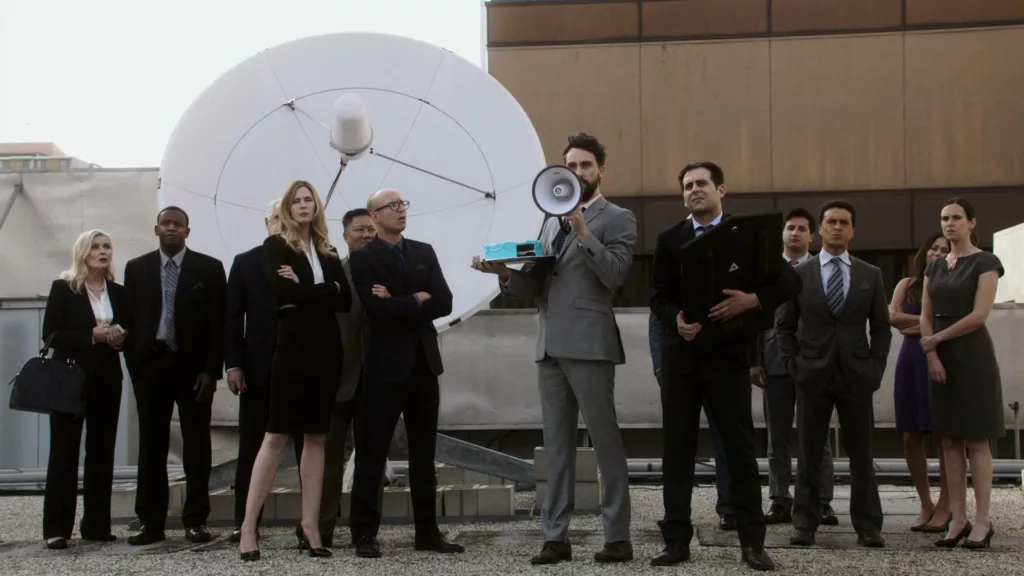 Serving as a darker, more cynical counterpart to the likes of "The Office" or the antithesis to the optimism of "Ted Lasso", "Corporate" is a sitcom that aired on Comedy Central for three underrated seasons from 2018 to 2022. The show stars Matt Ingebretson and Jake Weisman, also the co-creators along with Pat Bishop, who deliver flawless performances as a pair of disheartened office workers caught in the machinery of the mega-corporation Hampton DeVille, a company with the self-proclaiming slogan, "We Make Everything".
The ensemble of supporting characters is equally engaging. Notably, it includes the late Lance Reddick in a deliciously comedic role as the company's founder, Christian DeVille. Reddick's character is portrayed as a slightly unhinged corporate titan who reacts to unfavorable news by venting his frustration on his punch bag using a samurai sword, adding an eccentric flavor to this darkly humorous series.
Acapulco – The Climb to Love and Success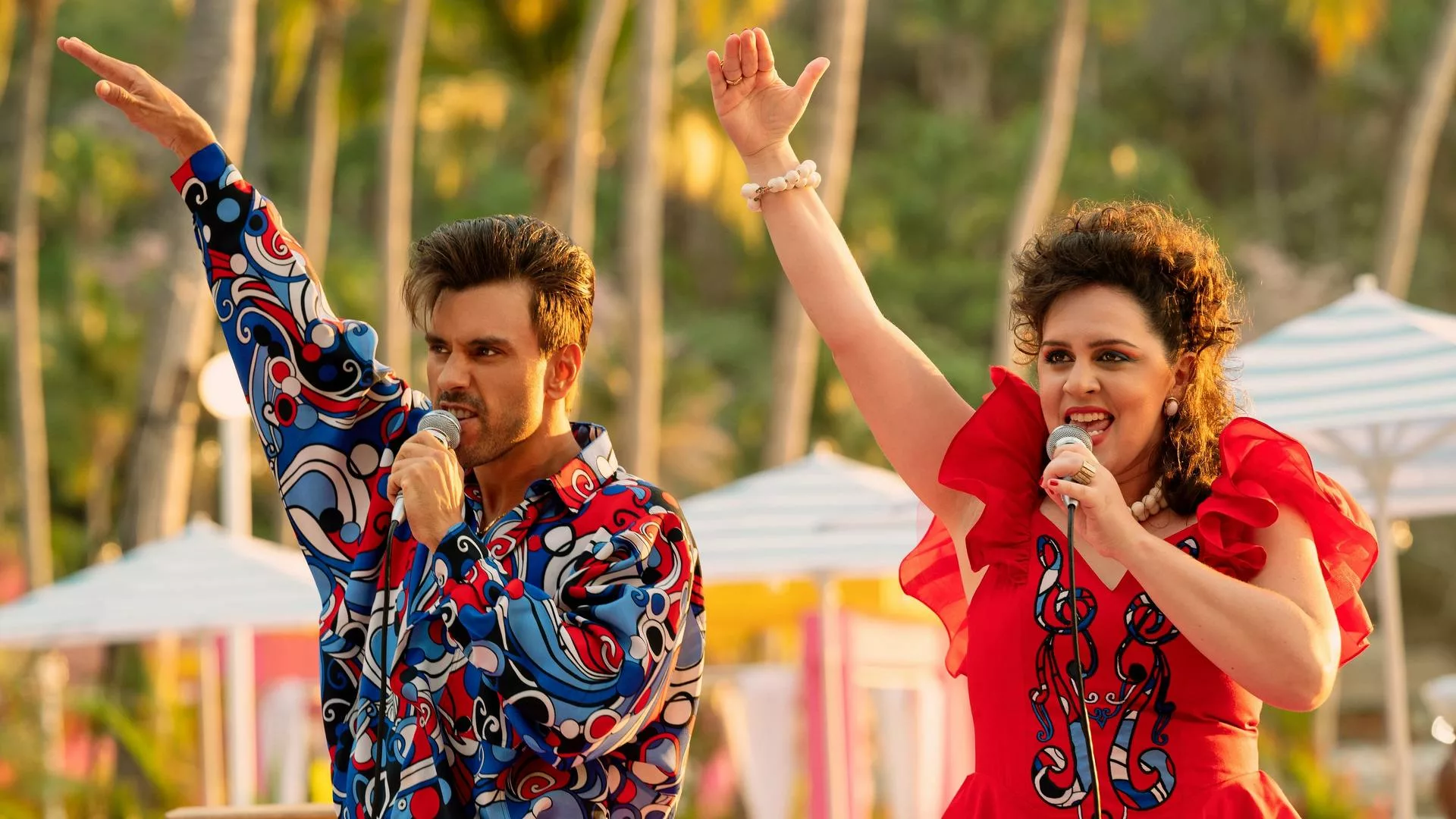 Get ready to dive into a wave of nostalgia with "Acapulco", a feel-good romantic comedy series set against the backdrop of the 1980s, available for streaming on Apple TV+. If the flamboyant hairdos from the '80s don't entice you, then the captivating performances by the resort lounge singers surely will.
Taking place in the fictitious luxury resort of Las Colinas, this bilingual narrative unwinds as we follow Máximo (played by Eugenio Derbez) who reminisces about his journey from being a struggling pool boy (portrayed by Enrique Arrizon) to becoming a successful hotelier. There's a charming mix of "How I Met Your Mother" and "Jane the Virgin" as we witness Máximo and the hotel staff navigate through their personal lives, love interests, and the various demands of the affluent American guests at the resort.
The path to success is steeper than Máximo had anticipated. As he grapples with the challenges, his heart secretly longs for Julia (played by Camila Perez), a co-worker at Las Colinas. In a classic rom-com twist, Julia turns out to be the girlfriend of Chad Davies (Chord Overstreet), the son of Diane Davies, the owner of Las Colinas resort.
Somebody Somewhere – A Heartwarming Journey of Self-Discovery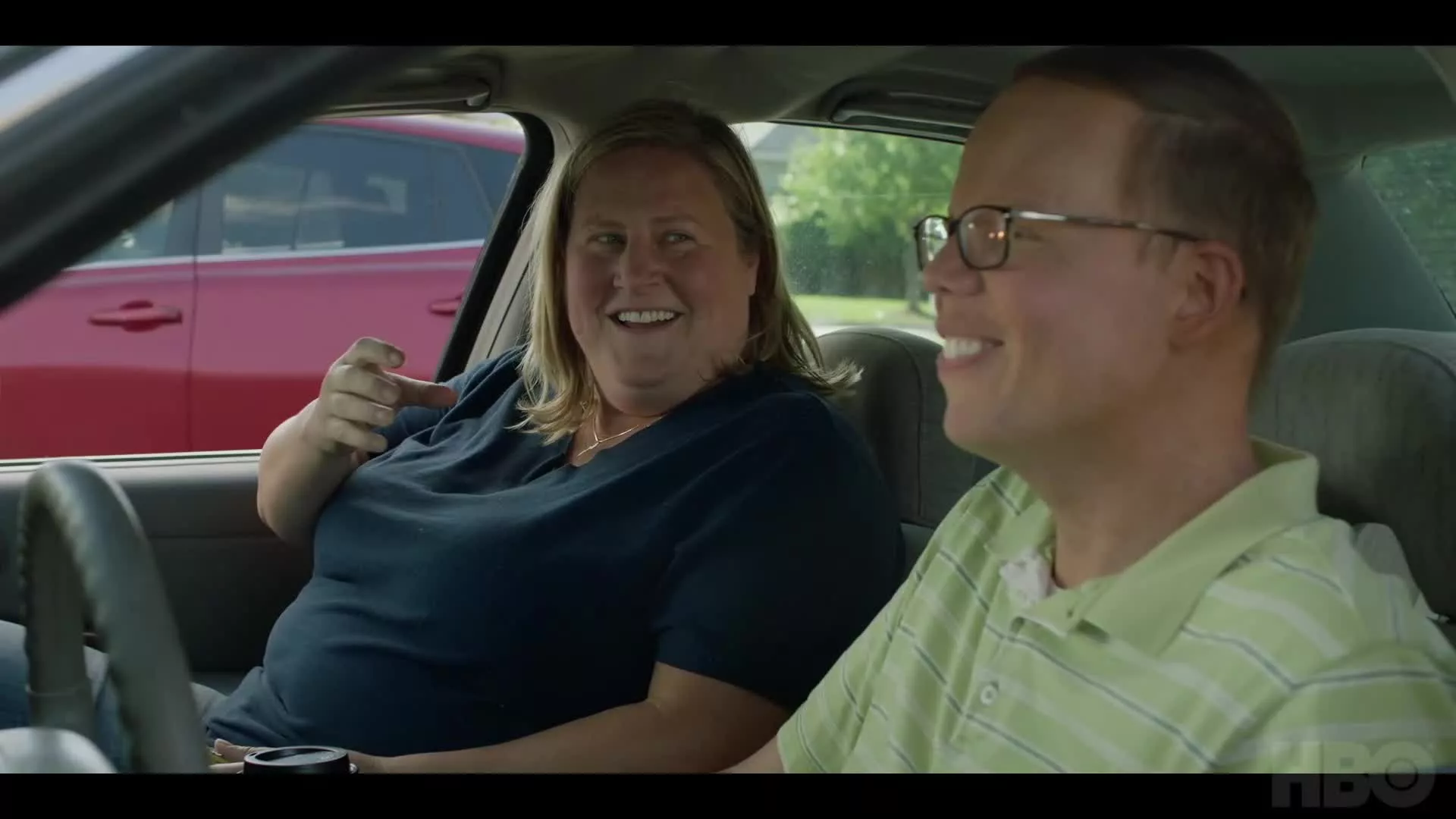 Hidden within HBO's vibrant Sunday lineup, succeeding the thrilling dramas of "Succession" and "Barry", is this unassuming treasure of a show, "Somebody Somewhere". It tells the story of a middle-aged woman named Sam (played by Bridget Everett), who struggles to come to terms with her sister's death in the rural heartland of Kansas.
While the first season offers a low-stakes, comical exploration of life's everyday details, the second installment goes a step further. It deepens the narrative, giving each character more complexity and room to captivate the audience. Everett's portrayal of Sam is absolutely flawless. When she takes up singing lessons from her old voice teacher to perform at her friend Fred's (Murray Hill) wedding, she finds herself revisiting her past.
On the other hand, her sister Tricia (Mary Catherine Garrison), who is still trying to recover from her ex-husband's betrayal, channels her fury into a unique line of pillows embroidered with audaciously funny slogans, such as "Big C–t Energy".
The show's most heartwarming storyline, however, belongs to Joel (Jeff Hiller), Sam's kind-hearted gay best friend and partner-in-crime. Joel embarks on a love story he truly deserves. Drop by for a hilarious episode featuring Sam and Joel surviving a bout of food poisoning from some questionable "St. Louis sushi", but stay for one of the most uplifting season finales you'll see all year.
Dead Like Me – A Unique Take on Afterlife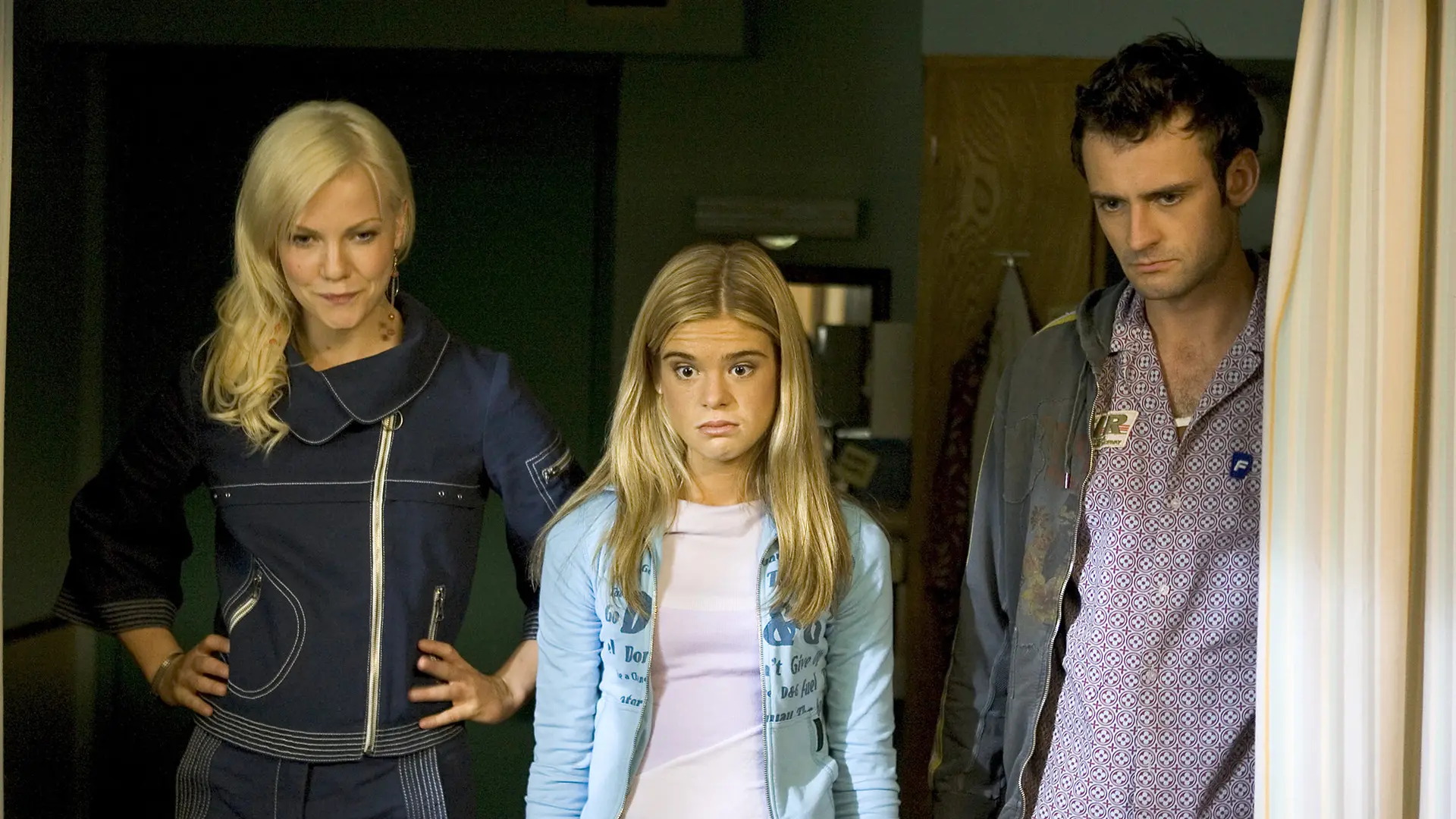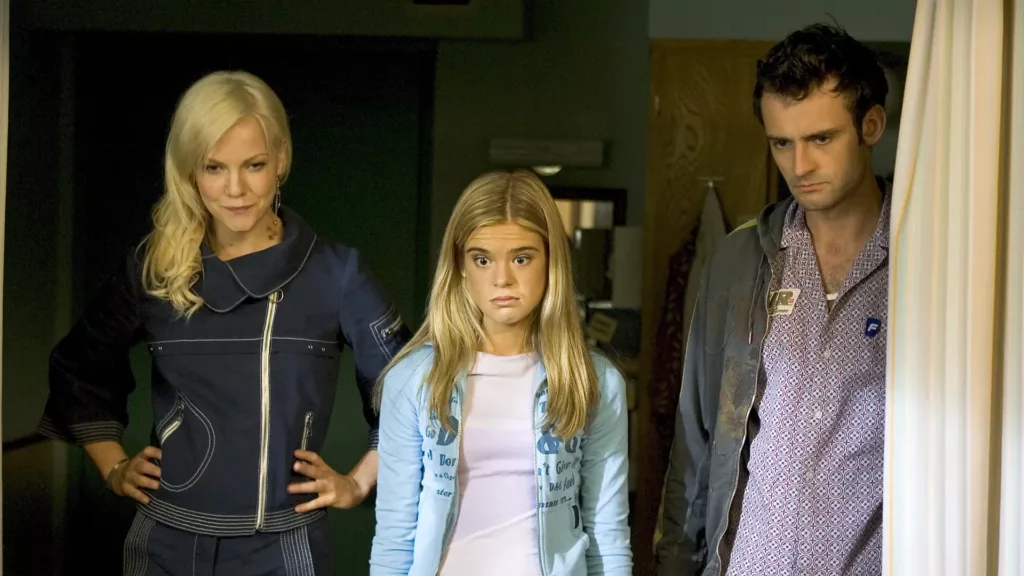 It's not every day that a toilet seat from a space station orbiting Earth causes someone's death. But that's exactly what happens to George Lass in the bustling city of Seattle, marking the unusual start of the show "Dead Like Me". But don't think death brings peace for George. Instead, she finds herself reincarnated into a grim reaper. Her new assignment? To collect the souls of those unfortunate souls who meet accidental deaths.
This unusual task is her ticket to the "great beyond", but only once she fulfills her quota. The final soul she collects will replace her as a grim reaper and free her. But the challenges don't stop there. With her presence in the physical realm disguised in a different body, she must hold down a day job to make a living.
"Dead Like Me" is a roller-coaster ride filled with dark humor and thrilling escapades as George grapples with her job as a grim reaper, along with her new companions. The series held its charm for two seasons and also inspired a spin-off movie.
Terra Nova – The Dinosaur Age Beckons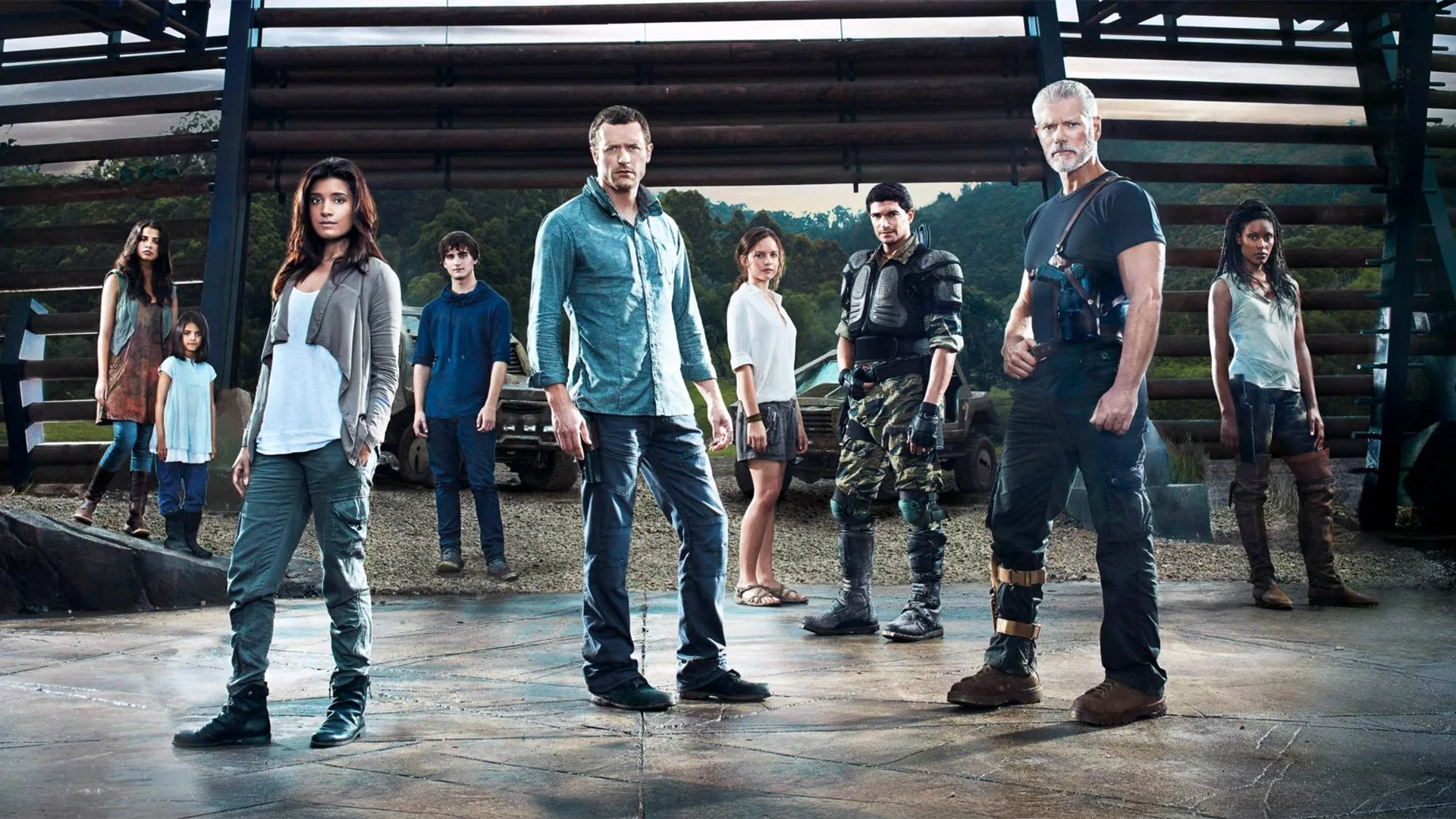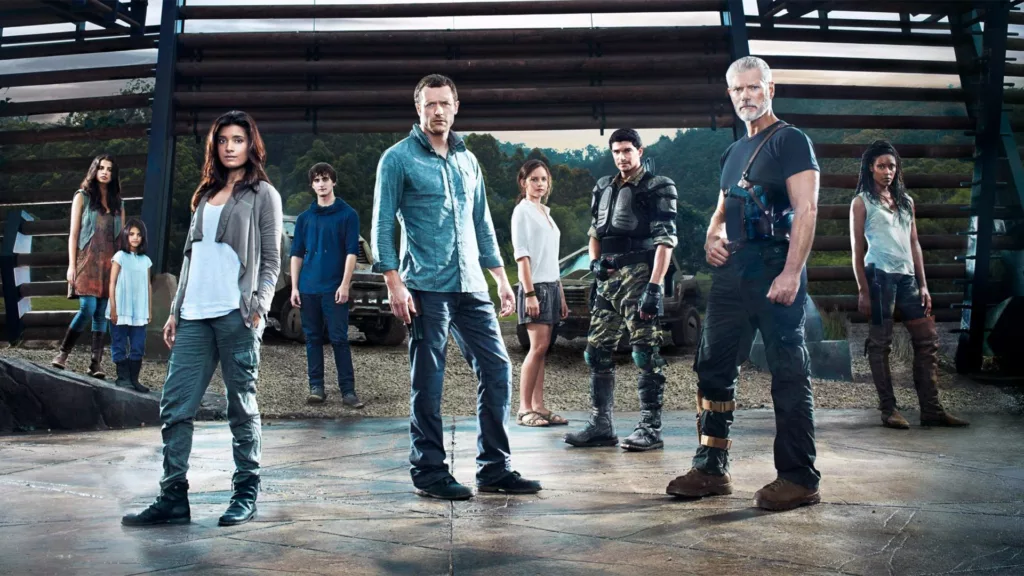 "Terra Nova" is an underappreciated gem that leaves you wondering how a Steven Spielberg executive-produced sci-fi series could have slipped under the radar. Maybe it was just a case of poor timing or an inappropriate network. The show sets the stage in the year 2149, with the Earth teetering on the brink of depletion, leading to severe population control methods.
However, hope comes in the form of a time-rift, discovered to grant access back to the Earth's Cretaceous period. A team of scientists spearheads this bold venture, sending selected groups back in time to live in a much more hospitable version of the planet.
The time-travelers are initially stunned by the vibrancy of their new surroundings, the abundance of oxygen, lush greenery, and oh yes, the dinosaurs! They start anew in this prehistoric land, preparing for a fresh start.
In an unexpected twist, the series' only season concludes with the discovery of an 18th-century ship's prow in this prehistoric terrain, hinting that this might not be humanity's first reset. Even with an average of 10 million viewers during its 2012 run on Fox, the network surprisingly didn't renew it for a second season.
Minx – Bold, Daring, and Inspiring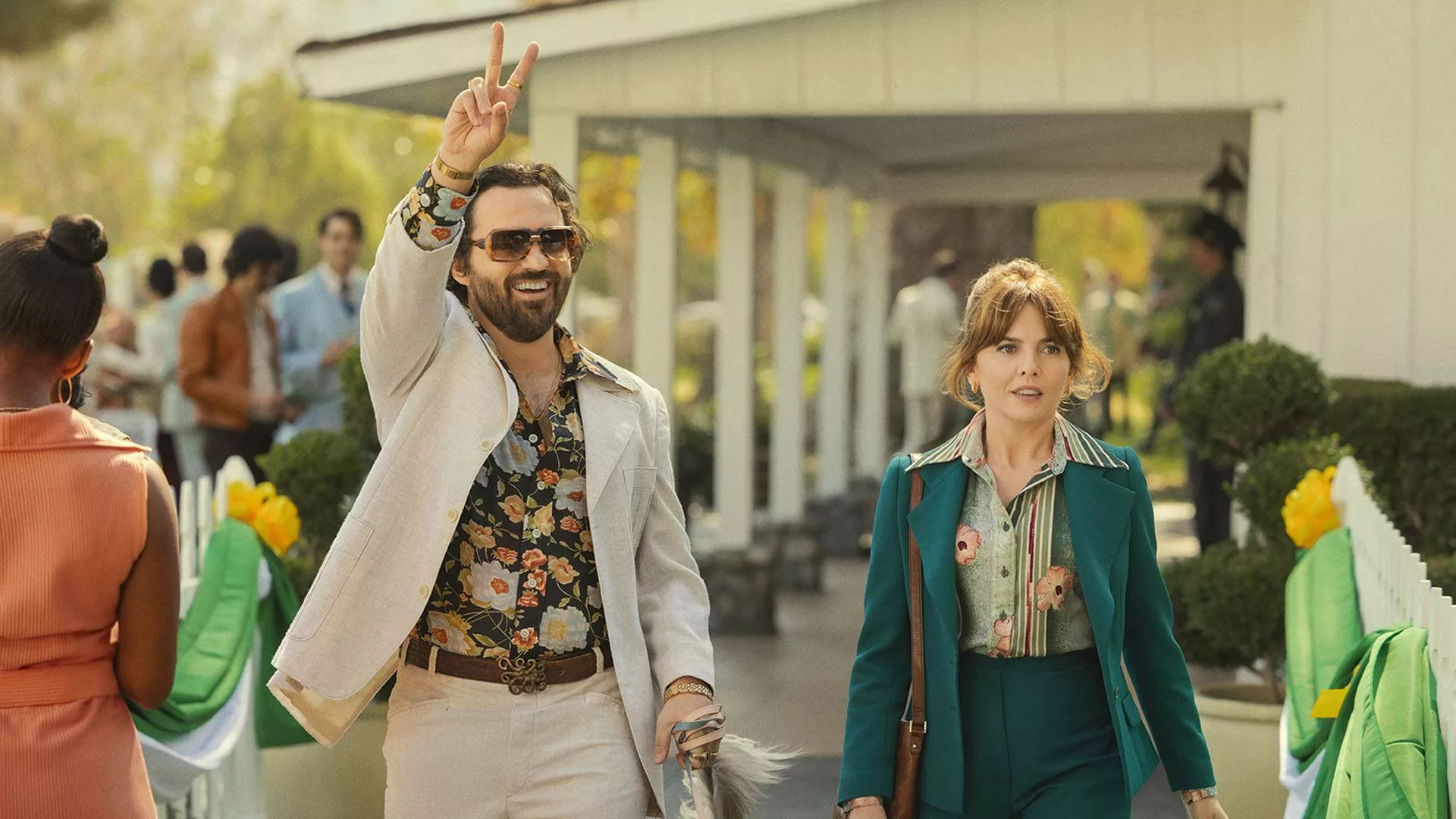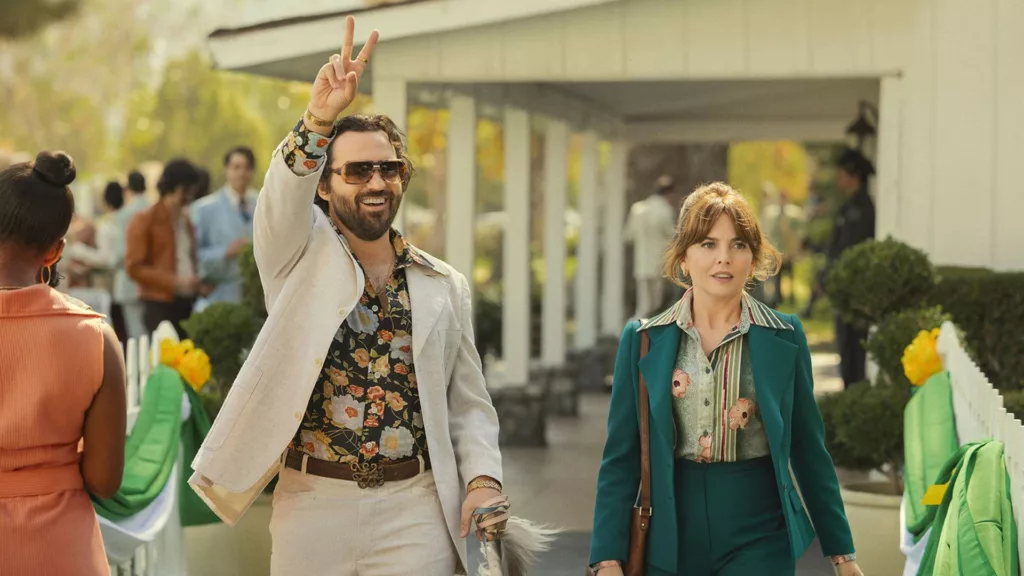 If your TV preference gravitates towards a unique blend of audacious, passionate, and motivational narratives, then "Minx" deserves a spot on your watchlist. The story is set against the backdrop of the 1970s, revolving around the character of Joyce, portrayed brilliantly by Ophelia Lovibond. Joyce is a fervent feminist who aspires to create a magazine that stands up for women's rights, similar in spirit to "Ms." magazine.
However, her lofty idea finds a taker in the unlikeliest of persons, Doug, performed by Jake Johnson, a publisher known for his not-so-classy adult magazines. This unlikely duo ends up launching the first-ever erotic magazine targeted towards women.
The plot might sound risqué, and it certainly is, but it is also a heartwarming, playful, and rebellious exploration of desire, the feminine perspective, and the complexities of relationships. The chemistry between the earnest and enthusiastic Joyce and the endearingly flawed Doug is pure magic.
Adding more spark to the series is the brilliant supporting cast, featuring Idara Victor as Tina, Doug's strong-willed secretary; Jessica Lowe as a model-cum-photo director; and Lennon Parham playing Joyce's sister Shelly, who finds herself amidst a sexual awakening. "Minx" is surely an engaging night-time viewing option that you wouldn't want to miss!
Superman & Lois – More than just Superheroes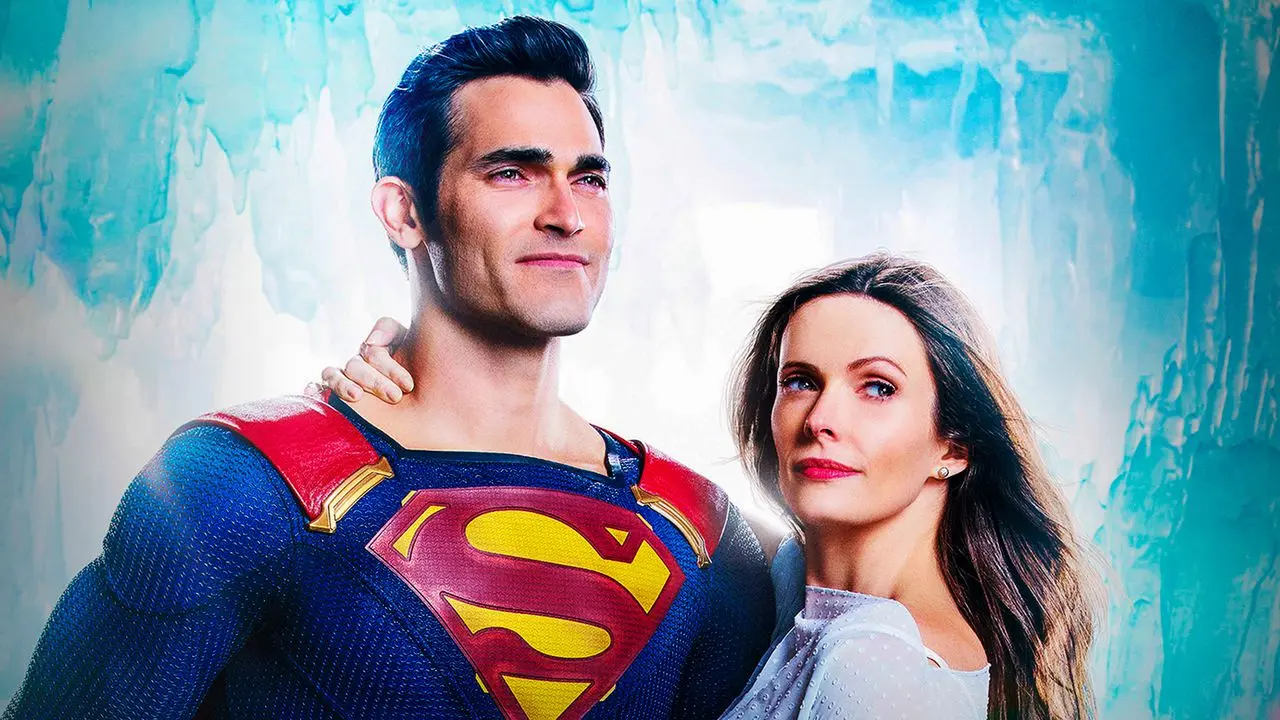 When "Superman & Lois" first aired on The CW, it was a breath of fresh air in the superhero genre, as it creatively mixed small-town family drama with sporadic, thrilling action sequences. Sure, Clark Kent, played by Tyler Hoechlin, is Superman, the iconic superhero. But he also wears the hat of a loving husband and father of two teenage sons.
On his side is the fearless Lois Lane, brought to life by Elizabeth Tulloch. She is not just a mother, but a driven journalist and an all-round force to be reckoned with. The synergy between Hoechlin and Tulloch forms the robust foundation of the series, strong enough to take any comic-book style twist in stride and make it credible to the audience. It wouldn't be wrong to say that the foundation of this show is as solid and unyielding as steel!
How to Sell Drugs Online (Fast) – Mastering the Art of Illegal Trade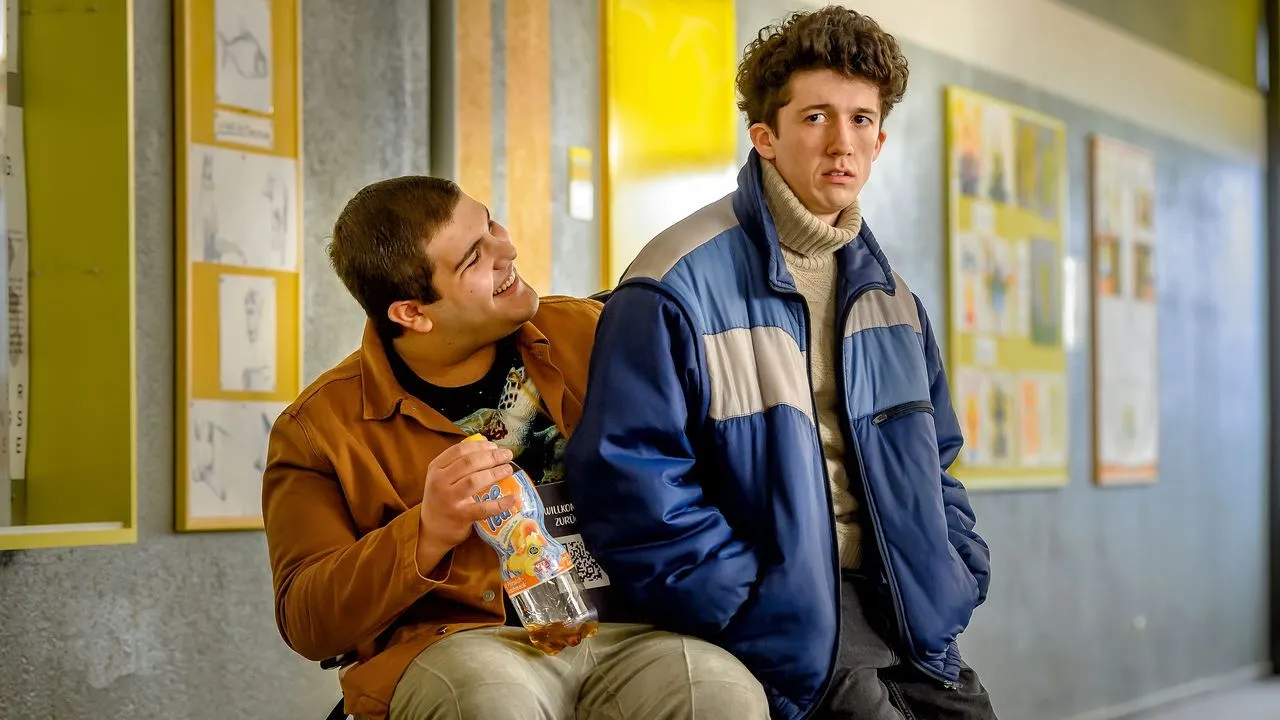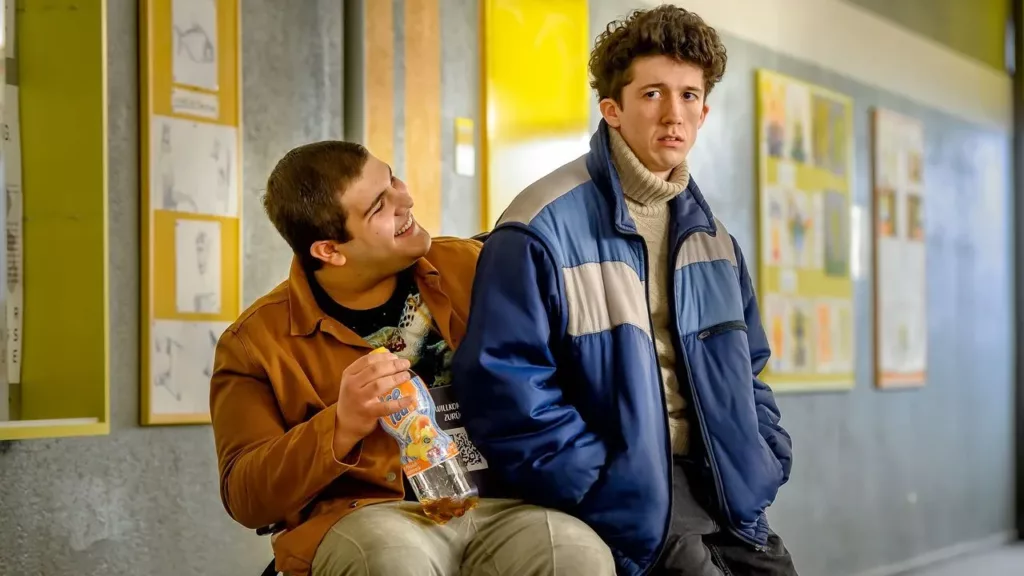 Venture into the fascinating world of digital narcotic trade with Netflix's gripping drama-comedy series, "How To Sell Drugs Online (Fast)." Originally a German-language production, the show has been seamlessly transformed for global viewers with effective English voice-overs. The series has been drawn from the real-life escapades of Maximilian Schmidt, a nerdy youngster who got entangled in online drug trafficking, primarily to win back his ex-girlfriend, impressed by her daring drug-related experiences in America.
In the series, however, the protagonist's character, Moritz, is depicted as someone craving power and control, adding a fascinating dimension to the narrative. This is not merely a flat tale of illegal dealings but an intricate web of motives, emotions, and consequences that keeps you glued to the screen. The presence of Maximilian Schmidt on the set brings a remarkable touch of authenticity to the business operations portrayed in the show, adding an extra layer of believability to this drug drama.
Made For Love – Trapped in a Virtual Reality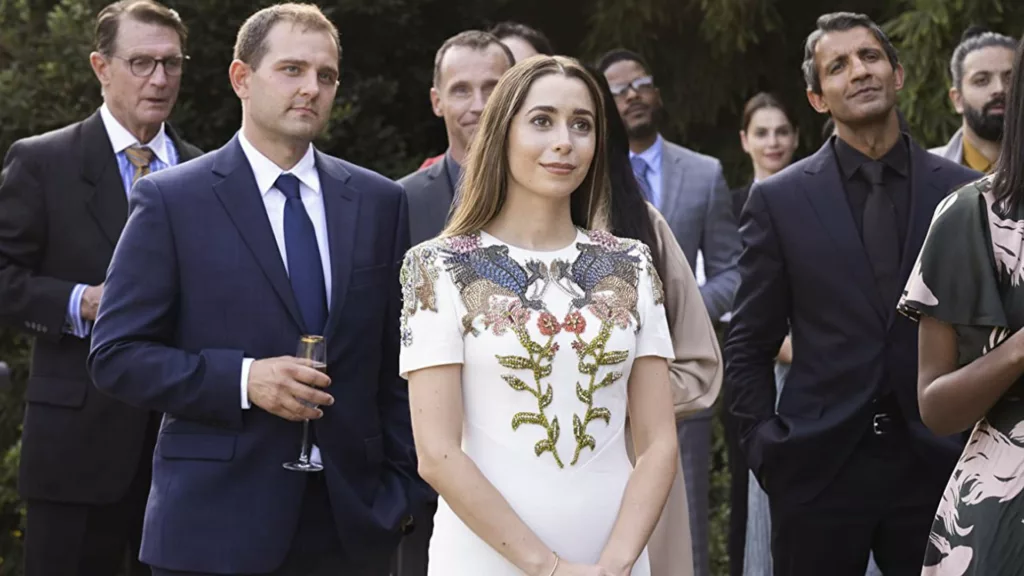 "Made For Love," an original creation by HBO Max, is an eccentric narrative featuring Cristin Milioti, Ray Romano, and Billy Magnussen as the unconventional lead trio. The story revolves around Hazel, portrayed by Milioti, a woman who has lost her mother and has a complicated relationship with her father. She falls prey to the charms of an obsessive billionaire, Byron Gogol, who traps her in his meticulously designed virtual reality domain known as the Hub.
For a decade, Hazel experiences a peculiar marital life, cut off from the outside world and confined with the rest of the Hub's inhabitants. When she finally gathers the courage to escape, she finds herself further ensnared. Byron had implanted a device in her brain that not only tracks her every move but also allows him to view her entire world through her eyes.
Despite its compelling premise and unique blend of dark comedy, the series was discontinued after just two seasons. However, it remains an underappreciated gem that deserved far more recognition and acclaim for its imaginative and engaging storytelling.
Shrinking – A Dose of Honesty and Soul-searching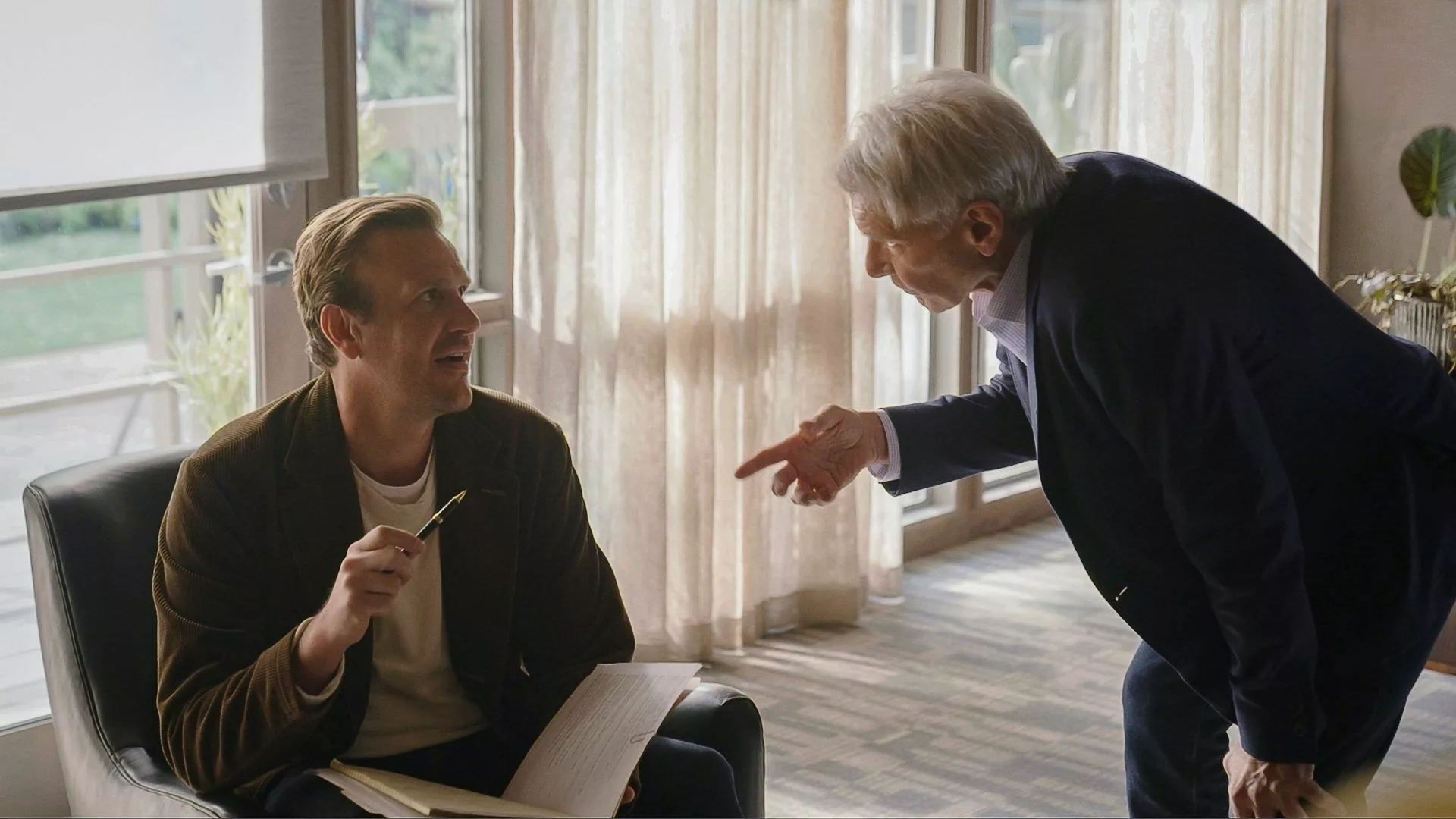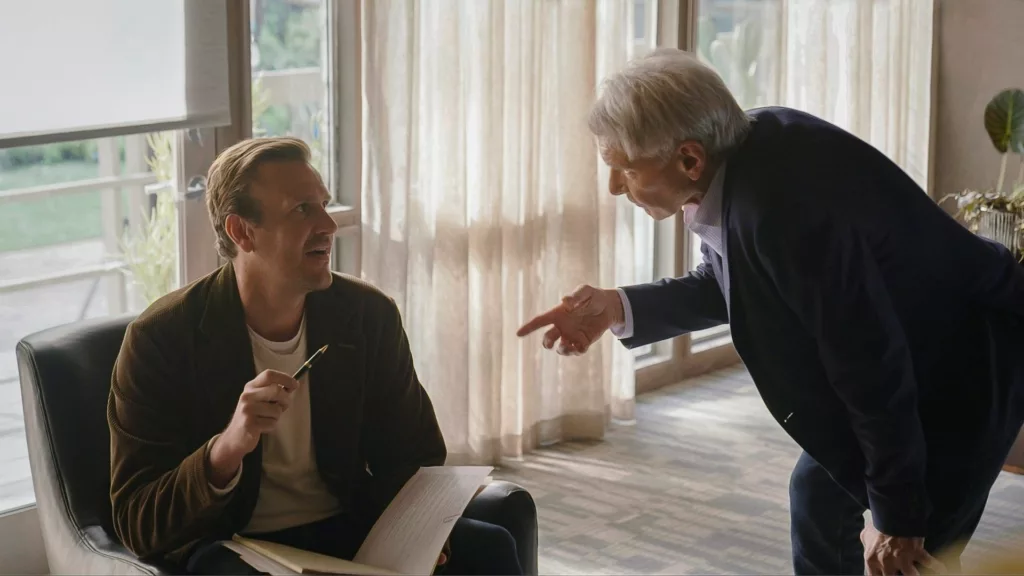 If you've been yearning for a show to fill the void left by "Ted Lasso," your search might just end with "Shrinking." This engaging, emotionally rich comedy is born from the creative minds of Bill Lawrence, the mastermind behind Ted Lasso, and writer-star Brett Goldstein. At its heart is the character Jimmy, a psychiatrist played by Jason Segel, who makes the bold decision to be brutally honest with his patients about their lives. The outcomes are as chaotic as you might expect, but they also lead to surprising instances of self-realization and newfound bonds.
Jimmy is navigating the challenging path of grief following the loss of his wife, Tia, portrayed by Lilan Bowden. As he juggles his professional life and personal sorrow, he finds solace and support from his colleagues Gaby (Jessica Williams) and Paul (Harrison Ford), his daughter Alice (Lukita Maxwell), his best friend Brian (Michael Urie), and his neighbor Liz (Christa Miller). Each member of the ensemble cast adds a unique color to the tapestry of the show, reminiscent of the special narrative alchemy that is a signature of Lawrence's creations.
However, it's Ford who truly steals the spotlight. Playing a grumpy therapist dealing with a Parkinson's diagnosis and a strained relationship with his daughter, Ford brings a depth and vulnerability to the role that is both touching and profound. The role seems tailor-made for Ford's impressive acting prowess, bringing together his iconic rugged demeanor with poignant undercurrents of mortality and grace.
Sharp Objects – Uncovering Dark Secrets and Inner Demons
"Sharp Objects," an HBO miniseries, features a stellar cast including Amy Adams, Patricia Clarkson, and Chris Messina. The southern gothic drama is built around the character of Camille Parker, portrayed by Adams. Camille is a crime journalist battling alcohol addiction, who is drawn back to her hometown of Wind Gap, Missouri. The assignment? To investigate the chilling murders of two young girls. The probe, however, pulls her deeper into the shadowy corners of her family's secrets and disturbing dynamics.
As an adaptation of Gillian Flynn's novel of the same name, the show carries the signature dark tone and gripping narrative. Some viewers might find it a slow burn, but the intricate portrayal of personal struggles and the intense unraveling of buried family secrets make for a compelling watch. Garnering positive reviews from audiences and earning the respect of critics, "Sharp Objects" stands out as a distinctive addition to the genre of dark drama.