Greek mythology collides with modern musical theatre in Stray Gods: The Roleplaying Musical, a choice-driven adventure game that lets players sing their way through a murder investigation. Developed by Summerfall Studios, Stray Gods blends visual novel storytelling with fully voiced musical performances for a gaming experience that feels wholly unique.
You play as Grace, an aimless 20-something who finds purpose when she inherits the powers of Calliope, the final Muse. But this new gift comes with a catch – Calliope has been murdered, and the gods think Grace did it. To prove her innocence, Grace must tap into her musical abilities to get the gods to reveal their secrets, all while chasing down clues to find the real killer.
With vocals from Broadway stars like Laura Bailey and a soundtrack composed by the talented Austin Wintory, Stray Gods is a passion project that oozes an appreciation for musical theatre. The songs range from somber ballads to upbeat rock anthems, with players able to steer their direction through dialogue choices styled as "Charming," "Clever," and "Kickass." It's an innovative take on branching narrative gameplay.
While musicals are no stranger to the stage and screen, they're rarely seen in video games. Stray Gods boldly goes where few have gone before, translating the thrill of a murder mystery musical into an interactive adventure. With its toe-tapping tunes and wealth of replayability, Stray Gods brings an imaginative concept to life.
A Modern Greek Tragedy
Grace is a young woman drifting through life with little direction. She sings in a band with her best friend Freddie, but even music hasn't given Grace a sense of purpose. That changes when a mysterious woman named Calliope auditions for the band with a haunting song that resonates with Grace. This fateful encounter kicks off a thrilling narrative full of twists and turns.
It's soon revealed that Calliope is actually one of the ancient Greek Muses who has been living in disguise among humans. Her singing awakens something in Grace, who feels an instant connection to this goddess of music and poetry. But their meeting is cut tragically short when Calliope shows up murdered at Grace's apartment.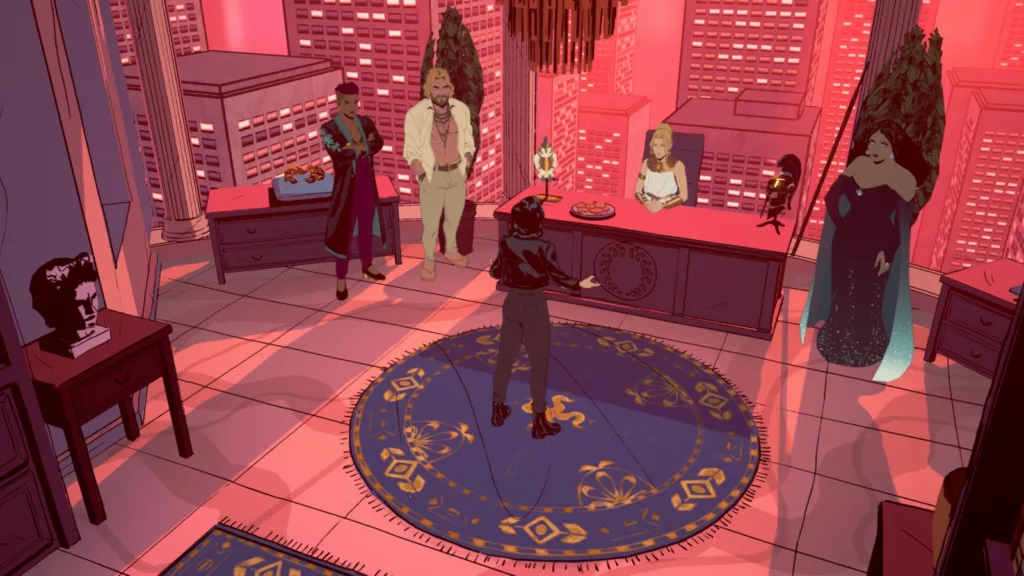 With her dying breath, Calliope passes on her powers to Grace, making her the new possessor of the Muse's gifts. Thrust into the hidden world of Greek myths living secretly in plain sight, Grace must now prove to the suspicious gods that she is not Calliope's killer.
The Greek pantheon is now referred to as the Idols, having endured into modern times by passing down their essence when one generation dies out. Led by the powerful Athena, Aphrodite, Apollo, and Persephone, they preside over their immortal family members adapted to life among humans. Gods like Hermes, Pan, and Eros have their own agendas, while tragic figures like Medusa harbor deep trauma.
Grace has just one week to use her newfound musical abilities to uncover the truth behind Calliope's demise. With her life on the line, she sings her way into the hearts and minds of the gods in hope that their revelations will unveil the real murderer.
Player choices decide how Grace tackles each conversation and investigation. She can be caring, clever, or defiant in her responses, with each approach steering the story in new directions. The narrative branches based on how Grace leverages her relationships, uncovers clues, and navigates tense standoffs.
Stray Gods explores weighty themes of loss, grief, and letting go. The gods struggle to move forward from pain and make a new life in an unfamiliar world. Through song, Grace helps them open up and see things from a fresh perspective. She learns to embrace her own life's purpose along the way.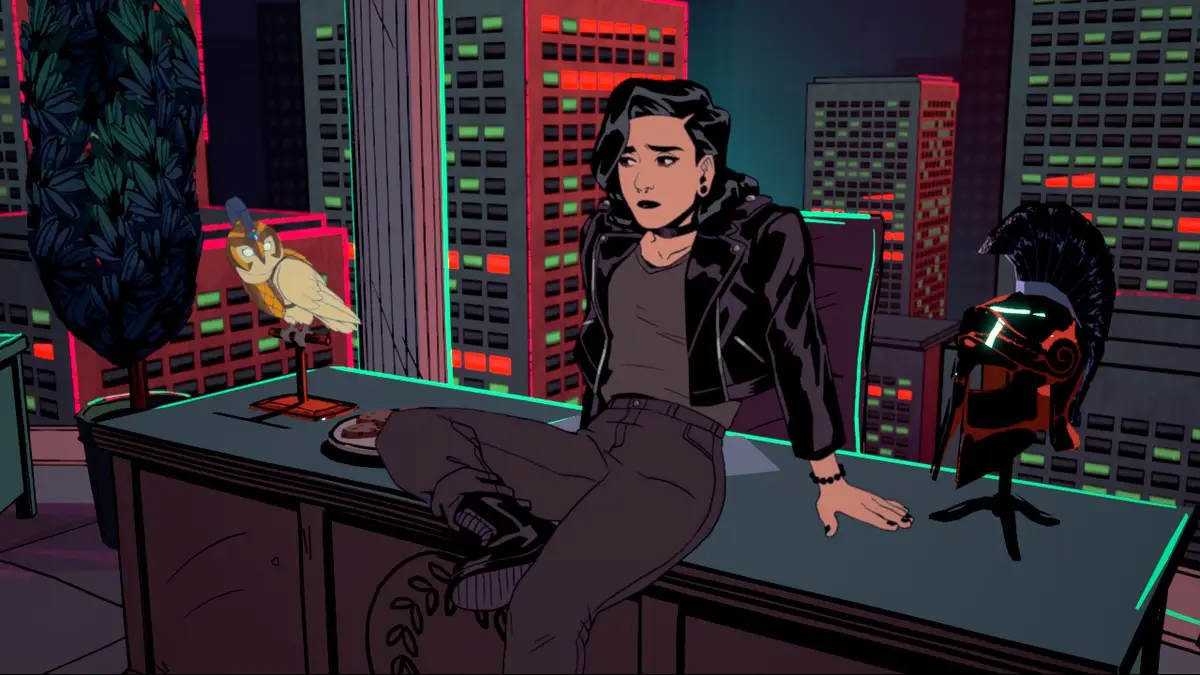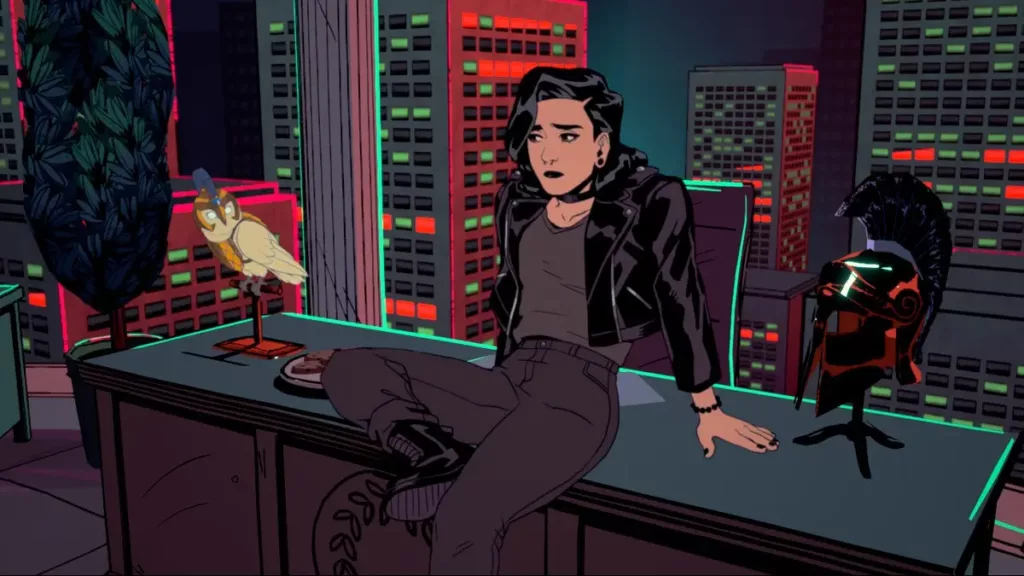 With its modern spin on Greek myths, Stray Gods crafts a story that is both timeless and timely. People have always sought meaning, questioned fate, and grappled with change. Though the gods are immortal, even they must evolve and heal. By giving players agency in the story, the game allows them to shape relationships and outcomes in a personally resonant way.
Stray Gods brings the drama and passion of musical theatre to a choose-your-own-adventure mystery. Throughout the week-long investigation, hard choices and heartfelt revelations will keep players invested in the journey of Grace and the Greek pantheon. With relatable themes and lovable characters, it's a story that will hit all the right notes.
Sing, Sleuth, and Socialize
As a story-driven adventure game, player choice is at the heart of Stray Gods' gameplay. The experience will be familiar to fans of visual novels and conversational RPGs, with dialogue options steering relationships and the overarching mystery. Grace may be the protagonist, but players shape her personality through their selections.
Conversations frequently pause to present three distinct response options: Charming, Clever, and Kickass. Each one reflects Grace's core values and determines her tone. Charming responses are empathetic, Clever ones are logical, and Kickass choices are bold and blunt. These options unlock unique dialogue paths to dig deeper into character motivations.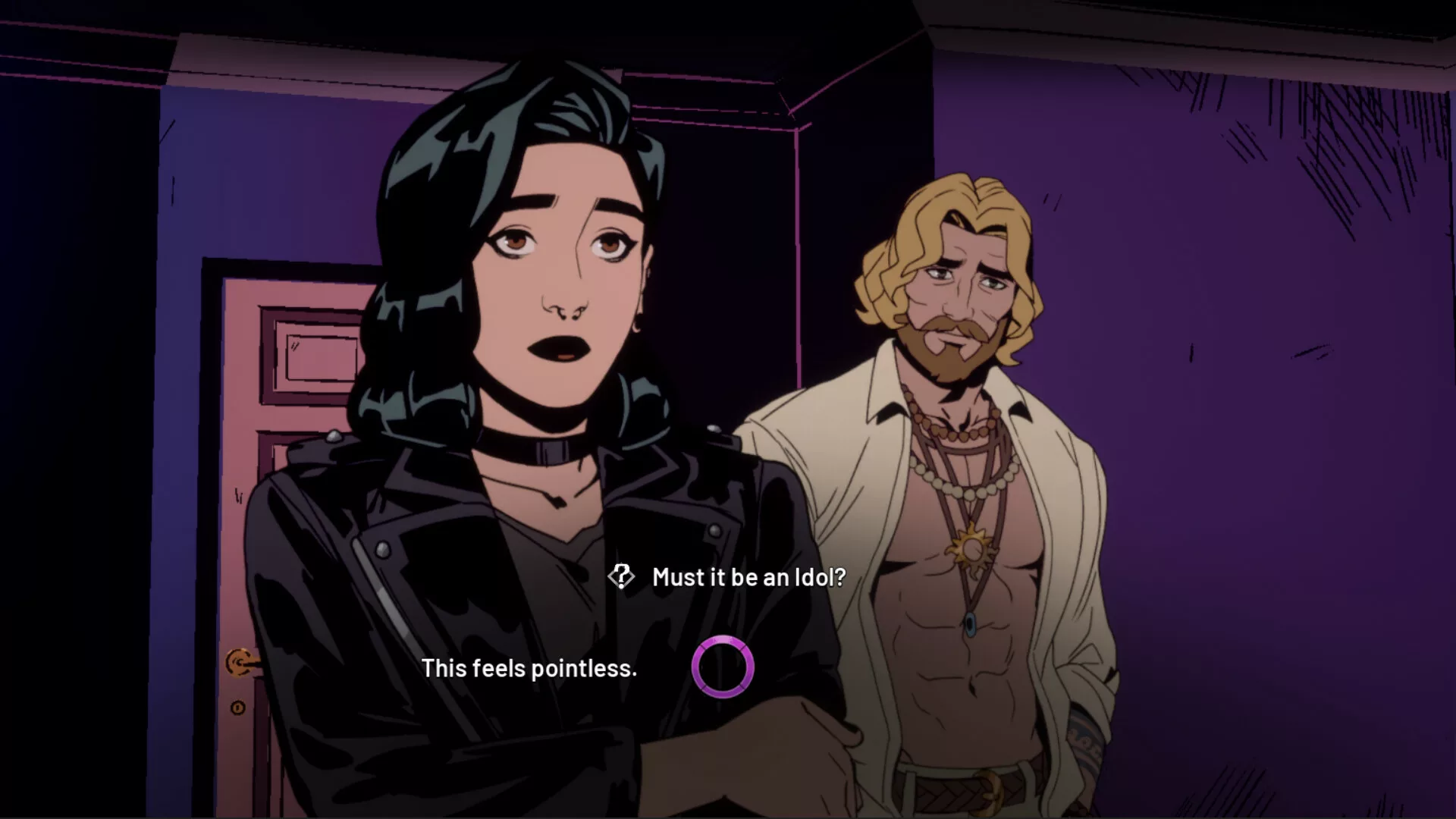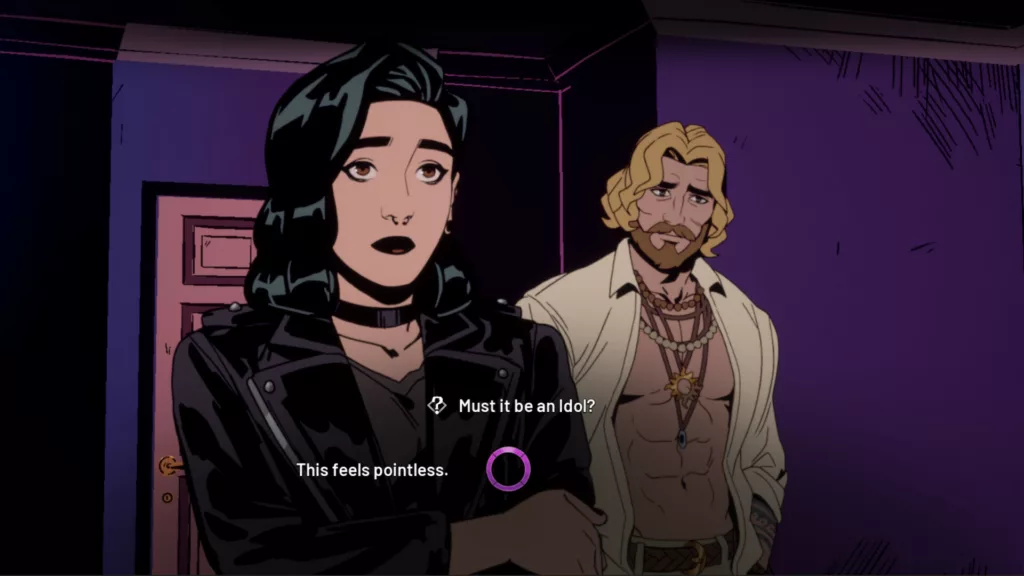 The gameplay variety comes from the musical performances. During key conversations, Grace's eyes glow and she launches into impromptu song. Lyrics appear on screen to progress the tune, with players able to pick words that change the genre and tempo. A Charming choice may lend a gentle piano melody, while Kickass could bring in aggressive electric guitar.
These songs are captivating interludes where the gods reveal their innermost feelings. The back-and-forth lyrics create tension and drama as Grace tries to guide the direction. One wrong move could end the number prematurely or upset the other singer. But sticking to a consistent mood rewards players with a complete musical number advancing the plot.
Between songs, players guide Grace through various locations hunting for clues. Environmental puzzles allow you to pick up and inspect objects, uncover hidden details in paintings, or rifle through desks. Though simple, these detective scenes add welcome variety beyond just pressing dialogue buttons.
Stray Gods also features virtual relationship meters that track how much the gods trust or distrust Grace. Certain personality options will sway these opinions over time, making characters more willing to confide in Grace or shut her out. This can limit future choices and story outcomes, so balancing the meters takes some finesse.
Ultimately, player agency drives the experience. The story branches based on how Grace leverages her musical gifts and snooping skills. Striking the right balance between clever interrogation, empathy, and romantic flirtation will unlock the full scope of the mystery.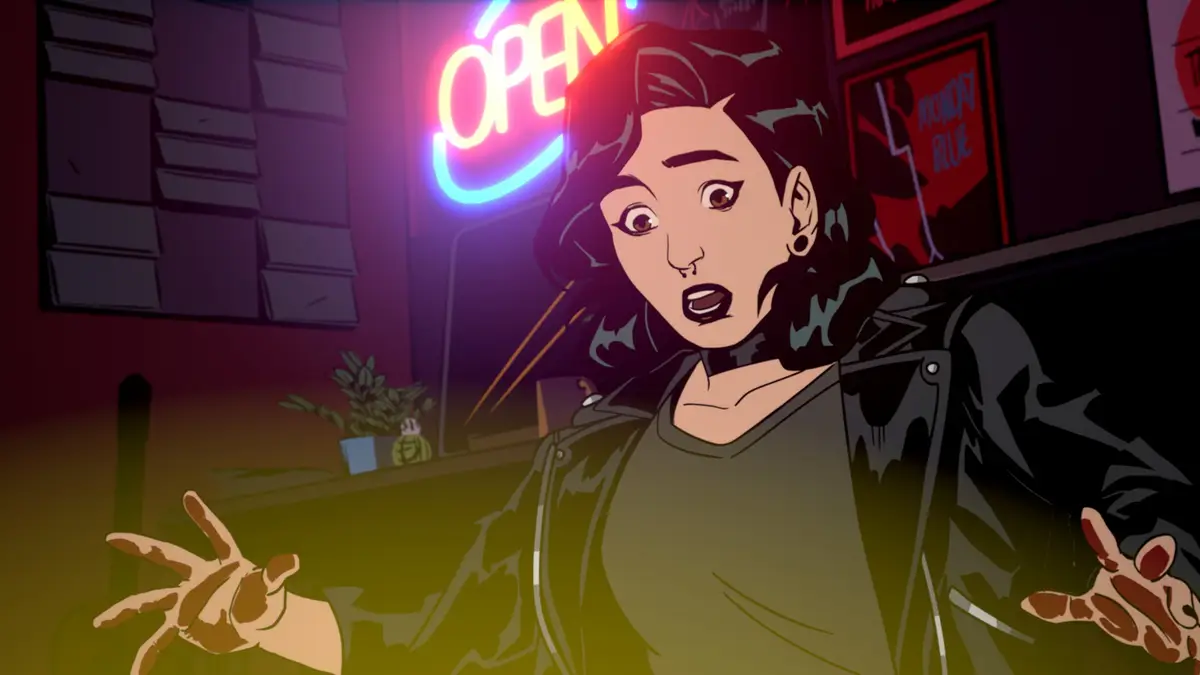 Stray Gods gives players expressive freedom while keeping them invested in the relationships and intrigue. Harmonizing different playstyles during conversations and musical performances is challenging but satisfying. Like a great improv partner, the game responds to your cues. With so many dialogue permutations, no two shows will be the same.
A Melodic Murder Mystery
The catchy showtunes are undoubtedly the star of the show in Stray Gods. As a musical adventure game, players can expect plenty of fully voiced songs that drive the story forward. The vocal performances from the talented cast provide an emotional punch, even if the audio mixing could be fine-tuned.
The musical numbers add variety and spectacle between story scenes. Grace's eyes glow gold, signaling it's time for the characters to lyrically reveal their inner thoughts. Players then choose dialogue options to match rhyming lines, shaping the song's tone and genre through their selections.
The clever lyrics touch on serious subject matter like grief and change, using wordplay and rhythm to convey complex ideas. But the songs can also be humorous, romantic, or defiant depending on your choices. The back-and-forth improvisation creates an immersive push-and-pull dynamic.
Bringing these performances to life is an impressive roster of Broadway veterans and voice actors. Laura Bailey is a standout as Grace, impressively adjusting her memorable voice to suit any musical style. The powerful vocals of Janina Gavankar as Freddie and smooth tones of Khary Payton as Pan also elevate the numbers.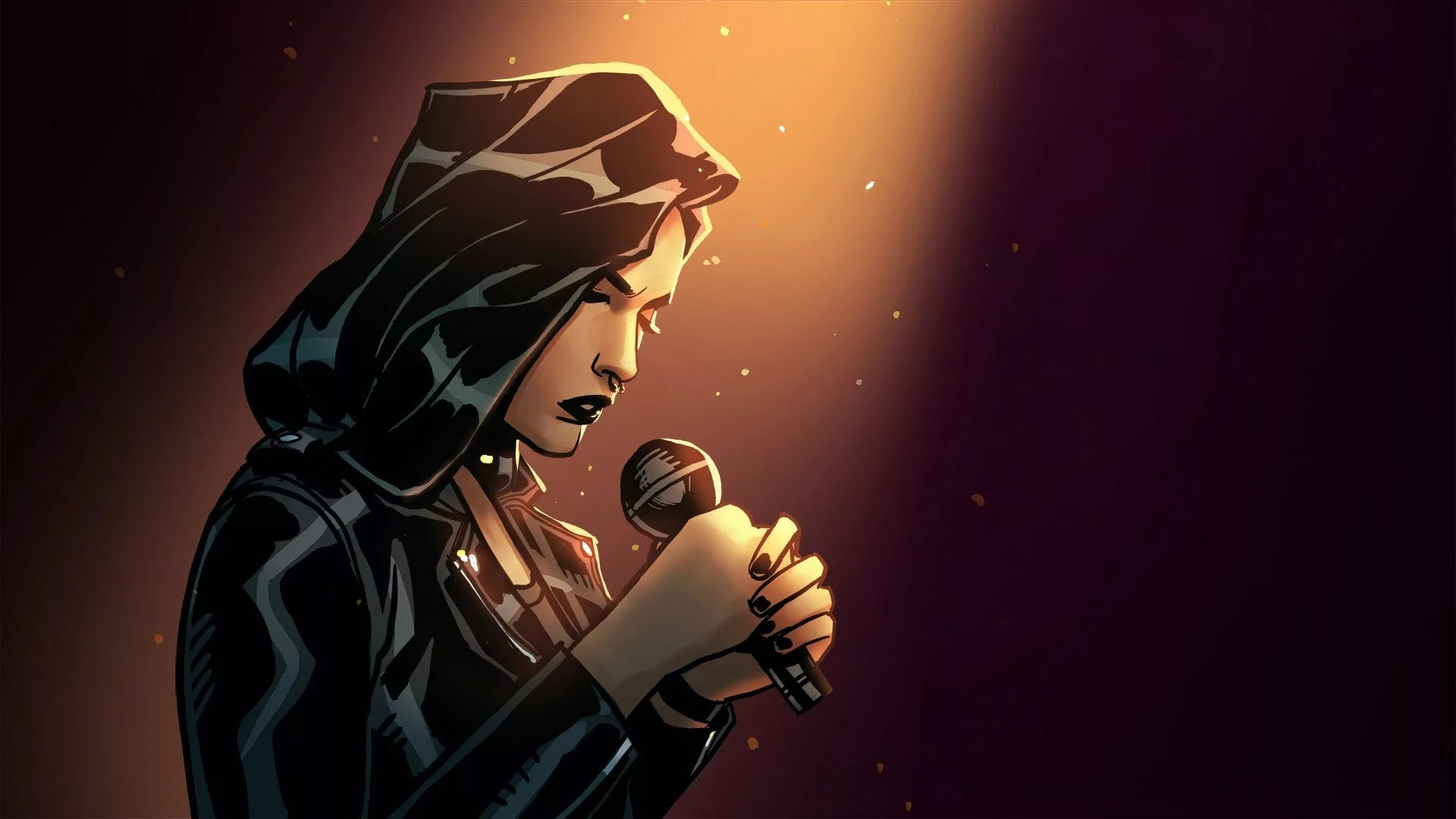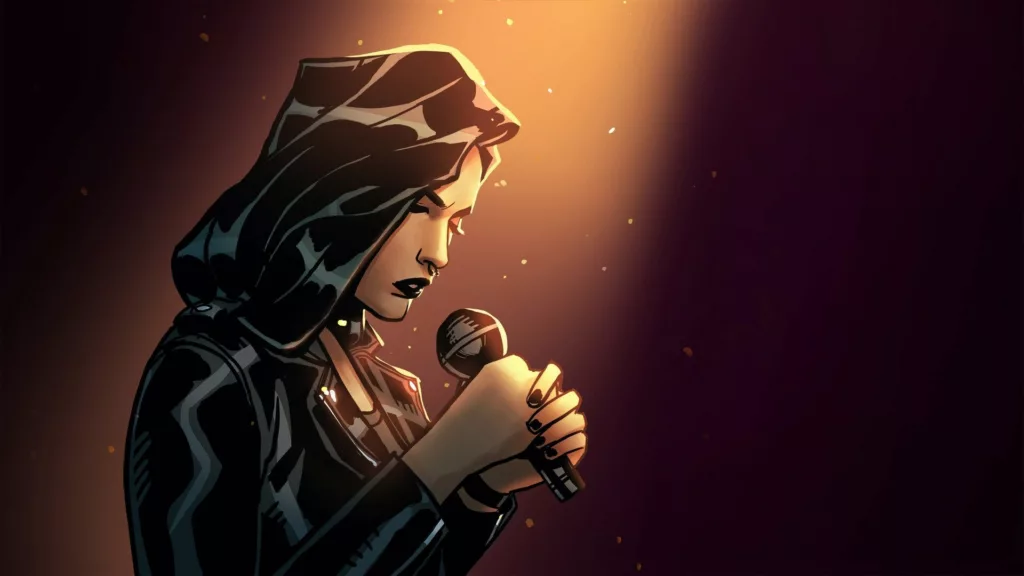 The soundtrack itself encompasses a wide variety of genres, from somber piano ballads to upbeat pop jams. Composer Austin Wintory skillfully weaves lyrical choices into cohesive songs. Each completed piece tells a poignant story through its lyrics and melodies.
However, the mixing between characters is uneven at times. The audio levels conspicuously rise or drop between lines, making some voices disappear or loudly overpower. A bit more technical polish would have helped smooth out these immersion-breaking irregularities.
But despite inconsistencies, the music gives the game tremendous heart. Players feel invested because the songs unpack complex emotions in catchy packages. The vocals allow the inner lives of the gods to shine. For a story about finding your voice and purpose, the moving musical performances hit all the right notes.
Stray Gods proves that interactivity and music can blend together to create a compelling experience. The vocal cast and lyrical writing bring the memorable characters to life in unexpected ways. It hits a few sour notes, but overall strikes a chord that will resonate with players.
A Stunning Graphic Novel Style
The comic book aesthetic of Stray Gods immediately draws you into its world. The artwork brings its mythological characters to life through vivid color palettes and fluid motion design. While not fully animated, the visuals have enough dynamism to complement the musical performances.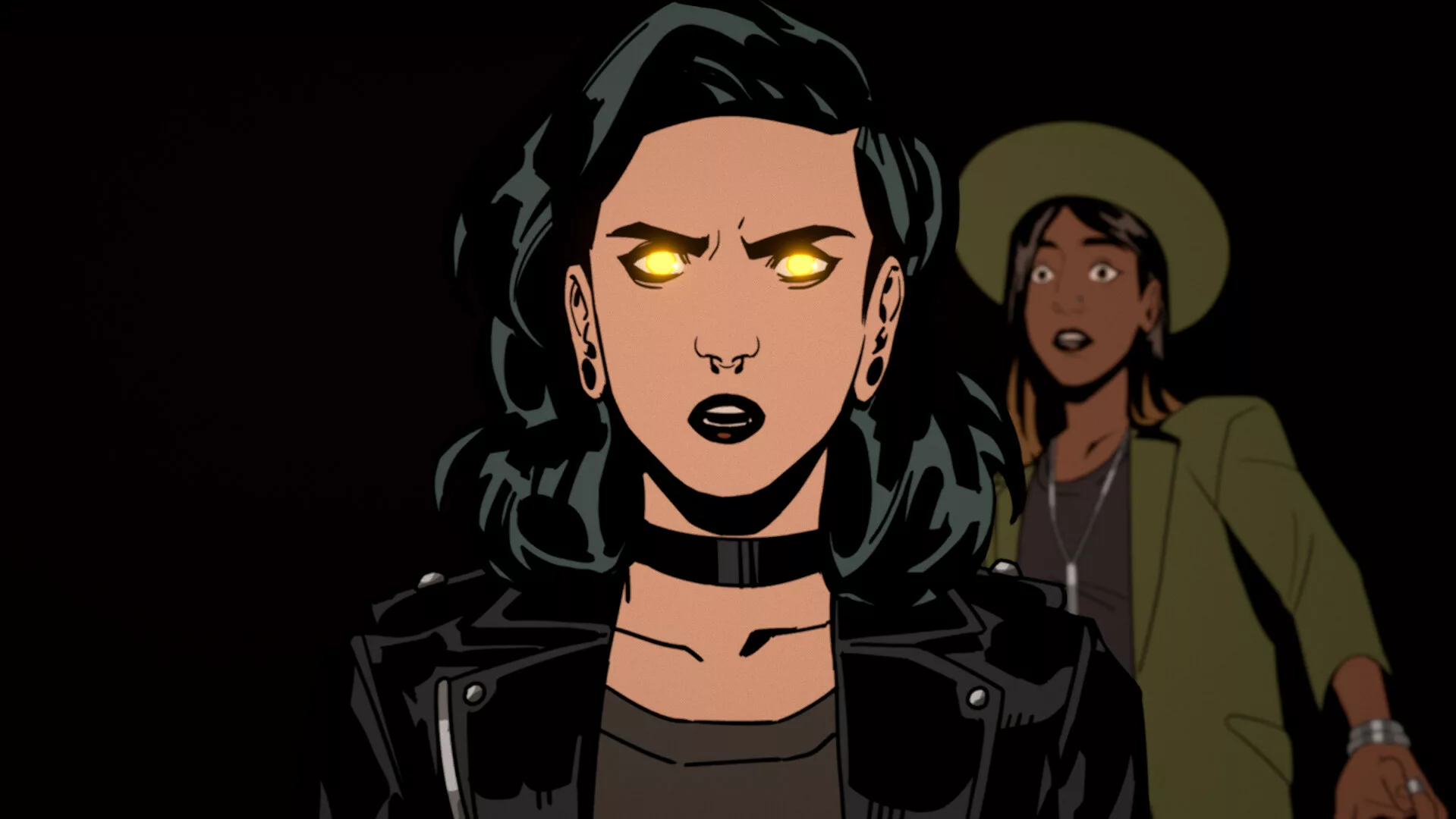 Each still image resembles a panel in a graphic novel, encapsulating a dramatic moment. The character art is beautifully stylized with bold outlines and expressive features. Grace's many faces of shock, anger, and sadness are gorgeously rendered. Distinct costumes and exaggerated motions give each god a unique flair.
Locations also pop with color and detail, from the warm hues of Grace's apartment to the ethereal glow of Mount Olympus. Small touches like floating particles and lens flares make the environments feel alive. The dreamlike style fits the fantastical story.
The motion design is subtle but effective. Characters slide and transition between poses as dialogue plays out. During musical numbers, flowing camera moves and visual effects heighten the spectacle. It lacks full animation, but the limited motion works well.
However, some moments land awkwardly. Certain poses don't match the voiceovers, creating a disconnect. There are also jarring pauses between character transitions that break the flow. While minor quibbles, these inconsistencies disrupt the stylish presentation.
But the positives outweigh any rough edges. Stray Gods indulges in striking visuals that feel ripped straight from a graphic novel about Greek myths. The eye-catching art direction stands out from traditional adventure games. Paired with the music, the visuals make Stray Gods an unforgettable experience.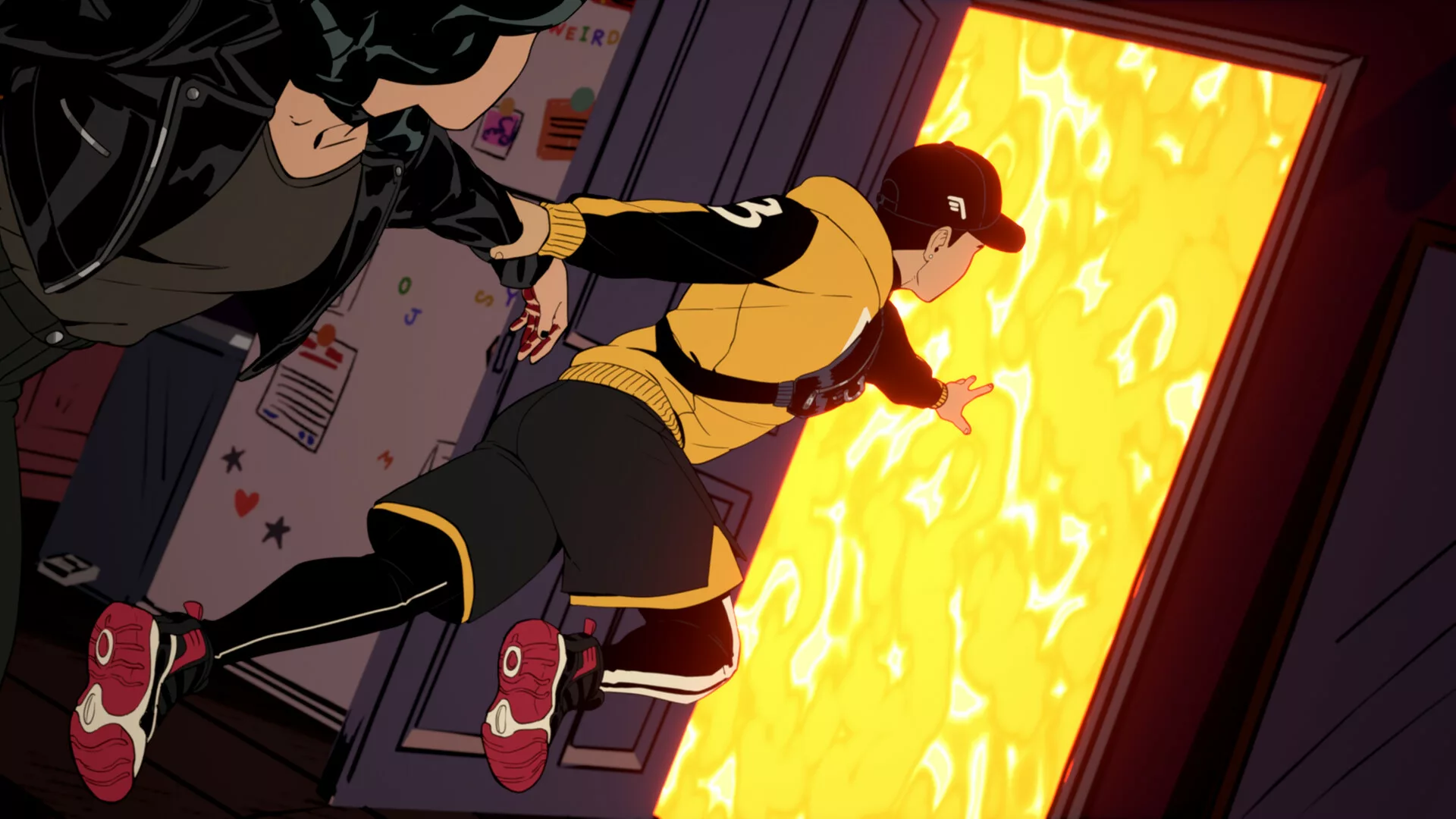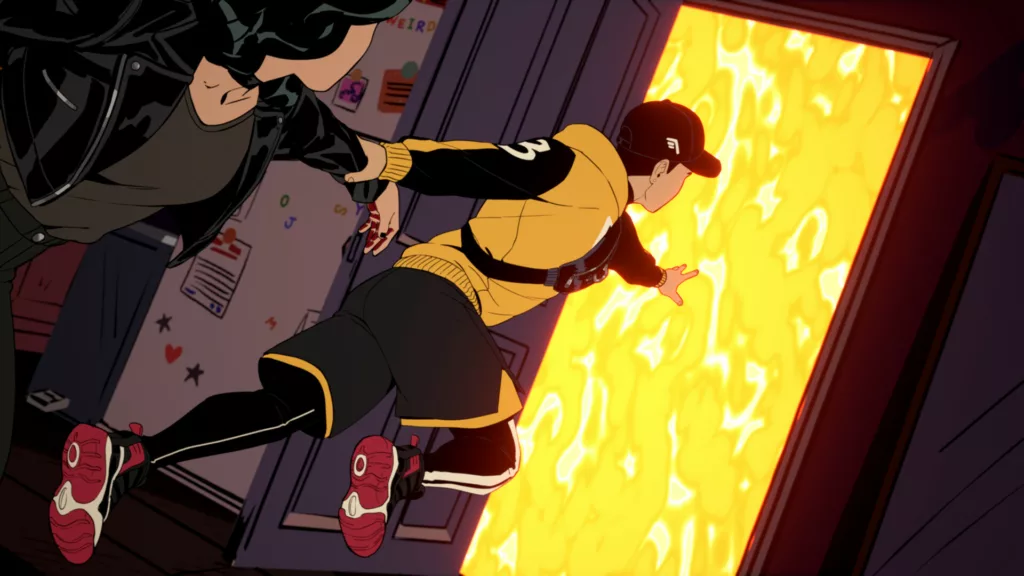 Endless Replay Potential
Stray Gods offers tremendous replay value for those who want to fully explore its narrative possibilities. With so many branching dialogue options and musical performances, no two playthroughs will be exactly the same. There are always new conversations and songs to discover on a second (or third) run.
The three personality types – Charming, Clever, and Kickass – are a big factor. Only one can be active during a playthrough, so selecting a new one will open up fresh dialogue choices and tonal shifts. Grace can be caring and sentimental or logical and no-nonsense depending on your preference.
The mutable songs also incentivize replayability. Even subtle dialogue tweaks can change a song's entire genre and instrumentation. Since you can't experience every variation in one sitting, it's fun to replay scenes and steer the performances in new directions. Seeing how the gods react to Grace's different approaches makes each round engaging.
For true completionists, the game's soundtrack releases provide the ultimate replay motivation. Separate albums contain songs tailored to each personality type, allowing fans to hear every possible version. It would take countless hours in-game to trigger all these permutations organically.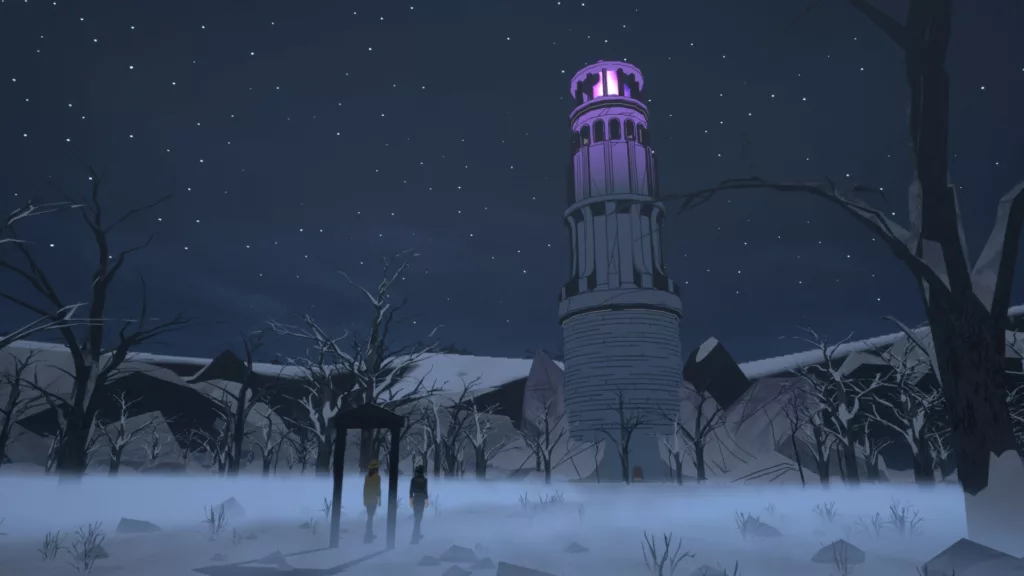 With new story outcomes, deeper character insights, and musical discoveries awaiting, Stray Gods is meant to be played more than once. The next playthrough always brings something fresh. For those captivated by the characters and music, unraveling every narrative thread and hearing every melody is a rewarding endeavor.
Stray Gods has depth beyond the initial credits. Letting players reshape central elements like dialogue and songs provides value that persists after the mystery is solved. It's a game for those who want to immerse themselves completely in all the possibilities.
A Few Sour Notes
While Stray Gods hits all the right notes in terms of story and music, it does suffer from some technical hiccups that hamper the experience. A bit more polish in a few key areas would elevate the game even further.
The most grating issue is the inconsistent audio mixing. In both dialogue scenes and musical numbers, the sound levels noticeably spike up and down between characters. Some lines are barely audible murmurs while others blast loudly. It's immersion breaking and makes conversations feel disjointed.
The map navigation also needs fine-tuning. Moving the cursor to select locations is oddly sluggish and imprecise. The directions never feel intuitive, so getting Grace where you want her to go can be a chore. In a game heavy on exploring environments, navigation should feel smoother.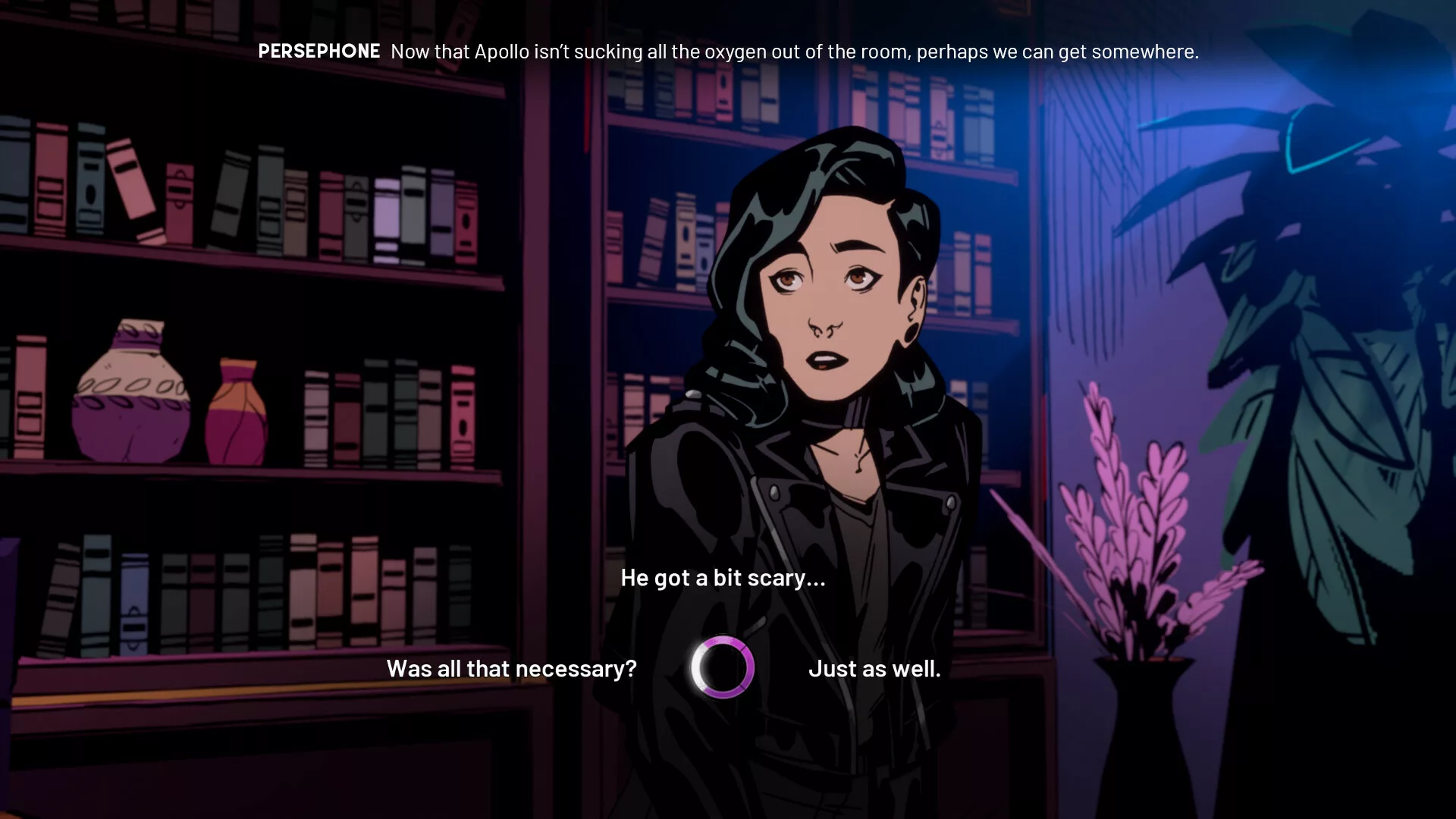 There's also a disconnect at times between dialogue choices and Grace's actual responses. Despite picking an empathetic option, her reply may still come off as sarcastic. The lack of consistency here undermines the feeling that your selections matter.
While none of these problems are dealbreakers, they do detract from an otherwise polished experience. It's likely something that can be remedied with some post-launch patches and tweaks. And to the game's credit, the stellar music and entertaining characters outweigh the technical rough edges.
But for a game so focused on storytelling and performances, having technical distractions arise does diminish the immersion slightly. Once these issues are addressed, Stray Gods will feel like a complete package with lifelike conversations and crystal clear songs. As it stands, players may need to overcome a few quirks to fully enjoy this mythic musical adventure.
An Imaginative Musical Odyssey
Stray Gods brings an ambitious concept to life – a narrative adventure game propelled by vocal performances and player choice. For musical theatre fans or those seeking something distinct, it's an experience worth singing about despite some rough edges.
The passion project of veteran game creators David Gaider and Austin Wintory, Stray Gods oozes an enthusiasm for merged mediums. The storytelling draws you in with relatable themes of self-discovery delivered through a beloved cast of mythological icons. Their inner struggles take on new resonance when conveyed through song.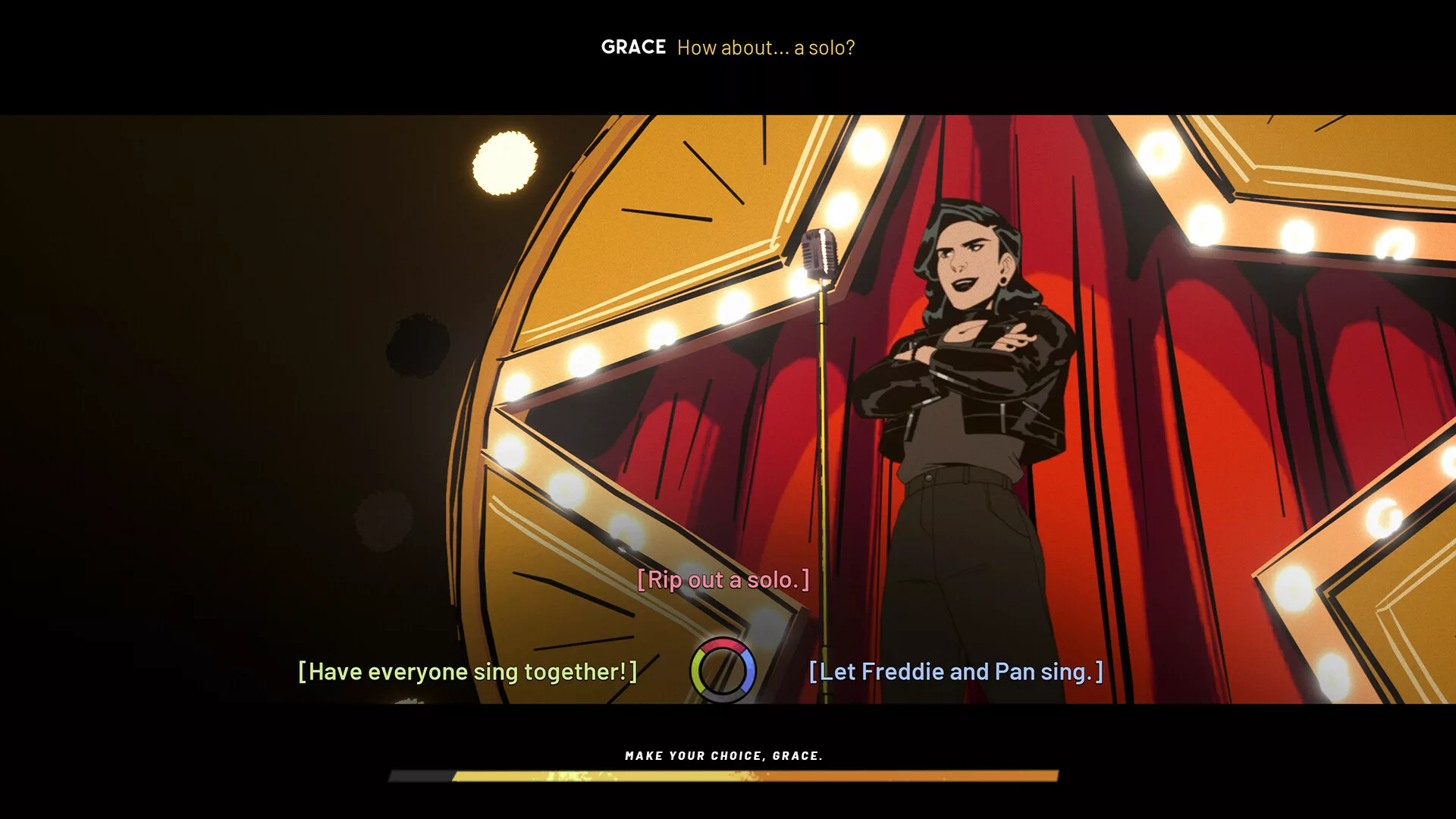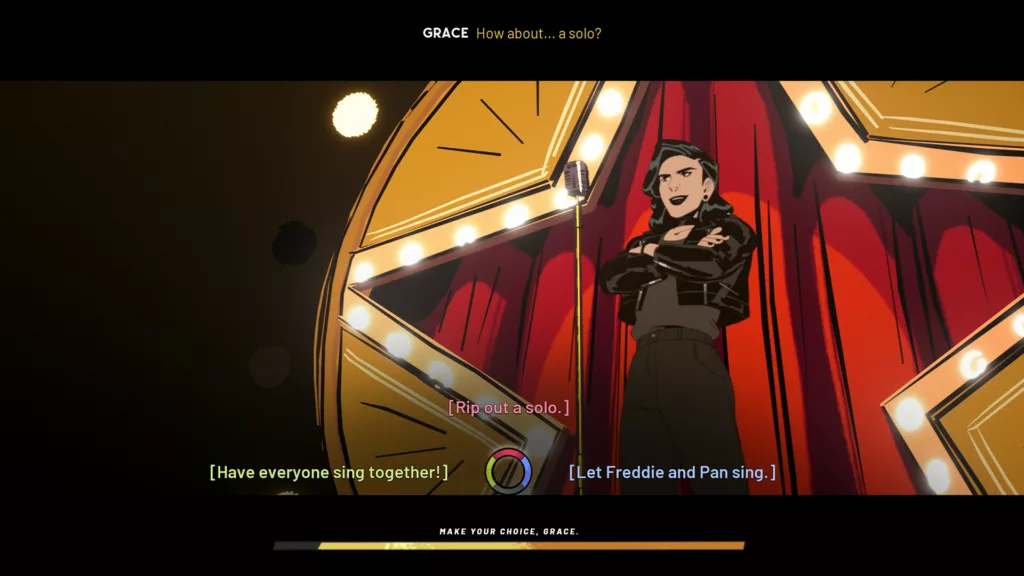 Letting players guide the musical genres and tones makes the performances feel alive and reactive. Grace's journey becomes your own as you empathize, reflect, and uncover the truth behind Calliope's tragic fate. It's an engaging mystery punctuated by poignant character moments.
However, technical issues like uneven audio mixing do disrupt the immersion at times. A bit more polish could go a long way in smoothing out these quirks. The navigation and dialogue systems could also better reflect player intent.
Yet despite its room for improvement, Stray Gods remains an ambitious experience that gets more right than wrong. It brings music and interactivity together in clever ways that feel refreshing. The vocal cast shines, the comic book art pops, and the story remains compelling from start to finish.
For players itching for something distinct, Stray Gods absolutely delivers. It realizes a unique vision that stays with you long after the curtain falls. Once refined, this could be the start of a promising new subgenre. Whether you're a fan of music, mysteries, or Greek myths, Stray Gods hits the high notes where it truly counts.
The Review
Stray Gods: The Roleplaying Musical
Stray Gods: The Roleplaying Musical brings an imaginative concept to life through strong writing, vocal performances, and player interactivity. Despite some distracting technical issues, its passion for merged mediums shines through to create a one-of-a-kind adventure. For those seeking something distinct in story-driven games, it's worth singing along to this murder mystery musical. A bit more polish could make Stray Gods a masterpiece, but even in its current state, it strikes many high notes.
PROS
Innovative mix of gameplay genres and musical performances
Engaging murder mystery narrative with branching paths
Great vocal cast brings characters to life
Player choices allow shaping relationships and songs
Striking comic book visual style
CONS
Uneven audio mixing is immersion-breaking
Navigation and dialogue systems need refinement
Some technical polish still needed