Assassin's Creed Nexus brings the long-running action-adventure franchise into virtual reality for the first time, letting players live out the thrilling adventures of history's greatest assassins. Available exclusively on the Meta Quest 2, Quest 3, and Quest Pro VR headsets, Nexus offers a full Assassin's Creed experience in VR, with parkour, stealth mechanics, and melee combat adapted for an immersive first-person perspective.
In Nexus, you take on the role of a hacker working for both the Templars and Assassins, using the Animus VR simulator to relive genetic memories. Over the course of 16 story missions spanning Renaissance Italy, Ancient Greece, and Revolutionary America, you'll experience pivotal moments in the lives of legendary assassins like Ezio Auditore, Kassandra, and Connor. Your mission is to recover pieces of ancient technology before the Templars can use them for evil.
We'll be reviewing every aspect of Assassin's Creed Nexus to determine if this VR entry lives up to the Assassin's Creed name and pushes the boundaries of what's possible on standalone VR headsets. How does running across rooftops and leaping off buildings feel in first person? Does combat translate well or suffer compared to traditional entries? And does Nexus deliver compelling stories and set pieces befitting these iconic characters? We'll analyze visuals, gameplay, controls, and more while comparing the experience across the Quest 2, 3, and Pro.
Strap on your VR headset and join us for an in-depth review as we explore whether Assassin's Creed Nexus is the definitive way to experience the Animus and a must-play for VR gamers and franchise fans alike.
A Tale of Two Headsets: Graphics on Quest 2 vs. Quest 3
Assassin's Creed Nexus shows a stark difference in visual quality between the aging Quest 2 and its new successor, the Quest 3. Running natively on each headset, the visual gap is immediately apparent. While Nexus is certainly playable on Quest 2, textures are soft with a noticeable lack of detail. NPC variety is low in crowded areas and there's significant pop-in as environments load. The Quest 3 offers a big upgrade with crisper textures, improved lighting, and higher geometric detail.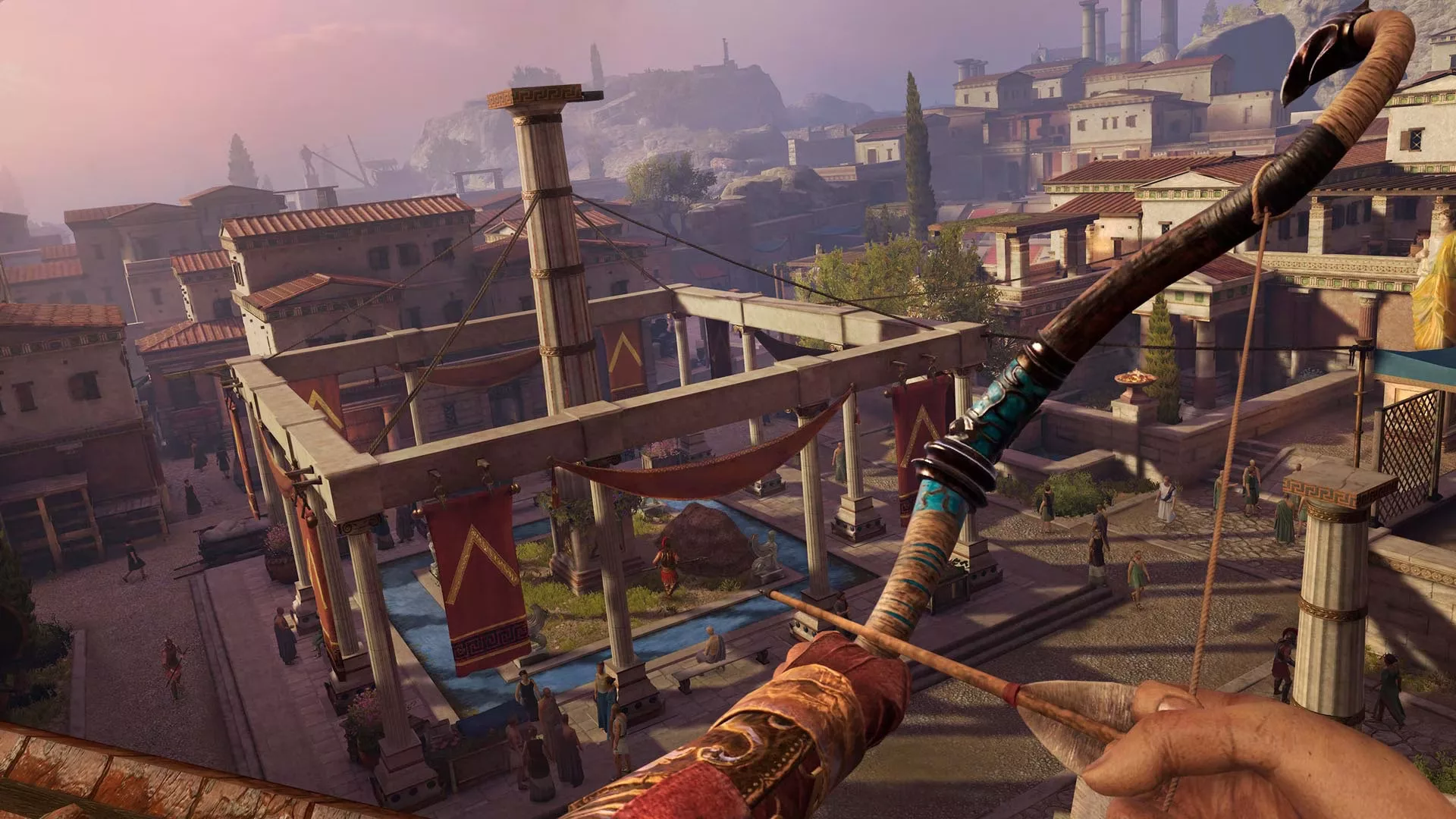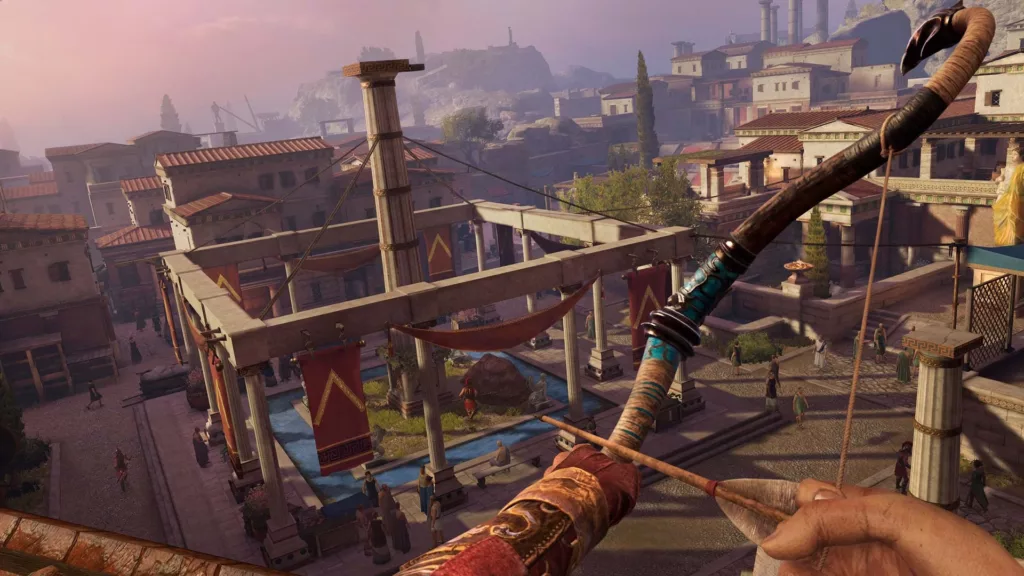 On Quest 2, textures are blurry and lack fine details, especially for objects in the distance. While main characters look decent, crowds use the same low-poly models copied repeatedly, breaking immersion. Animations can also appear choppy at times. The reduced NPC variety and simple environments with little embellishment give everything a basic, almost flat look. Pop-in regularly draws you out of the experience as trees, buildings, and other objects suddenly appear as you move through the world.
By comparison, Nexus on Quest 3 delivers intricate texture work, complex environments, and smoother animations. Brickwork on architecture has authentic grittiness, foliage has depth, and water exhibits proper reflections and ripples. The added NPC variety drives home the liveliness of bustling markets and docks. Animations have new fluidity, enhancing the realism. Draw distances also improve drastically, minimizing pop-in. The visual enhancement transforms dull backgrounds into captivating historic set pieces.
However, Nexus still makes visual compromises on Quest 3. Background textures revert to blurriness if you look too closely, distorting the illusion. Non-essential NPCs and objects also lack details or are presented in 2D when distant. But clever texture streaming usually keeps these comprisess away from your focal point.
In the end, Nexus on Quest 3 delivers a big jump in graphics over its last-gen sibling, marking a new high watermark for visuals on a standalone headset. Some corners are cut to enable expansive environments, but the overall level of immersion and realism is incredibly impressive.
Living the Assassin Fantasy in VR
Assassin's Creed Nexus successfully adapts the series' gameplay pillars of stealth, parkour, and combat for an immersive VR experience. Climbing View Points, stalking targets from the shadows, and unleashing deadly hidden blade kills feel intuitive and exhilarating from the new first-person perspective.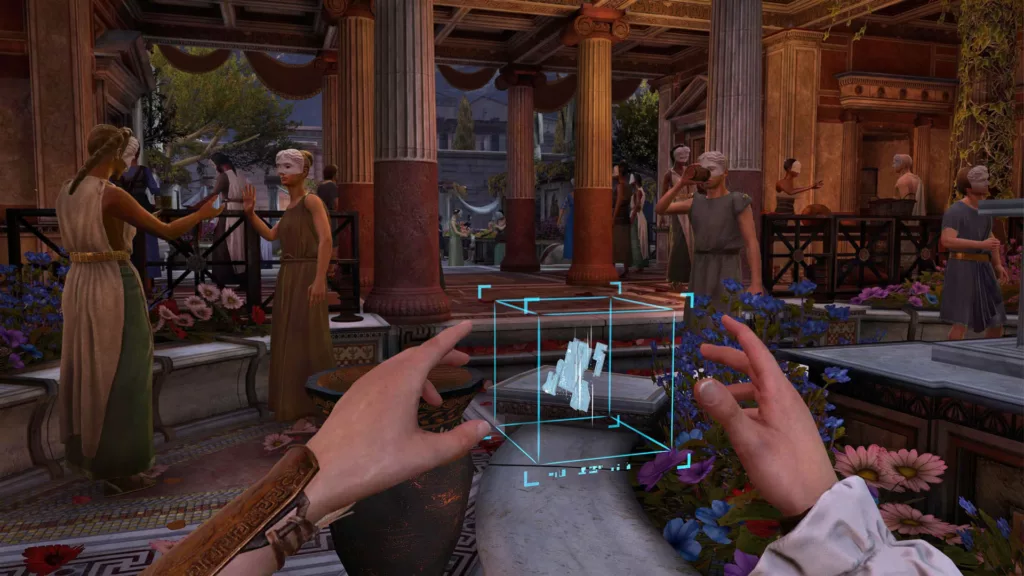 Parkour is executed simply by holding the run button and moving in the desired direction, prompting your character to automatically climb, jump, and grab ledges with fluidity. Scaling buildings by pulling yourself up any visible handhold proves intuitive. Leaping wide chasms and hurtling across rooftops generates a thrilling sense of movement. The elegant parkour controls minimize nausea concerns.
Stealth also benefits greatly from the VR perspective. Physically leaning around cover to avoid detection or lying prone to evade guards heightens tension. Distracting enemies by tossing objects, whistling, or firing arrows amps up options for diverting foes before striking. Hiding corpses and blending into crowds takes on new life seen through the assassin's eyes.
Unfortunately, up-close combat is the weakest link. Slashing with melee weapons lacks impact and finesse, amounting to waggling your arm about. Parrying and blocking against multiple attackers becomes frustrating. Fighting often devolves into a chaotic hack-and-slash. But ranged combat delivers satisfying headshots with bows, crossbows, and an arsenal of throwing weapons. Assassinations are the highlight, with immensely gratifying leaping kills at the press of a button.
The control scheme takes a bit of adjusting but eventually feels second nature. Gripping ledges, aiming freely with either hand, and performing actions via real world gestures enhances immersion. A variety of comfort options from vignetting to snap turning cater to VR newcomers. But advanced players will appreciate the freedom of smooth movement and natural turning on offer.
By remixing Assassin's Creed's defining mechanics into a thrilling VR experience, Nexus makes you feel every bit the hooded killer. What it lacks in combat finesse, it makes up for with the joys of traversal, stealth, and brutally satisfying assassinations. The adaption feels carefully considered rather than forced. Nexus brings Assassin's Creed to life like never before.
Unleash Your Vampiric Powers in a Gothic Adventure: Dive into a world of blood, stealth, and supernatural powers. Read our in-depth review of Vampire: The Masquerade – Justice and see if you have what it takes to survive the night.
A Nostalgic Trip Through the Animus
Assassin's Creed Nexus features an original meta-story framing device alongside greatest hits chapters revisiting fan favorite assassins Altaïr, Ezio, and Connor. The plot offers moderate entertainment without matching the narrative heights of past series entries.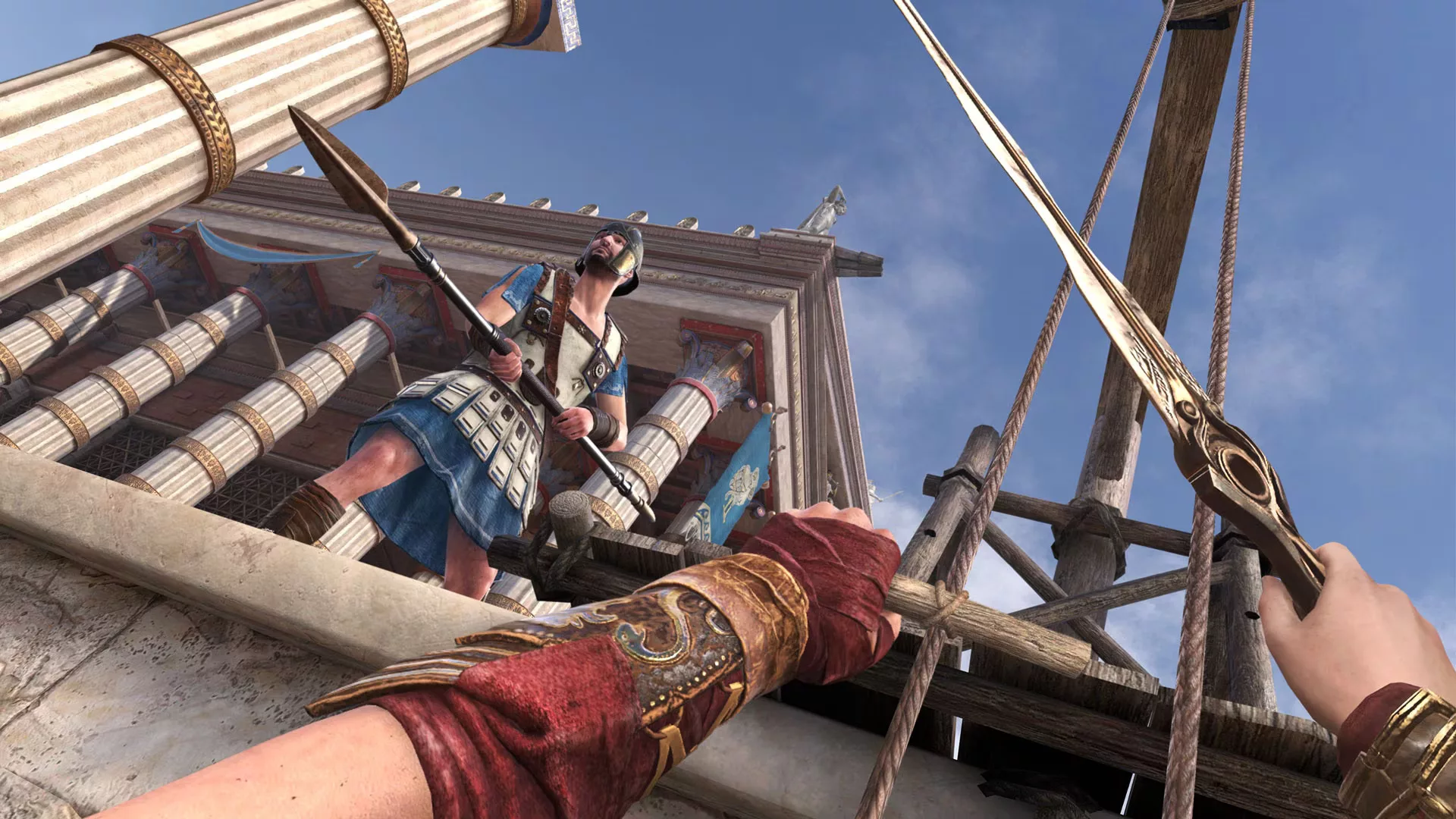 The present day meta-story has you in the role of a hacker infiltrating Abstergo's Animus project on behalf of the Brotherhood. Your handler is the returning modern day assassin Rebecca, alongside other familiar faces. The scheming of your Templar associates provides adequate drama but lacks originality. More compelling are the historical segments within the Animus.
Jumping between the Italian Renaissance, Ancient Greece, and the American Revolution, you'll play as Ezio on missions tailing targets through Venice rooftops, as Kassandra embroiled in wartime skirmishes, and Connor aiding the colonists. These handpicked chapters function like condensed versions of their original games, filled with nostalgia. Ezio's escapades prove the highlight, while the duller Connor chapters drag at times.
The acting quality varies wildly, with protagonists delivering solid performances while incidental characters sound amateurish. Conversations sometimes feel stilted and blended accents are distracting. But fans will delight at returning to beloved locales and reliving iconic moments with expertly rendered characters they know intimately. There's palpable passion for series history permeating Nexus.
While hardly reinventing narrative in games, Nexus conjures that signature Assassin's Creed feeling of manipulating events behind the scenes across fascinating periods. The framing story falls a bit flat but the trips down memory lane with iconic assassins contain the beating heart fans crave. Nexus delivers an enjoyable dose of globetrotting historical adventure.
Musical High Notes Across the Ages
Assassin's Creed has always featured stellar musical scores that amplify the thrills and capture the unique essence of each historical setting. Nexus continues that pedigree with memorable new compositions and best-of medleys from the franchise's greatest auditory achievements.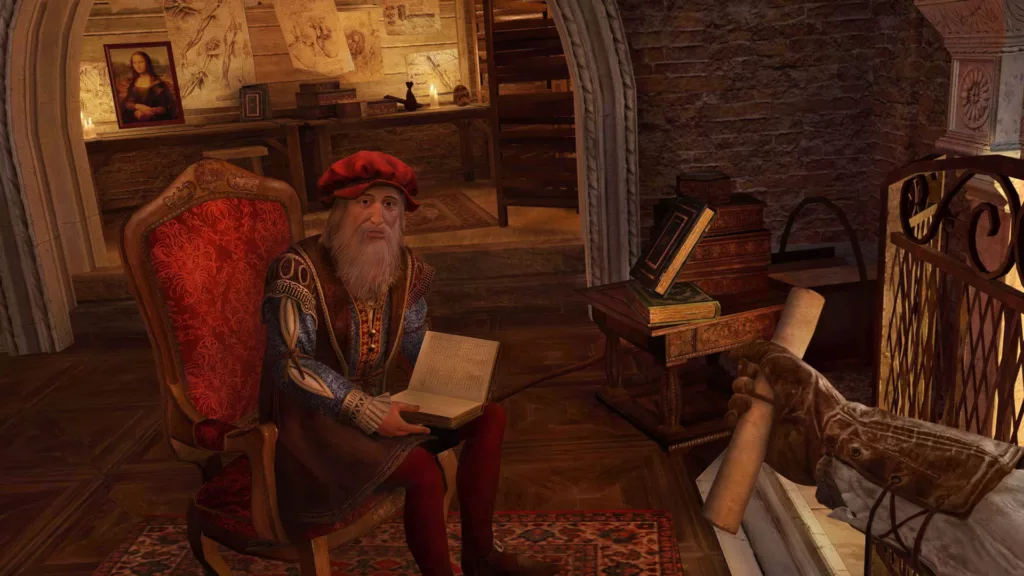 Nexus deftly mixes its all-new soundtrack with celebrated anthems from the series' past. The iconic vocals and orchestral strings of Ezio's Family swell at key moments when playing as the renaissance master assassin, sure to delight longtime fans. Connor's driving Native American themes accentuate the rustic frontier life of colonial America. Kassandra's scenes contain subtle Greek influences that ground you in the ancient Peloponnesian world.
The present day scenes also sport moody electronic tracks that feel at home in your hacker hideout. Between missions, the score adopts rhythmic synth beats reminiscent of the throbbing pulse of the Animus itself. The mix of old and new musical motifs demonstrates a keen understanding of which tunes evoke the strongest nostalgia in players.
Completing the audio atmosphere are convincing ambient effects, from bustling crowds in marketplaces to hazy tavern chatter. Weapons carry appropriate heft and impact when clashing together. Even subtle touches like moving through stalks of rice or splashing through puddles add realism. The stellar sound design combines with masterfully adapted musical highlights to make each era feel alive.
Thanks to audio that skillfully manipulates both nostalgia and immersion, Nexus conjures the memorable soundtrack Assassin's Creed fans expect while contributing memorable new compositions to the franchise canon.
Squashing Bugs in the Animus
While mostly smooth, Nexus still exhibits some technical rough patches fitting of an ambitious VR port. Audio glitches, control bugs, crashes, and long load times can occasionally disrupt the high-flying assassin fantasy.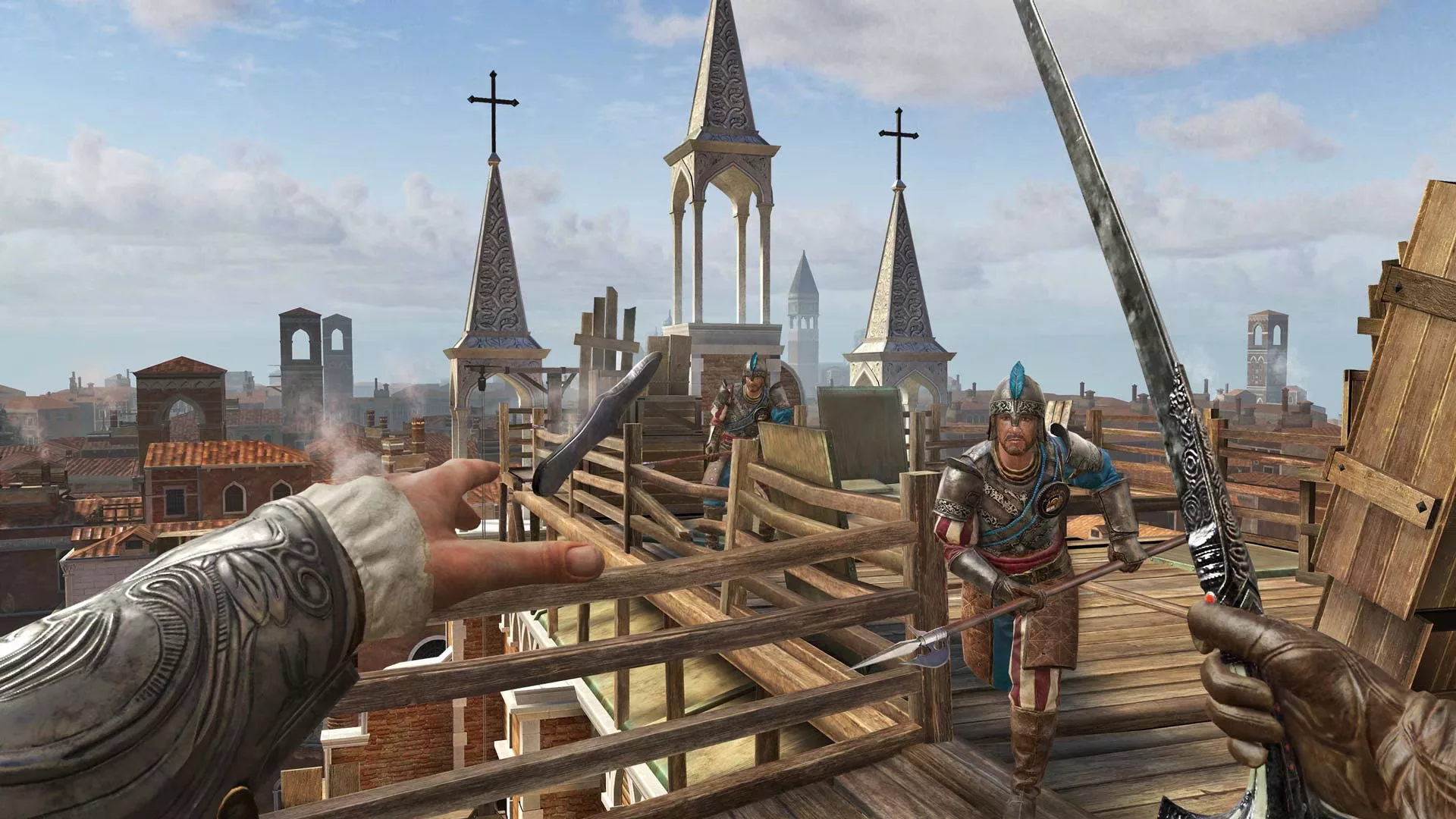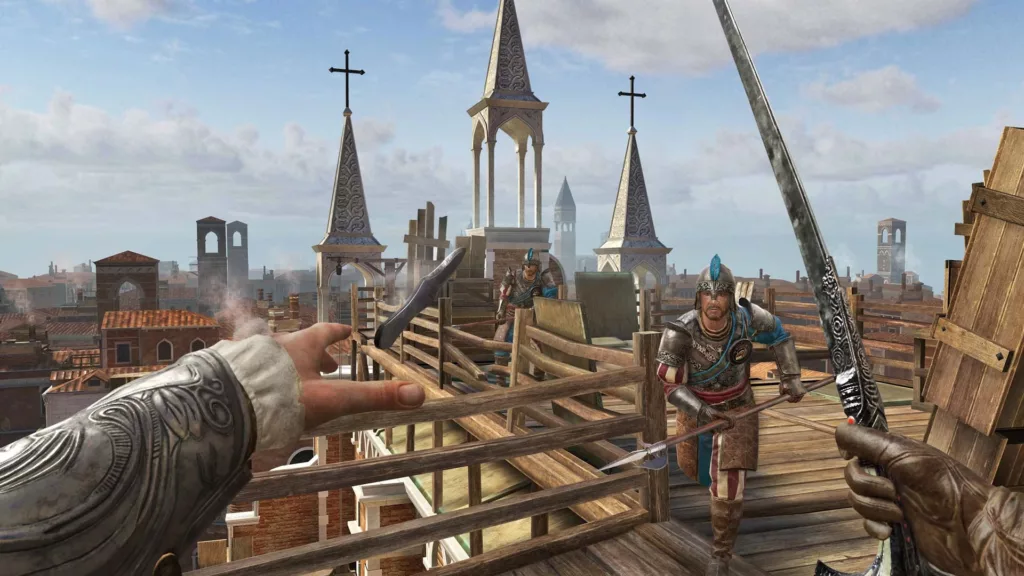 The most common issues arise from audio dropping out entirely during cutscenes, requiring a mission restart to fix. Audio mixing also sometimes fails to adjust background and foreground volumes properly. Collision problems may trap you inside objects or prevent item interactions. AI can also behave erratically, like enemies endlessly blocking without attacking.
Control response suffers rarely but noticeably in cases like flailing your arm to grab ledges with no success. Given the timing-based nature of parkour, any control latency severely impacts the experience. Load times also drag before and after missions, lasting uncomfortably longer than expected.
The biggest immersion breaker comes from full game crashes, which seem to happen most frequently on the Quest 2. When the Animus completely cuts out, you're left with no choice but to reboot and restart the memory.
While none of the bugs are game breaking, their frequency can certainly get frustrating. But given the scale of the open worlds and the complexity of VR gameplay, Nexus remains impressively stable. There is clear technical ambition pushing the limits of the hardware. Hopefully future patches will smooth out the remaining rough edges.
A Worthy VR Assassination
Assassin's Creed Nexus convincingly translates the core pillars of movement, stealth, and assassination into an exhilarating VR experience. The shift to first-person play enhances the feeling of inhabiting these historic worlds and legendary assassins like never before. Climbing, exploring, and stalking targets is made even more thrilling by the new perspective. Izio's missions in particular capture the essence of being a maestro assassin.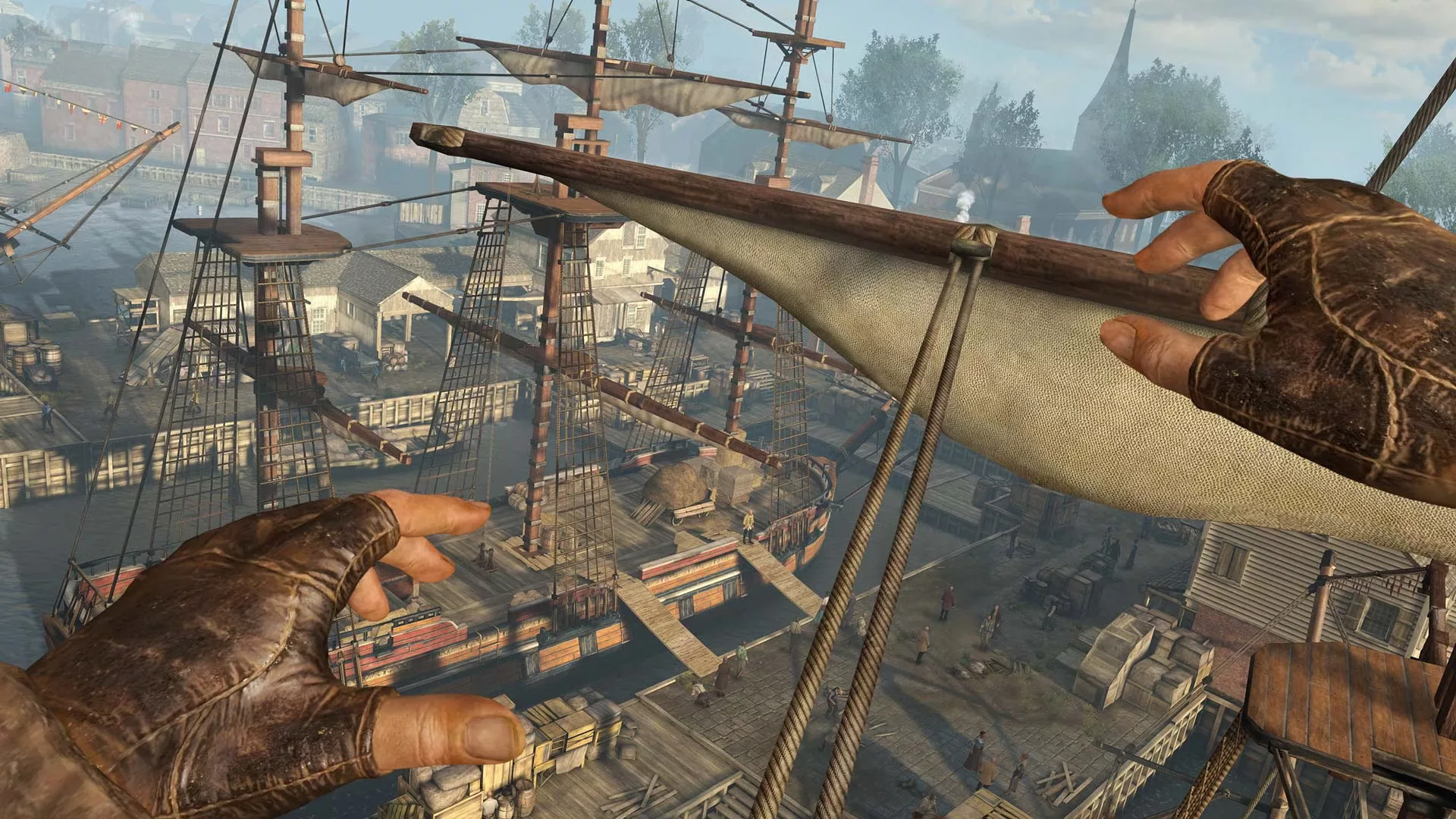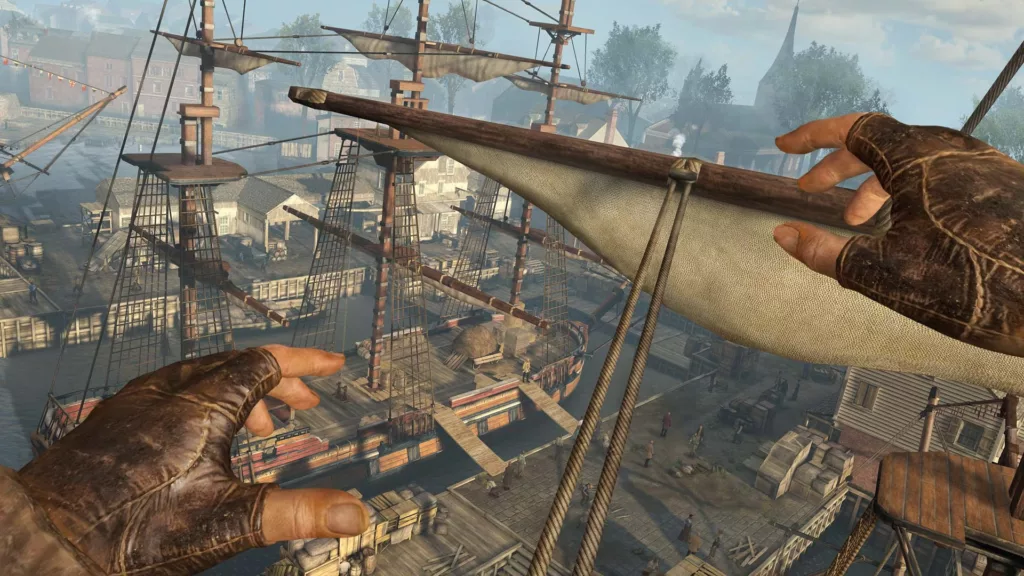 Where Nexus falters is in its frequent technical issues, duller Connor-centric chapters, and lackluster melee combat. The fantastic parkour and stealth mechanics carry less satisfying elements. But the overall adventure remains highly engaging and packed with nostalgia. Nexus marks a bold new frontier for Assassin's Creed in VR.
Series fans eager for a fresh take should leap headfirst into Nexus, ideally on the Quest 3 for maximum visual impact. The ability to intimately experience Assassin's Creed's defining features in VR for the first time makes Nexus an easy recommendation for franchise devotees. While still rough around the edges, Nexus points to a bright future marrying AAA franchises with the immersion of VR.
The Review
Assassin's Creed Nexus VR
Despite some technical hiccups, Assassin's Creed Nexus admirably brings the core pillars of movement, stealth, and assassination into an exhilarating VR experience. The shift to first-person enhances the feeling of inhabiting these historic worlds and legendary assassins. Parkour, exploration, and stalking targets feel more thrilling and visceral through the eyes of your avatar. Nexus captures the essence of being an assassin, marking a bold new frontier for the franchise in VR.
PROS
Excellent parkour and stealth mechanics in VR
Thrilling movement and traversal in first-person perspective
Satisfying assassinations and ranged combat
Impressive visuals and environments on Quest 3
Captures nostalgic feel of original games
Clever use of mixed reality for added immersion
Extensive comfort options to reduce motion sickness
CONS
Underwhelming melee combat system
Technical issues like bugs, crashes, audio drops
Long load times can break immersion
Connor chapters less compelling than Ezio's
Story is relatively average with some weak voice acting
Visuals noticeably compromised on Quest 2
Controls can be tricky to master in VR