The Just Dance series has been getting gamers off their couches and busting moves in their living rooms for over a decade. Ever since the franchise debuted in 2009 on the Nintendo Wii, Ubisoft has reliably released a new version each year. Now in 2023, the latest iteration has arrived with Just Dance 2024 Edition.
At its core, this newest entry sticks to the familiar Just Dance formula. Players mimic the dance moves of on-screen characters set to popular songs ranging from classic hits to current chart-toppers. Your slick moves are tracked and scored based on how accurately you follow the choreography. High scores breed bragging rights, but simply looking silly swinging your arms and legs with reckless abandon is the real draw.
Don't expect any major shake-ups with Just Dance 2024 Edition. This is another iterative update building on last year's release, Just Dance 2023 Edition. The core gameplay remains unchanged, with only minor tweaks and a fresh tracklist of songs. But is that enough to warrant dusting off your dancing shoes? Does Just Dance 2024 Edition bring enough new moves to keep this long-running series feeling fresh? Or is Just Dance just going through the motions at this point, content to lean on familiar routines?
In this review, we'll break down what's new and what's stayed the same in Just Dance's latest foot-tapping entry. We'll highlight any updates that make getting your groove on more enjoyable. But we'll also point out where Just Dance 2024 Edition feels a bit stale, lacking innovation to revitalize the franchise. Read on to find out if this newest Just Dance is worth adding to your library or if you're better off sitting this one out on the sidelines.
Shaking It To The Beat: Just Dance 2024 Edition Gameplay
The foundation of any Just Dance game is of course the dancing itself. As virtual dancers appear on screen, players mirror their moves, gesticulating in time with the music. The better you stick to the choreography, the higher your score. It's a straightforward formula, but endlessly entertaining trying to nail those dance steps.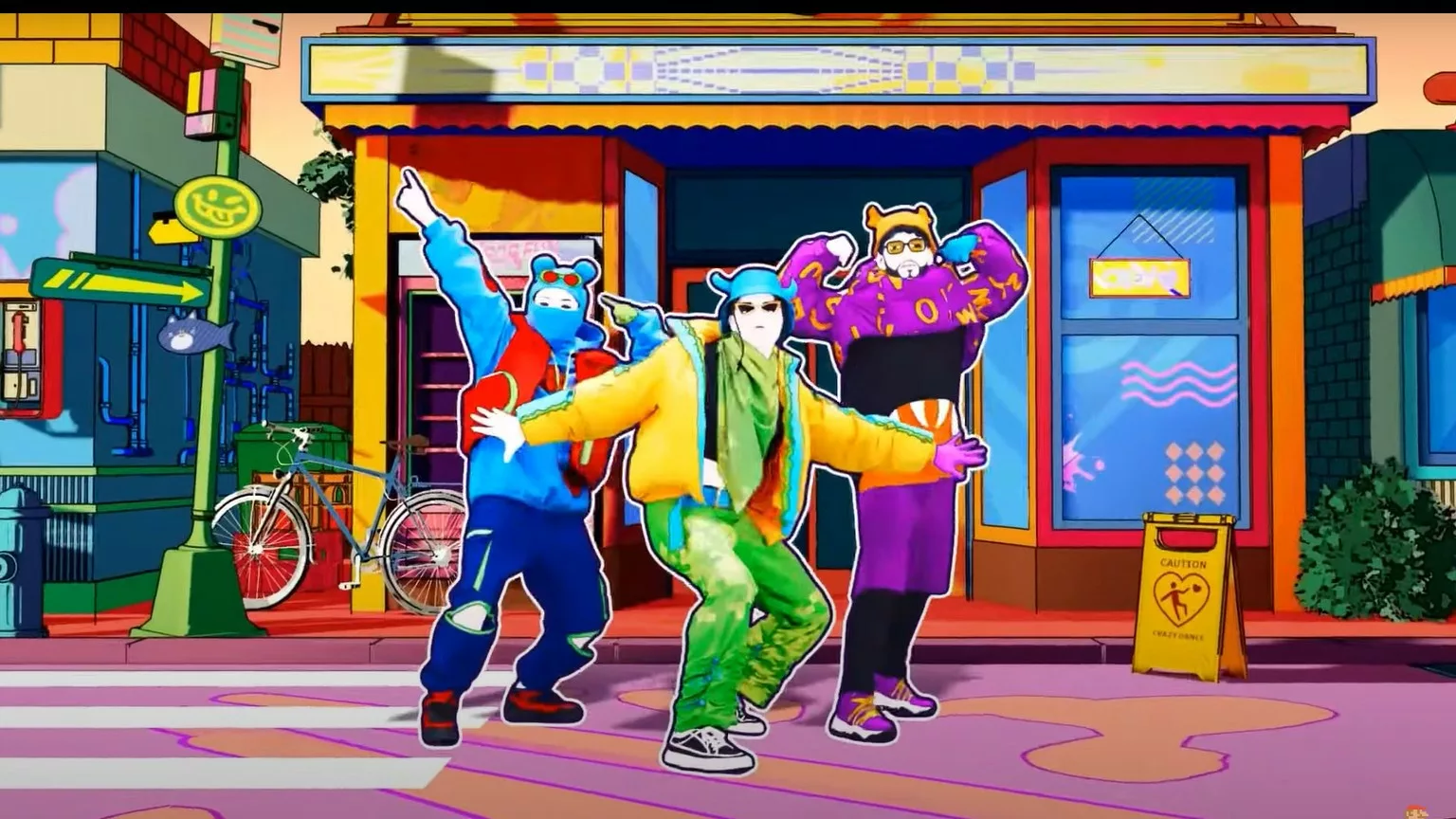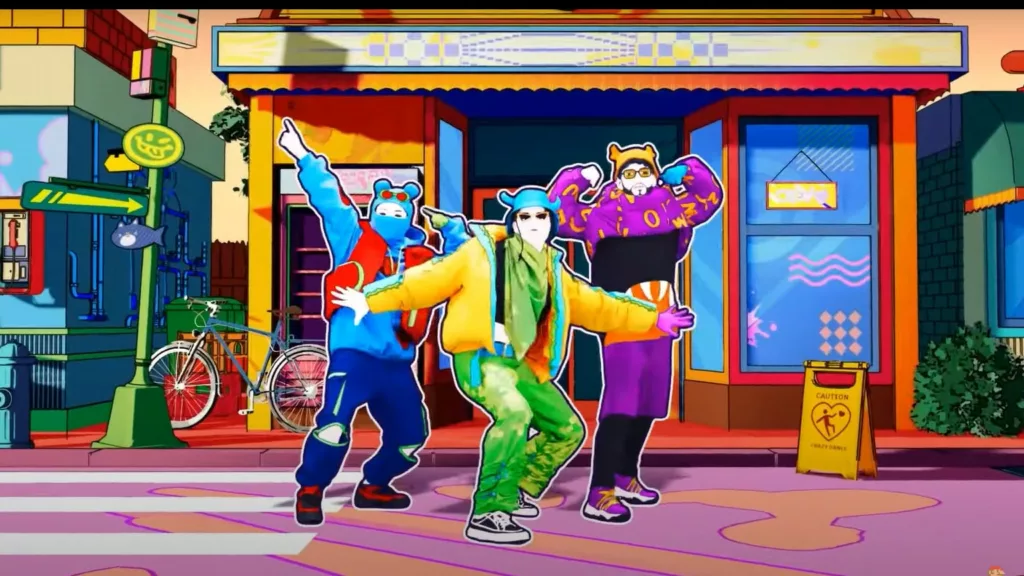 Just Dance 2024 Edition carries on this tradition, evaluating your moves based on how well you wave around the hand holding your phone or Joy-Con controller. Though you'll be busting out full body moves, the game only tracks that single hand. This simplistic scoring can be limiting, but also keeps the focus on fun over high scores. Laughing at friends' goofy gyrations matters more than point chasing.
Speaking of multiplayer, Just Dance 2024 Edition sings when played in groups. Up to 6 players can join together, triggering dance battles to outscore one another or simply revel in the chaos. Solo dancing still brings joy, but sharing silly moments with others amplifies the hilarity. Kids, teens, adults and grandparents alike can participate, no skill required. The appeal is letting loose through carefree motion.
That's not to say Just Dance 2024 Edition lacks depth. The game brings back familiar modes to diversify gameplay. Just Sweat mode amps up the intensity, tracking calories burned during play. Challenging campaigns feature multiple songs with different goals to accomplish. You can also practice specific choreography to master routines. And daily training sessions help warm up your body.
New to 2024 is a dedicated Workout Mode for fitness-focused players. It adds a front-and-center timer and calorie counter so you can better track the burn. The simple addition makes already active Just Dance play feel more purposeful.
As with recent versions, your "controller" in Just Dance 2024 Edition is your smartphone loaded with the companion app. After pairing over WiFi, your phone tracks movement via internal accelerometers and gyroscopes. The app is free and intuitive to use. This accessible control scheme means anyone can jump in without extra peripherals. Though as hectic sessions wear on, phone grips help avoid slips or drops.
By keeping the core experience familiar, Just Dance 2024 Edition instantly feels comfortable for franchise fans. Newcomers likewise can easily grasp the straightforward premise of mimicking an on-screen dancer. The gameplay foundation remains robust, even if Just Dance 2024 Edition doesn't take many new steps forward.
The Setlist: Just Dance 2024 Edition's Tracklist
No Just Dance game would be complete without an eclectic setlist of hits both new and old. Just Dance 2024 Edition delivers on that front with 40 brand new tracks spanning different eras and genres. The soundtrack aims to offer varied choices for diverse musical tastes.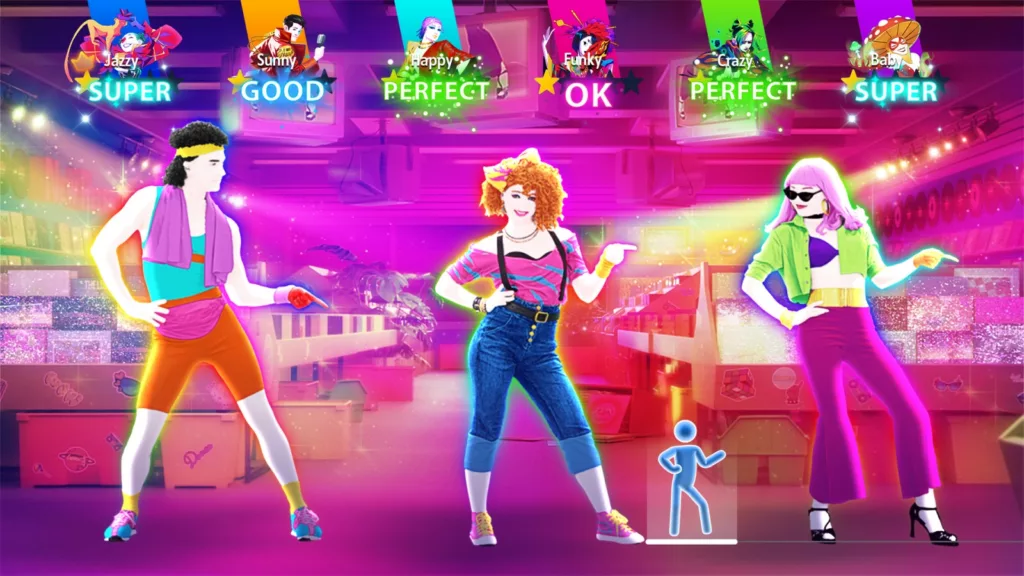 From classic disco to modern hip-hop, Just Dance 2024 Edition covers a wide spectrum. You can get down to Whitney Houston's soaring "I Wanna Dance with Somebody" one moment then swing your hips to BTS' bubbly pop single "Butter" the next. Current chart smashes like "Flowers" by Miley Cyrus appear alongside throwbacks like "Rasputin" by Boney M.
Certain songs come with alternate choreography as well. For example, Bad Bunny's "Tití Me Preguntó" offers both a solo and trio dance routine. So if you really click with a track, you can challenge yourself by taking it on from a fresh perspective.
Beyond the core 2024 playlist, the Just Dance+ subscription provides hundreds more tunes. By paying a monthly fee, you gain access to an expanding catalog spanning every past Just Dance release. Think of it like a music streaming service for choreography, letting you revisit old favorites or discover forgotten gems.
However, opinions seem split on how appealing Just Dance 2024 Edition's new tracklist proves. Some reviewers praised the diverse selection and inclusion of recent chart hits. But others criticized a lack of recognizable throwback jams compared to previous Just Dance installments. Your mileage may vary based on your musical tastes and preferences.
Ideally, a Just Dance game offers both contemporary popular tracks along with a healthy dose of unexpected retro surprises. This keeps the experience feeling both relevant and nostalgic. The 2024 playlist leans heavier on modern songs, which could disappoint players craving more blast-from-the-past inclusions. But focusing on the now prevents Just Dance 2024 Edition from feeling dated either.
At 40 new tunes, Just Dance 2024 Edition still provides plenty of kicky fresh content either way. You'll likely find multiple new favorite routines to obsess over and perfect. Just temper expectations if hoping for a retro-heavy selection of iconic staples. Think Ariana Grande rather than NSYNC or Backstreet Boys this time around.
Stepping Into New Territory: Just Dance 2024 Edition Updates
Just Dance 2024 Edition marks a transition for the franchise, evolving beyond annualized releases into an ongoing cross-generation platform. This change manifests through new features facilitating unified play and content access.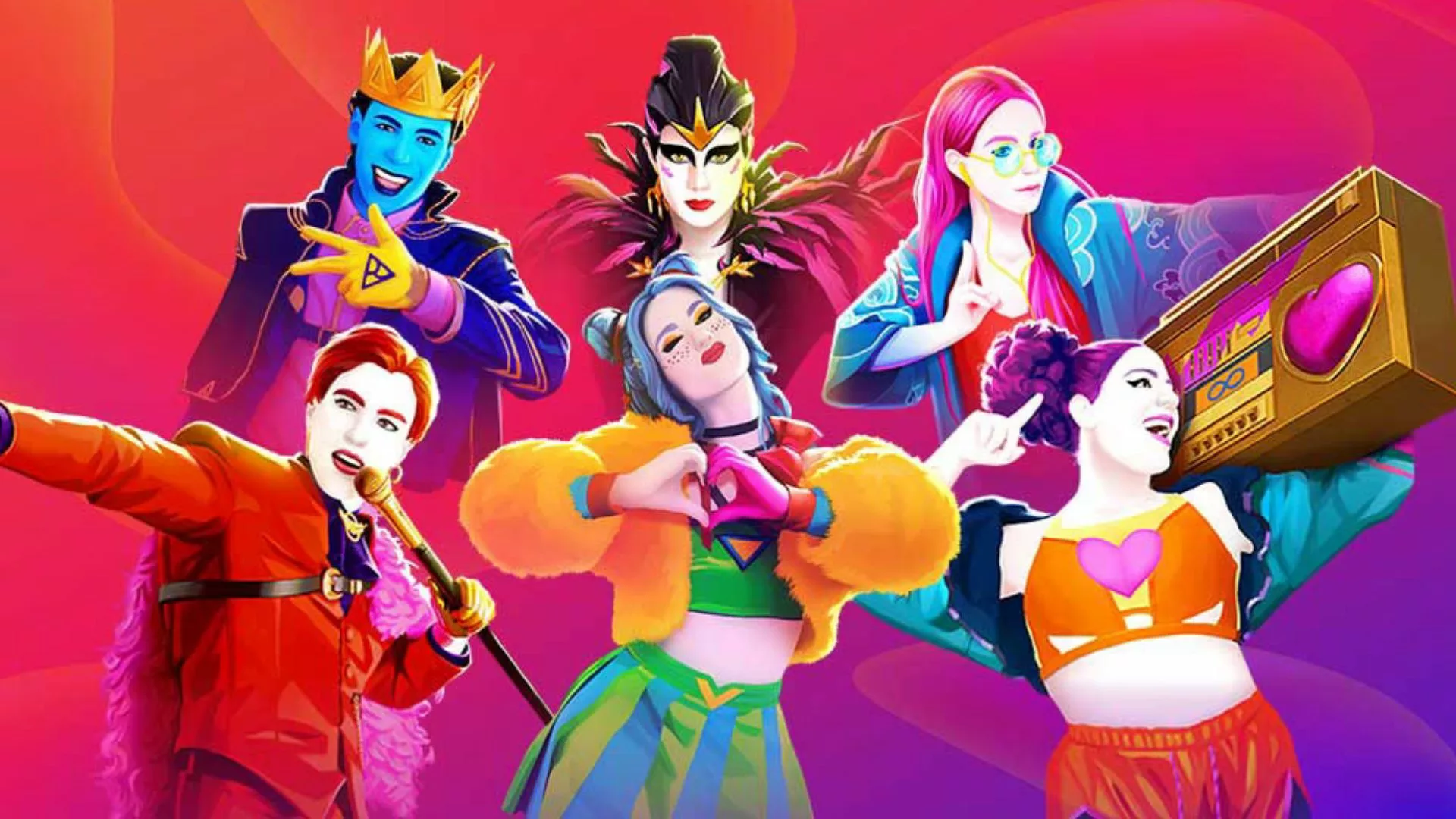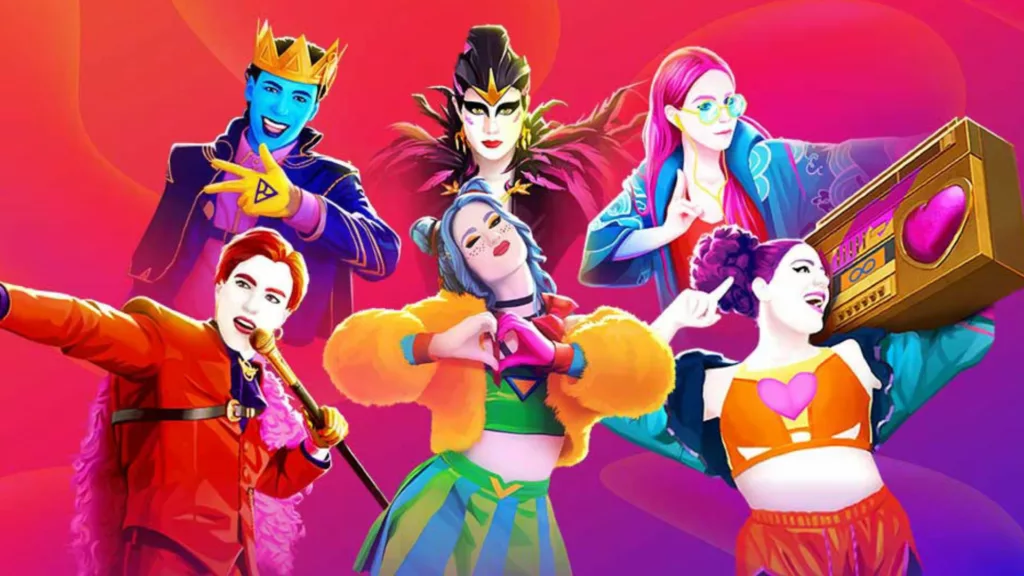 The biggest update is cross-play multiplayer between Just Dance 2024 Edition and last year's Just Dance 2023 Edition. Players on either title can now dance together online, rotating between songs from both tracklists. Your individual game profile also persists across versions, seamlessly syncing progression and unlocks.
This cross-compatibility aims to merge the Just Dance community rather than fracture it into segmented installments. Players aren't forced to buy each release to play online with friends who do. And the collective content library expands with each incremental track pack.
Just Dance 2024 Edition further facilitates competition and connection through enhanced leaderboards. You can view the top-ranked dancers globally for each song, then challenge their scores from within the game. This adds motivation to master routines by pitting your moves against the best.
Online play also enables performing alongside others in real-time rather than only asynchronously. Up to 6 players across platforms can come together thanks to the universal accessibility of mobile control schemes. No longer do you need the same console or peripherals to boogie.
However, Just Dance 2024 Edition's status as an update rather than fully-fledged sequel comes with some downsides. Most notably, there are no new achievements or trophies added in this iteration. The existing accolades carry over; this is the same game after all. But trophy hunters won't find new challenges to pursue.
Overall, Just Dance 2024 Edition smartly evolves Just Dance into a cohesive platform. New versions act as downloadable track packs rather than separate products. This preserves community integrity and expands content without fragmentation. Online and social features underline this renewed focus on keeping players engaged together.
Making Play Truly For All: Accessibility Analysis
The Just Dance series has implemented various accessibility options to enable dancing for differently-abled players. Just Dance 2023 Edition introduced new filters for customized play based on mobility needs. However, Just Dance 2024 Edition unfortunately stalls meaningful progress on this front.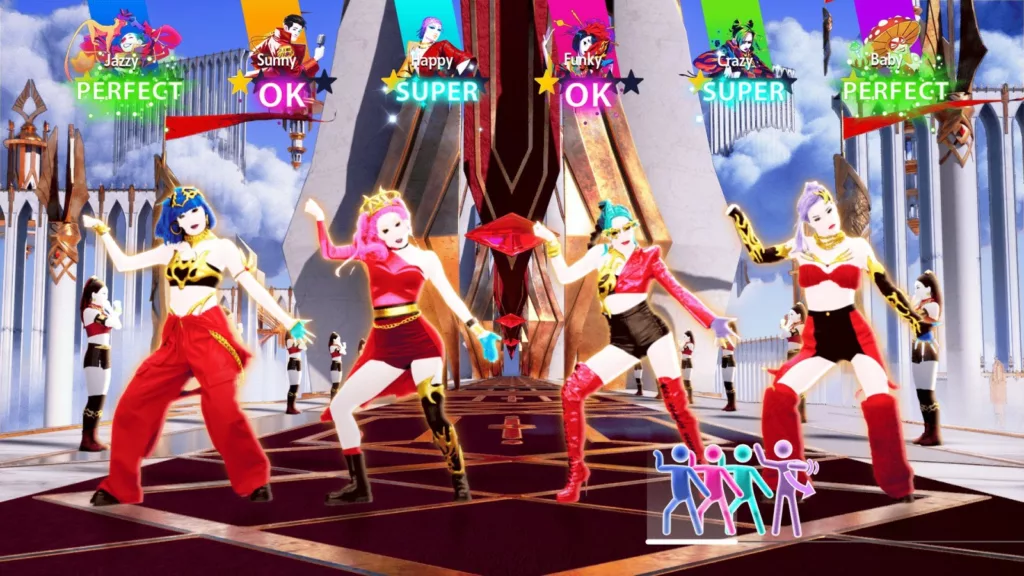 Adding the accessibility filters last year was praiseworthy, signaling admirable awareness of making Just Dance enjoyable for all. Options like toggling specific move types or adjusting speed cater the experience to individual physical capabilities. This thoughtful inclusion makes the franchise stand out representation-wise.
But simply carrying over those same filters without new accommodation options feels underwhelming in Just Dance 2024 Edition. Specifically, the lack of any new seated choreography routines feels like a missed opportunity. Wheelchair users have only one or two accessible tracks available currently. In a game with hundreds of songs, this feels tokenizing rather than truly inclusive.
Expanding seated and mobility-focused modes would offer not just empowering representation but fun new ways to play. Imagine tailoring whole playlists for accessibility needs, opening gameplay to audiences who struggle with traditional demands. Groups of mixed abilities could play together thanks to wider choreography variety.
Hopefully Just Dance 2025 takes bolder strides, demonstrating that accessibility matters all year round, not just during initial implementation. Incremental additions like introducing just a few new seated dances per installment would go a long way. Better amplifying options in the interface would also increase visibility.
For now, Just Dance 2024 Edition makes little headway on accessibility compared to its predecessor. That feels disappointing rather than maintaining the status quo. Simply having the filters present starts an important conversation but isn't enough long-term. Here's hoping Ubisoft hears constructive feedback and charts an inclusive course forward for subsequent Just Dance entries. More play styles means more players benefiting from rhythmic fun.
Where Just Dance 2024 Edition Stumbles
While Just Dance 2024 Edition retains the energetic fun of its predecessors, a few frustrating issues hold the experience back from feeling fully polished. Server connectivity, interface design, visual clarity, and stylistic choices demonstrate areas needing refinement.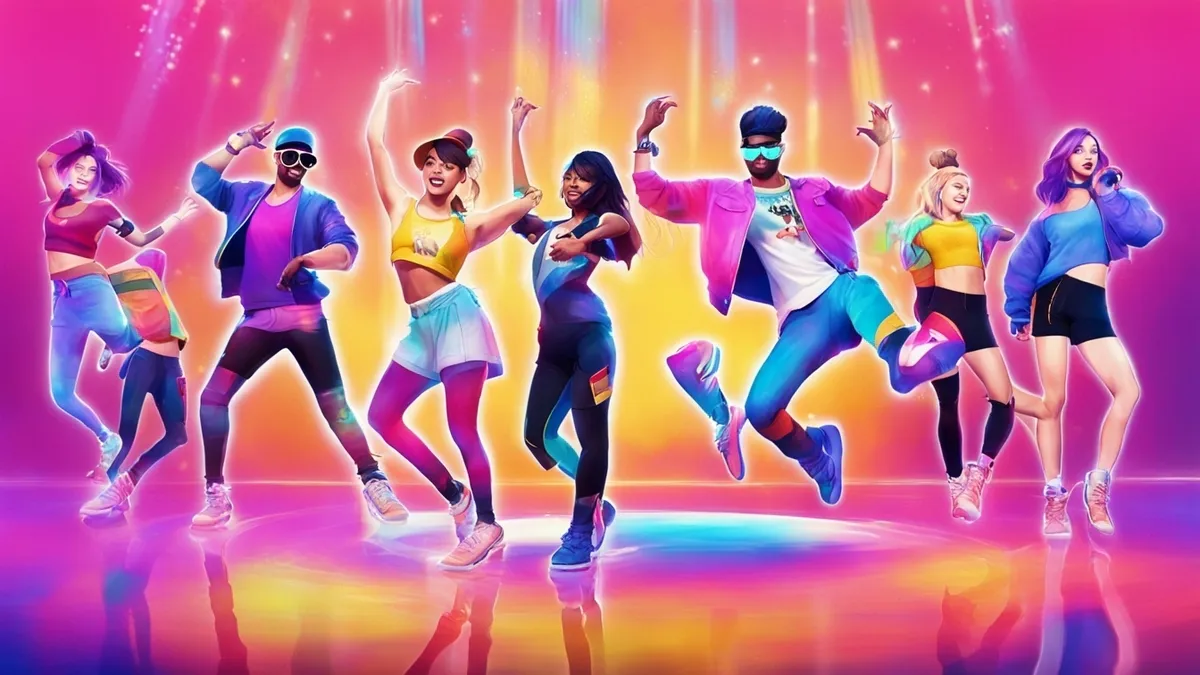 For an online multiplayer-focused game, server instability remains surprisingly problematic. Slow menu response times were frequently cited, with excessive loading lag just to browse options. This not only affects changing settings but interrupts the core gameplay experience having to wait between songs.
Playlists also feel clunky to navigate. Players cannot customize and save preferred track orders, instead having to individually select songs each time. This becomes tedious across repeated sessions, disrupting rhythmic flow. The omission of perennial features like custom playlists feels at odds with Just Dance's community slant.
Visual presentation likewise struggles between creative flair and playability. Some choreographed dances feature elaborate costumed dancers or cartoony motifs. But their elaborate animations often obscure the actual moves, making mimicking motions unnecessarily difficult. Form trumps function.
This style over clarity also diminishes the value of Just Dance's accessibility options. Players requiring certain filters to assist with movements can still struggle tracking choreographed dancers if their visuals are too overwrought. Streamlining character models and environments would help.
Finally, the phone control scheme, while ingenious in its accessibility, does have drawbacks. Cramped smartphone screens limit visibility compared to holding dedicated motion controllers. And depending on your phone size and grip method, accidentally dropping it mid-dance remains a risk.
Addressing these setbacks could help Just Dance 2024 Edition better deliver on its carefree fun factor. Smoothing out technical performance offers a more seamless user experience. Simplifying navigation and visuals keeps the focus on dancing, not deciphering. And expanding peripheral options caters to player preferences. Tackling such weak spots will only sharpen Just Dance's positives moving forward.
Conclusion: Should You Cut The Rug?
At its core, Just Dance 2024 Edition offers more of the same kinetic fun that has made Just Dance a party favorite for over a decade. The classic gameplay loop still delivers carefree entertainment whether you're a diehard fan or casual player just looking to let loose. On that front, Just Dance 2024 satisfies.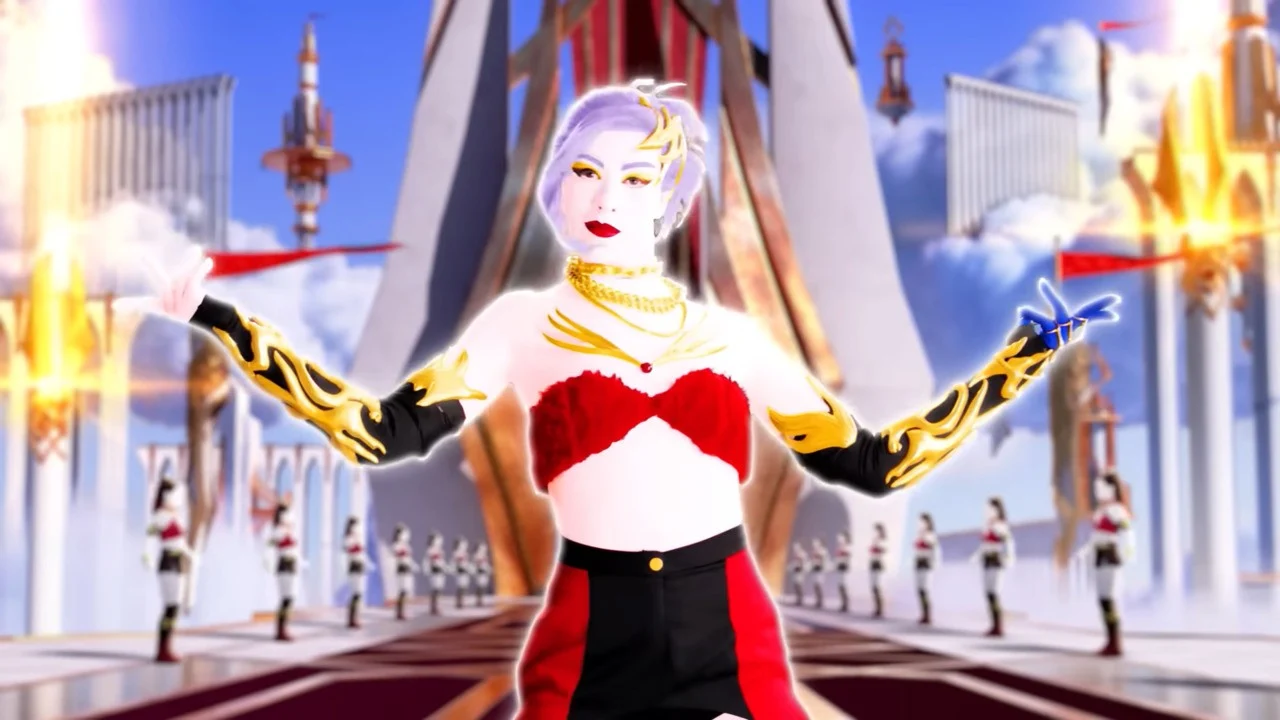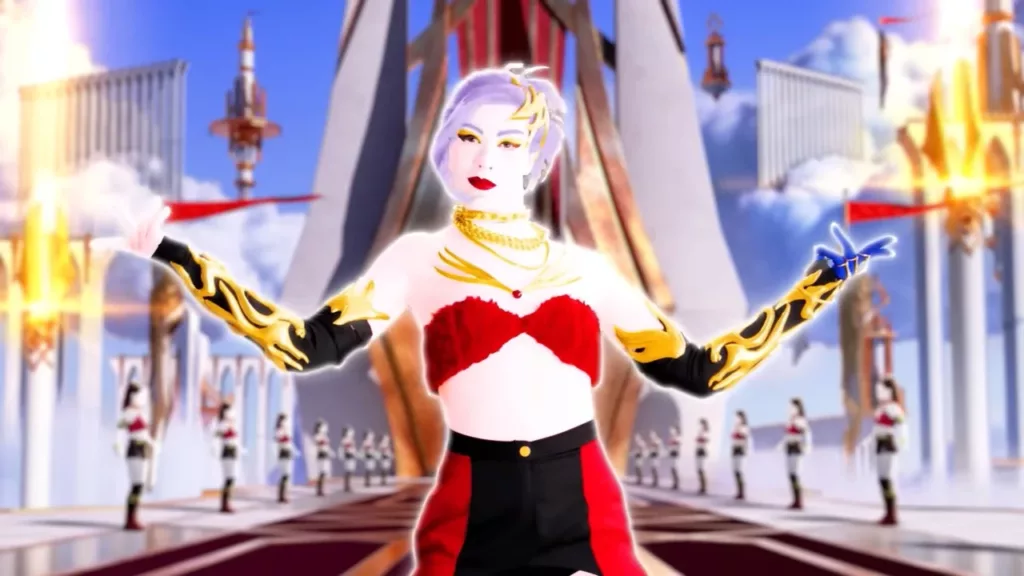 As an iterative update however, this newest entry feels a touch safe, leaning on familiar features rather than breaking new ground. The tracklist, while full of bops, trends safer compared to previous Just Dance playlists. And most changes, like the expanded Workout Mode, prove incremental.
But the smart expansion of Just Dance into an ongoing cross-generation platform shows promise. Cross-play support and access to collective song libraries unify player bases instead of fracturing along installments. This helps strengthen the communal aspect that gives Just Dance its infectiously fun appeal.
The question becomes: is Just Dance 2024 Edition worth buying if you already own previous versions? As an annual title, its value depends on desirability of the new tracklist. With only 40 new songs, consider if you'll derive enough enjoyment from those alone to justify the purchase. Subscription to Just Dance+ alternatively grants access to the full spectrum of content.
However, if you've yet to hop aboard the Just Dance train, 2024 offers a solid starting point. The core experience holds up powerfully despite little innovation. And buying into the platform now gives access to future songs and features. Just Dance 2024 Edition sustains an enjoyable status quo rather than redefining it.
In the end, your mileage will vary based on Just Dance tastes. For devoted fanatics hungry for new choreography, 2024 Edition satisfies. For occasional boogiers not enthused by this year's tunes, sitting out may be advisable. But when taken in doses alongside friends, Just Dance retains infectious entertainment value. So gather your crew and get ready to shake it – Just Dance 2024 keeps familiar moves feeling fun.
The Review
Just Dance 2024 Edition
Just Dance 2024 Edition brings more of the same dance party fun that fans have come to expect from the series, but relatively incremental additions and a decent if unexciting tracklist make this feel like more of a routine sequel rather than an innovative new routine. Still, solid mechanics and goofy multiplayer fun give Just Dance 2024 legs even if it doesn't reinvent them.
PROS
Fun, accessible gameplay that anyone can easily pick up
Great multiplayer and party potential
Large music library with new songs added
Workout mode helps make dancing more purposeful
Cross-platform play and song library merging
Smartphone controller makes it easy for anyone to jump in
CONS
Very incremental updates and improvements
New tracklist lacks some classic throwback songs
No custom playlists option
Connectivity and server issues cause lag
Accessibility options don't grow meaningfully
Some choreography is obscured by flashy visuals
Higher learning curve with certain imaginative dances
Lack of new trophies/achievements