Ubisoft's tenacity shines as they prepare to embark on yet another voyage with the elusive Skull and Bones. Defying challenges that could have sunk other projects, Ubisoft remains steadfast in bringing the high-seas action of Skull and Bones to eager players.
Brace yourselves, as a new closed beta for the game is on the horizon, offering another glimpse into the ambitious world of maritime adventure.
A Game of Nautical Persistence: The Saga of Skull and Bones
Since its initial announcement in 2017, Skull and Bones has captured imaginations with promises of thrilling open-world piracy. Drawing inspiration from Assassin's Creed: Black Flag's seafaring escapades, it aimed to introduce players to the exciting world of high-stakes naval battles.
However, multiple delays have kept its sails furled, leading to a series of expectations and letdowns that have intrigued gamers and critics alike.
It's nearly time to set sail with the Skull and Bones' Closed Beta.

Want to know what you can expect? Check out our Closed Beta DevBlog for more information! 👉 https://t.co/0s7bOfDBvO
#SnBClosedBeta #LongLivePiracy #SkullandBones pic.twitter.com/NqJPjOtAC1

— Skull and Bones (@skullnbonesgame) August 16, 2023
New Closed Beta Brings Fresh Hope and Insights
Ubisoft's upcoming closed beta promises fresh hope for those eagerly awaiting Skull and Bones. While the game's release date remains shrouded in uncertainty, this beta suggests that Ubisoft is determined to set a course for success.
In this session, players will venture to the Red Isle, the pirate haven of Sainte Anne, and the African coast. Here, they'll encounter diverse in-game factions and decide whether to engage in peaceful interactions or more… volatile encounters.
Diving Deeper into Gameplay
The closed beta brings an enticing range of activities for players to explore:
Main Storyline: Embark on a captivating journey, following the twists and turns of the game's narrative.
Side Contracts and Bounties: Seek out contracts and bounties that offer thrilling challenges and rich rewards.
Merchant Convoy World Event: Engage in dynamic events that shape the game world and offer unique opportunities.
Exclusive Rewards Await Brave Participants
Players daring enough to join the closed beta will earn rewards that carry into the full release. Ship cosmetics, vibrant fireworks, and a special emote will enhance your maritime escapades, offering a glimpse of the potential treasures that await on the open seas.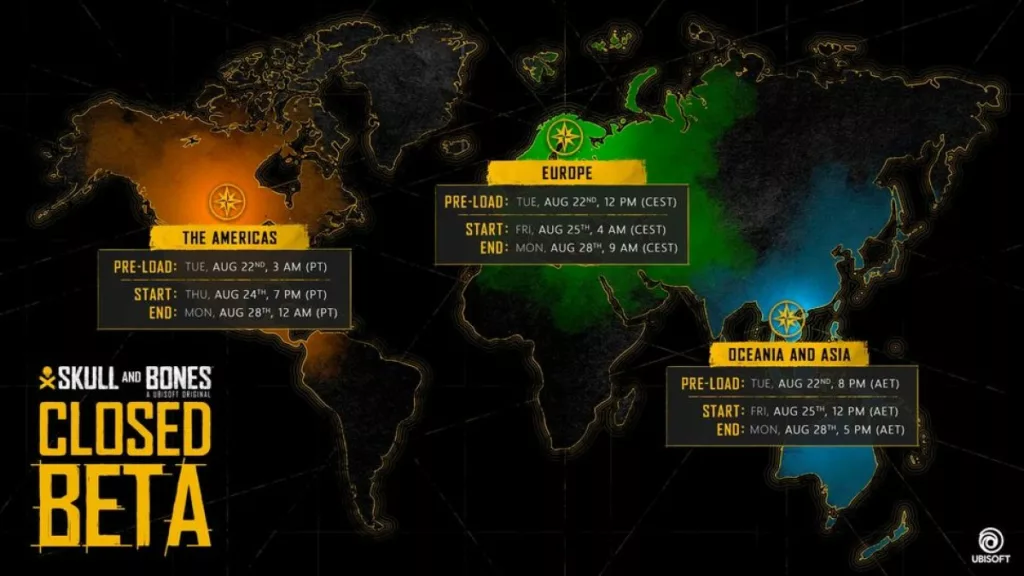 How to Set Sail in the Beta Waters
To partake in this maritime journey, eager adventurers must register at Ubisoft's website and await their coveted invitation. The preloading process begins at 3 am PT on August 22, while the beta itself sets sail at 7 pm PT on August 24 and docks at 12 am PT on August 28. This beta is exclusively available on PC via Ubisoft Connect.
Ready to Sail? Ensure Your Ship is Fit for the Voyage
To join the closed beta, ensure your ship meets these requirements:
Minimum Requirements: Suitable for 1080p at 30 frames per second, with specs including Intel Core i7-4790 or AMD Ryzen 5 1600, NVIDIA GeForce GTX 1060 or AMD Radeon RX 570, and 8 GB of RAM.
Recommended Requirements: Enjoy 1080p at 60 frames per second with specs like Intel Core i7-8700K or AMD Ryzen 5 3600, NVIDIA RTX 2070 or AMD Radeon RX 5700 XT, and 8 GB of RAM.
2K and 4K Configurations: Elevate your experience with configurations suited for 1440p and 2160p, respectively.
Hopes Afloat: The Future of Skull and Bones
The fate of Skull and Bones remains uncertain, a blend of anticipation and skepticism. Ubisoft's determination is commendable, yet fans tread cautiously.
Will the seas finally calm for Skull and Bones? As the gaming community holds its breath, one thing's for sure: Ubisoft's unflagging efforts ensure that this maritime adventure remains an intriguing saga that's as captivating as the waves themselves.
Deep Dive into Strategy and Warfare: Are you a fan of strategy games? Get a new perspective on military tactics and strategies by diving into the 15 Best World War 1 Video Games. Whether it's first-person shooters or intricate strategy games, discover the best of the Great War's digital recreations.