In a gaming world saturated with countless titles, every now and then, one manages to stand out, challenging our perceptions and engaging our senses in new and unexpected ways. "Mirrored Souls" is one such game that steps away from convention, whisking players away into a mirrored realm of thought-provoking puzzles and a captivating narrative. This unique blend of single-player cooperation and challenging platforming elements offers a gameplay experience that's as intricate as it's delightful.
Developed by the creative minds at The Bricks Studio and polished to perfection by the folks at Short N Sweet Games, "Mirrored Souls" isn't just another puzzle platformer. Instead, it creates a symphony of intertwining narratives and puzzling challenges that beg the player to think not just twice but multiple times before proceeding.
At the heart of this game are Daru and Ravi, two celestial beings with human and rabbit characteristics. Their mirrored existences in intertwined dimensions force players to think differently, challenging traditional gameplay mechanics. In this review, we'll delve deeper into the world of "Mirrored Souls", examining the various facets that make it shine.
From its single-player cooperative mechanics to its thoughtful narrative, from its vibrant visual design to the challenges it presents at every turn, we will take you through the mirrored dimensions, unraveling what makes this title stand out. Whether you're a puzzle aficionado or someone looking for a game with a difference, our detailed examination aims to provide you with all you need to know about this multi-platform release. Buckle up; it's going to be a journey of reflections and challenges!
Duality in Gameplay: Unraveling the Mechanics of "Mirrored Souls"
At the heart of "Mirrored Souls" lies an innovative gameplay concept: a single-player cooperative, or "single-player-coop" as it's termed. This mechanic isn't just a fleeting gimmick; it's the core around which the entire game orbits. What does it entail? It means that while only one person is controlling the game, they're in charge of two characters. This duality requires players to multitask and think from two perspectives, making the gameplay as mentally engaging as it is skill-demanding.
Enter Daru and Ravi. These aren't your everyday game protagonists. These celestial beings, intriguingly reflecting human and rabbit attributes, exist in mirrored dimensions. Their connection is so profound that they move in unison, albeit in opposite directions. If you guide Daru to venture rightwards, Ravi, in his parallel dimension, will automatically move to the left, and vice versa. This mirrored movement mechanic is what underpins the core challenges of the game. You don't just guide characters in "Mirrored Souls"; you orchestrate a dance, ensuring both characters don't step on each other's toes.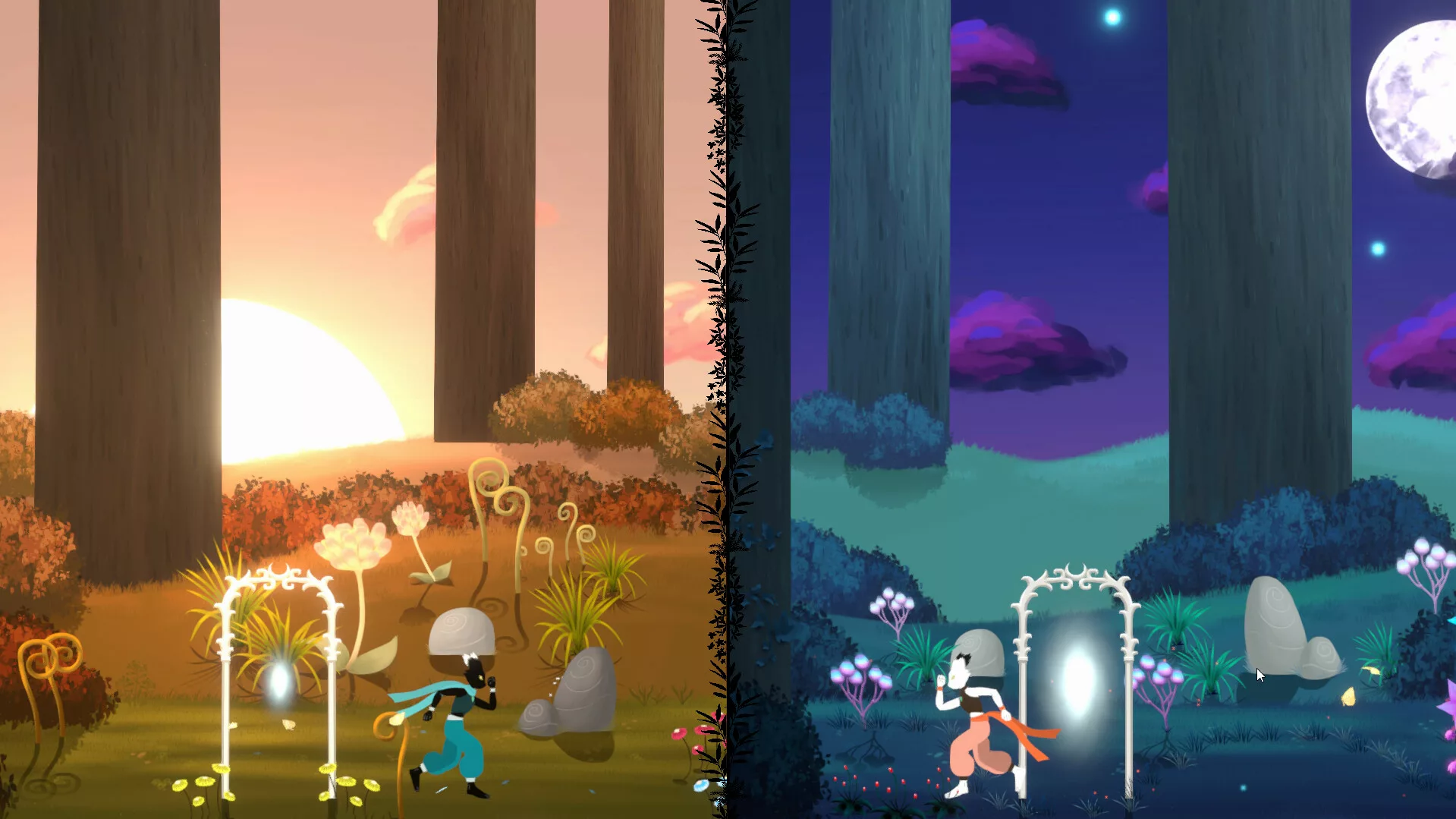 Initially, the puzzles provide a gentle introduction to this novel mechanic. Early levels are designed to get players accustomed to the idea of mirrored movements, offering simpler challenges that require players to get both characters to a designated exit. The beauty lies in the progression. As you venture deeper into the game, the challenges grow in complexity. What once seemed like a walk in the park becomes a maze of intricate twists and turns. The early simplicity serves as a foundation upon which more layered and challenging puzzles are built.
The game doesn't shy away from introducing a plethora of puzzle elements as players progress. We see the inclusion of levers that can alter the landscape, moving platforms that demand impeccable timing, structures that channel and reflect light rays in intriguing patterns, and treacherous spikey areas that threaten the very existence of our protagonists. Each element adds another layer, another dimension to the puzzles. They aren't there just for the sake of complexity; they integrate seamlessly into the narrative, demanding players to strategize, anticipate, and adapt.
However, it's not all smooth sailing. Some puzzles can push the boundaries of patience, demanding not just mental acumen but also refined motor skills. A slip of a finger, a momentary lapse in concentration, or failing to anticipate a mirrored move can send players back to square one. There are moments where the challenge can feel like you're hitting your head against a brick wall, where the mirrored dimensions of Daru and Ravi feel more like a maze than a dance. And yet, isn't that the essence of a true puzzle game? To challenge, to frustrate, and then to reward.
That rewarding sensation is the light at the end of the tunnel. For every intricate puzzle that tests your limits, there's an unmatched euphoria when the pieces finally fall into place. The 'aha' moment when you crack a particularly challenging level in "Mirrored Souls" isn't just a testament to your skills but also a nod to the game's design that beautifully balances difficulty with achievability. Each puzzle solved isn't just a level completed; it's a dance perfected, a narrative progressed, and a testament to the player's perseverance.
Through the intertwined journeys of Daru and Ravi, "Mirrored Souls" not only offers a fresh take on puzzle-platformers but also reminds players of the joys of overcoming challenges, no matter how mirrored or complex they may seem.
Between Two Worlds: The Profound Narrative of "Mirrored Souls"
At a glance, "Mirrored Souls" appears to be a clever puzzle game, but look a little deeper, and it unravels a tale drenched in metaphor, emotion, and profound philosophical reflections. Central to this rich narrative tapestry are our protagonists, Daru and Ravi. More than mere game characters, they are celestial beings, masterfully crafted to bear a blend of human and rabbit characteristics. But their unique appearance isn't their only intriguing facet. Their existence across mirrored dimensions is symbolic of the duality that the narrative seeks to explore.
The mirrored existence of Daru and Ravi isn't just a gameplay mechanic; it's a reflection of deeper themes that touch the very core of existence. As the game unfolds, players are introduced to the intricate dance of eternity and mortality. The mirrored worlds they inhabit become spaces where questions about the permanence of life and the inevitability of death are raised. But these heavy themes don't weigh the game down. Instead, they elevate it, making every puzzle solved not just a gameplay achievement but also a step closer to understanding these age-old conundrums.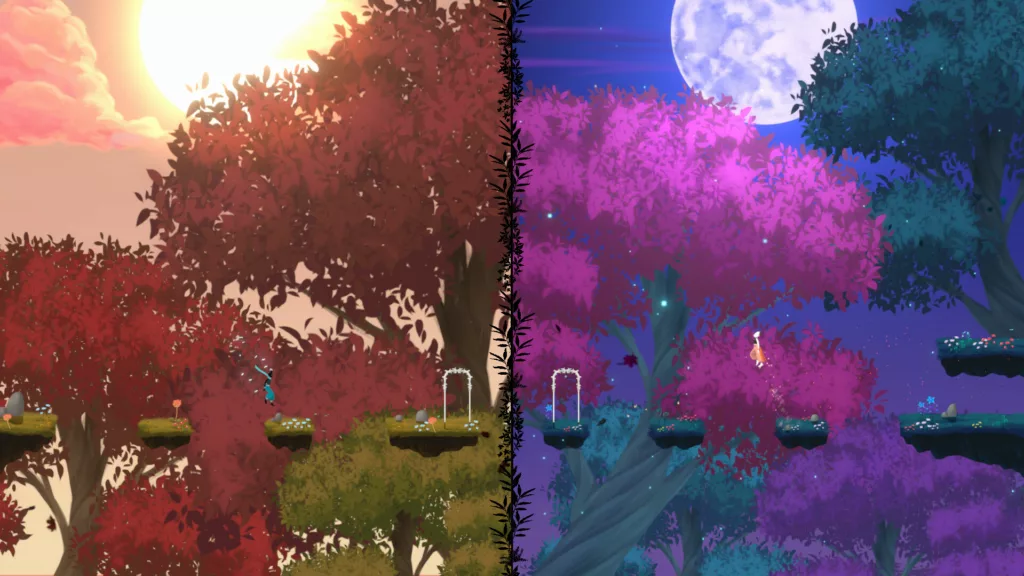 Amidst the themes of life and death, the game weaves in the poignant threads of friendship and love. As Daru and Ravi traverse their respective dimensions, their deep connection becomes evident. Their mirrored movements symbolize the interconnectedness of souls, a bond that transcends physical realms. This bond is further emphasized through their dialogues, which serve as windows into their souls. These conversations don't merely act as fillers between puzzles; they are instrumental in adding depth to the narrative, making players ponder the nature of relationships and the lengths one would go to for a loved one.
Organizing this rich narrative are the game's structured chapters and phases. Split into three distinct chapters, the journey of Daru and Ravi unfolds like an epic, with each chapter introducing its own challenges and revelations. Within these chapters, players navigate around 20 phases, with each phase presenting its own set of puzzles and pieces of the overarching story. The phased approach ensures that players are constantly engaged, with every completed stage offering a satisfying mix of gameplay achievement and narrative progression.
To dismiss "Mirrored Souls" as merely a game would be a disservice to its intricate narrative. The dual worlds of Daru and Ravi aren't just stages for puzzle-solving; they're canvases upon which broader themes of life, love, friendship, and existence are painted. As players journey through mirrored dimensions, they are invited not just to solve puzzles but to reflect on life's most profound questions, making "Mirrored Souls" a memorable tale that resonates long after the final puzzle is solved.
Crafting A World: The Artistry Behind "Mirrored Souls"
In the realm of gaming, the visual and audio elements play a crucial role, offering players an immersive experience that goes beyond mere button presses. "Mirrored Souls," with its meticulous design, is no exception. The game dazzles, not just with its clever gameplay mechanics but also with its remarkable visual and audio tapestry.
Stepping into "Mirrored Souls," players are immediately welcomed into a 2D universe that feels like it's been brushed onto the canvas straight from an artist's palette. There's an inherent painterly feeling to the game, reminiscent of cherished children's books, where every frame could easily be a page from a beloved storybook. This artistic choice serves a dual purpose: not only is it a visual treat, but it also complements the narrative's depth, making the journey of Daru and Ravi feel like an epic saga painted in vivid hues.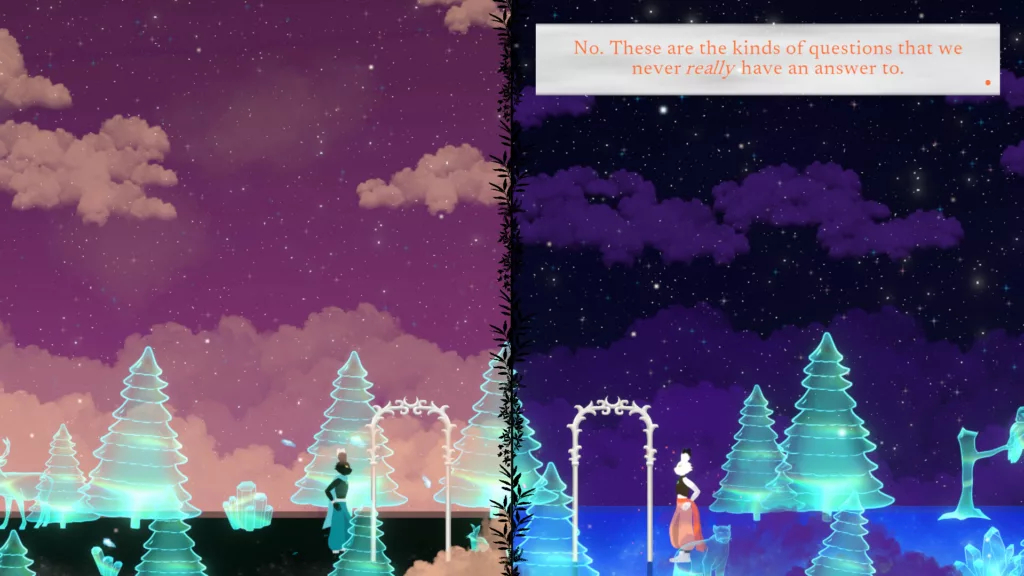 The use of vibrant colors deserves special mention. The game's dual-world mechanic could have easily been confusing, but the developers masterfully employ color to demarcate the worlds of Daru and Ravi. The distinct palettes differentiate the two planes, ensuring that players can seamlessly switch their focus between the characters without feeling disoriented. It's a subtle touch, but one that showcases the attention to detail the creators have invested in the game's design.
However, no masterpiece is without its flaws. Despite the overall visual brilliance, there are moments where certain puzzle elements seem to melt into the backdrop. At times, crucial components that are integral to solving a level might blend a tad too well into the environment, causing a hint of frustration. It's a minor hiccup in an otherwise stellar design, but it's worth noting for players who might find themselves scratching their heads, wondering if they've missed a piece of the puzzle.
On the auditory front, "Mirrored Souls" crafts an atmospheric symphony. The soundtrack, while not overtly grand, complements the gameplay perfectly. Each tune enhances the emotion of the level, from the intrigue of a new puzzle to the satisfaction of its solution. The music ebbs and flows with the game's narrative, ensuring that players are sonically immersed in Daru and Ravi's journey.
Yet, one can't help but wonder if voiceovers could elevate this experience further. While the game's dialogues are poignant and thought-provoking, giving Daru and Ravi a voice could infuse an added layer of depth to their characters. It's easy to imagine their dialogues, filled with reflections on life and existence, being all the more impactful if delivered with the right tonal nuances.
In conclusion, "Mirrored Souls" is a visual and auditory treat. From its painterly 2D design to its atmospheric soundtrack, the game offers an immersive experience that's a feast for both the eyes and ears. While there are minor design imperfections and unexplored audio potentials, they don't detract from the game's overall brilliance. As players traverse the mirrored worlds of Daru and Ravi, they are not just solving puzzles but are also enveloped in a beautifully crafted world that's as profound as it is picturesque.
Mastering Duality: The Technical Brilliance of "Mirrored Souls
In an industry where even the smallest technical hiccup can disrupt the immersion of a game, "Mirrored Souls" stands as a testament to polished gameplay and meticulous coding. It's clear that The Bricks Studio has paid close attention to ensuring that the game runs smoothly, offering players a seamless experience as they delve into the interconnected worlds of Daru and Ravi.
First and foremost, it's essential to highlight the lack of glitches or stutters. Many games, especially ones that have intricate mechanics or attempt to innovate, can sometimes be plagued by technical issues, big or small. However, "Mirrored Souls" provides a fluid journey from start to finish. This reliable stability not only showcases the developers' prowess but also ensures that players can focus entirely on the game's challenges without the nagging worry of encountering disruptive bugs or freezes.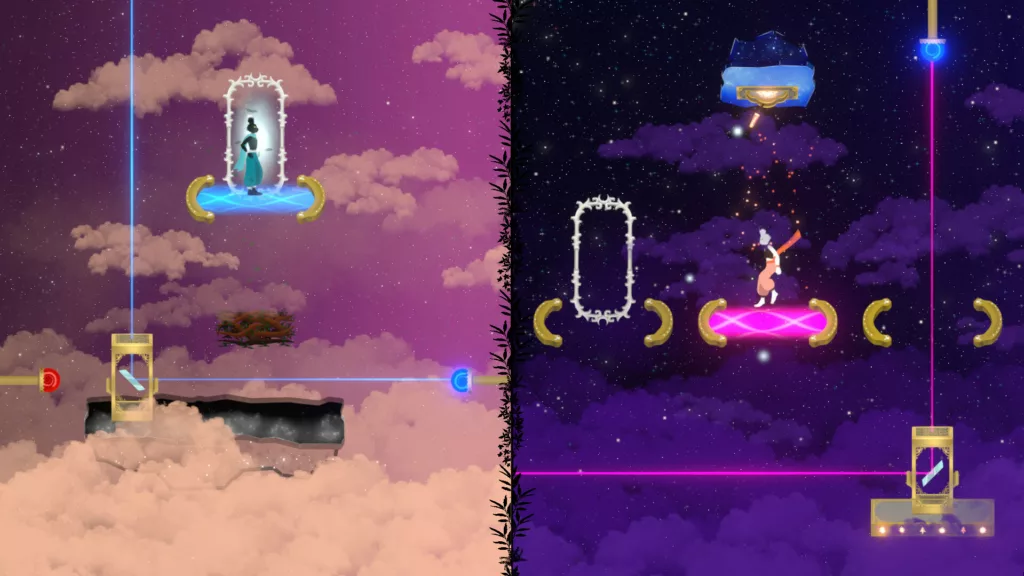 The game's controls, particularly the simultaneous management of both Daru and Ravi, are a masterclass in intuitive design. It might seem daunting at first, given that each character moves in the opposite direction from the other, but the execution is so smooth that players will find themselves effortlessly guiding both characters through their mirrored journeys. There's an organic feel to the control scheme, which makes the unique gameplay mechanic of "Mirrored Souls" less of a gimmick and more of an essential, integrated feature.
That said, mastering these controls does come with its fair share of challenges. The mirrored, opposite-direction movements of Daru and Ravi are not just a playful twist; they form the core of the game's puzzles and challenges. This mechanic forces players to rewire their gaming instincts. No longer can one solely focus on a single character's movement; instead, the game demands simultaneous attention and coordination for both Daru and Ravi. It's akin to patting your head while rubbing your belly, a task that's simple in theory but requires practice to perfect.
This inherent challenge leads to a notable learning curve. Early levels serve as a gentle introduction, allowing players to familiarize themselves with the unique control dynamics. However, as the game progresses, the puzzles ramp up in complexity, demanding more from the player. The satisfaction derived from mastering a particularly tricky level, especially one that heavily leans on the dual-control mechanic, is immensely rewarding.
"Mirrored Souls" is a shining example of how to flawlessly integrate a novel gameplay mechanic without compromising on technical quality. The game's absence of glitches and its intuitive yet challenging control scheme make it a standout title in the puzzle-platformer genre. As players dive deeper into the mirrored worlds of Daru and Ravi, they'll not only grapple with intricate puzzles but also appreciate the technical brilliance that allows such an innovative concept to flow seamlessly.
Constructive Feedback: Areas "Mirrored Souls" Could Polish
While "Mirrored Souls" undeniably offers a captivating and innovative gameplay experience, no game is without its areas for improvement. Recognizing these elements isn't to nitpick but to understand where the game could shine even brighter in potential sequels or updates.
A notable critique lies in the repetition of certain puzzle ideas. The game's fresh approach to mirrored gameplay mechanics is unquestionably its strength, yet, at times, some levels feel a tad too familiar. When players encounter similar challenges or setups in quick succession, there's a risk of fatigue setting in. The enchantment of discovery, intrinsic to puzzle games, can be dulled when faced with overly familiar scenarios. While it's understandable that core mechanics need repetition for mastery, variety is the spice of gameplay. Introducing more diverse challenges could keep players consistently on their toes, eagerly anticipating what's next.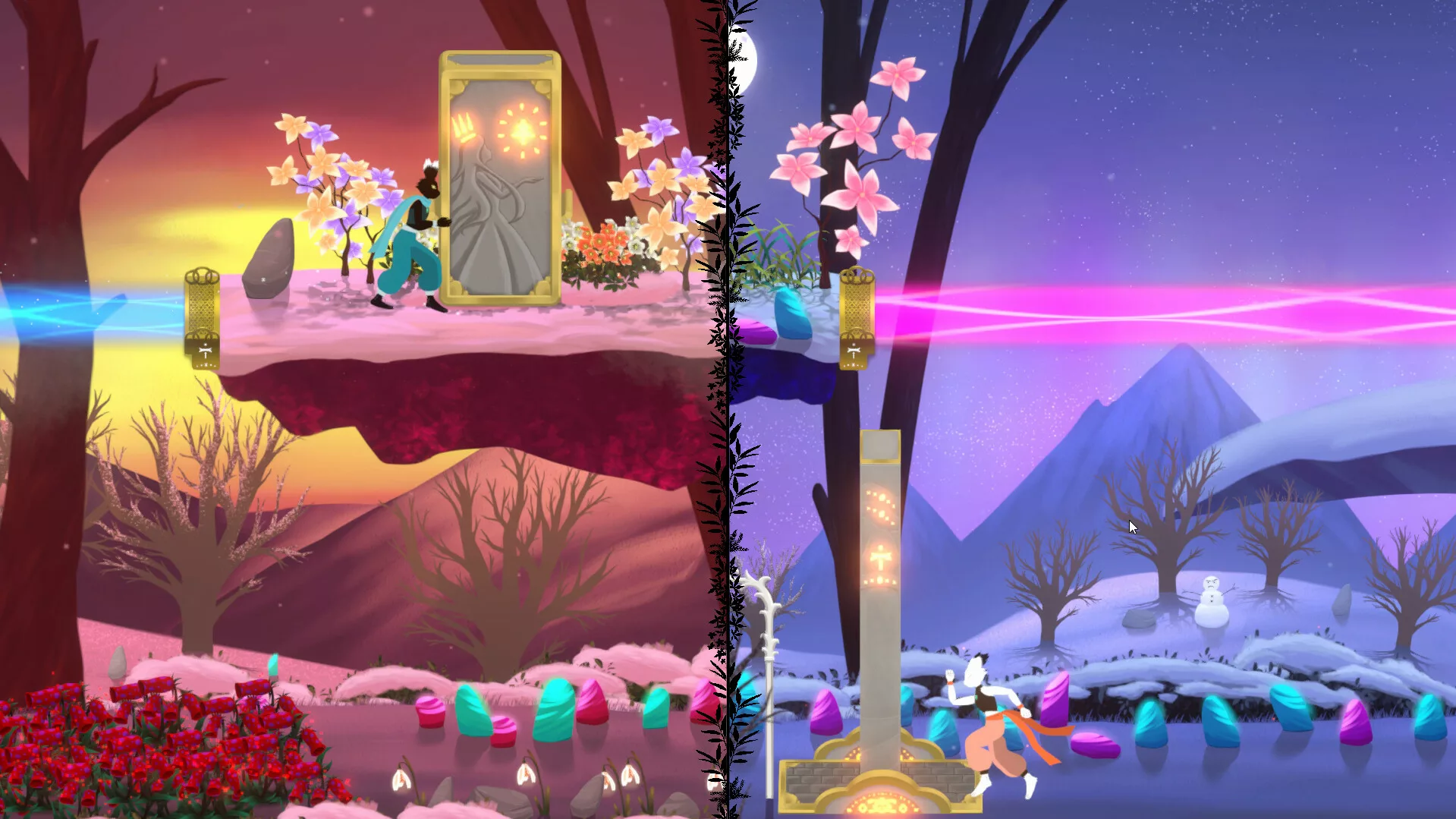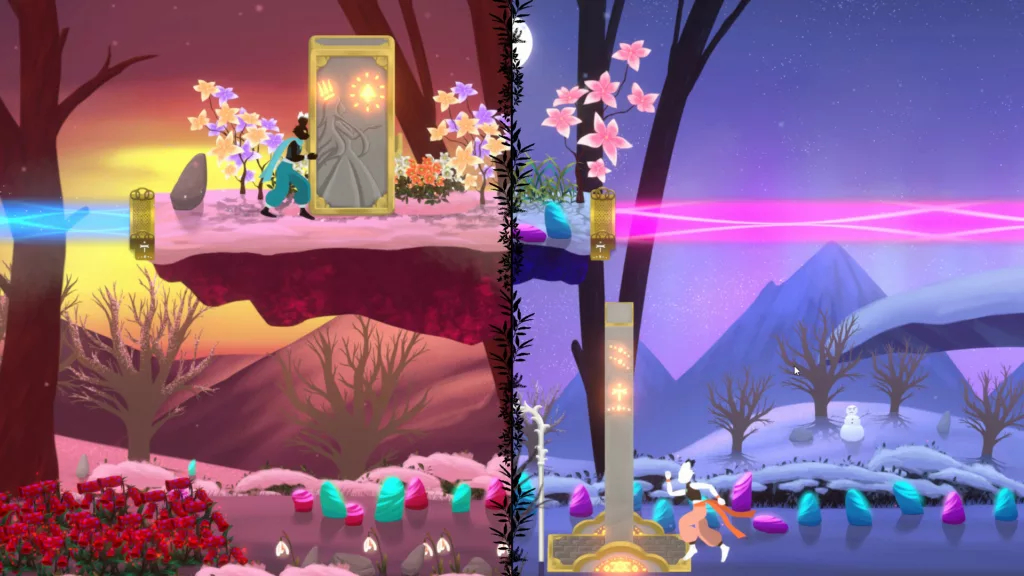 Another point of contention is the option to skip particularly tough levels. At first glance, this appears as a considerate inclusion, allowing players to progress without getting too bogged down. However, the absence of guidance or potential solutions for these skipped levels feels like a missed opportunity. Puzzle enthusiasts often thrive on the "aha!" moments of solving a difficult challenge. By not offering any hints or solutions, players are left in the dark, potentially missing out on these rewarding moments. A subtle hint system or a post-game solutions guide could bridge this gap, allowing players to revisit and conquer previously insurmountable challenges.
Lastly, the game's omission of indicators for skipped levels is puzzling, pun intended. As players journey through the mirrored worlds, it's easy to lose track of which levels were bypassed. Without this indication, players might find themselves tediously navigating the game's chapters, trying to pinpoint which puzzles remain unsolved. A simple marker or list within the game menu could rectify this, streamlining the experience for completionists eager to tackle every challenge "Mirrored Souls" presents.
While "Mirrored Souls" is a gem in many respects, these constructive criticisms highlight areas where the game could elevate its player experience even further. Addressing these nuances could shape an already memorable game into an unforgettable classic in the puzzle-platformer realm.
Final Thoughts on "Mirrored Souls"
"Mirrored Souls" serves as a testament to the evolution of puzzle-platformers. Through its mesmerizing 2D world and a core gameplay mechanic that demands equal parts skill and thought, it captivates from the onset. Developed by The Bricks Studio and published by Short N Sweet Games, this title transports players to a realm where two interconnected souls, Daru and Ravi, tread mirrored paths, offering a gameplay experience that's as refreshing as it is challenging.
One of the game's undeniable strengths is its innovative single-player cooperative mode. Controlling Daru and Ravi in their synchronized yet opposite-direction movements creates puzzles that are both mentally stimulating and gratifying once solved. The game's narrative is equally engrossing, touching upon profound themes like eternity, love, and the intricacies of existence. Moreover, the visuals, with their painterly allure, further accentuate the game's charm.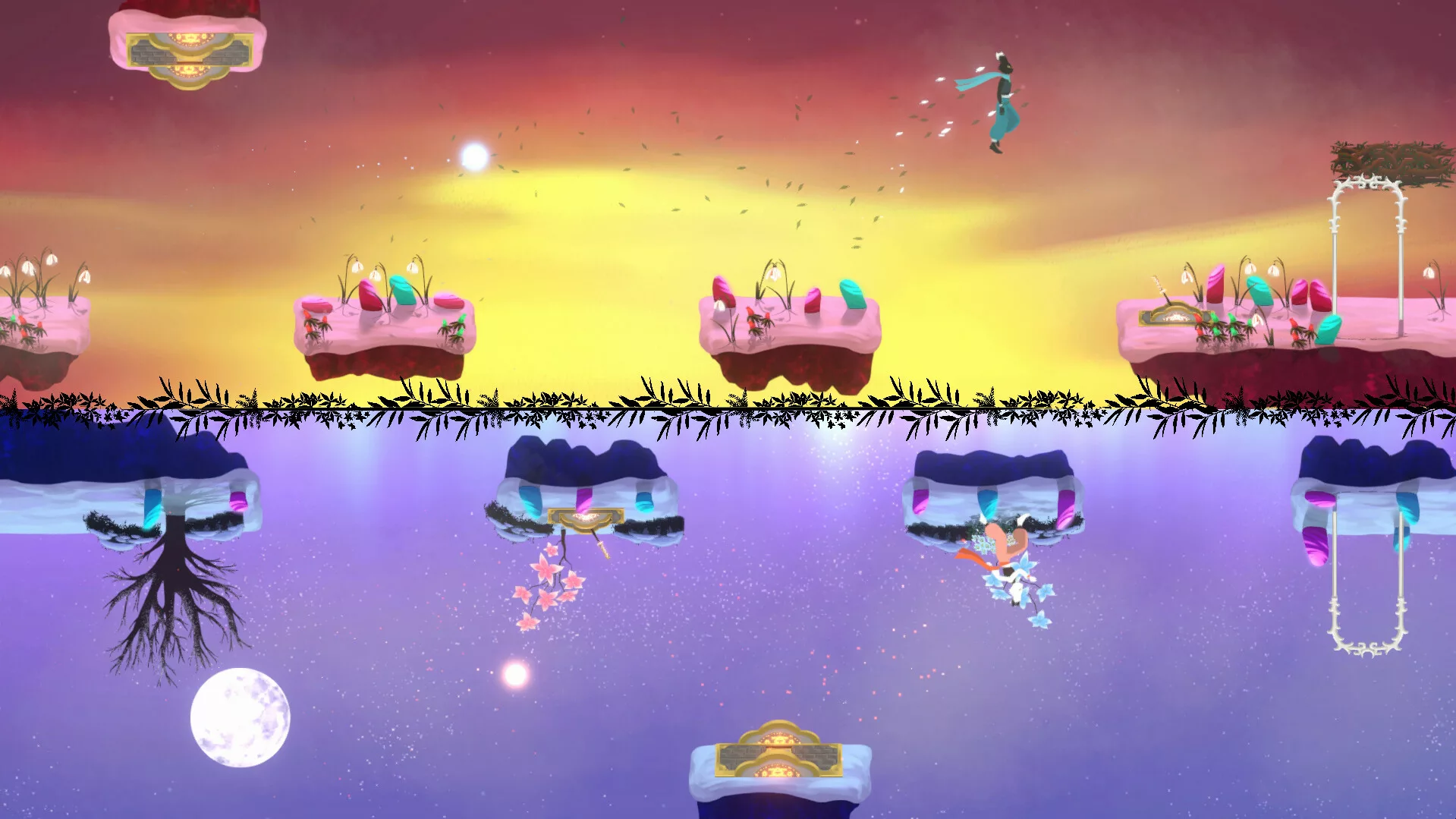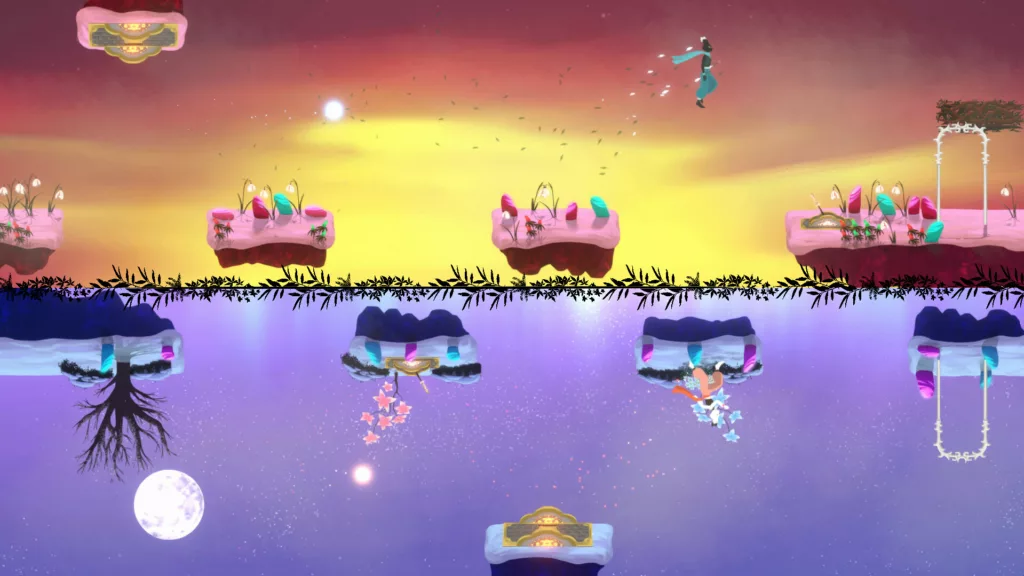 However, like all games, "Mirrored Souls" isn't devoid of areas that could be refined. The repetition of some puzzle mechanics, though understandable for skill mastery, can occasionally tip the scales from engaging to monotonous. Additionally, while the option to skip more vexing levels can be seen as a reprieve, the absence of a subsequent hint or solution system can leave players feeling adrift. A simple post-game walkthrough or the inclusion of level markers for those skipped could easily address these gaps, ensuring an even smoother player experience.
So, who is "Mirrored Souls" for? Fans of puzzle-platformers will undoubtedly find joy in the game's unique mechanics and captivating narrative. But its appeal isn't confined solely to genre enthusiasts. Anyone seeking a fresh gaming experience, with challenges that are as cerebral as they are skill-based, will find themselves engrossed.
In the grand world of gaming, "Mirrored Souls" stands out as a compelling piece of art. It prompts reflection, both in its mirrored gameplay and the deeper questions its story poses. If you're on the fence about diving into this mirrored world, here's a nudge: take the leap. The mirrored dimensions of Daru and Ravi await, and their journey is one worth embarking upon.
The Review
Mirrored Souls
"Mirrored Souls" is a captivating journey into a unique 2D puzzle realm, blending intricate gameplay mechanics with a touching narrative. Its painterly visuals, innovative single-player cooperative mode, and exploration of profound themes make it a standout in its genre. Although it has some areas ripe for refinement, the overall experience is both challenging and rewarding. A game that beckons not just puzzle enthusiasts, but anyone in search of a fresh and thought-provoking adventure.
PROS
Unique single-player cooperative gameplay.
Engaging storyline with deep themes of eternity, mortality, friendship, and love.
Visually pleasing with a painterly 2D art style and vibrant colors.
Smooth controls and no significant technical glitches.
Diverse and challenging puzzles that are rewarding when solved.
CONS
Some puzzle elements can blend into the background.
Repeated ideas in some puzzles might lead to player fatigue.
Absence of guidance or solutions for skipped levels.
Lack of indicators for skipped levels, requiring players to remember or revisit.
Certain levels, like "Dropdown," deviate from the game's core strengths.