In a significant leap forward in graphics card technology, Asus has introduced its first production-ready cable-less graphics card, the RTX 4070-O12G-BTF, which is now available for purchase in China.
This innovative card incorporates a hidden High-Performance Connector Extension (HPCE) power connector, eliminating the need for traditional 8-pin/16-pin connectors to supply supplemental PCIe power to the card.
However, due to compatibility constraints, the cable-less RTX 4070 can only be acquired as part of a bundle with a compatible motherboard, or a bundle that includes both a compatible motherboard and case.
The RTX 4070 is a part of Asus' new "Back To Future" (BTF) product lineup, which places a strong emphasis on experimental designs that prioritize enhancing system aesthetics. A key feature of this new design philosophy is the integration of hidden power connectors that remain entirely concealed from the front of the system, resulting in a cleaner and more minimalist appearance.
Meet the Tianxuan TX Gaming-RTX4070-O12G-BTF
The full name of this revolutionary graphics card is the Tianxuan TX Gaming-RTX4070-O12G-BTF. Sporting a sizable triple-fan cooler design, it boasts an Anime-inspired white and light blue color scheme. The card's standout feature is its lack of supplementary power connectors on the side.
Instead, it derives all of its supplemental power through a compact HPCE power connector positioned just behind the PCIe x16 slot, connecting to a reciprocal HPCE connector on the motherboard.
A Bundle of Innovation: RTX 4070 Graphics Card with Tianxuan TX B760-BTF Motherboard
When purchasing the RTX 4070, it comes bundled with a Tianxuan TX B760-BTF motherboard, designed to support Intel's latest Alder Lake and Raptor Lake CPUs. This motherboard shares the Anime-inspired theme of the graphics card and features a 12+1 power delivery system, WiFi 6 support, and a standard ATX form factor.
Its black PCB is mostly concealed by plastic, akin to Asus' ROG motherboards. Like the RTX 4070, the B760-BTF motherboard features an HPCE connector behind the primary x16 slot for powering HPCE-compatible Asus graphics cards.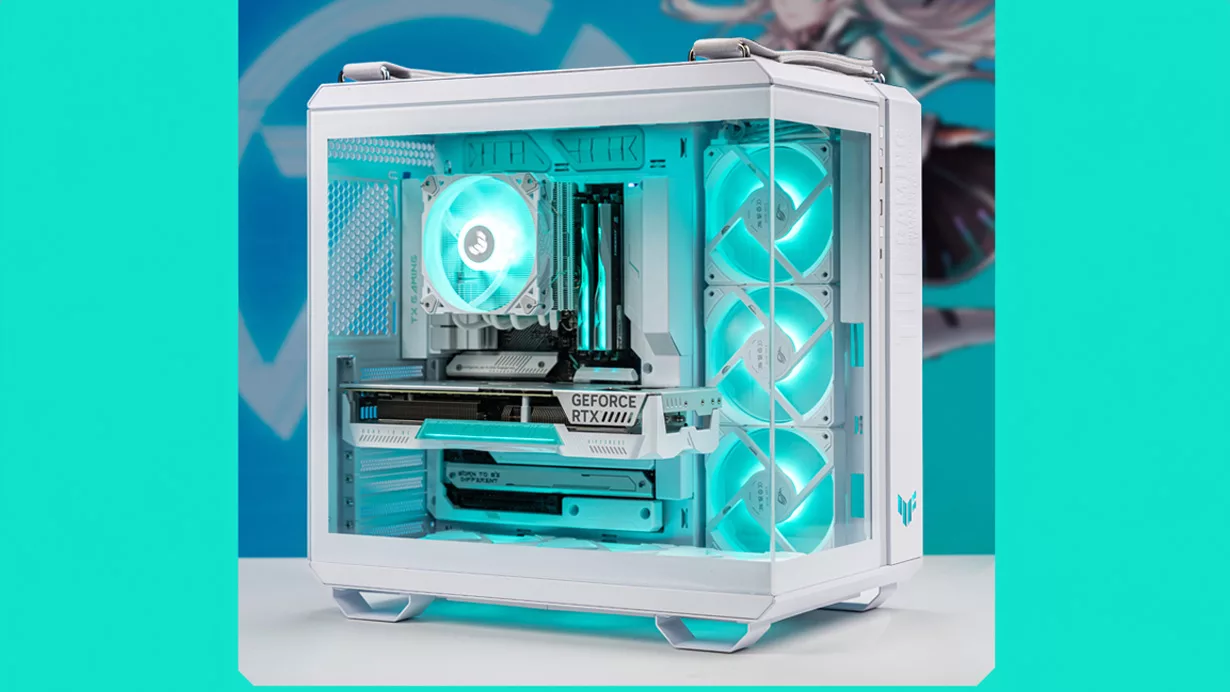 Currently, the RTX 4070 is available for purchase through Asus' official online retail outlets in China. There is no official word on when or if the card will make its debut in North American markets. As a standalone item, the RTX 4070 is priced at 5289 Yuan (approximately $727 USD).
Alternatively, it can be acquired as part of a bundle with either a compatible motherboard or a compatible case, with the latter option including an Asus GT502 BTF chassis designed to accommodate the hidden EPS and 24-pin motherboard connectors installed at the rear.
The GPU-motherboard combo is priced at 6998 Yuan (about $962 USD), while the comprehensive bundle featuring the graphics card, motherboard, and case is available for 8297 Yuan (approximately $1141 USD).
Although it remains uncertain if these Anime-inspired Asus BTF components will reach the United States or other markets outside Asia, Asus has already demonstrated its hidden power connector designs in other BTF components utilizing TUF branding. This suggests that products featuring the HPCE power connector may soon become available in other regions.