When Taylor Swift announced The Eras Tour earlier this year, it immediately became clear that this would be no ordinary concert run. As one of the world's biggest pop stars, Swift has amassed a fiercely loyal following of fans known as "Swifties" who hang on her every move. This tour was designed to be a career-spanning spectacle highlighting each distinct "era" of her music from her 2006 self-titled debut to her intimate 2020s folk albums. Demand for tickets was unprecedented, selling out arenas globally and crashing websites in the rush. For those unable to snag the hot tickets, Swift had another surprise up her sleeve – a concert film capturing her record-breaking tour.
Taylor Swift: The Eras Tour premiered last week in a suitably lavish fashion with Swift herself appearing at the star-studded event. The concert film documents her tour finale shows at Los Angeles' SoFi Stadium, featuring pyrotechnics, intricate sets, costume changes, and hits from Swift's entire discography. Clocking in at nearly three hours, the film is a testament to the ambition and scale of Swift's live production and songwriting evolution over a prolific 17-year career.
While concert films are often quickly forgotten, Swift's cinematic debut feels uniquely positioned to resonate with audiences. The fervent fandom around Swift suggests not just financial success but a cultural event that could inspire Rocky Horror-style rituals, costumes, and repeat viewings. Beyond her hardcore devotees, Swift's genre-spanning catalog and ability to connect on mass and personal scales make her music remarkably accessible. The Eras Tour movie stands to introduce Swift to a wider audience and cement her status as a defining pop culture force.
For an artist whose relationship with fame has always been complicated, Swift is leaning into her position as a beloved superstar with a giant, glittering exclamation point. The Eras Tour shows an artist fully confident in her powers, commanding stadiums with ease and transforming each era of her musical past into a piece of an impeccably crafted larger mosaic. Taylor Swift: The Eras Tour is a big-screen coronation for the princess of pop – a larger-than-life spectacle that lives up to the dazzling Swiftian mythos.
A Night to Remember: Capturing the Magic of The Eras Tour
When Taylor Swift arrived at the star-studded world premiere of her new concert film, she was greeted like royalty. Emerging in a striking blue gown, Swift blew kisses to the crowds and waved like the pro she is before surprising fans by popping into theaters to chat. It was a suitably grand entrance for the larger-than-life spectacle that is The Eras Tour.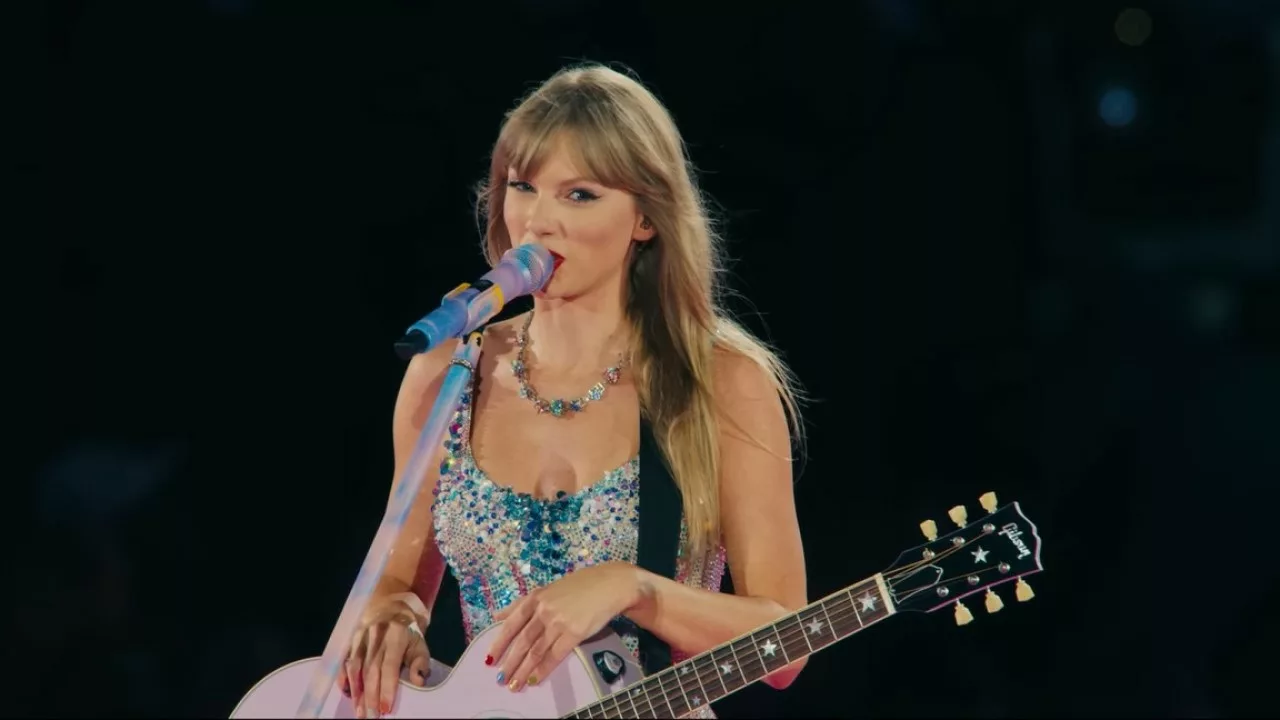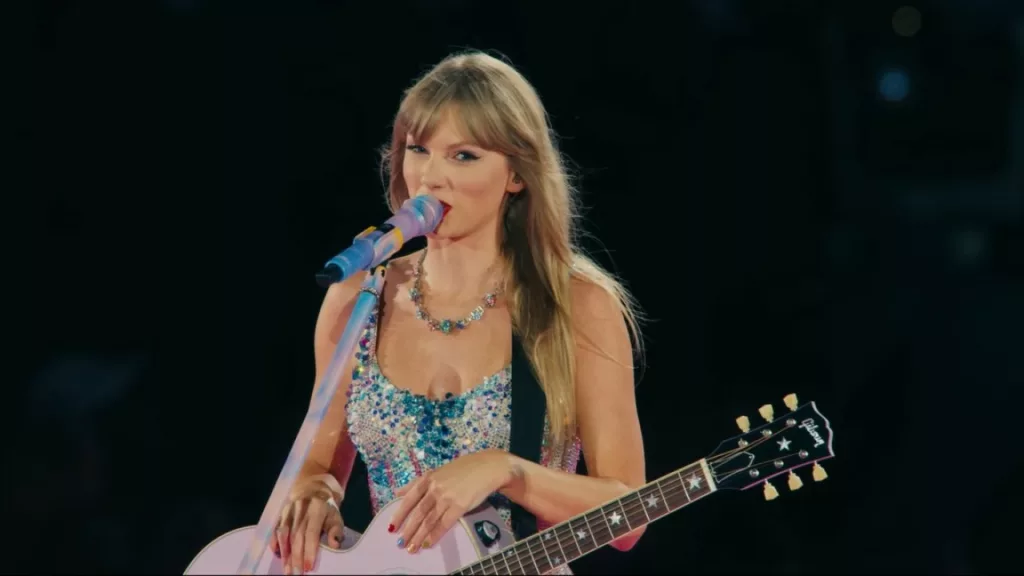 Captured during the tour's final shows at Los Angeles' SoFi Stadium, the film clocks in at a robust 2 hours and 45 minutes. Considering Swift's marathon live shows stretched to 3 and a half hours with a whopping 45 songs, director Sam Wrench does an impressive job distilling the experience without losing its essence. While a handful of tracks are omitted, the setlist remains extensive, spotlighting hits from Swift's entire career arc. From breakout country tracks to her latest dreamy indie pop, the arrangements seamlessly shift between genres and eras.
Beyond the impressive sonic range, the film highlights Swift's showmanship and emotional connectivity. Beloved hits like "Love Story" and "Shake It Off" inspire sheer euphoria, hands waving in unison like a pop music congregation. On sweeping ballads like "All Too Well (10 Minute Version)," Swift seems to make direct eye contact through the screen, laying bare her pain and passion. Special acoustic performances of "Our Song" and "You're On Your Own, Kid" provide tender bookends, showing Swift's growth from teenage songwriter to mature pop powerhouse.
Of course, The Eras Tour concert experience is about more than just music – it's the jaw-dropping visuals that earn gasps and applause. Swift spares no expense, with elaborate sets and theatrical interludes turning each era into its own world. The film captures the over-the-top production in all its glory, from the golden snake pit of "Reputation" to the romantic woodland cottage of "Folklore." Clever camera angles immerse the viewer amidst the dancers, floating over the crowd, and swooping down to spotlight Swift's most dramatic moments. Every sequin, pyrotechnic burst, and costume change pops with crystal clarity.
For all its largesse, however, some of the most affecting moments are Swift's solo piano renditions. Stripped of production, her communication with the audience feels raw and intimate. These candid segments emphasize that beneath the glitz and fame, Swift's real power stems from forging genuine connections through songcraft.
Ultimately, The Eras Tour concert film triumphs by distilling Swift's magical alchemy as a performing artist. She moves seamlessly from confessional songstress to larger-than-life goddess, showcasing her musical range and storytelling gifts. But most importantly, Swift makes everyone feel they are part of the spectacle, filling stadiums and movie theaters alike with passion and light. The Eras Tour is a celebration of Swift's one-of-a-kind career, but even more so, the unique emotional journeys music can take us on.
Bringing The Eras Tour to the Big Screen
When translating the live experience of The Eras Tour to cinema, director Sam Wrench faced a formidable challenge. Stadium spectaculars like Swift's rely on explosive emotions and larger-than-life productions. Shrinking that down could diminish its power. Luckily, Wrench and his team prove up to the task, deftly capturing both the grandiosity and intimacy that make The Eras Tour so magical.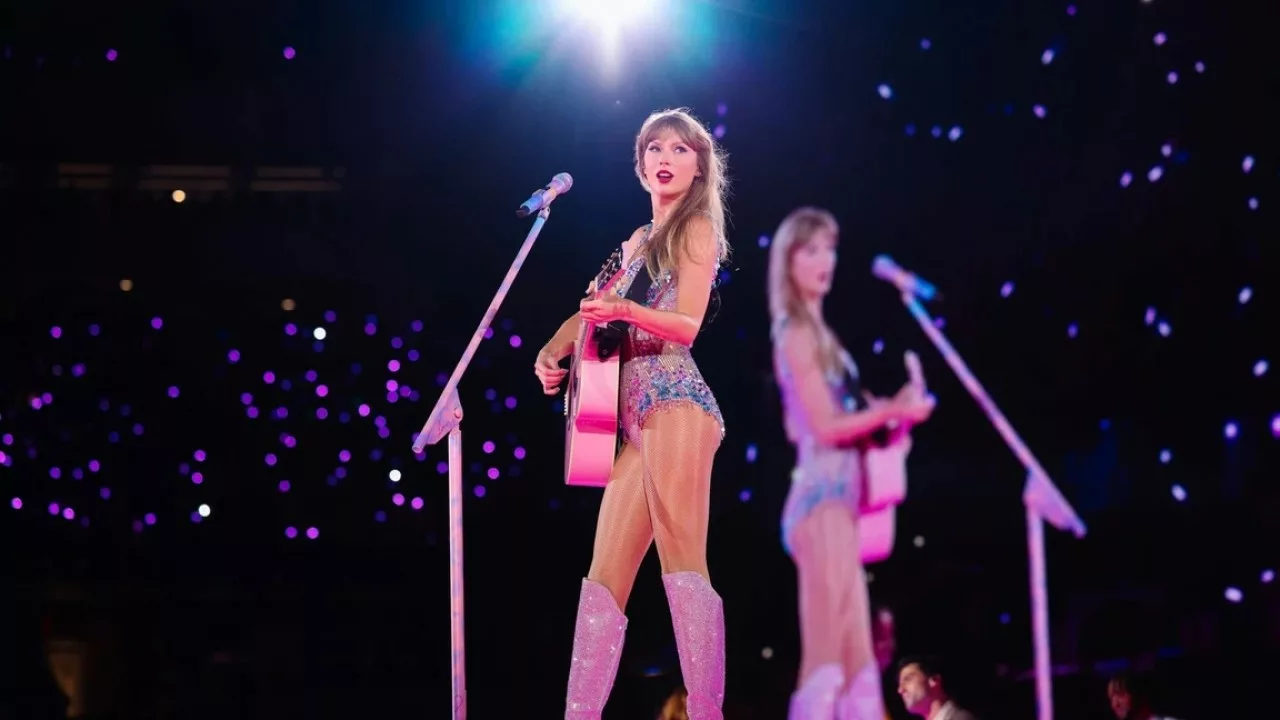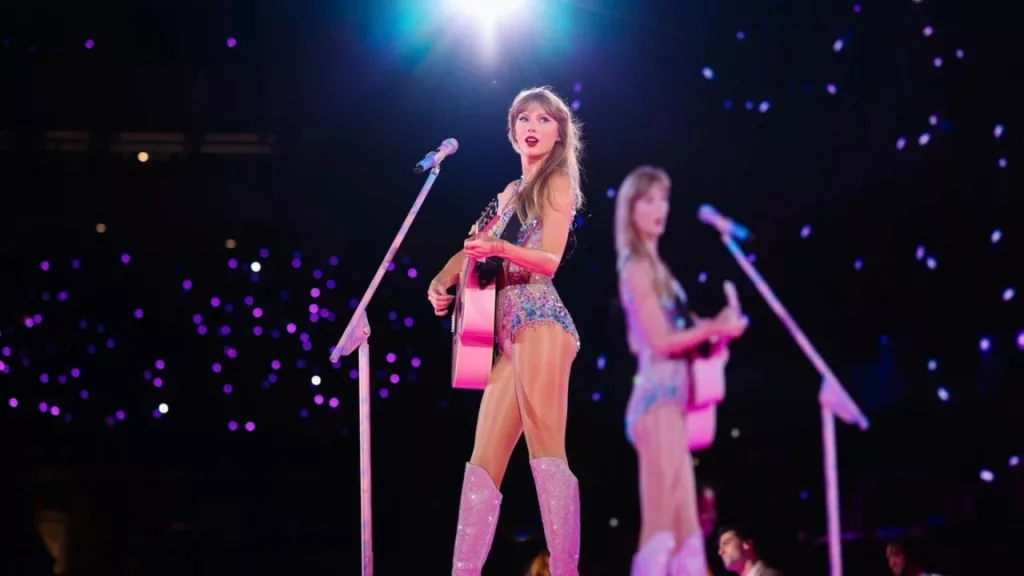 Wrench's approach favors recreating the concert as authentically as possible. Rather than imposing his own flashy style, he lets Swift's vision shine. Of course, stunning camerawork and seamless editing are still essential to highlight standout moments. By interspersing dynamic crowd shots,close-ups of Swift's expressions, and aerial views, Wrench adds layers without disruption. The style remains focused on the performances, while subtly intensifying key elements.
For instance, during "All Too Well (10 Minute Version)", Wrench simply keeps the camera trained on Swift, allowing her raw outpouring of emotion to mesmerize viewers. On bombastic tracks like "Shake It Off", quick cuts capture the choreography and energy. The uniformity of the red costumes pops brightly on screen, matching the song's pep. Wrench cleverly uses contrast, knowing when to amplify theatrics and when to step back and let the music speak for itself.
Technical elements like lighting, sound mixing, and color grading also make the jump to the cinema smoothly. Concert films can often suffer from muddy audio or amateurish staging, but The Eras Tour glimmers with professional polish. The picture quality is pristine, conveying dazzling costume and set details. Sound balances Swift's voice, the band, and crowd noise into an enveloping sonic landscape. Visual effects seamlessly heighten key moments like floating paper airplanes or fireworks without seeming gaudy.
But the crew's greatest success is using the cinematic format to bring audiences closer to the actual feeling of Swift's show. Witnessing the hysterical joy during "22" or tears during "Ronan" induces goosebumps. In the tour's most intimate segment, Swift circles the crowd performing acoustic songs from a floating platform. On screen, we sway along right beside her. The camera becomes our eyes sweeping across the ocean of lights and faces, linking viewer and performer.
Ultimately, Wrench's understated choices allow Swift's innate magnetism to draw us in. The film Bottle Rocket zooms on her performing, but the focus stays on expressions flickering across her face. We can read the mischief in her smile during "I Knew You Were Trouble", see tears glistening as she sings "Soon You'll Get Better."  Throughout, Swift bares her soul and the camera captures truth in every glance.
The Eras Tour concert film succeeds by marrying technical prowess with profound emotional insight. Wrench harnesses cinema's strengths to bring us closer, while knowing where to pull back and let Swift work her magic. The experience resonates long after, leaving the heart full and the eyes still dazzled by each glamorous costume and set. While nothing replaces seeing The Eras Tour live, this is surely the next best thing.
Swifties and Spectacle Seekers: Mass Entertainment with Meaning
A film of this proportion poses an interesting challenge – how to satisfy Swift's diehard fans while also drawing in casual viewers simply seeking an enjoyable night out. Luckily, Swift's musically and theatrically brilliant Eras Tour concert seamlessly bridges that gap. Hardcore "Swifties" will relish the chance to endlessly re-watch and indulge their fandom, while even non-devotees can appreciate the craftsmanship.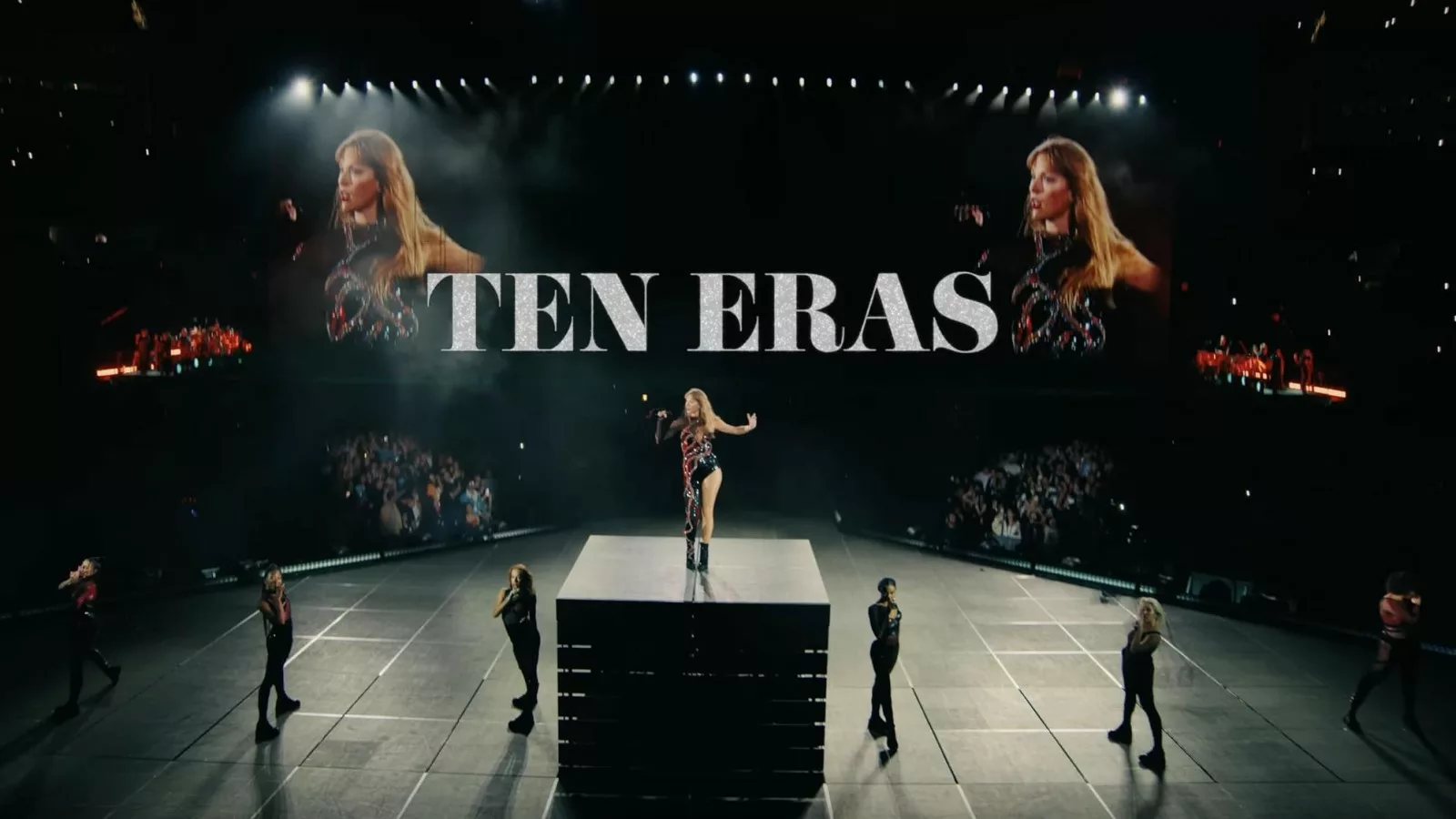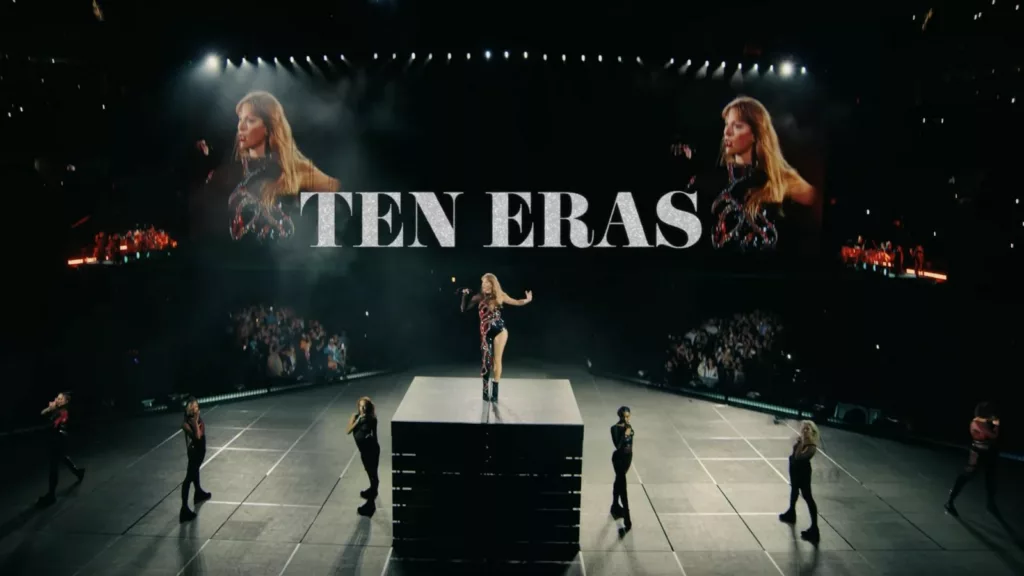 For the Swiftie contingent, simply seeing their idol command the massive stage and hearing beloved hits is reward enough. They'll delight at every costume change, inside joke, and surprise acoustic song choice. Swift rewarding their dedication with winks and waves through the screen makes it all the more special. These fans will elevate the communal viewing experience, singing and dancing joyously, Thus perpetuating the Eras Tour ritual for years to come.
Yet even the uninitiated can find much to enjoy. Swift's eclectic catalog means most viewers will recognize a few irresistible earworms like "Shake It Off" or "Blank Space." The sheer scope of the production design earns gasps regardless of one's knowledge of the artist. Swift's charisma and emotive performances transcend genre preferences. It takes little more than open eyes and ears to recognize her talent.
Casual viewers also get an immersive music history lesson through the eras concept. The film illuminates Swift's genre fluidity and songwriting range in a way live setlists can't. Witnessing her growth from teenage country crooner to confident pop powerhouse unites her body of work into one cohesive arc. The divides between "fan favorite deep cut" and "chart-topping single" blur, each song part of her artistic journey.
Even less reverent moments like crowd singalongs and phone flashlight waves draw the casual viewer into a collective experience. Swift encourages these breaks in cinema etiquette not to be disruptive, but to spread the buzz of live shows. Singing "22" en masse or shouting the cathartic bridge of "All Too Well" forges community and memory-making. The Eras Tour activates our inner Swiftie – reminding us of music's link to nostalgia and self-discovery.
This carefully crafted balance between personal and universal is Swift's real strength. While every song and spectacle moment caters to her followers, she invites everyone under her glittering pop blanket. The Eras Tour concert film will doubtlessly break records thanks to Swifties' passion. But its legacy will persist because Swift understands how to turn even cynics into smiling, dancing believers over the course of one cathartic film.
The Reign of the Pop Empress
While Taylor Swift has acted in films before, The Eras Tour movie marks her first true star vehicle. It places the spotlight squarely on Swift to carry the show with charisma and performance chops. Not only does she prove herself up to the task – she conquers the cinema just as she's conquered charts and stadiums for over a decade.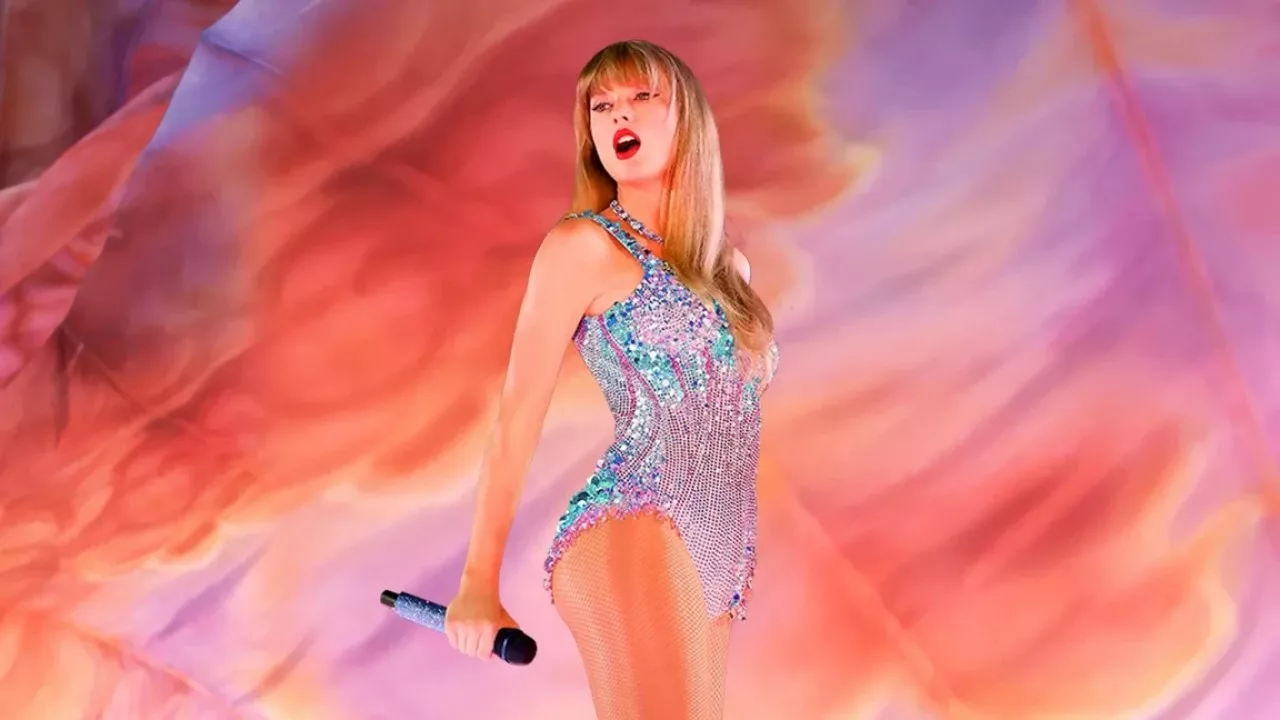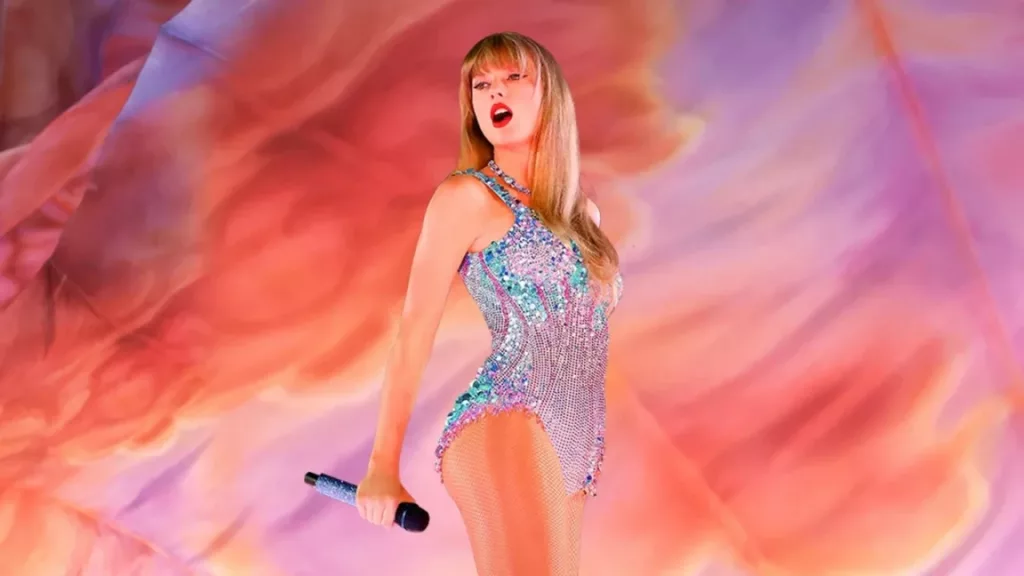 Looking back, Swift's filmography has been inconsistent, with notorious flops like Cats contrasting with voice roles in hits like The Lorax. But The Eras Tour plays directly to her strengths. On stage, Swift is totally in command, her presence owning arena-sized spaces with ease. Wrench's cameras come close enough to highlight her emotional nuance, humor, and unshakeable confidence.
Whether cautiously strumming an acoustic ballad or belting out a pop anthem, Swift exhibits precision vocal control. As a dancer, she keeps up with professionals, yet still radiates natural poise. Swift navigates the massive stages and myriad costume changes without a single misstep. And above all, her connection with the audience leaps off the screen. She feeds off their energy, rewarding it with winks, smiles, and authenticity.
Beyond executing the production, Swift is also its chief creative force. The Eras concept, set designs, and overall vision stem from her ingenuity. She chose the songs, visuals, even the surprise acoustic numbers to gift fans. This film ultimately reflects the power of Swift's songwriting, imagination, and rigor.
The Eras Tour cements Swift's status as the reigning queen of pop culture. Her prominence stretches far beyond music into film, fashion, celebrity, and youth culture. She represents positivity, openness, and the power of forging community through art. The tour's sheer ambition mirrors Swift's own – using creativity and connection to spread light.
In The Eras Tour, Swift expands her kingdom to the cinema. Whether or not she wishes to maintain a film career, she can rest assured knowing she's delivered a wildly entertaining spectacle that fans will treasure. For decades, Swift has dominated charts and headlines. Now with captivating concert films, she can dominate the box office as well. The Eras Tour ushers in what's sure to be yet another era of Swift's already legendary career.
The Concert Film Event of the Era
With The Eras Tour concert film, Taylor Swift has once again created a cultural phenomenon that succeeds on every level. It's an electrifying big-screen concert experience that satiates her loyal fans while winning over casual crowds. It highlights the ambition and attention to detail that makes Swift a consummate entertainer. And it expands the horizons of what a concert film can achieve.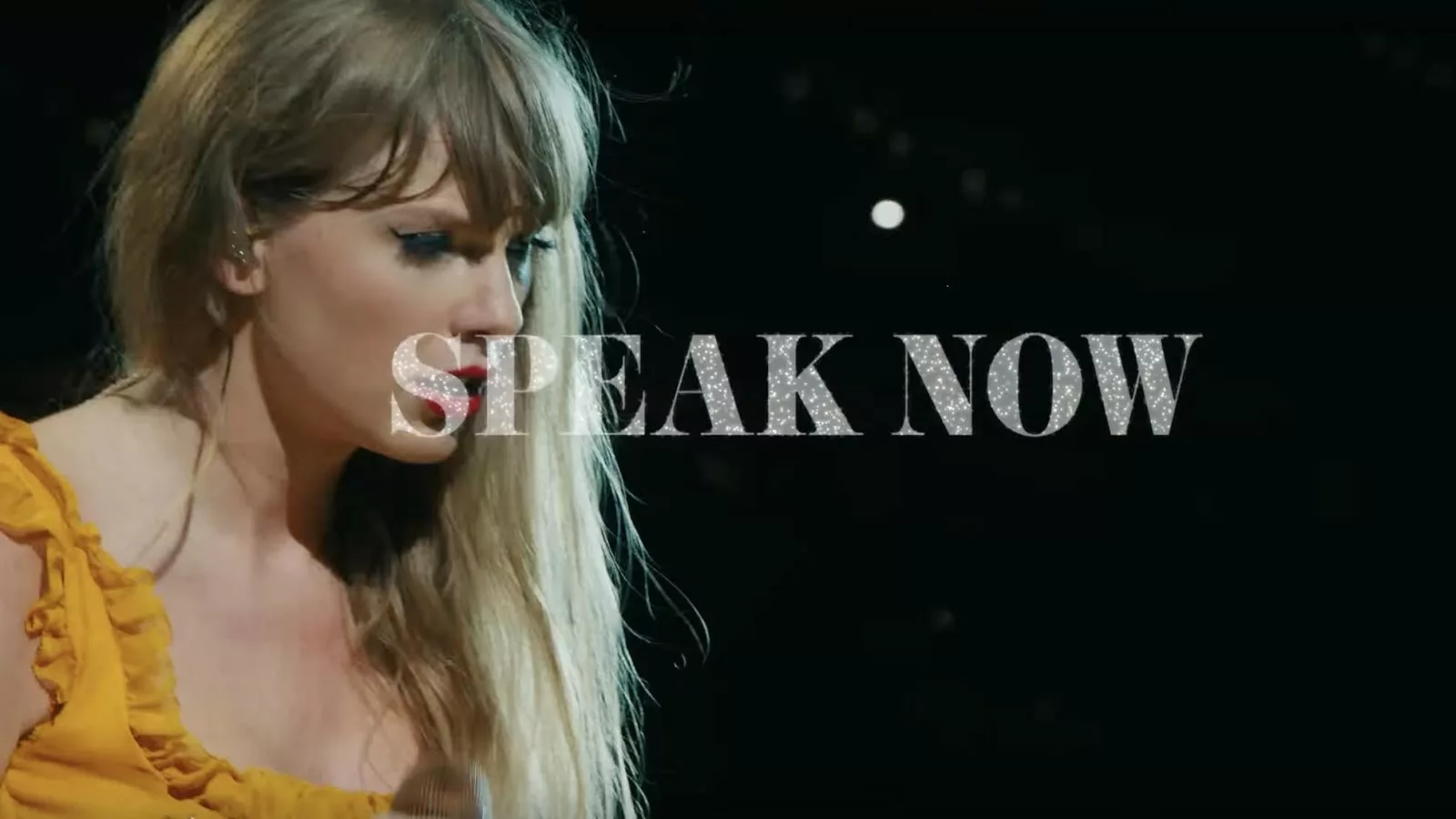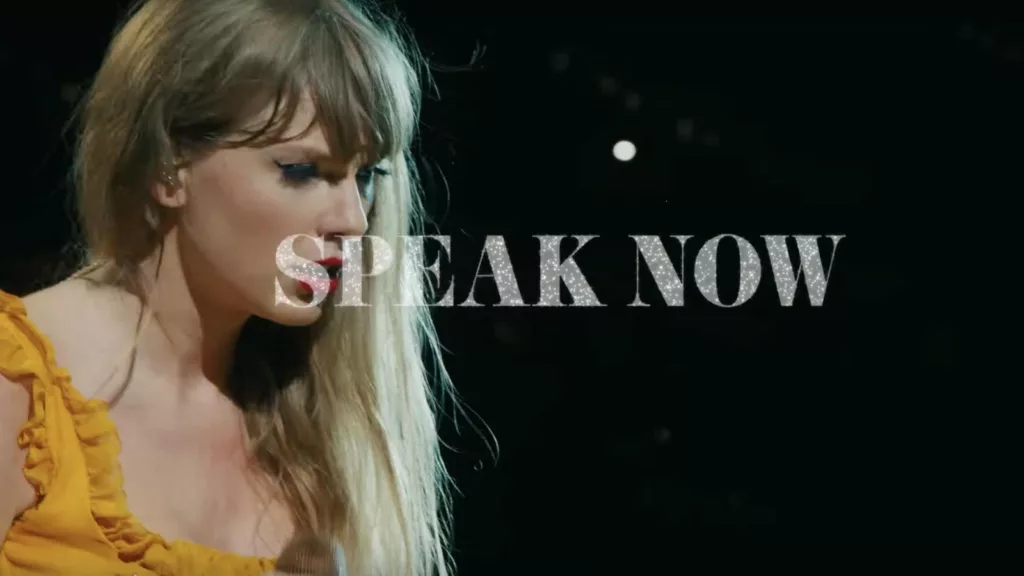 Director Sam Wrench beautifully captures both the grand scale and intimate emotions that make The Eras Tour so special. The setlist takes us on a sonic journey through Swift's musical revolutions. The choreography, costumes, sets and effects create jaw-dropping visual feast. But most of all, Swift herself enthralls, showcasing her vocal prowess, magnetism, and connection to the audience.
The Eras Tour will surely shatter box office records thanks to Swifties' passion. But it deserves to live on as a permanent part of the concert film canon. Swift has created a new template for marrying intimate songwriting, innovative production, and good old show business spectacle. It reminds us that gatherings around music, whether in arenas or movie theaters, have a unique power to excite, console and unite us.
As Swift sings, the old Taylor can't come to the phone right now. This new era of her career is centered on finding peace with her own celebrity and voice. The Eras Tour marks a crowning achievement not just for her, but for the arts of pop music and cinema. With this film, Swift has crafted a glittering valentine to her fans, her collaborators, and the magic that happens when artists and audiences join forces. Surely that is something to sing, dance, and smile about.
The Review
Taylor Swift: The Eras Tour
With The Eras Tour concert film, Taylor Swift puts an exhilarating exclamation point on her record-shattering live production. This cinematic spectacle captures Swift at the peak of her powers, guiding us through her musical revolutions with charisma, vulnerability, and flawless precision. For both fans and casual viewers, it's a joyous celebration of Swift's artistry and pop culture dominance. The Eras Tour sets a new bar for the potential of concert films to move, dazzle, and unite on a mass scale. Swift has once again rewritten the rules with this career-defining blockbuster.
PROS
Captures the grand scale and production value of Swift's live show
Showcases Swift's impressive catalog of hits spanning her entire career
Allows fans who didn't get tickets a chance to experience the concert
Great setlist covering fan favorites and chart-topping songs
Swift's charisma and stage presence shine through on film
Seamless transitions between different eras and genres in her discography
Emotional, intimate moments balanced with high energy spectacle
Impressive choreography and visuals heighten key performances
CONS
Can't fully replicate the electricity of seeing Swift perform live in person
Loses some spontaneity and rawness of a live show
Omission of a few songs from the tour's setlist