Whether you're a diehard Marvel fan eager to revisit Thor's epic story from the beginning or a newcomer looking to dive into the God of Thunder's thrilling cinematic journey for the first time, watching the Thor movies in chronological order is an exciting treat. From his humble beginnings in the very first Thor movie to his climactic battles across the Avengers films, getting the timeline right lets you fully appreciate just how far our favorite Asgardian has come.
In this ultimate guide, we'll walk through a Thor movie marathon from start to finish, tracing his heroic path step-by-step from the comfort of your couch. From the family drama of the original Thor to the laugh-out-loud adventure of Ragnarok and beyond, you'll get new insights into Thor's personality and powers with each film.
So get ready to experience the magic, action and heart that makes Thor such a legendary character. Whether you binge-watch or take it slow, following the God of Thunder through the events as they unfolded chronologically makes for an epic saga you won't want to miss.
Thor Movies Character Backgrounds
Before diving into the movies, let's quickly get to know the main players in Thor's world:
Thor
The God of Thunder and crown prince of Asgard. As a young, brash warrior, Thor is eager to prove himself worthy and become king. However, his arrogance and short temper cause his father Odin to banish him to Earth until he can learn humility and what it takes to truly lead. As the movies progress, Thor evolves into a more serious protector of the realms.
Loki
Thor's adopted brother, the God of Mischief. Jealous of Thor being first in line for the throne, Loki's quest for power leads him to betray his brother multiple times. His cunning and sorcery make him a dangerous foe. However, Loki's motivations are more complex than they first appear, as his desire to come out of Thor's shadow reveals deeper family issues.
Odin
The wise king of Asgard, father of Thor and Loki. As a father, he is strict and demanding of Thor, but his banishment comes from good intentions to make his son ready for the throne. Odin keeps many secrets though, including the true origin of Loki, which drives a wedge between them.
Jane Foster
An astrophysicist who becomes romantically involved with Thor after meeting him on Earth. Her curiosity and bravery complement Thor's brashness, while her intelligence helps the Asgardians understand complex galactic phenomena. She brings out Thor's more tender side.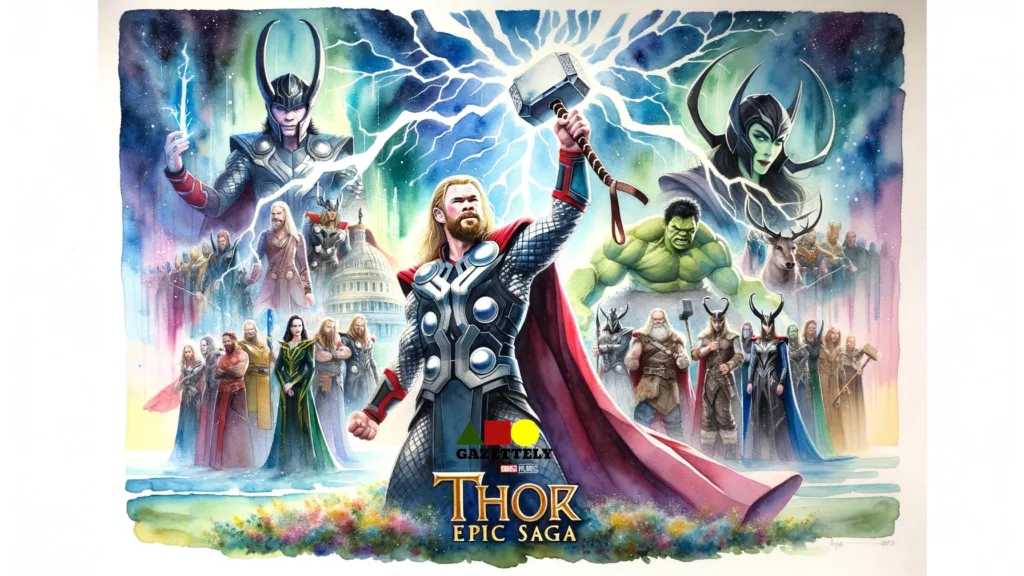 The Ultimate Guide to Watch Thor Movies in Order
Dive into the thrilling world of Asgard, Midgard, and realms beyond with our meticulously curated guide. Whether you're a die-hard Marvel enthusiast or a newcomer eager to understand the electrifying saga of Thor, the God of Thunder, watching these films in chronological order offers an immersive experience like no other.
Instead of release dates, this list follows the narrative's linear progression, ensuring seamless storytelling, deeper character understanding, and a front-row seat to Thor's evolution. This guide promises a cinematic journey filled with monumental battles, cosmic intrigues, profound character arcs, and moments that have left fans worldwide on the edge of their seats. Here's the ultimate list to watch Thor movies in their chronological storyline:
Thor (2011)
Dive into the cosmic realm with the 2011 hit "Thor," marking Chris Hemsworth's memorable entry into the Marvel Cinematic Universe (MCU). This film, helmed by Kenneth Branagh, isn't just another superhero story. Instead, it brilliantly intertwines Shakespearean drama with the expansive universe of superheroes, opening the MCU doors wide to the intriguing dimensions of space and the mystic arts.
At its core, the story revolves around the young and brash God of Thunder, Thor, portrayed by Hemsworth. As he navigates through his arrogance and the trials of young royalty, a twist of fate lands him on Earth. There, amidst the vastness of our world, he crosses paths with the brilliant scientist, Jane Foster, brought to life by the talented Natalie Portman.
As the narrative unfolds, Thor discovers treachery closer home. His own brother, Loki, played by the captivating Tom Hiddleston, betrays him, pushing the narrative to a climax where Thor comes of age. He grapples with profound themes of valor, sacrifice, and what it truly means to be a hero.
The post-credits scene showing Nick Fury offering Erik Selvig the Tesseract hints at dark times ahead. It appears the cosmic cube will play a major role in future events, with Loki somehow involved. This sets the stage for the Avengers initiative to take shape when new threats emerge. Thor will have to reunite with Earth's mightiest heroes again soon.
The Avengers (2012)
Fast forward to 2012, the Marvel realm expands with "The Avengers." This monumental cinematic event seamlessly assembles a powerhouse of superheroes: Iron Man, Captain America, Thor, the Hulk, Black Widow, and Hawkeye. But as they converge, it's not just about showcasing their might.
The narrative delves deep into the intricacies of their contrasting personas and styles. When Loki, wielding the stolen Tesseract, orchestrates a full-blown alien invasion on Earth, these superheroes face their biggest challenge yet. Not just external invaders, but also their internal clashes. As they wade through the initial friction, the storyline offers a deeper dive into the psyche of Loki, unraveling layers of his character and what drives him.
"The Avengers" doesn't just narrate a tale of heroism; it lays the foundational stones for the colossal MCU, emphasizing the team dynamics of the Avengers. It's an epic journey of unity, strength, and the sheer will to protect the world. If you're keen to watch Thor movies in order, this is a chapter you wouldn't want to miss.
Now an established member of the Avengers, Thor returns to Asgard with Loki as his prisoner. But Loki's connection to the Tesseract and bitterness toward his brother means his role in the Marvel universe is far from over. There are still many secrets left to uncover about the Infinity Stones too, including the Reality Stone seen in this film. Thor will certainly have to come back to Earth's aid when these artifacts endanger the universe again. The World Security Council also shows willingness to take extreme measures, foreshadowing future conflict.
Thor: The Dark World (2013)
As the saga unfolds, "Thor: The Dark World" whisks us away in a whirlwind of cosmic complexities. When you're set to watch Thor movies in order, this installment beckons with an intriguing plot. With the Nine Realms now seemingly at peace, Thor finds himself magnetically pulled back to our humble Earth. The reason? A mystifying red mist known as the Aether.
Unbeknownst to Thor, this dark and powerful weapon has entangled itself with Jane, making her a beacon for danger. Malekith, the ruthless Dark Elf, sets his sights on the Aether, and by extension, Jane. The heart of the movie revolves around Greenwich, where an epic confrontation ensues, replete with betrayals and shocking twists.
As dust settles, we witness Loki's apparent demise, Thor's surprising refusal to the Asgardian throne, and a twist with Odin's fate. Critics might dub it as convoluted or even tedious, but for Thor aficionados seeking a complete journey, this chapter is pivotal. After all, it sheds light on one of the coveted Infinity Stones, a cornerstone in the Marvel universe.
With the powerful Aether now revealed to be an Infinity Stone, it's likely these cosmic artifacts will play a larger role down the road. The mid-credits scene also shows Thor and Odin troubled that Loki masquerading as Odin may be up to more mischief. We'll have to wait and see what darkness Loki has in store next for Asgard and Earth.
Avengers: Age of Ultron (2015)
Moving along in your mission to watch Thor movies in order, 2015's "Avengers: Age of Ultron" awaits. Fresh from his decision to step away from the grandeur of the Asgardian throne, Thor is now a full-fledged member of the Avengers squad. Together, they mount an offensive against the dark tentacles of Hydra, seeking to dismantle their strongholds worldwide.
Just as victory looms and Thor readies himself for a return to Asgard, the skies darken with a new threat – the malevolent Ultron. Contrary to what one might expect, Thor doesn't dominate the screen here. His role, while significant, leans more towards engaging with the robotic foes, wielding his trusty hammer with flair. Yet, in a twist, it's his inadvertent action that sparks Ultron's sinister birth.
Throughout the film, Thor's thoughts are consumed by the looming shadow of the Infinity Stones, hinting at the larger game at play. Add to this mix, an intriguing subplot involving Captain America, the mighty Mjolnir, and a tantalizing secret, and you've got another compelling reason to dive deeper into Thor's cinematic saga.
Thor's visions reveal the Infinity Stones will soon bring grave dangers. After Tony Stark re-ignites the Avengers initiative, Thor returns to Asgard to investigate more about these threats. The mid-credits scene also shows Thanos finally taking matters into his own hands, likely forcing Thor to join the Avengers again soon to confront the Mad Titan.
Doctor Strange (2016)
Next on your quest to watch Thor movies in order, you'll be introduced to the enigmatic world of "Doctor Strange." The film unravels the tale of Stephen Strange, an accomplished neurosurgeon who, at the peak of his career, faces a devastating accident that severely impairs his hands. Desperation to regain his surgical prowess drives him to the mystical corners of Nepal, where he encounters the Ancient One and delves deep into the realms of sorcery and magic.
As Strange adapts to his new magical abilities, he is quickly drawn into a cosmic showdown against Kaecilius, the Ancient One's rebellious protege who harbors ambitions of merging Earth with the perilous Dark Dimension. Navigating this new magical frontier, Strange grapples with his ego while embracing his newfound role as Earth's protector. While the main narrative primarily focuses on Doctor Strange, Thor fans, keep your eyes peeled!
A mid-credits scene treats us to a surprise Thor cameo, where he's questioned about his mischievous brother Loki's antics on Earth. The revelation that the brothers are on a quest to find their estranged father, Odin, results in Strange lending a helping hand — but on the condition that their sojourn on Earth is brief.
Now aware Loki is searching for their missing father Odin on Earth, Thor's offhand recruitment of Dr. Strange's help shows the Sorcerer Supreme will likely join the fight when intergalactic threats emerge again. Strange has allies across dimensions too, expanding the Avengers' reach.
Thor: Ragnarok (2017)
Continuing your cinematic journey to watch Thor movies in order, "Thor: Ragnarok" is an unmissable spectacle. The film breathes fresh life into Thor's character, transforming him from a stoic Norse warrior to an endearingly quirky and comical space Viking. This refreshing take on Thor, infused with humor and heart, resonates splendidly with fans.
The narrative roller-coaster begins with Thor's earnest attempts to avert the prophesied Ragnarok, only to find himself inadvertently spearheading the very cataclysm he sought to prevent. With Asgard on the brink of annihilation, Thor, backed by an unlikely band of allies – a very much alive Loki, the fierce Valkyrie, and the mighty Hulk – confronts his estranged sister, the formidable Hela, the Goddess of Death.
Packed with laughs, adrenaline-pumping sequences, and unforgettable moments (cue Mjolnir's heartbreaking demise), "Thor: Ragnarok" stands as a testament to how to brilliantly reinvent a character. This chapter offers pivotal plot turns: from the revelation of Thor's inherent powers, independent of his hammer, to Asgard's tragic destruction, and Loki's heartfelt reconciliation with Thor. Easily one of the MCU's crowning jewels, it's not just Thor's most iconic film but also ranks among the MCU's best.
With Asgard destroyed, it seems Thor may need to reconsider Earth as a new home for his people. Based on past threats, he will probably look to ally himself with the Avengers again. The mid-credits scene hints that Thanos finally obtaining the Infinity Gauntlet means time is running out, foreshadowing a major showdown.
Avengers: Infinity War (2018)
Diving straight into the aftermath of "Thor: Ragnarok," "Avengers: Infinity War" thrusts us into Thor's most trying times. For those intent on the ultimate experience as they watch Thor movies in order, this is an emotionally gripping entry. The menacing and ambitious Thanos emerges as a force to be reckoned with, asserting his dominance with chilling effect by ending Loki's life and decimating half of the remaining Asgardians in his relentless pursuit of the Infinity Stones.
Bereft and consumed with vengeance, Thor joins forces with a faction of the Guardians of the Galaxy, embarking on a high-stakes quest to craft a weapon potent enough to annihilate the Mad Titan. In this Avengers installment, Thor's presence shines brighter, revealing deeper layers of his character. His efforts culminate in the acquisition of an imposing new hammer.
Yet, a split-second miscalculation—his hesitation to strike Thanos in a lethal manner—enables the Mad Titan to execute his dreaded snap, erasing half of all life across the universe. Heralded as one of the most compelling comic book adaptations to grace the silver screen, "Infinity War," particularly when paired with its predecessor, offers Thor aficionados a cinematic treat that spans an exhilarating five hours.
Thanos may have succeeded in decimating half of life this time, but the original Avengers and allies like Captain Marvel aren't going down without a fight. Given their resolve, it seems likely some kind of time travel or quantum realm solution can undo Thanos' actions. This epic war isn't over yet.
Avengers: Endgame (2019)
For those steadfastly watching Thor movies in order, the cinematic saga continues with "Avengers: Endgame." This film unfolds as a direct sequel to the monumental events of "Infinity War." The opening is steeped in melancholy, painting a universe in mourning after Thanos' cataclysmic snap. Undeterred and fueled by a blend of hope and desperation, the Avengers, along with their allies, concoct an audacious plan.
Leveraging the unpredictable realms of time travel, their mission involves collecting the Infinity Stones from various pivotal junctures in history. This daring endeavor triggers a cascade of nostalgic revisits to iconic moments from earlier films, tugging at heartstrings with poignant reunions and adrenaline-charged confrontations.
As the narrative crescendo builds, it culminates in a breathtaking battle against the indomitable forces of Thanos. This monumental clash determines the fate of the universe, wrapping up with bittersweet triumphs and laying the groundwork for future chapters in the illustrious Marvel Cinematic Universe.
With Iron Man and Black Widow gone and Captain America now elderly, Thor joins the Guardians on space adventures, hinting he may show up in their future films. Asgard is now based on Earth, meaning Thor can easily return to join his fellow Avengers if new global threats arise. They'll need his power if foes like Galactus ever emerge.
Thor: Love & Thunder (2022)
When you continue to watch Thor movies in order, "Thor: Love & Thunder" graces the screen with a rich tapestry of comedy and action. We find Thor in delightful camaraderie with the Guardians, sporting what many would fondly term as a 'godly physique.' However, peace is short-lived as the menacing Gorr emerges, harboring a vendetta against deities, plunging them into peril. Responding to the ominous threat, Thor, also known as Odinson, leaps into action. Adding to the captivating plot twist is the nostalgic return of the beloved Mjolnir. But here's the kicker – it's not Thor wielding it. Instead, the honor goes to Jane, who steps up, showcasing her newfound prowess, partnering with Thor on his audacious mission.
Critics and fans alike have shared their takes on "Love & Thunder." Our very own review lauds it as an exceptional addition to the Thor series. However, it's not without its fair share of debates. Some feel the film playfully leans a tad too heavily on the comedic essence of Thor. The beauty of such movies, however, lies in their subjective nature; one's impression might differ each time they indulge in a rewatch.
And there you have it, a comprehensive guide to watch Thor movies in order. It's been a roller coaster of emotions, from epic highs to heart-wrenching lows. But the journey doesn't end here. Rumblings suggest Thor might grace the silver screen once more in the much-anticipated Marvel Phase 5. While the possibility of an appearance in the upcoming "Avengers 5" has fans buzzing with excitement, whispers of "Thor 5" might be fainter. Chris Hemsworth's recent revelations hint at his inclination to momentarily hang up Thor's cape. Whatever the future holds, this god of thunder has indeed given us a cinematic saga for the ages.