Counter-Strike 2, the long-awaited sequel to CSGO, is facing a harsh reality as it registers a lower rating on Steam than any other game developed by Valve, including iconic titles like Half-Life, Half-Life 2, Portal, Dota 2, and Left 4 Dead.
The discontent among Counter-Strike 2 players revolves around issues such as missing game modes, the prevalence of cheaters, and the complete removal of Counter-Strike Global Offensive from the gaming scene. This drop in the Steam rating coincides with a recent CS2 update aimed at addressing persistent problems related to hitboxes and detection.
Despite boasting revamped Counter-Strike 2 maps and a collection of the best Counter-Strike 2 crosshairs, Valve's sequel has been met with criticism from the Counter-Strike community, resulting in it securing a Steam rating that stands out among all Valve games.
Steam reviews are categorized into two groups: 'all reviews' and 'recent reviews.' The overall Counter-Strike 2 rating, which includes feedback from previous Counter-Strike versions, is labeled as 'very positive.' However, when focusing on more than 160,000 recent reviews, Counter-Strike 2's rating is marked as 'mixed,' making it the lowest-rated Valve game based on recent feedback.
Remarkably, highly-praised Valve titles such as Half-Life, Half-Life 2, Portal, Portal 2, Dota 2, both Left 4 Dead games, and even the criticized Half-Life Source all maintain higher ratings, whether considering all reviews or recent ones.
Even the previous versions of Counter-Strike, like Counter-Strike Source and Counter-Strike 1.6, along with games like Team Fortress 2, Day of Defeat, and Half-Life: Alyx, outshine CS2 in terms of player ratings.
The game was released on September 27, but negative Counter-Strike 2 user reviews began pouring in on September 28, with thousands more following in the weeks that followed.
One of the most prevalent issues cited by Counter-Strike 2 players was related to hit detection problems, where character hitboxes failed to accurately register damage, especially when under attack from elevated positions. In the latest Counter-Strike 2 patch, Valve claims to have "fixed several hitbox alignment bugs." However, players continue to highlight various other concerns.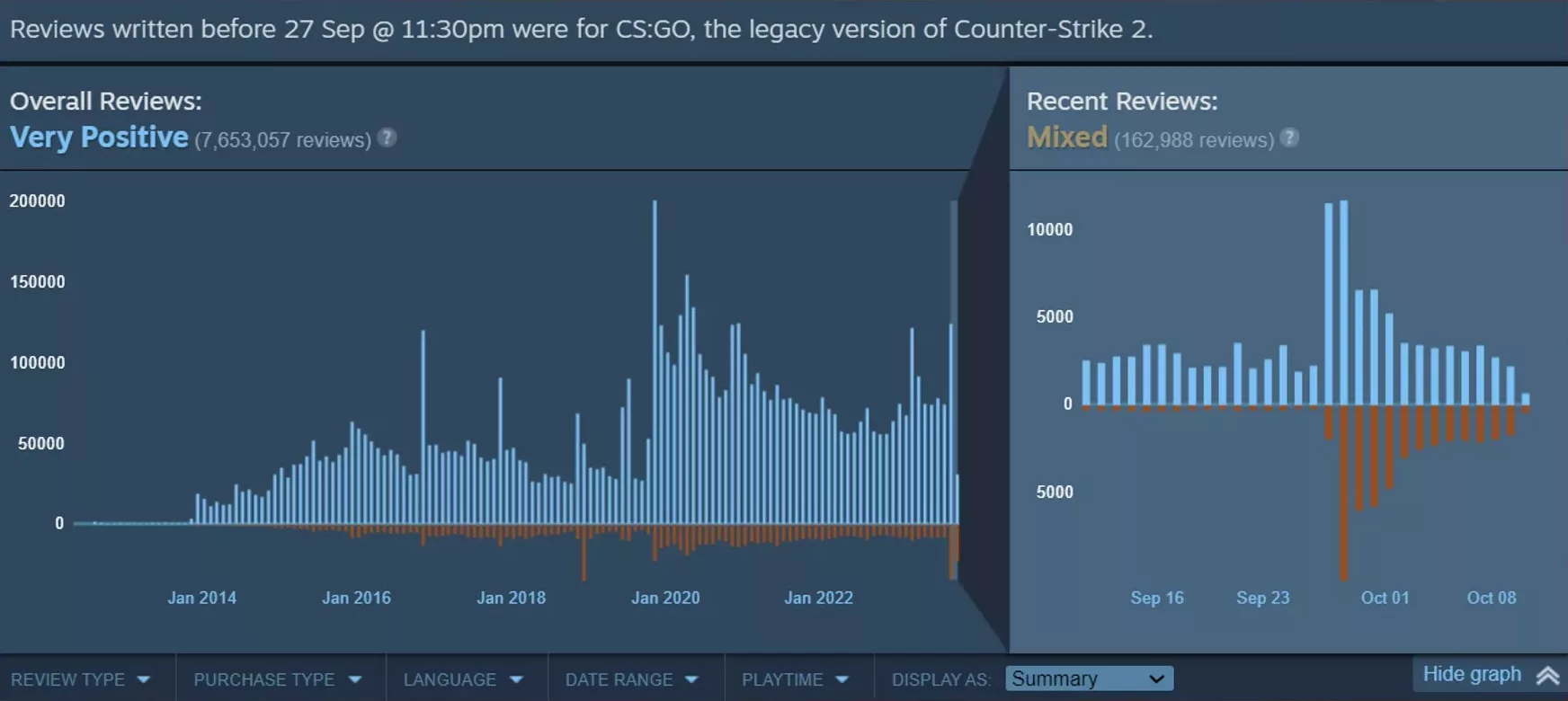 Some players expressed disappointment over the removal of casual game modes and maps they enjoyed in CSGO. Others were frustrated by encountering cheaters in the game, while some players uninstalled the game due to these issues.
Despite the controversy, Counter-Strike 2 continues to maintain a substantial player base on Steam, with a peak of 1,223,144 concurrent players between October 9 and October 10. However, it's worth noting that CSGO still holds the record for the highest number of concurrent players for any game on Steam, reaching a staggering 1,818,773.