Diablo 4, the latest installment in the legendary action RPG series, has been in the hands of gamers for a while, but there was one revelation that came as a pleasant surprise. Blizzard, the developer of the game, recently unveiled its plans for a Steam release of Diablo 4, marking an exciting new chapter for the franchise.
As the Season of Blood and the Steam launch approach, fans are eagerly awaiting the opportunity to play this iconic game on Valve's portable Steam Deck. The great news is that Diablo 4 has now been officially verified for the Steam Deck, as confirmed by Blizzard.
Excitement for Diablo 4 is at an all-time high, with a multitude of updates, a new season, and a forthcoming release on a new platform. The game is consistently drawing players back into the dark and captivating world of Sanctuary.
While fans are thrilled to immerse themselves in the vampire-themed second season, many are equally excited about the prospect of adding Diablo 4 to their ever-expanding Steam game library.
The Diablo 4 Steam release is right around the corner, and so is its official support for the Steam Deck. Adam Fletcher, Blizzard's community development director, has provided reassuring news to fans regarding handheld support.
He stated, "We can happily say that Diablo IV will be Steam Deck Verified," and he went on to reveal that the portable mode will be accessible "starting next Tuesday."
This means that Diablo 4 will be immediately playable on the Steam Deck, coinciding with the Steam launch and the commencement of the Season of Blood on Tuesday, October 17.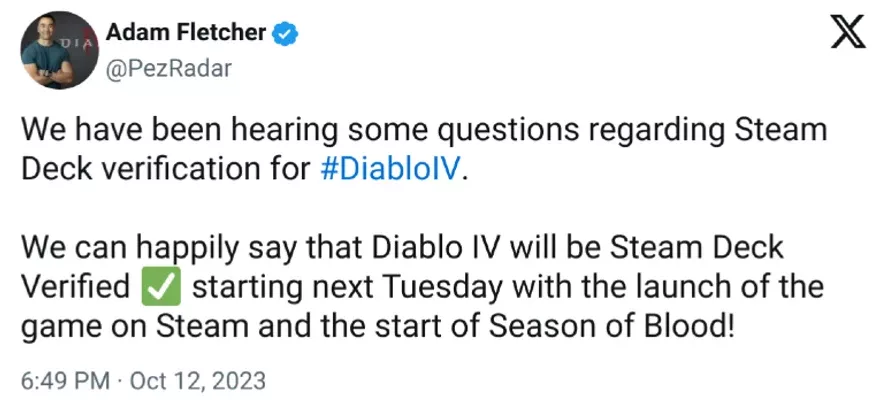 Previously, playing Diablo 4 on the Steam Deck was possible, but it involved navigating through more complex processes and utilizing Blizzard's Battle.net instead of the Steam Deck's primary storefront.
The official handheld release is expected to result in improved performance since the game is now officially supported and verified to run seamlessly on the Steam Deck. Players can now prepare to make room on their Steam Deck for Diablo 4 in anticipation of Season 2, enjoying an enhanced and more user-friendly experience.