In a startling turn of events, the highly anticipated Payday 3 has experienced a dramatic drop in its Steam player count, losing a staggering 90% of its players in less than a month after its release.
Meanwhile, its predecessor, Payday 2, is enjoying a surge in popularity on Valve's platform. This unexpected turn of events raises questions about the fate of the new installment in the beloved heist franchise.
Payday 3 made a grand entrance on its release day, Thursday, September 21, with a remarkable 77,938 players simultaneously joining the action on Steam.
However, fast forward to the present, and a mere 8,117 players are engaging with the game on Steam, representing a meager 10.4% of the peak player base it once boasted less than a month ago.
This concerning trend is not an isolated incident but a continuous pattern. On Saturday, October 14, Payday 3 saw a peak of 8,444 Steam players, while the day before, on Friday, October 13, the number was slightly lower at 7,745. The trend continued with Thursday, October 12, registering a peak of 7,646 players.
The disheartening outcome is that Payday 3 now languishes at the 153rd spot on Steam's most-played chart. In stark contrast, Payday 2 proudly sits at number 29, a full 124 places ahead of its sequel.
In a remarkable twist, Payday 2 has experienced a revival of sorts in Steam's realm. As of the time of writing, in the last 24 hours, an impressive 54,790 players have participated in virtual heists through Valve's platform, consistently surpassing Payday 3's player count since the latter's launch.
The sharp divergence in player perception is further emphasized by user reviews on Steam. Payday 2 has been rated as "very positive," whereas Payday 3's ratings are labeled as "mixed." One recurring point of contention among players is Payday 3's always-online functionality, which has drawn criticism.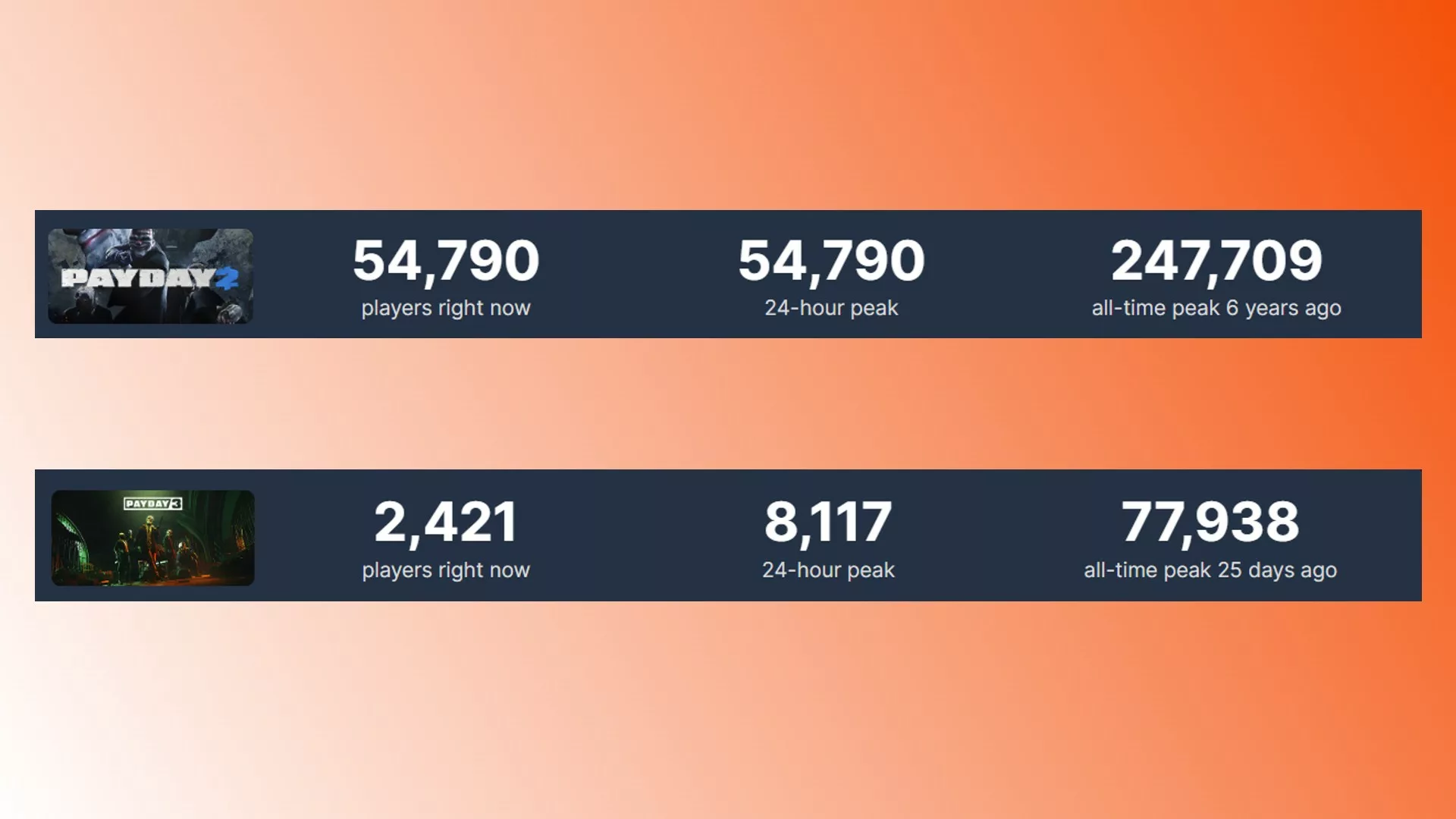 To address the initial problems related to Payday 3's matchmaking, the game's developer, Starbreeze, pointed out that some of these issues were triggered by a "software update" deployed by a "third-party matchmaking partner."
In response, Starbreeze is actively exploring the possibility of collaborating with a new matchmaking partner while also working on reducing Payday 3's dependence on online services. This marks a pivotal step in their journey to salvage the game's reputation and regain player trust in the face of these turbulent times.