The Hot Wheels franchise has been sparking imagination in kids and adults alike since the toy cars first rolled out in 1968. With iconic orange tracks and gravity-defying loops, playing with Hot Wheels meant constructing elaborate stunt courses and sending cars careening down them at breakneck speeds. In 2021, developer Milestone captured this nostalgic magic in Hot Wheels Unleashed, an arcade racer that shrank players down to miniature size and let them race across wacky household environments filled with life-sized obstacles.
Now Milestone is back with the turbocharged sequel, Hot Wheels Unleashed 2. This follow-up aims to build on the rock-solid foundations of high-octane arcade racing laid by the original game. There are new locations to explore, vehicles to collect, and game modes to master. Significant upgrades have also been made under the hood in terms of presentation, customization, and online features.
In this review, we'll take Turbocharged out for an extended test drive to see how all the tuning and tweaking comes together. Does it improve on the first game's formula or lose control when burning rubber? Is it worthy of space in your garage or destined for the junkyard? We'll push this souped-up sequel to its limits across single player, multiplayer, and track builder to render a verdict on whether it's an exhilarating rush or just spinning its wheels. So buckle up and grip the wheel as we delve into the nitty gritty details on Hot Wheels Unleashed 2.
Pedal to the Metal Gameplay
When it comes to gameplay, Hot Wheels Unleashed 2 sticks to what it knows best – lightning fast arcade racing action. The handling nails that balance between accessibility and depth, making it easy for anyone to pick up and play while still offering plenty of nuance to master. Vehicles control incredibly smoothly when drifting around corners, with a responsive and satisfying sense of weight. Performing extended drifts, jumps, and boosts becomes second nature after some practice. A handy rewind feature lets you quickly recover from mistakes and avoid frustrating restarts.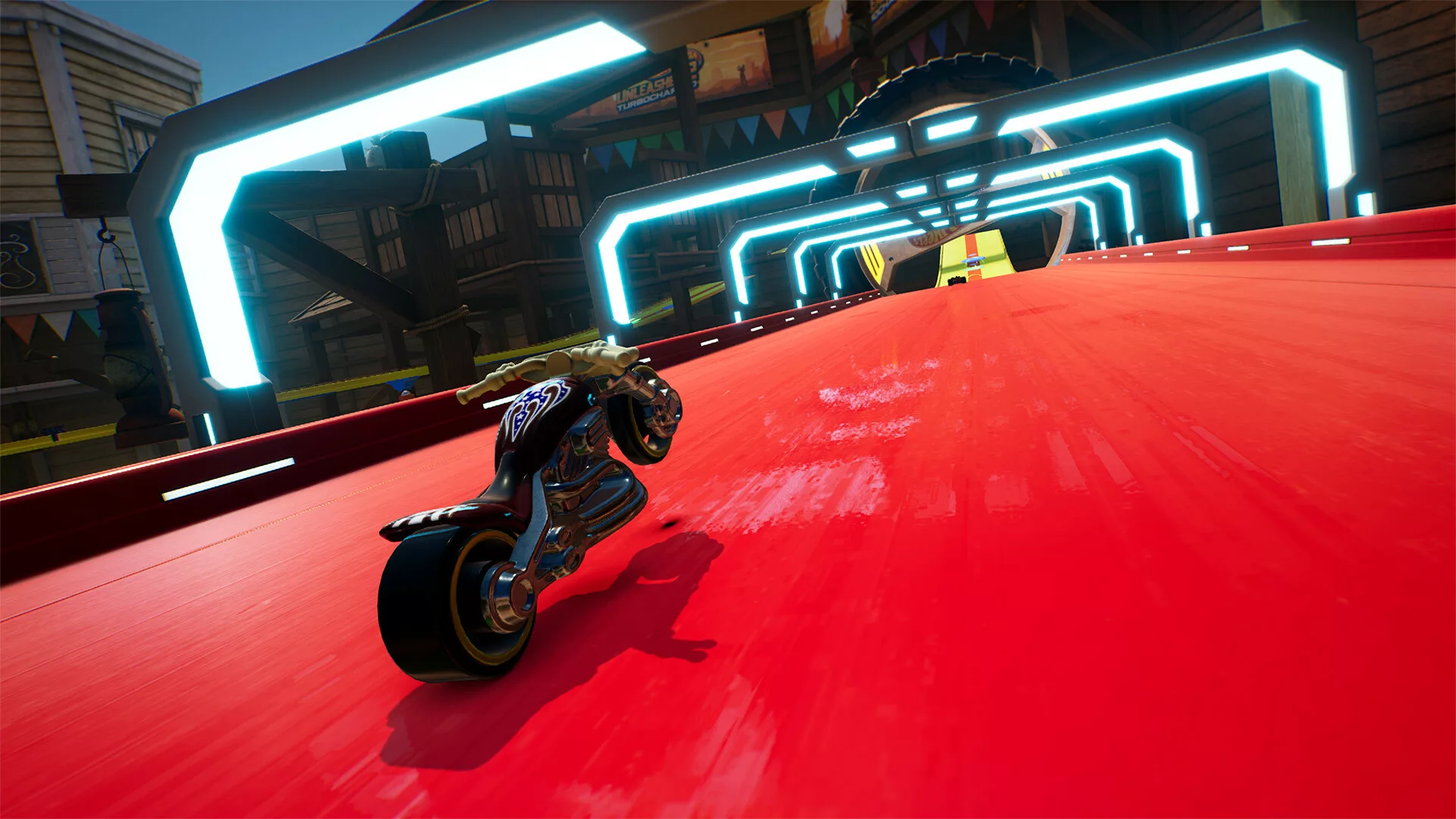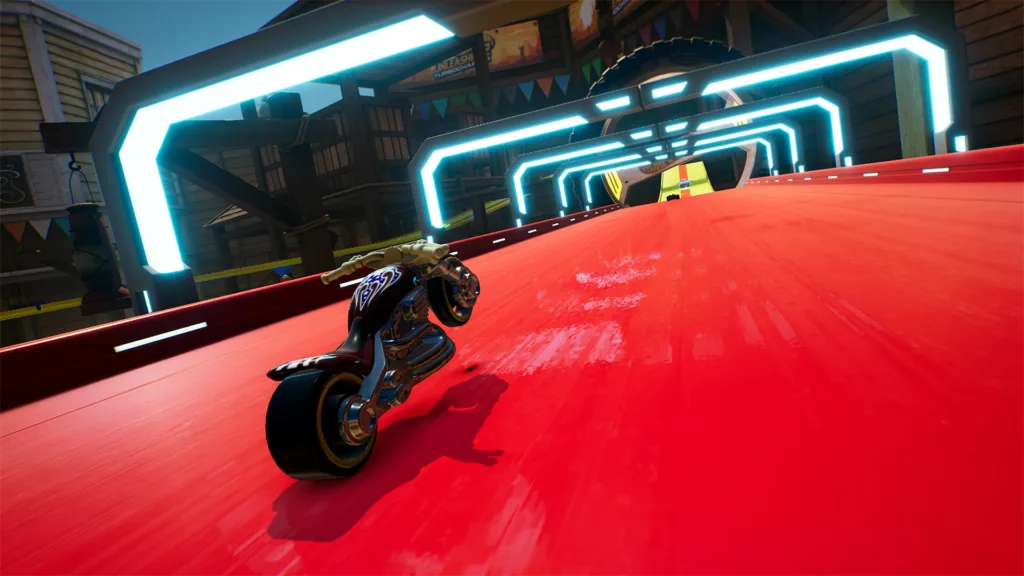 New abilities expand your stunt driving arsenal. Activating a nitrous-style boost propels you forward at breakneck speeds, great for surging ahead or maintaining your drift. The powerful new jump mechanic launches your car skyward, allowing you to soar over obstacles, gaps, and even parallel sections of track. Saving the best for last is the lateral dash ability, which lets you violently shoulder slam opponents or swerve out of the way of hazards at the last possible moment. Mastering the interplay between these skills separates the rookie drivers from the pros.
The single player campaign provides an inviting on-ramp for beginners while still offering plenty for veterans to sink their teeth into. Events are structured into themed zones like a snowy mountain, jungle, and Mars-like alien world. Races within feature different objectives like placing first, achieving high drift scores, or hitting a sequence of waypoints. Boss battles against giant creatures add spectacle and variety to the ladder-based progression. With over 100 events, there's ample content to keep you busy for dozens of hours.
On the multiplayer side, staples like split-screen and online racing return with robust matchmaking and leaderboard support. New modes further enhance the competitive experience. Waypoints removes the tracks entirely in favor of frenetic checkpoint scrambling. Grab the Gears has you nabbing power-ups scattered around courses. And Clash Derby eschews traditional racing for no-holds-barred demolition derby mayhem. The diversity of challenges on offer here will satisfy any adrenaline junkie.
Expanding on the original's robust customization, Turbocharged introduces an RPG-lite skill tree system. Earning XP grants you skill points to unlock perks for your cars. These perks provide advantages like increased top speed or stronger drifting at the cost of other attributes. You can respec at any time to experiment with different configurations. Combining these builds with visual customization and liveries lets you craft your dream ride.
By providing instantly enjoyable handling, layered skill-based techniques, diverse single player content, and multiplayer mayhem, Hot Wheels Unleashed 2 demonstrates responsive and polished arcade racing at its finest. This is gameplay with mainstream appeal that stays true to the series' identity – the nearly perfect digital embodiment of stuntin' and racin' with miniaturized vehicles.
Modes Galore for Hours of Fun
Hot Wheels Unleashed 2 ships with a plethora of diverse game modes catering to solo racers, co-op companions, competitive adversaries, and creative track builders alike. The amount of variety on offer here adds tremendous replay value beyond just standard races.
The bread and butter single player mode is Career. This lengthy campaign strings together over 100 individual events across themed environments. Races focus on objectives like high speeds, drifting scores, and clean racing lines instead of just finishing first. Peppered between events are comic book-styled story segments about stopping animal monsters enlarged by a science experiment gone awry. The wacky plot provides amusing justification for the over the top action. Though aimed at a younger audience, the campaign still serves as a satisfying training ground for honing your skills.
Quick Race offers no-frills arcade racing action. Pick a track, select your vehicle, and burn rubber to beat the competition across the finish line. Time Attack also pits you against the clock, but without opponents – just you, the car, and the course as you chase the best time possible. Veterans will find plenty of replay value optimizing their routes to shave precious seconds off.
Several new modes creatively shake up the standard formula. Elimination periodically disqualifies the racer in last place until only one remains. Survival of the fastest! Drift Master challenges you to rack up points via slick drifting while avoiding obstacles littering the track. Maintaining combos and multiplier bonuses is key. Waypoints removes races entirely in favor of pure time trial navigation between checkpoints scattered across environments.
When it comes to multiplayer, Hot Wheels Unleashed 2 brings back split-screen and adds robust online functionality. The competitive arena now features ranked seasons, social lobbies, and granular match customization for everything from maps to vehicle classes. Represent your crew with club support and earn special rewards. New modes Grab the Gears and Clash Derby join traditional races in the online roster.
Lastly, the powerful Track Builder returns bigger and better. Flex your creative muscles designing challenging courses with twisting loops, perilous jumps, and devilish obstacles. Advanced editing tools give you incredible control over track shaping and placement. Custom graphics, environmental effects, and game logic components allow for intricate gameplay tweaks. Then share your ingenious tracks online for others to download and race. With components from classic environments and settings for gravity and vehicle behavior, the track possibilities are virtually endless.
Between the fleshed out single player campaign, robust social features, and almost limitless track construction, Hot Wheels Unleashed 2 is packed to brimming with diverse gameplay modes. You'll be kept busy for countless hours exploring this toy box of creative driving fun.
Larger Than Life Locales
One of the standout qualities of the Hot Wheels franchise is imagining ordinary surroundings from a miniature viewpoint. Hot Wheels Unleashed 2 builds on this appeal with incredibly detailed environments overflowing with charm and personality. These life-sized locales let your imagination run wild, like you've suddenly shrunk down to experience the world from a tiny racer's perspective.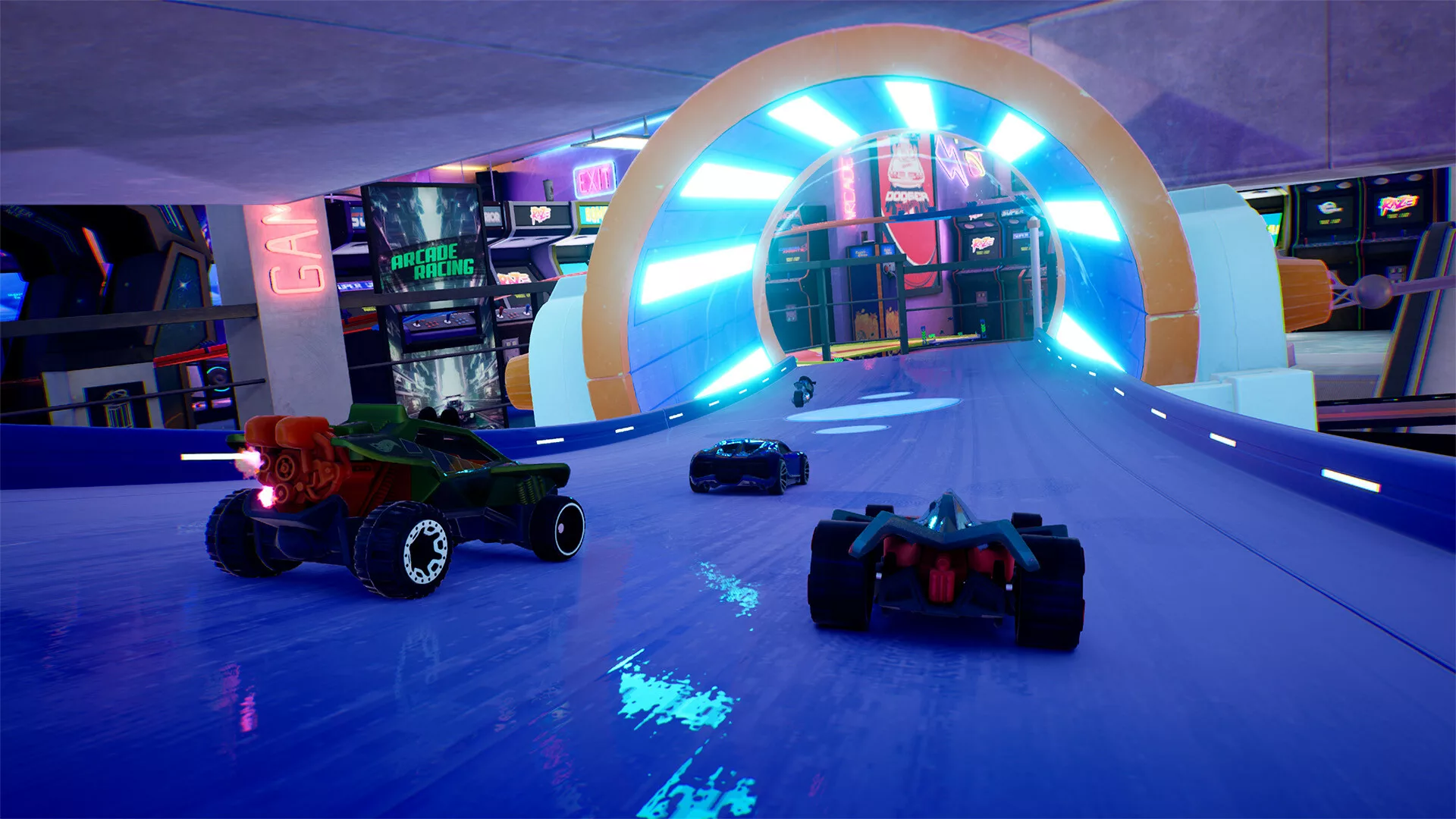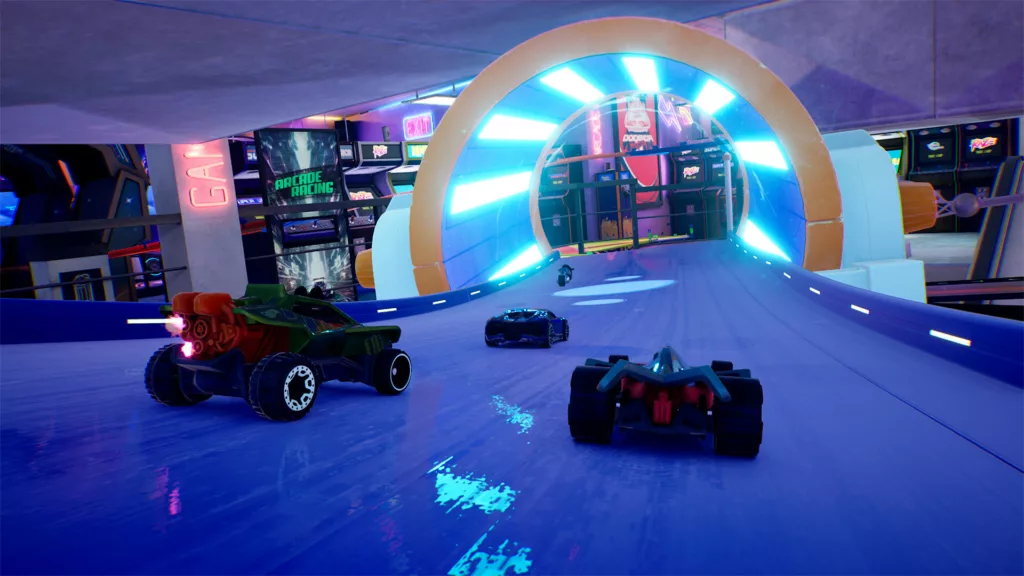 The dinosaur museum is a particular highlight, filled with towering skeletal exhibits and educational displays. Ramps launch off fossilized skulls, loops encircle massive vertebrae, and deadly rotating blades modeled after therapod claws provide hazards. Elsewhere, the gas station environment wonderfully captures the vibe of a roadside pit stop. Neon signs loom large as you boost through the convenience store and cruise across countertops.
The backyard home environment beautifully conveys a sense of childhood nostalgia. No surface goes unexploited as your souped-up toy car careens under couches, across tabletops, and down stair rails. Delightful touches like enormous Lego bricks and toy dinosaur plasticity populate the lovingly detailed interiors. Outside, a sprawling yard, treehouse, and playground equipment offer scenic backdrops for high-speed antics.
Each environment features a diversity of surface types that affect handling in realistic ways. The physics convincingly simulate how cars interact with plastic tracks, wooden ramps, dirt mounds, thick carpeting, tiles, and more. Mastering these subtle differences provides an authentic sense of weight and traction that enhances the arcade racing. Destructible objects and dynamic elements liven up the courses during races.
Keen-eyed explorers will be rewarded for going off the beaten path. Every environment contains hidden shortcuts and tricks for savvy drivers to discover. Finding these can shave precious seconds off during a heated race. Interactive objects like levers that open secret paths encourage replayability. Even after hours of racing, you may still stumble across previously unseen Easter eggs and surprises throughout the levels.
With larger than life environments brimming with imagination and attention to detail, Hot Wheels Unleashed 2 fully captures the childlike wonder of imagining ordinary settings from a miniature perspective. These vibrant living worlds exude craftsmanship and help the gameplay shine.
Endless Customization Options
One of the most addicting aspects of Hot Wheels Unleashed 2 is the sheer depth of customization possibilities. With over 130 meticulously modeled collectible cars to unlock and limitless visual customization, you'll be constantly chasing new ways to personalize your miniaturized fleet.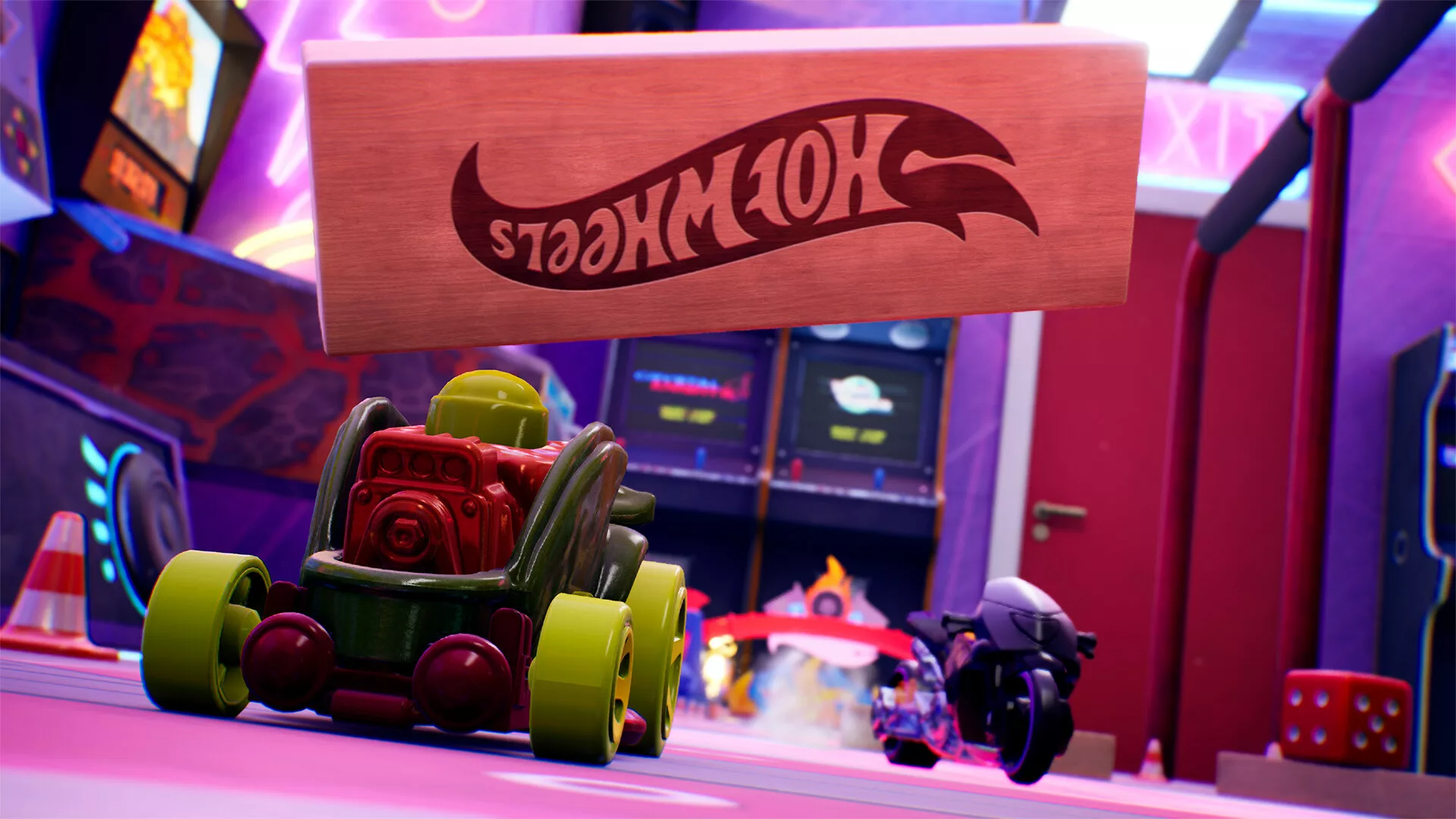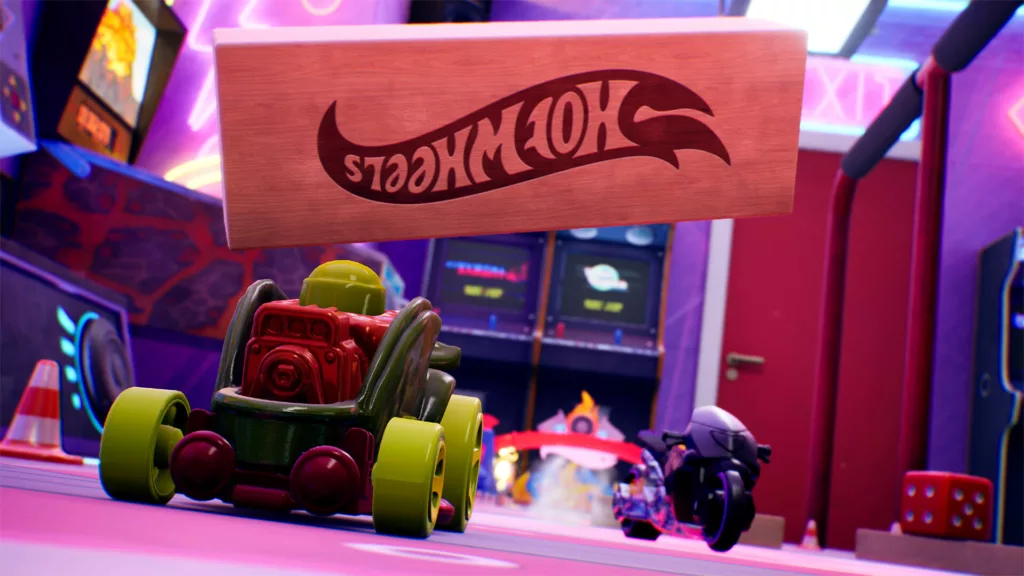 The garage includes everything from classic muscle cars and vintage roadsters to modern hypercars and specialty vehicles like ATVs. Certain rare rides are labeled as Treasure Hunts and boast exclusive skins. You acquire new cars through an in-game shop that rotates available inventory on a timer. This gacha-style system encourages regular visits to snag rare items. Using cash earned from races, you can instantly refresh the shop for more chances at coveted collectibles.
Each vehicle falls under a class like Race, Drift, Off-Road, or Rocket that impacts its handling. Adjustable perks allow further tuning of attributes like top speed, acceleration, handling, and boost capacity to better suit your playstyle. Combine these with cosmetic upgrades like colorful liveries, window decals, neon underglows, and improved boost effects to craft your personalized dream machine.
Further customization comes from equipping horn sound effects, gear shift noises, burnout smoke, and boost types. Choose between options ranging from cartoonish honks to thundering V8 roars to give your racer even more personality. Additional vanity unlocks like new driver outfits, victory dances, and player card backgrounds provide another avenue for showing off your style.
Between the massive garage of meticulously modeled cars, deep performance upgrades, and nearly endless cosmetic options, Hot Wheels Unleashed 2 offers gearheads and collectors unparalleled ways to fine-tune their miniature speed machines. The varied acquisition methods and steady drip feed of new goodies will have you constantly returning to the shop and garage hunting for that next perfect addition to your set.
Visual Feast with Minor Performance Hiccups
Right from the slick main menu, it's evident the developers prioritized nailing Hot Wheels' iconic visual presentation. The photorealistic car models are practically indistinguishable from their real-world die-cast counterparts. Intricate details like tampo printing, working suspension, and interior cockpits demonstrate an astounding level of accuracy. Customization options take things further with ludicrously deep decal choices and paint types.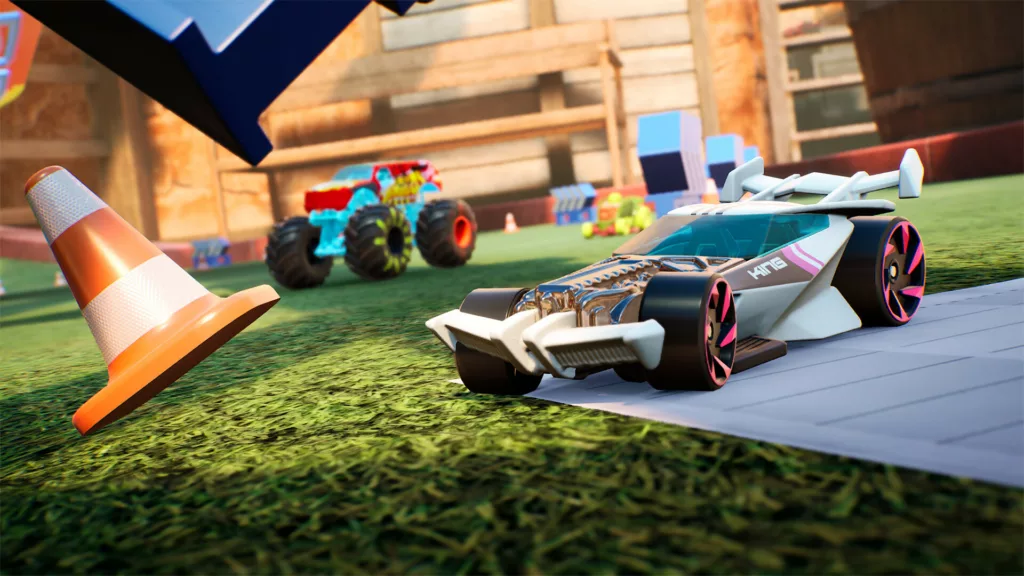 Vibrant environments burst with color, interactive objects, and destructible elements. Splashing through puddles, kicking up dirt, and blasting through cardboard ramps make courses feel dynamic and alive. Playgrounds, museums, and mini cities are dense with detail. Sparks, smoke, and blazing boost effects amp up the intensity when racing. Though not quite best-in-class, the graphics and effects convincingly capture Hot Wheels' high-octane attitude.
Unfortunately, some compromises were made to fit Turbocharged onto the aging Switch hardware. Noticeably lower resolution textures and assets are apparent in handheld mode. Framerate also takes occasional dips when the action grows hectic. These issues are mitigated when docked, but still ride in the rearview of other platforms. Lack of cross-play unfortunately segregates the Switch community.
Presentation missteps aside, the sheer authenticity achieved in recreating Hot Wheels cars coupled with wonderfully toyetic environments cement Turbocharged as a visual treat fans will adore. It may fall a lap behind technically, but effortlessly nails the vibrant, imaginative spirit that gives Hot Wheels its cross-generational appeal.
Pedal to the Plastic
When it comes to delivering fast-paced, over-the-top arcade racing, Hot Wheels Unleashed 2 has it firing on all cylinders. The superb sense of speed and weight, coupled with responsive drifting and stunting, provide an addictive core loop of high-octane fun. Creative modes like drifting through deadly obstacle courses or scrambling to hit waypoints separate this from generic racers. An insanely deep track builder and diverse multiplayer offerings also excel.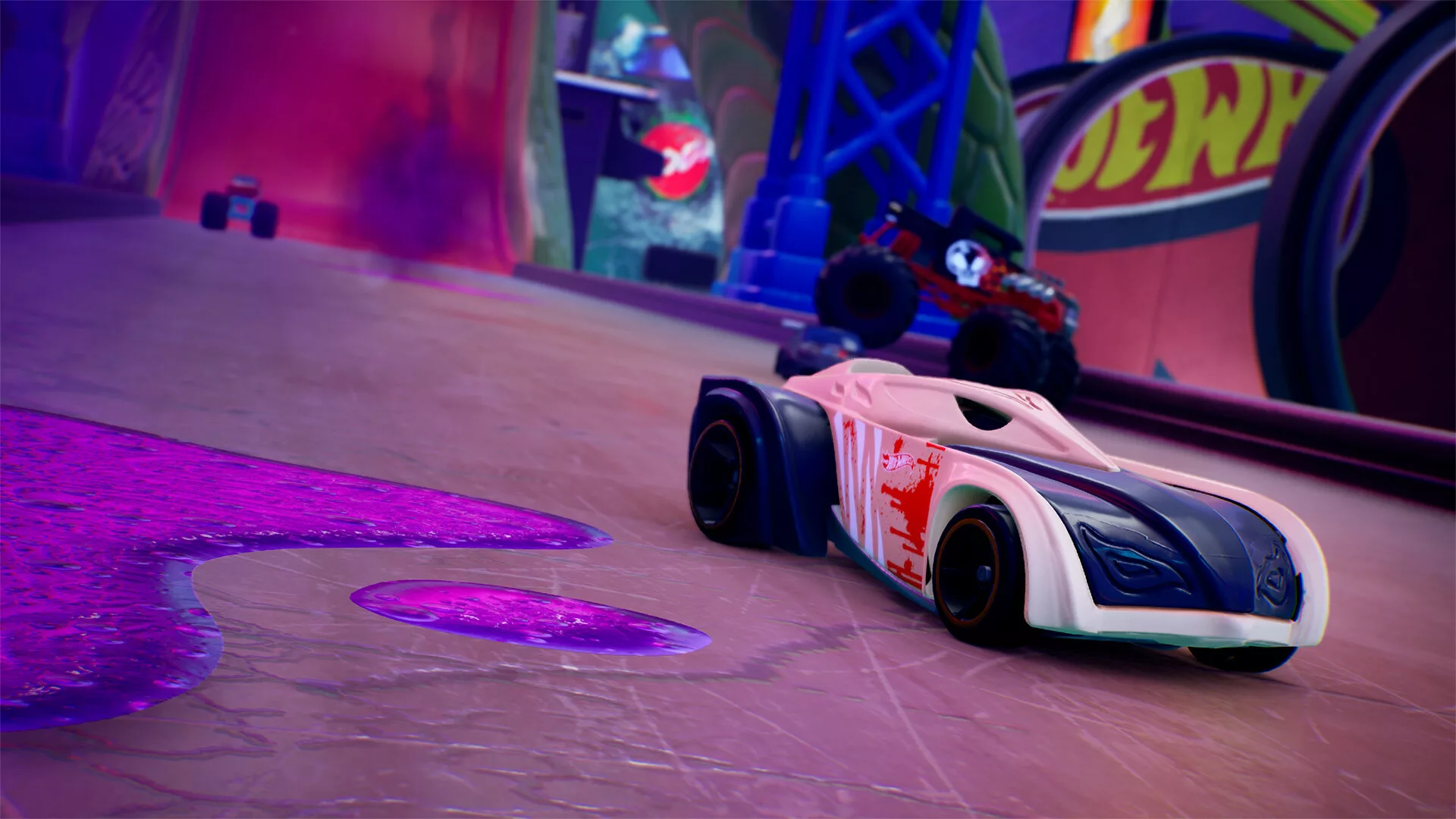 While the campaign offers lengthy single player value, progression feels padded at times with difficulty spikes and repetitive objectives. These issues could be remedied by better tuning race variety and providing more frequent vehicle rewards. Stinginess with doling out new cars and the randomness of the shop also encourage grinding over a satisfying sense of steady progress.
That said, the sheer wealth of customization unlocks does give you plenty to chase after hours spent racing. Between decal combinations, gear sound effects, and skill tree tuning, obsessive collectors and gearheads will relish the nuanced car personalization. Add on creative community track building and multiplayer mayhem and you've got near endless replayability.
When compared to its predecessor, Hot Wheels Unleashed 2 improves upon an already solid arcade racer with a bigger track builder, expanded multiplayer, and extra customization depth. Some edges could be smoothed with tweaks to campaign pacing and progression, but overall it's a worthy successor.
So if you're seeking a charmingly toyetic racer overflowing with content and imagination, Turbocharged belongs in your collection. It expertly captures the physical thrill of die-cast vehicles translated into a polished digital experience. Just be prepared for the occasional difficulty spike or grindy unlock treadmill. Beyond those gripes lies a celebration of speed, style, and skill that evokes the childlike joy of Hot Wheels play.
The Review
Hot Wheels Unleashed 2: Turbocharged
While Hot Wheels Unleashed 2 falters occasionally with campaign pacing and progression, at its core it remains an imaginative, content-rich arcade racer overflowing with customization and creative racing opportunities. This turbocharged sequel builds substantially on the strong foundations of its predecessor and demonstrates Milestone's expertise in delivering toyetic thrills with polish and precision. If you have any nostalgia for the gravity-defying fun of Hot Wheels tracks, it deserves a place in your collection.
PROS
Extremely responsive and polished arcade handling model
Massive garage of highly detailed licensed Hot Wheels cars
Creative race modes like Drift Challenge and Waypoints
Expansive track builder with deep customization tools
Imaginative environments with destructible elements
Local and online multiplayer perform smoothly
Tons of customization from liveries to gear sounds
CONS
Repetitive campaign progression and difficulty spikes
Stingy drip feed of new vehicle unlocks
Shop model randomness encourages grinding
Lower graphical fidelity on Switch vs other platforms
Lack of cross-platform multiplayer is limiting
Skill tree perk balance could be better tuned
Frame rate instability when action gets hectic