Cities: Skylines 2, the successor to the acclaimed urban simulation game Cities: Skylines, has launched to a mixed reception. While the game has shown immense promise, it has been marred by various performance issues, a concern Colossal Order Ltd., the developer, was aware of even before the release. Despite these challenges, the team initially chose to adhere to their planned release schedule.
Shift in Priorities: Addressing Performance and Bugs
In today's CO Word of the Week Mariina goes through our priorities and what we are currently working on. Read it in full here 👇👇👇https://t.co/cJ7IKTd0Sb pic.twitter.com/MjcYPx3g9l

— Colossal Order (@ColossalOrder) November 20, 2023
Recognizing the need for improvements, Colossal Order Ltd. has recently shifted its focus towards enhancing the game's performance and addressing bugs. In a detailed developer note, the company outlined its primary objectives moving forward:
Performance Improvements: The current version of the game has been criticized for excessive details, such as rendering minutiae like teeth, which are generally not visible in gameplay. The team is now concentrating on improving GPU performance to enhance the overall gaming experience.

Bug Fixes: Over 100 reproducible bugs reported by the community are being addressed diligently by the developers, showcasing their commitment to refining the game.

Editor and Mod Support: The team is also focusing on enhancing the map editor and its interface, ensuring these features are fully functional and user-friendly before their official release.
DLC Release Schedule Adjusted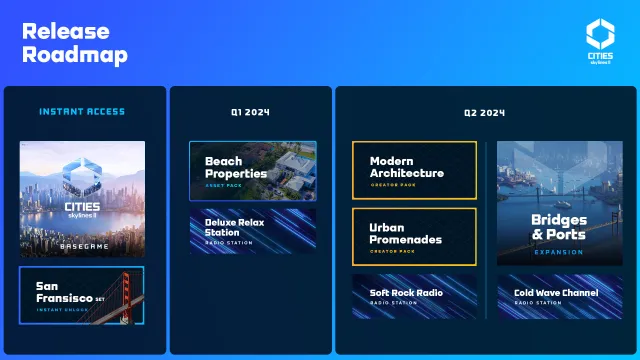 As a consequence of these redirected efforts, the release of additional content for Cities: Skylines 2 has been postponed:
Asset Pack Delayed: Initially set for Q4 2023, the Asset pack is now rescheduled for Q1 2024.

Creator Packs Pushed Back: The Creator packs, previously expected in Q1 2024, have been moved to Q2 2024.

Expansion Remains on Track: Despite these delays, the expansion for Cities: Skylines 2 is still slated for release in Q2 2024.