The developers at Playground Games have recently revealed the details of the map and routes for the upcoming Rally Adventure expansion for Forza Horizon 5, and the news is nothing short of exciting.
The new location, Sierra Nueva, boasts an impressively large size and a diverse range of flora that will take players on a thrilling off-road adventure.
Initially, the expansion was expected to take place in a dusty and sandy climate, but it has now been confirmed that players will also have the chance to explore more exotic locations.
The official map, which has been released, shows that the new area is significantly larger than the previous expansions, and will consist of six different biomes.
From massive canyons to green hills cut by narrow streams, flooded palm forests, abandoned mines, desert areas, and the town of Pueblo Artza, the new location is guaranteed to offer exciting and varied terrain for players to explore.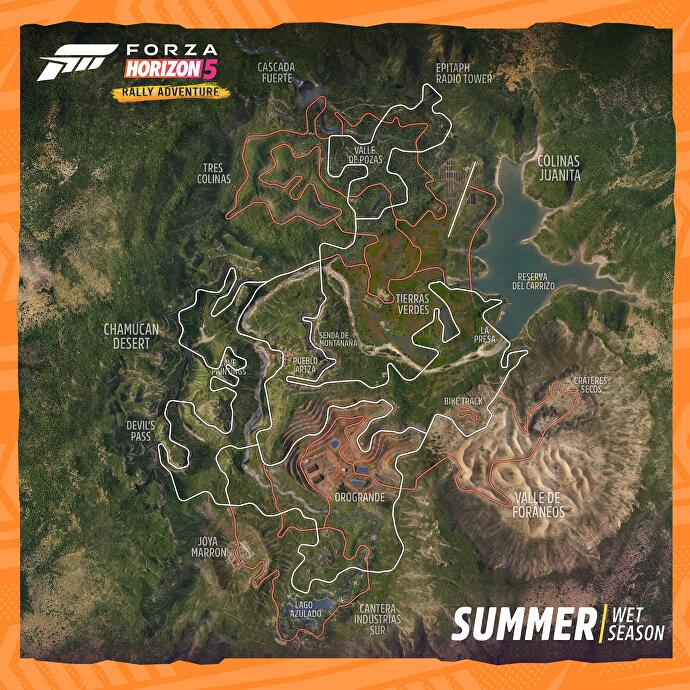 Players will also get a range of unique races, challenges, and most importantly, cars. The expansion will feature ten rally vehicles for players to choose from, including classic cars, semi-trucks, and buggies.
The full list of machines that will be included in the game has recently been published, adding to the excitement of the upcoming release.
Forza Horizon 5 Rally Adventure is set to debut on March 29, 2023, on PC, Xbox One, and Xbox Series X/S. While it was initially thought that the title would only be released for the latest generation of consoles, the official forum has since confirmed that the game will also be available for older platforms.
Players who have purchased the Platinum Edition, Premium Add-ons, or Expansion Bundle will receive the expansion as part of their package. However, players who own the basic version of the game will have to pay $20 (approximately PLN 89) to access the new content.
Overall, the new Rally Adventure expansion promises to deliver a thrilling off-road experience for Forza Horizon 5 fans, with its massive and diverse new location, exciting races, challenges, and cars. Get ready for an epic adventure on March 29, 2023!