As the highly anticipated Xbox Games Showcase draws near, Microsoft's Vice President of Xbox Games Marketing, Aaron Greenberg, has been sharing intriguing details about the event.
On June 4, Greenberg took to Twitter to build excitement, stating, "7 days until our first-ever double feature. Roughly two hours of nonstop games, games, games, games, and Starfield!" Naturally, fans flooded Greenberg with questions, particularly regarding the authenticity of the showcased footage.
Real Game Footage Takes Center Stage
Responding to eager fans, Greenberg reassured them that all first-party games featured in the showcase would be presented with genuine in-game footage. He clarified, "None of our first-party games in the show are full CG trailers. Everything is either in-game footage, in-engine footage, or in-game footage with some cinematics.
Each of our trailers will be clearly labeled, ensuring our fans have a transparent viewing experience." This commitment to showcasing actual gameplay footage guarantees an immersive and realistic glimpse into the upcoming titles.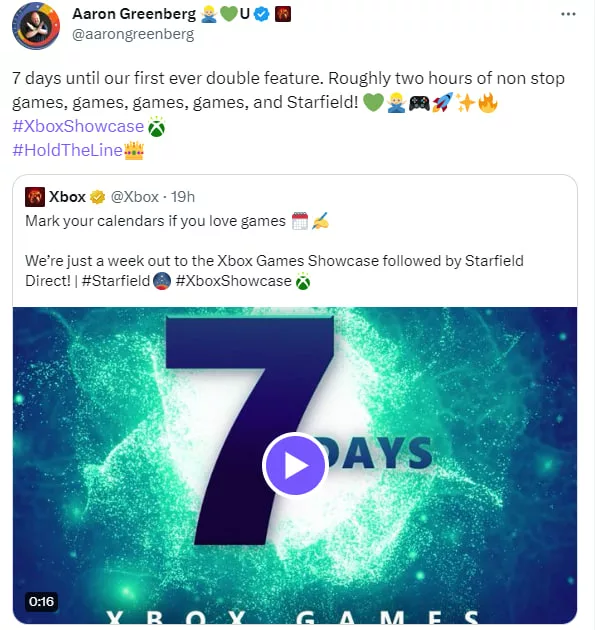 A Lesson Learned: Delivering on Promises
During the Xbox and Bethesda Game Showcase in 2022, it was announced that all content shown would be playable within the following 12 months. However, some highly anticipated games, such as Starfield and Hollow Knight: Silksong, faced unexpected delays beyond their initially projected release windows in the first half of 2023.
To avoid similar setbacks this year, Greenberg confirmed that the showcased games in 2023's event would not encounter similar delays, demonstrating Xbox's commitment to meeting their promises.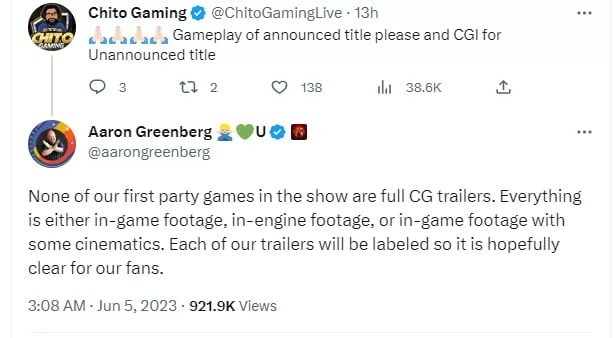 Games Take Center Stage: No Movie Trailers in Sight
Furthermore, Greenberg made it clear to fans that the games show would focus exclusively on gaming content and not feature any movie trailers. Consequently, fans should not expect updates on projects like the Gears of War series in collaboration with Netflix or the Fallout TV show developed by Amazon Prime Video.
The highly anticipated Xbox Games Showcase is scheduled to take place on June 11 at 10 AM PT / 1 PM ET / 6 PM BST, promising an unforgettable experience for gaming enthusiasts worldwide. Additionally, don't miss out on other thrilling events such as Geoff Keighley's Summer Game Fest 2023, taking place before the showcase, as well as Ubisoft Forward 2023 the following day.
Not to mention the exciting Future Game Show summer showcase and the PC Gaming Show 2023, making this an exhilarating period for gamers of all kinds.
Hidden Xbox Exclusives: While many games claim the spotlight, there are masterpieces waiting in the shadows. Experience the brilliance of the Underrated Xbox Exclusive Games that haven't had their time to shine!