In an unexpected turn of events, developer Rare has announced the revival of Sea of Thieves' limited-time Adventure series, which is set to make a comeback next week. This announcement comes after a three-month absence, just as anticipation was building for the highly anticipated Monkey Island crossover.
Introduced early last year, Sea of Thieves' Adventures were designed to provide substantial, engaging monthly content drops. Each Adventure installment aimed to contribute to an ongoing narrative, creating a richer and more captivating experience for players.
While their quality has been known to vary, the overall concept has been well-received by the community (despite the unfortunate demise of the beloved moustachioed seahunk, Arthur Pendragon).
A Temporary Pause and the Return
However, in March, Rare surprised players by announcing a temporary pause on the Adventures series. The exact reason behind this pause remains undisclosed, but it is widely speculated that it was due to the impending arrival of a certain G-brush (a reference to the Monkey Island crossover).
After the hiatus, Rare is now ready to resume the monthly Adventures, starting with the upcoming "A Dark Deception," scheduled to run from Thursday, June 22nd to Thursday, July 6th.
The Tale of "A Dark Deception"
"A Dark Deception" will see players teaming up with the Pirate Lord to recover powerful artifacts stolen by a mysterious individual. As the adventure unfolds, players will uncover more about the enigmatic thief and their motives. This thrilling quest promises exciting gameplay and an opportunity for pirates to once again dive into the Sea of Thieves' captivating world.
Following "A Dark Deception," players can look forward to a pause in the Adventure series once again. This time, Rare will whisk players away to Mêlée Island for the first of three monthly Monkey Island Tall Tales, set to release on July 20th. The Monkey Island crossover promises to bring even more excitement and new experiences to the Sea of Thieves universe.
Additional Updates and Rewards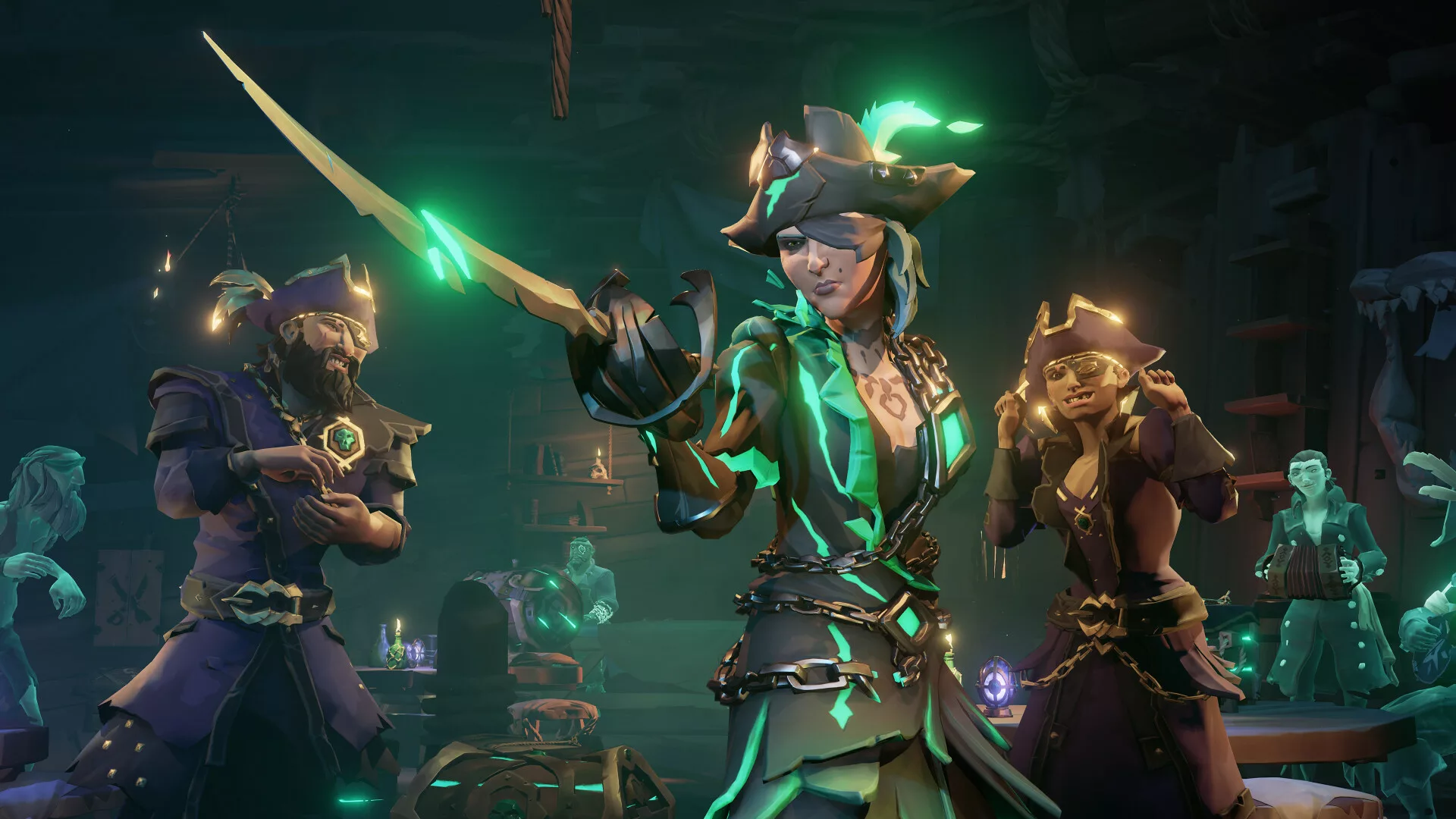 Apart from the return of Adventures, Sea of Thieves has more in store for players this month. A rebalance for last year's Captaincy update is scheduled for tomorrow, making it easier to achieve various gameplay Milestones and acquire Trinket rewards.
As part of this rebalance, the in-game gold cost for Trinket and Decoration pricing will be significantly reduced, along with Captain's ship cosmetics. Furthermore, the cost of saving ship cosmetics has been entirely eliminated.
As a gesture of appreciation, Rare will grant the exclusive Gilded Sovereign Captain's Table to players who have already achieved Class 50 in (almost) any individual Pirate Milestone from The Gold Seeker, The Voyager, The Emissary, The Hunter, The Feared, The Guardian, or The Servant before June 15th.
Sea of Thieves enthusiasts can prepare themselves for the exciting return of limited-time Adventures, starting with "A Dark Deception," as the game continues to expand its immersive world and offer thrilling experiences on the high seas.