Call of Duty fans were taken aback when Activision unveiled that Season 4 will be significantly shorter than usual, lasting a mere 48 days. The announcement, made through the in-game timer, diverges from the typical two-month duration of previous seasons.
Mixed Reactions to the Compact Timeline
With the release of the full patch notes for Warzone 2 and Modern Warfare 2 Season 4, including numerous substantial changes, players were quick to notice the abbreviated season length. Charlie Intel was the first to report that the in-game timer indicated Season 4 would conclude on August 2.
Activision, Infinity Ward, and Raven Software have yet to officially address the reasoning behind this reduced season duration. As news of the shorter season spread throughout the community, opinions became divided.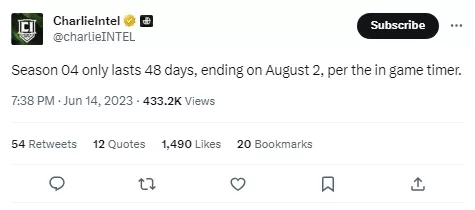 Some players feel that 48 days is ample time to make progress in the battle pass before the anticipated launch of Season 5, which may arrive sooner than expected. On the other hand, some fans are skeptical of the publisher's decision to curtail the season, raising eyebrows and sparking discussions among the player base.
Exciting Changes in Season 4
While the shortened season length raises questions, Call of Duty players have plenty to look forward to in Season 4. The update introduces a new medium-sized Warzone map and an impressive lineup of seven multiplayer maps (with six available at launch).
Additionally, a notable alteration is the apparent renaming of the game to simply "Warzone." As if that wasn't enough, Warzone's base player health has been boosted from 100 to 150, resulting in a roughly 50% increase in time-to-kill (TTK).
Playlist Updates and Game Modes
The significant update also includes details about Warzone's playlist updates for the weeks of June 14 and June 21. Players can anticipate the introduction of Ranked trios, as well as the return of popular modes such as solos, quads, and duos for Battle Royale.
Vondel Resurgence will offer solos, duos, trios, and quads, while Plunder and Ashika Resurgence will be available exclusively in the quads format.
As the community digests the news of the shortened season, excitement and curiosity abound. With Call of Duty Season 4 packed into a tighter timeframe, players are preparing for an intense and action-filled experience that will undoubtedly leave its mark on the ever-evolving world of Call of Duty.