On August 9, Disney made significant announcements regarding its streaming services, revealing changes that will affect the cost and options available to subscribers. These adjustments are aimed at offering viewers more choices while accommodating the ever-evolving streaming landscape.
Starting from September 6, the ad-free bundle that includes Disney+, Hulu, and ESPN+ will experience a price increase, shifting from the current $19.99 monthly fee to $24.99. Additionally, changes are set to take place on October 12:
The ad-supported bundle's monthly cost will rise by $2, reaching $14.99.

The "Duo Premium" option, offering ad-free Disney+ and Hulu, will be priced at $19.99.

The "Duo Basic" option, which includes ads, will remain unchanged at $9.99.
Changes in Standalone Services
For those who prefer standalone services, Disney+ and Hulu without ads will undergo price adjustments as well. The monthly fees for Disney+ and Hulu will increase to $13.99 and $17.99, respectively, up from their current rates of $10.99 and $14.99. The ad-supported options for both Disney+ and Hulu will remain at $7.99 per month.
Disney's ad-supported Disney+ will soon extend its reach to select markets in Europe and Canada, launching on November 1. This expansion aims to provide viewers in these regions with more accessible and flexible streaming options.
Subscriber Trends and Growth
During the recent fiscal call, Disney CEO Bob Iger highlighted that the previous price adjustments did not lead to significant subscriber loss. In fact, the introduction of the ad-supported Disney+ option resulted in a surge of new subscribers, contributing to the addition of 3.3 million subscribers in the third quarter.
Joe Earley, president of direct-to-consumer at Disney Entertainment, emphasized the importance of offering consumers a variety of choices. He mentioned that the price adjustments reflect the strong momentum of the ad-supported plans in the United States.
Global Expansion and New Tiers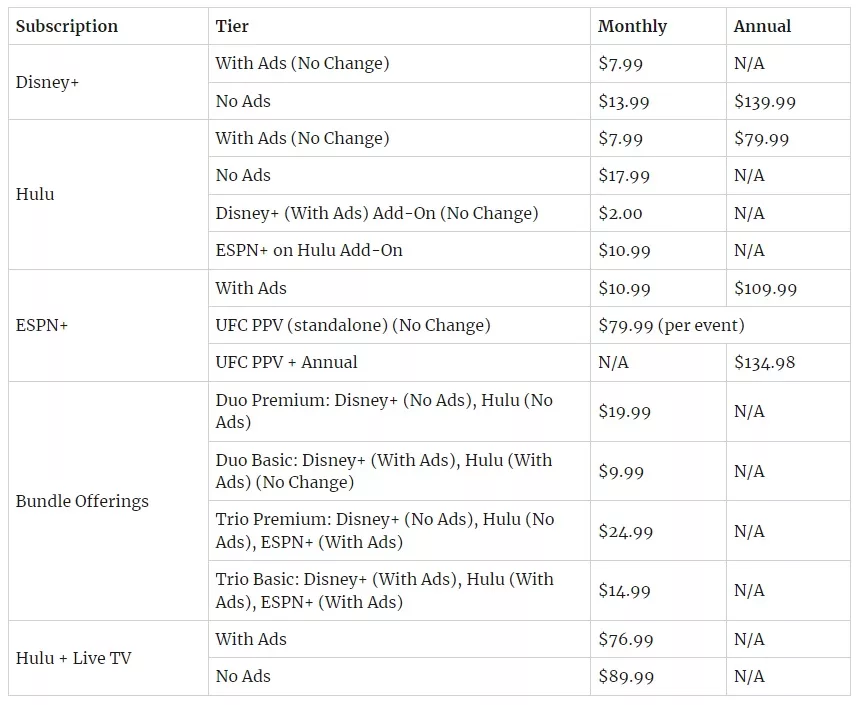 Internationally, Disney+ is taking its evolution further by introducing a new Standard tier, along with the Standard with Ads tier in select EMEA markets and Canada. These new ad-supported plans will start at £4.99/€5.99 per month in EMEA and $7.99/month in Canada.
Existing subscribers in eligible markets will automatically remain in the Premium tier with no ads when their subscription price increases in December, unless they opt to switch to the new lower-priced plans.
As the streaming landscape continues to evolve, Disney's adaptations and pricing changes reflect the company's commitment to providing viewers with a diverse range of options tailored to their preferences.
Across countless stories and battles, there have been figures that send a chill down our spines. But who stands tall in the pantheon of malevolence? Join us as we countdown and dissect the anime world's most sinister and intriguing adversaries in our detailed exploration.