CD Projekt Red, the company behind games like Cyberpunk 2077 and The Witcher series, is making a strategic move. Following the launch of the Phantom Liberty Expansion for Cyberpunk 2077 in September, a large part of the team working on the game will be transitioning to work on The Witcher 4, codenamed Polaris.
During a recent earnings call, CD Projekt's president and CEO, Adam Kiciński, shared that the company is directing more of its resources towards the development of the next installment in The Witcher series.
This transition is expected to take place after the primary development work on the Phantom Liberty Expansion is completed. Currently, about "250ish" developers are actively involved in working on Polaris, while a larger team is dedicated to the Cyberpunk 2077 expansion.
Phantom Liberty's Impact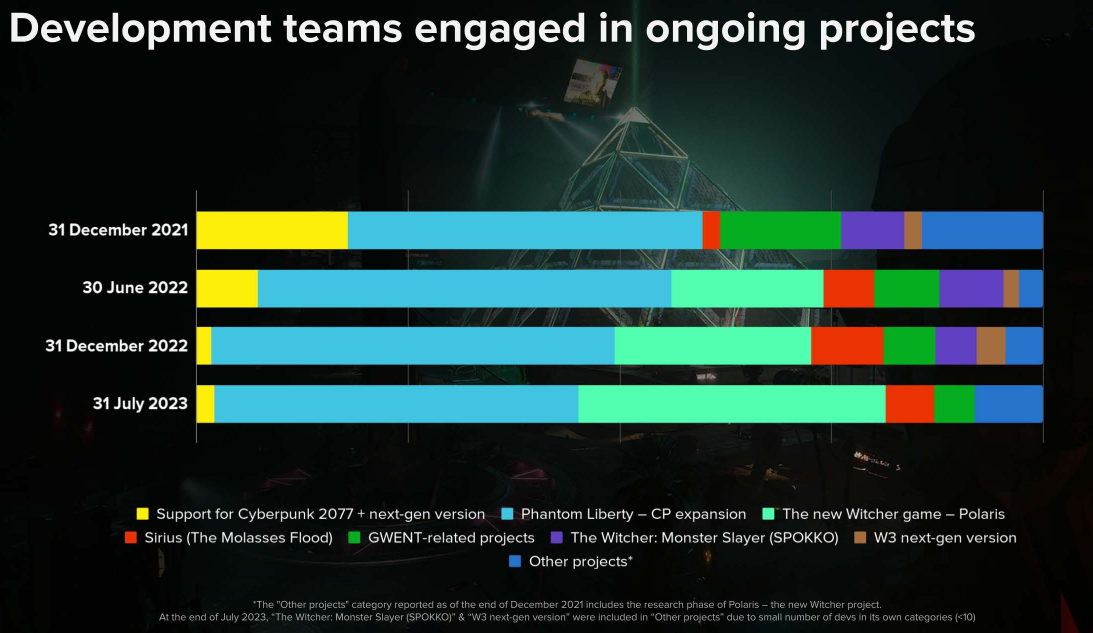 Kiciński explained, "After releasing Phantom Liberty we'll transfer a big part of the team to Polaris. Some remaining members will then focus on supporting other ongoing projects like Orion or Hadar but bear in mind we'll also be supporting Phantom Liberty for some time."
He emphasized that while a significant number of developers from the Cyberpunk team will move to The Witcher 4, not all of them will make the shift immediately.
CD Projekt Red's development breakdown suggests that most of the staff members will eventually be contributing to Polaris. The exact figures will be disclosed during the third quarter financial update on November 28.
Future Ventures
Apart from The Witcher series, CD Projekt Red has mentioned other projects as well. Orion is confirmed as the full sequel to Cyberpunk 2077, while Hadar is a new game under development.
Both these projects are still in their early stages, and their release dates are expected to come after either Polaris or another upcoming Witcher game codenamed Sirius, which is being developed by The Molasses Flood. The earliest potential release date for these games is 2025.
The Phantom Liberty Expansion for Cyberpunk 2077 is set to launch on September 26. Players can anticipate a wealth of new story content and gameplay changes.
This expansion introduces vehicular combat, a cyberpsychosis feature inspired by Cyberpunk: Edgerunners, and a nod to The Witcher series. However, these improvements come with a trade-off—increased PC requirements to fully enjoy the enhanced experience.